Maria A. (Esch) Overdorff
(1847-1927)
Maria A. (Esch) Overdorff was born on May 27, 1847 in Brush Valley, Indiana County, PA, the daughter of Joseph and Sarah (Younkin) Esch.
On Sept. 12, 1864, she wed carpenter Michael A. Overdorff (March 24, 1945-1916), son of Samuel and Diana (Sentz) Overdorf, also of Brush Valley. Rev. J.D. Domer, pastor of the Bethel Church, led the nuptials. Among the attendees were Maria's brother and wife, Rev. John and Maria (Pittman) Esch, as well as Sarah Miller and Hannah Mock.
No record of the wedding was kept, other than a certificate presented to the couple by the pastor. The church itself eventually disbanded.
Michael stood 5 feet, 6 inches tall and had grey eyes and brown hair, weighing 163 lbs.
They were the parents of Sarah Susan "Sallie" Devinney, Chauncey Overdorff, Nola May Cover and Margaret Belle "Maggie" Overdorff.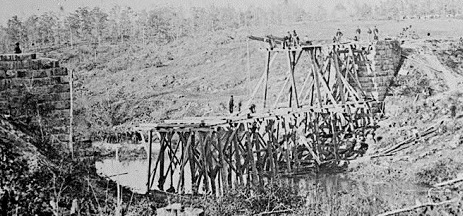 Orange and Alexandria Railroad bridge repairs during the Civil War, crossing Cedar Run, guarded by the 6th Pennsylvania Heavy Artillery.

Library of Congress
During the Civil War, Michael joined the Union Army in Greensburg, PA on Aug. 30, 1864. He was placed within the 6th Pennsylvania Heavy Artillery, Battery L. The 6th Artillery primarily performed guard duty in the District of Columbia and northern Virginia. In September 1864, the men were posted in protection of the capital in Washington, and later in the month transferred to guard the Orange and Alexandria Railroad line between Alexandria and Manassas. Their base of operations at that time was at the Fairfax County Court House.
Michael is not known to have suffered any illnesses, injuries or wounds during his term of service. He received his honorable discharge at Fort Ethan Allen in Arlington, VA on June 13, 1865 and returned to Indiana County.
In the postwar years, the Overdorffs lived in Blairsville, where Michael was employed as a laborer with the Pennsylvania Railroad. He held a longtime membership in the local lodge of the Odd Fellows, and the family belonged to the Evangelical Church.

Michael's "X" signature.

National Archives




Michael suffered as he aged from indigestion, known at the time as "dyspepsia." He was treated for the ailment by family doctor William L. Reed of nearby Homer City. In September 1881 he was hurt in a grain threshing accident on the farm of L.W. Spires in Blacklick Township when a platform in the roof of the shed where he was sitting fell and injured the right side of his head, neck and shoulder. He was forced to wear a sling for a time.

He was injured once more in March 1886 when he fell about 10 feet from a sled while hauling hay. Then in 1887, unable to perform heavy manual labor, he is known to have been employed by the Pennsy to drive a one-horse wagon around the rail depot and along the tracks, collecting and disposing of rubbish and tree branches, and to perform other odd jobs as needed.

On Sept. 15, 1890, Michael was awarded a military pension as compensation for his wartime debilities. [Invalid App. #912.523 - Cert. #877.266] News of the pension was printed in the Indiana Progress. He received $8 monthly in 1907 and $24 per month as of 1912.

He lost his job with the Pennsy, he claimed as a result of heart trouble. For the last decade of his life, Michael was burdened with chronic heart disease.

Just five days before his 71st birthday, he succumbed to the spectre of death on March 19, 1916. Mrs. William Devinney of Blairsville signed the death certificate. An obituary in the Indiana Progress called him "a well-known resident of Blairsville." Burial was in Blairsville Cemetery.

Maria outlived him by nine years, continuing to reside at 27 East Ranson Avenue in Blairsville. She successfully petitioned the government to receive her husband's pension. [Widow App. #1.063.271 - Cert. #808.002] Having endured hardening of the arteries and heart valve disease for 20 years, she was stricken by a stroke of apoplexy, with death sweeping her away at age 80 on March 8, 1927. She sleeps for all eternity in Blairsville Cemetery.

~ Daughter Sarah Susan (Overdorff) Devinney ~

Daughter Sarah Susan "Sallie" Overdorff (1866- ? ) was born on April 16, 1866.

She was joined in matrimony with William C. Devinney ( ? - ? ).

The Devinneys were in Blairsville in 1916.

The couple's two known sons were Ralph W. Devinney and George Dewey Devinney.

~ Son Chauncey Overdorff ~

Son Chauncey Overdorff (1872- ? ) was born on Feb. 15, 1872.

He was deceased by 1915.

~ Daughter Ola May (Overdorff) Cover ~

Daughter Nola May Overdorff (1880- ? ) was born on Aug. 22, 1880.

She was united in wedlock with Charles Cover ( ? - ? ).

The couple dwelled in Blairsville.

Four offspring born to this union were Wilbert S. Cover Sr., Harry Cover, Edna Risinger and Dorothy Libengood.

Son Wilbert relocated to New Brighton, PA.

Son Harry settled in Beaver Falls, PA.

Daughter Edna Cover married (?) Risinger and lived in Homer City, PA.

Daughter Dorothy Cover wed (?) Libengood. She dwelled in Blairsville.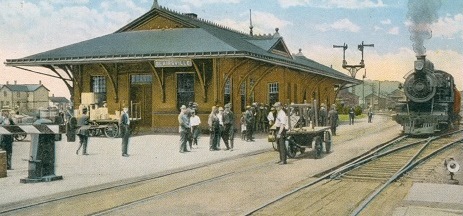 Pennsylvania Railroad station, Blairsville, PA
~ Daughter Margaret Belle (Overdorff) Devinney ~
Daughter Margaret Belle "Maggie" Overdorff (1886-1957) was born on Jan. 7, 1886 in Burrell Township, PA.
On Oct. 11, 1900, when she would have been 14 years of age, she entered into marriage with 24-year-old Albert Oscar Devinney (Nov. 4, 1875-1930), also of Blairsville and the son of Francis "Frank" and Sarah (Clawson) Devinney. Justice of the peace Robert T. Thompson presided, with the event held in Blairsville and the news announced in the Indiana Progress.
The couple's two offspring were Christina Fern Patterson and Carl Devinney in addition to an infant son who died of pneumonia on Feb. 7, 1902.
Albert stood 5 feet, 8 inches tall, weighed 138 lbs. and had brown hair and blue eyes. Prior to marriage, Albert spent 30 days at lard labor January-February 1898 in the Allegheny County Workhouse in Pittsburgh. After his discharge, he joined the U.S. Marine Corps under the alias "James Nolan" and served in the Spanish-American War. During the war, he was posted aboard the USS Yale in Cuban waters and then aboard the USS Yankee which sailed to New Orleans. Albert was honorably discharged in Brooklyn, NY on June 15, 1899.
The Devinneys' marriage was troubled, and in about 1902 Albert was convicted of larceny, but was not sentenced to punishment, having promised good behavior in the future. They separated in about 1904, after the birth of their son Carl, with Margaret moving back into her father's home. On June 18, 1904, Albert went to his in-laws' house and demanded to see his wife. Reported the Indiana Democrat, "Being refused he battered down the door, but when he attempted to enter, Mr. Overdorff struck him over the head with a bottle. He was finally ejected, and arrested. Later in the evening as he was being taken to the 'Squires' office for a hearing, he wrenched loose from Policeman McCracken and would have escaped had not the policeman shot him." The wound was not considered serious, and he was held in the county jail in Indiana.
The couple eventually reconciled. Albert found employment with the Pennsylvania Railroad, and by 1918 the pair relocated to a home at 223 Morse Street in the Knoxville section of Pittsburgh. When registering for the military draft during World War I, Albert disclosed that he was a railroad brakeman and that Margaret was living at the same address as his wife. He eventually was promoted to conductor.
For the last four years of his life, he was burdened with chronic kidney disease and hypertension. He died at the age of 55, on Christmas Eve 1930, in Blairsville. Interment was in Blairsville Cemetery, with an obituary printed in the Indiana Weekly Messenger.
As a widow, Margaret applied for and was granted in 1932 a pension for her husband's wartime service. [Widow App. #1711286 - Cert. #A-6-1-32 - XC 2.648.174] She remained in her home at 27 East Ranson Avenue for the rest of her years.
At age 71, having suffered for a decade from hardening of the arteries, she was felled by a cerebral hemorrhage and died 10 days later on Jan. 31, 1957.
Copyright © 2021-2022 Mark A. Miner
Minerd.com extends its gratitude to the late Donna (Younkin) Logan for her research contributions to this biography.