Mamie Herndon Fawcett
(1879-1959)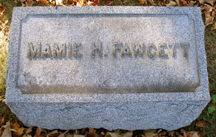 Maplewood Cemetery, Kingwood, WV
Mamie Herndon Fawcett was born in 1879 in Kingwood, Preston County, WV, the daughter of Charles Wesley and Margaret Elizabeth (Herndon) Fawcett.
Mamie never married and resided for most of her life in Kingwood.
When Mamie's father died in 1919, he bequeathed her "One Mahogany wood centre table now in Clarksburg [and] one side board - one parlor suit now at Mrs. DuValls in Kingwood... [and] one Marble top centre table."
In 1920, the single, 36-year-old Mamie made her home with her married sister and brother in law, Ella and Patrick Crogan, in Kingwood, but had no occupation. Also living in the household that year was her widowed sister Bess Shaffer.
The United States Census of 1930 shows Mamie and Bess continuing to live with the Crogans on Kingwood's High Street..
Mamie and her Bess relocated to Charleston, Kanawha County, WV by 1935. There, Mamie had no occupation, while Bess earned a living as a clerk with a workmen's compensation office. When the federal census enumeration again was made in 1940, the two were sharing a home in Charleston with two lodgers, stenographers Katherine Gross and Mary Napier.
She was the informant on the death certificate of her sister Ella Crogan in 1946.
She died on July 26, 1959, at the age of 80, with her obituary published in the Morgantown Dominion News. She was laid to rest beside her parents and siblings at Maplewood Cemetery in Kingwood.
Copyright © 2007-2008, 2021 Mark A. Miner