Home

Julia (Hanshaw) Fawcett
(1854-1910) and
Charles Wesley Fawcett
(1844-1919)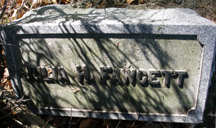 Maplewood Cemetery, Kingwood, WV
Julia M. (Hanshaw) Fawcett was born on Oct. 25, 1854 (or 1855) in Preston County, WV, the daughter of Hiram B. and Catherine (Miner) Hanshaw.
She spent her life serving her family, beginning with her parents, who owned and operated the Hanshaw House hotel in Independence, WV. When she married, later in life, it was to a widowed cousin, Charles Wesley Fawcett (1844-1919), the son of William M. and Naomi (Fortney) Fawcett.
Toward the end of her life, Julia undertook the massive task of administering the sizable estate of her late brother, which included a complex system of oil and gas well royalty payments to 23 heirs.
In early 1866, at age 10, Julia is known to have attended the wedding of her sister, Jennie, to Civil War veteran Eugene Huggins. She later testified that she had witnessed the event.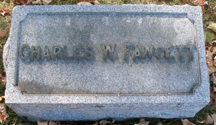 Charles' grave, Maplewood
"Early in life," said the Preston County Journal, "she put on the armor of Christ by baptism in the Baptist church at Independence. For over thirty years she ... lived Christ in her home before her friends and family."
Julia did not marry until she was in her middle age. For many years, in the 1860s and 1870s, she was employed in the family hotel business in Independence. In 1879, after her mother's death, Julia asked to be reimbursed in the amount of $470.66 for accrued wages for work she had performed at the hotel. In an affidavit dated Oct. 1, 1881, her sister Helen Hanshaw testified that Julia had:
… worked for my mother … from Oct. 1875 to Oct. 1879, this last date being that of the death of my said mother. During the two hundred and eight weeks mentioned,…, my said sister Julia M. worked for my said mother, doing the general house work of the said hotel, all the house work for the keeping of the same…. The work then done was by no means easy work and I would consider two dollars per week only a fair compensation for the same. During the time this work was being done for my mother, she often spoke of the fact and say that those of her children who remained with her and took care of her should be rewarded for it out of the estate left at the decease.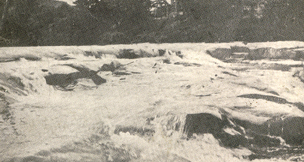 Picturesque Three Fork Creek near Independence
The June 10, 1880 Preston County Journal said that Julia, "who has been very low with fever, is, we are happy to state, improving." She recovered, and when the Hanshaw House was put up for sale at auction in 1883, she and sister Helen were the high bidders. She owned the property for a short time, but apparently did not want to keep it, and sold it again the following year. The new buyer was Thomas Herrington, on May 1, 1884, a resident of Wetzel County, WV at the time.
By 1895, Julia had left Preston County, and was boarding at 9 South York Street in Wheeling, Ohio County, WV. Her widowed sister in law Marion (Percy) Henshaw, and cousin Godfrey Guesman Murdock, were living in Wheeling at the time, but it's not known why she would have gone there herself.
In Sept. 3, 1898, in Wheeling, Julia married her widowed cousin, Charles Wesley Fawcett.
~ The Story of Charles Wesley Fawcett ~
Charles Wesley Fawcett was born in 1844 in Preston County, WV, the son of William and Naomi (Fortney) Fawcett.
Charles' first wife was Margaret Elizabeth Herndon (1844-1897), the daughter of William M. and Malinda (or "Malissa") (Morgan) Herndon. The Fawcetts and Herndons were close, as Charles' brother Daniel married Margaret's sister Malvina. Said the 1911 book, History of Charleston and Kanawha County, by W.S. Laidley, "The Herndons were prominent people in Preston county and the Morgans, in early days, suffered from the Indians on Morgan and Green Runs and their names are known in history."
Charles and Margaret went on to have five children -- Bessie Shaffer Bruff, Mamie Herndon Fawcett, Mallie Parkhurst Mehrie, Luella "Ella" Crogan and John "William" Fawcett.
Charles' brother Daniel served in the Civil War with the 17th West Virginia Infantry. In about April 1865, Charles traveled to Clarksburg, Harrison County, WV to see his brother, who had contracted the mumps while helping to construct a breast-works. Upon the brother's return home, however, his health was shattered, and Charles -- only five years older -- took the ailing Daniel under his wing. Many years later, Charles wrote this:
I was living on a farm in this county within a mile of where my mother, Naomi Fawcett, lived in the year 1865 when said Daniel F. Fawcett came home from the Army in July of that year. At the time he was complaining with piles and suffering greatly with them. In a few days after he came home he and I went out into the field to do some mowing and he suffered so with the piles that he had to quit work. He remained with me on the farm up until in the spring of 1867 when his trouble became so severe that he had to go home to mothers and take his bed and he remained there suffering with what we thought to be the piles for about six weeks. [After an operation,] he remained on the farm ... where I lived, until the following March and I saw him daily and he still complained and suffered greatly with his hips and back, and complained of a severe pain in the rectum which occurred whenever he would stoop down. Since he left the farm in 1868 I have seen him very frequently indeed some times every few days and I do not think that there was ever a time that a month passed by that I did not see him up until the present time, and within the last twenty years we have both lived in the same town or village together.
Charles obtained employment as an assistant dispatcher for the Baltimore and Ohio Railroad. In March 1874, the Preston County Journal reported that he had purchased a new residence on Main Street in the Portland District of the county from E.J. Miller. When the federal census was taken in 1880, the family lived in Kingwood, just a few doors away from Charles' cousin, blacksmith James Eyster Murdock Sr. That year, Charles was shown to be working as a "boot & shoemaker."
Tragically, Charles' double-sister-in-law Malvina (Herndon) Fawcett -- Daniel's wife -- suffered from tuberculosis, or "consumption" as it was then known. Having been afflicted for two years, said the Preston County Journal, "for many months her death was only a question of time." She died on May 28, 1879, at the age of 30, and following the funeral at their home, led by Rev. Dr. Prettyman, she was laid to rest in Maplewood Cemetery in Kingwood. She and Daniel had been married for a decade.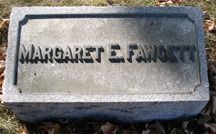 Charles' 1st wife, Maplewood Cemetery
The widowed brother Daniel boarded in a "brick house" in Kingwood with Charles and Margaret in the winter of 1884, complaining of rheumatism and becoming paralyzed on the left side for a period of time before recovering mobility. Their mother in law, Malinda Herndon, said to be "a kind of an old lady doctor," helped nurse Daniel and prepared salves and poultices to bring him relief.
Tragically, in the winter of 1890, Charles' brother in law Robert Lee Turnley died of typhoid fever in nearby Newburg. In a short obituary, the Preston County Journal said Charles and Daniel of Kingwood "did not receive word of the death, owing to delay in the mail, till Monday."
Heartache struck the family again in the winter of 1897. Margaret died on Feb. 4, 1897, at the age of 53, of a not-yet-known cause. She was buried at Maplewood Cemetery in Kingwood. (Margaret's grave marker is located in the same row as her husband, her children and her husband's second wife.) That year, Charles was employed as a constable in Kingwood.
After about a year-and-a-half as a widower, Charles wed his cousin, Julia Hanshaw, in Wheeling, on Sept. 3, 1898.
~ Julia and Charles Together ~
The newlywed Fawcetts resided in Kingwood. Well-traveled, they are known to have visited her sisters, brothers, nephews and nieces in places such as Grafton, Newburg, Wheeling and Ellenboro, WV. In November 1900, the Preston County Journal said she "left last week for Wheeling where she will be the guest of relatives for a month."
In early 1907, Julia received a letter from her widowed, elderly brother, Dr. Guy Hanshaw, who resided in Ellenboro, Ritchie County. He apparently told her of his failing health, and asked if she and Charles could come and help manage his personal and business affairs, including a 102-acre farm, as well as oil wells. According to Guy's attorney, Thomas J. Davis Sr., Guy feared that "a good many people were all the time taking advantage of him and that his health was not sufficient to attend to his business matters..."
In February 1907, the Fawcetts traveled by train from Grafton to Ellenboro, and performed four days' work at Guy's home. They came again the next month, and stayed for five days. The doctor was so pleased with their help that he asked them to remain on a more permanent basis, with the inducement that he would pay for their meals, as well as a wages of $20 per week for their services. They accepted the offer, and in the words of attorney Davis, Julia "closed up her home in Kingwood and came to Ellenboro to nurse and care for him as he was hardly able to get around and required some one to care for him continually."
The Fawcetts traveled from Kingwood to Grafton to Ellenboro, bringing along Charles' horse. Knowing that Charles needed more than just part-time work, Guy apparently arranged for him to become "sergeant of the town of Ellenboro." In this role in law enforcement, Charles apparently "got mixed up" in a dispute with "Andrews Showalter et al.," but the specifics are not known. Guy also asked Charles to evict some farm tenants who had failed to pay their rent.
Anticipating that his life was growing short, Guy asked Charles to locate his wife's grave in Newburg, with the intention of moving the remains to Ellenboro for reburial upon his own impending death. Then in July 1907, Charles traveled to the "Tyler county oil field...," perhaps to look into Guy's investments there. Later, Charles said that he was "general manager or overseer of all of [Guy's] business affairs and work."
Julia ultimately worked for her brother for 45 weeks and one day, from May 3, 1907 to Guy's death on March 14, 1908. An Ellenboro neighbor, Nellie Lambert, said Julia "had to care for him like a child. I visited the residence every day and he was sick the greater part of the time, and I also helped her to wait on him a few times and I know how hard it was." She confirmed that Guy required "constant care and attention."
Despite his poor health, Guy and the Fawcetts occasionally traveled together. They went to Parkersburg, WV in March 1908, apparently on a shopping excursion. Tragically, that's where Guy met his end. While dining with Julia at a Parkersburg hotel, he choked on a piece of beef, and died shortly afterward, before doctors could arrive. The sad incident was covered in the local newspapers, and Julia was interviewed by the Parkersburg Dispatch-News.
Charles must have returned home to Kingwood shortly after his brother in law's death. A few weeks later, the Preston County Journal said, "Chas. Fawcett of Ellenboro, W.Va., is spending a few days in town."
The shocking death launched Julia and Charles into an expanded role they were not anticipating. Guy had not left a will, and thus the question of how to dispose of his home, more than $5,600 in cash savings, his farm and the eight oil wells was an issue. At the advice of attorney Davis, Julia filed a lawsuit, entitled Fawcett vs. Hanshaw, et. al. The case was the mechanism by which the Ritchie County Chancery Court could devise a fair and equitable distribution system. The court ruled that Julia and her sister Ruhama Menefee were next of kin, as well as 21 nephews and nieces. Julia was named executrix the estate, and had to begin the large effort to contact all the heirs. In her words, her nieces and nephews were "scattered to the four winds of the earth and it [is] almost impossible for them all to enter into a private agreement" to sell the estate's assets.
Thus, Julia and family lawyer Davis began to manage the assets, including some liquidation and distribution. For 42 years, until 1950, the case of Fawcett vs. Hanshaw, et. al., was active and on the books in Ritchie County.
The court awarded Julia and her elderly sister Ruhama a full 1/8 share each. The remaining 6/8 was to be divided among 21 nieces and nephews, with some living as far away as Montana, Detroit and New York City. It was further complicated because some of Julia's deceased siblings had produced unequal numbers of children -- two, three, four or six children each. Thus, for instance, each of the two children of her late sister Agnes Hoge received a 1/2 of 1/8 share, while each of the six children of her late sister Sarah Overfield received a 1/6 of 1/8 share.
In July 1908, she and Charles completed arrangements to have the remains of Guy's late wife Annie, who had been dead some 21 years, be relocated and buried beside Guy in Ellenboro. The cost was $43.46.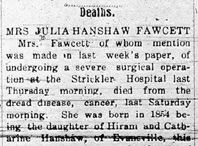 Preston County Journal, 1910
Throughout 1908 and 1909, Julia and Charles worked to bring the estate's finances into good working order. This involved selling household furniture, cows and other personal property at auction. Julia also had to post a bond valued at $7,500 from the United States Fidelity & Guaranty Company, and to settle property border disputes, collect IOUs and pay bills and other debts owed by her late brother. At least one lawsuit was filed against the estate, requesting payments for services performed during the doctor's lifetime. She had to arrange renting her brother's farm, and for the property to be re-surveyed for accuracy. She also worked with attorney Davis to collect the proceeds from the oil produced on the farm by Joseph Seep. The amount of work must have been staggering.
In May 1909, the first payment to heirs was made. Julia received a check for $242.50. She also received checks that the court ordered that she forward to nieces Nettie (Hanshaw) Wright, Kate (Purinton) Haller and Helen (Purinton) Liady.
With attorney Davis now handling most of the annual details of royalty payments to heirs, Julia and Charles apparently moved to Grafton, where they are known to have been residing in January 1910.
Sadly, on June 24, 1910, Julia passed away of cancer after a "severe surgical operation at the Strickler Hospital," said the Preston County Journal. The funeral was held at the home of her stepson-in-law, the Hon. Patrick J. Crogan in Kingwood, with burial in the Kingwood Cemetery.
In her will, Julia left everything to her husband, including all rights and inheritance from Guy's estate. She made special bequests of cash to nephews James "Stack" Hoge and Percy "Raymond" Hoge for "having aided me materially at divers times." As well, she left her watch to niece Kate (Purinton) Haller of New York, and a watch chain to a niece, "Mrs. Charles Frazier," of Newburg, "the same as presented to me by my deceased brother, Dr. Guy R. Hanshaw." She also bequeathed funds to "purchase and place neat and suitable monuments for the graves of my mother and sister, Helen, which are located at Newburg..."
Understandably, Charles did not wish to continue as the executor of the Guy Hanshaw estate. He petitioned the Ritchie County court to appoint their attorney, Davis, to replace him as special receiver. The request was granted.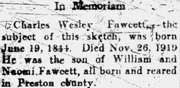 Preston County Journal, 1919
Charles remarried again to his third wife, to Rachel ( ? - ? ), and they resided at 483 Mechanic Street in Clarksburg, Harrison County, where he found work as a railroad conductor. He also continued receiving cash payments from Julia's full 1/8 share of the estate. From 1911 to 1919, he received an aggregate of more than $366. The high point was in 1918, when he received a check for $98.16.
In 1911, Charles and his first wife Margaret were mentioned in a chapter about their son in law, William Brewster Parkhurst, in the book History of Charleston and Kanawha County, West Virginia, authored by W.S. Laidley. Said the book, "Mr. Fawcett is a merchant at Grafton, in Taylor county, and is interested in oil production in Ritchie county... His parents, William M. and Naomi (Fortney) Fawcett, were early settlers in Preston county."
Charles passed away at age 75 of kidney disease on Nov. 25, 1919. He was laid to rest in the row with both of his wives at Maplewood Cemetery in Kingwood.
In his will, he left to daughter Bess Shaffer "One dresser and Wash Stand now in Clarksburg." He bequeathed daughter Mamie "One Mahogany wood centre table now in Clarksburg [and] one side board - one parlor suit now at Mrs. DuValls in Kingwood... [and] one Marble top centre table." His daughter and son in law, Ella and P.J. Crogan, received his watch, in addition to the remaining possessions in his home in Clarksburg as well as the windfall of all future cash payments from the Hanshaw estate. From 1920 to 1950, when the Hanshaw estate was finally closed, Ella received a total of more than $470.
Copyright © 2000, 2003-2004, 2006-2008, 2021 Mark A. Miner