Sara Elizabeth Freed
(1880-1977)

Sara in her youth

Sara Elizabeth Freed was born on Oct. 10, 1880 in or near Dickerson Run, Fayette County, PA, the daughter of Christian S. and Esther (Barnhouse) Freed. She never married.
Little is known of Sara's life, except a few tidbits.
In October 1888, the Connellsville Keystone Courier reported that eight-year-old Sara and her mother were "visiting friends at Scottdale" in nearby Westmoreland County.
She is thought to have been a kindly aunt to her nephews and nieces. Once, when young nephew Tilghman "Tim" Thorpe was sent to bed without dinner, Sara snuck some cake and pie into his room for him to secretly enjoy.
Sara and her sister Bertha Means and sister in law Leona (Colbert) Freed accompanied their elderly, widowed father to the Minerd Reunion in August 1932, held at Lake Forest Park near Scottdale, Westmoreland County. Writing in the Huntingdon (PA) Daily News, their cousin Laura Jane (Minerd) Williams reported: "Everyone seemed to enjoy the fine fellowship that existed among all the reunionists and the innumerable baskets that provided dinner and supper for the party were bottomless."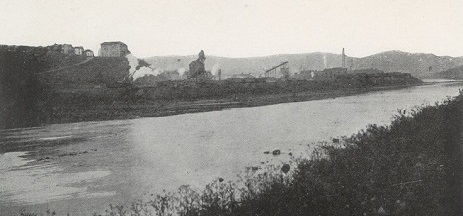 Dickerson Run, on the far bank of the Youghiogheny River

In older years

Sara resided in Vanderbilt in 1934, near Dickerson Run, the year her father died.

Because no official record had been kept of her birth, Sara had to obtain a delayed birth certificate during World War II. The document, produced in 1943, contained affidavits from Joseph H. Stoner and Belle Strickler, both of Dickerson Run, stating that both had known her all her life. A copy of this document is on file today at the Fayette County courthouse in Uniontown.

The federal census enumeration of 1940 shows that Sara dwelled in the home of her widowed brother Walter and his five offspring in Dunbar, Fayette County. Her occupation was marked as "housekeeper - private family."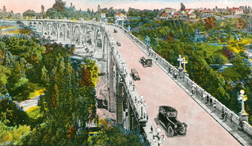 Arroyo Seco Bridge in Glendale

At some point, Sarah relocated cross-country to Southern California.

Circa 1946, when her sister Bertha died, Sara was residing in Glendale, Los Angeles County, CA.

She migrated once more to Florida. By 1973, when her sister Clara died, Sara was in Jacksonville, Duvall County, FL.

Sara died on Dec. 2, 1977, at the age of 97, presumably in Jacksonville. Burial was in Jacksonville's Evergreen Cemetery.

Copyright © 2002, 2006, 2009, 2022 Mark A. Miner