Esther R. (Barnhouse) Freed
(1852-1922)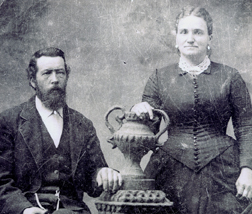 Christian and Esther
Esther Resler (Barnhouse) Freed was born on April 11, 1852 near Normalville, Fayette County, PA, the daughter of Harrison and Catherine (Minerd) Barnhouse.
She made a major contribution to our family by serving as the treasurer of the first annual Minerd Reunion, held in 1913.
At Esther's death, she was said to have "held a record as a Sunday school teacher believed to have been unsurpassed in Fayette county. For 50 years she taught in the school of the East Liberty Presbyterian Church at Vanderbilt, relinquishing her work only when failing health compelled her to do so ..."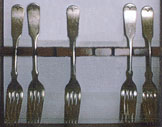 Silver forks given to Esther
Seen here are five silver forks that belonged to Esther. It is believed they were part of a set presented by her parents as a wedding gift. The precious silverware has been handed down in many generations of the family as heirlooms and traveled to many towns along the way in Western Pennsylvania. Today they are displayed in the home of a granddaughter.
Esther was raised in and around Normalville and East Liberty (Dickerson Run), Fayette County, PA. As a young, woman, she and her beloved father had been active in Sunday School -- in 1874 they were delegates to the 8th Annual Convention of the Fayette County Sabbath-School Union, and in 1876, she was a delegate at the 10th Sabbath School Convention.
On Oct. 16, 1875, at the age of 23, Esther was united in the bonds of holy matrimony with 22-year-old Christian Stoner Freed (1853-1934), the son of Henry Newcomer and Sarah (Stoner) Freed.
The couple produced a family of five children -- Clara Jane Thorpe, Bertha Means, Sara Elizabeth Freed, Mary Oswald and Walter Abram Freed.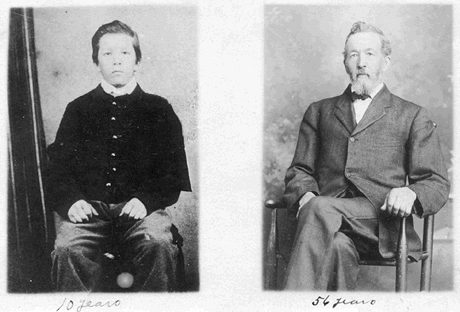 Above: Christian at ages 10 and 56. Below: Freed portraits, several years apart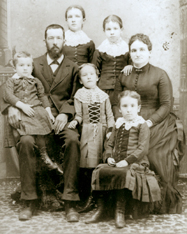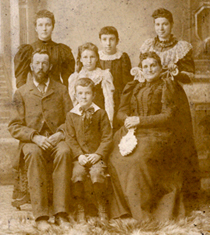 The Freeds were farmers and resided in a small house near Vanderbilt. The Uniontown Genius of Liberty reported in 1880 that Christian "had a large bank barn raised on his farm...."
The Connellsville Courier said that "When [Christian] was a young man he engaged in farming and followed that occupation until [1923] when he sold his farm known as 'Highland Farm,' near Vanderbilt, and retired. He had been a resident of Dunbar township for about 56 years. [He] was a member of the Vanderbilt Presbyterian Church, the Union Farmers Club of Fayette County and the Dunbar Grange."
They seemed to enjoy having photograph portraits taken and then giving them to relatives as gifts. Portraits of Esther and Christian have been found today in the collections of her first cousins Ephraim Minerd, Lawson Minerd and Martin Miner.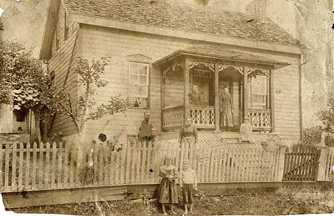 Freed home, Highland Farm, near Vanderbilt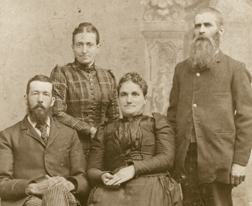 Esther and sister Clara and spouses
During one visit from her sister Clara Huston, the two couples posed for a photograph portrait. In the image, Esther and Christian are seated, with Clara and Boyd W. Huston standing. The Hustons had migrated to Kansas as newlyweds in 1871, taking a boat from Pittsburgh, PA to Kansas City, and remained in the southwestern section of Kansas City, KS for the rest of their lives, even though the two couples visited back and forth during the ensuing decades.
In the fall of 1899, when they were in their late 40s, Esther and Christian took a "long trip" to Kansas, presumably to the homes of her married sisters Clara Huston and/or Susan Stoner, who had migrated there decades before. Upon returning to Fayette County, Christian wrote a lengthy report of the trip, published in the Nov. 3, 1899 edition of the Connellsville Courier.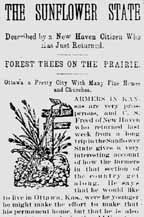 Christian's letter, 1899
Christian's article, headlined "The Sunflower State," reported that "He says that he would like to live in Ottawa, Kas., were he younger he might make the effort to make this his permanent home, but that he is also content to remain in the old Keystone State." Among other things, he wrote that:
...we were agreeably surprised to find more timber than we had expected to see. There is plenty of timber along the streams to furnish fuel enough to last for all time to come. We also found that people in the settling of the country took a great interest in planting groves around their homes, thus making the general appearance of the country resemble a forest rather than a prairie, since the trees have grown....
...We arrived in Ottawa in time to see the windup of the Franklin County Fair and were surprised to see such a gathering of people, and such a large collection of fine stock and agricultural products. The farmers came in in their fine surrys and buggies, instead of wagons, which certainly is an indication that the Kansas farmers are prosperous.
The Freeds were very social, enjoying gatherings of all sorts and sizes with family and friends. In August 1919, although the 67-year-old Esther was ill and thus unable to go, her children and grandchildren attended a large Freed reunion in Fayette County. They attended many Freed reunions over time, and hosted at least one such event at their home.

1919 Freed Reunion, with two of Esther's daughters seated in the front row
In 1913, the Freeds attended the first annual Minerd Reunion at Ohiopyle, PA, and Esther was elected treasurer. She was prominently mentioned in a Minerd history read aloud at the reunion by cousin and family historian Allen E. Harbaugh -- "Of prominent members of the three families, we mention Mrs. Esther Freed, daughter of Catharine Barnhouse, W. Henry Minerd, Justice of the Peace, and son of Joel, and Rev. Isaac H. Minerd, son of Eli," Harbaugh wrote.
Esther kept a family Bible in which she inscribed information about her grandfather and grandmother Minerd, apparently learned at the 1913 reunion. She and Christian are known to have been at the 1920 reunion, held at the Ferncliff Hotel in Ohiopyle.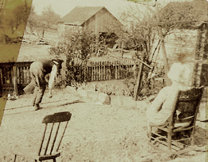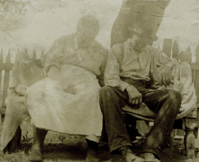 Christian planting in his garden, left, while Esther observes. Right: they nap after a long day's labor.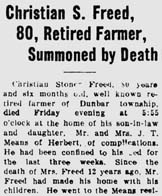 Obituary, 1934
Esther died of a stroke at the age of 70 on Sept. 11, 1922. She was laid to rest at the Dickerson Run Cemetery near Vanderbilt.
Christian outlived her by 12 years, making his home with his children. As he became frail, he went to live with his married daughter Bertha Means at Herbert, Fayette County, at Christmas 1933. He was confined to his bed in mid-February 1934. After three weeks of final suffering, he died, at age 80, on March 2, 1934. His remains were brought to the home of son Walter at Vanderbilt for the funeral, followed by a service at the Presbyterian Church in Vanderbilt led by Rev. D.C. White and assisted by Rev. E.C. Pires of the Third Presbyterian Church of Uniontown.
He was laid to rest beside esther at Dickerson Run Cemetery. At his death, he was survived by 16 grandchildren and 16 great-grandchildren.
In an editorial, the Daily Courier eulogized: "In the death of Christian S. Freed, Dunbar township loses one of its best known citizens, his home community and the profession of farming one of the most useful and valuable exponents of all that was intended to contribute to the welfare of his neighbors and the advancement of the art to which he gave the productive years of his life."
Click here to visit a national Barnhouse family webpage, with broader information than just for those cousins belonging to our family.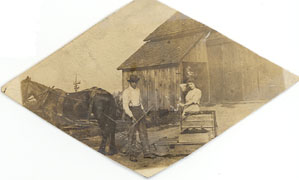 Christian and one of his granddaughters, possibly Phoebe Workman, at the farm
Copyright © 2000-2006, 2008-2010 Mark A. Miner