Bertha (Freed) Means
(1878-1946)

Bertha Alice (Freed) Means was born on Aug. 14, 1878 in Vanderbilt, Fayette County, PA, the daughter of Christian Stoner and Esther (Barnhouse) Freed.
On Aug. 14, 1903, at the age of 25, Bertha eloped with 29-year-old widower Joseph T. Means (1874-1950), a coal miner, and the son of William K. and Rebecca (Crossland) Means. Rev. R.L. Price officiated at the wedding, held at Vanderbilt.
Joseph's first wife, Anna (Shallenberger) Means, died in 1900, and he brought an eight-year-old daughter Mary to the marriage with Bertha.
They had four children of their own -- Ruth Case, Esther Merryman, and twins Flora Means and Roy Means. Born in 1909, the twins are not thought to have survived childhood.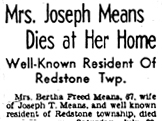 The Meanses first resided in Vanderbilt, until 1910, when they moved to Herbert, a coal mine patch town near Uniontown, Fayette County. The 1910 federal census shows the family living at the Mitchell Works in Redstone Township, Fayette County, with Joseph's occupation listed as "laborer - odd jobs." Their next-door neighbors at the works were distant cousins James L. and Catherine (Whalen) Minerd and their brood of eight children. Whether the two families knew they were related is unknown.
The Uniontown Morning-Herald said that Joseph "was employed with the Connellsville Central Coal and Coke company ... [and later was] associated with the Fayette county commissioners. A staunch Republican, he was prominent in Redstone township politics for many years." He was employed toward the end of his life as store keeper at the Fayette County Home.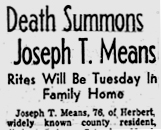 They were members of the Third Presbyterian Church and active in the John Knox Bible Class. She also was a member of the Uniontown Order of Eastern Star.
When the census was enumerated again in 1920, Bertha and Joseph and daughters Ruth and Esther made their home together in Redstone Township. Joseph was employed that year as a stable boss at the local coal mine.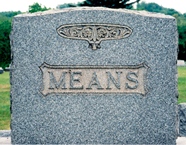 As Bertha's father aged, he came to reside in the Means home in Herbert. He is listed as a member of their household in the 1930 census, and he passed away there in 1934.
The 1930 census lists Joseph as a foreman in the coal mine stables. Daughter Esther, age 23 and living under their roof, was employed as a teacher in a public school.
Bertha and her daughter Esther, sister Sara Freed and sister in law Leona (Colbert) Freed accompanied their elderly, widowed father to the Minerd Reunion in August 1932, held at Lake Forest Park near Scottdale, Westmoreland County. Writing in the Huntingdon (PA) Daily News, their cousin Laura Jane (Minerd) Williams reported: "Everyone seemed to enjoy the fine fellowship that existed among all the reunionists and the innumerable baskets that provided dinner and supper for the party were bottomless."
Bertha died at her home in Herbert on July 20, 1946, at the age of 68. Her obituary was front page news in the Morning Herald. The funeral service was conducted by Rev. Lorne H. Belden, with the Order of Eastern Star holding a ritualistic service as well.
Joseph outlived his wife by almost four years.
At the age of 76, he passed away on March 11, 1950 in Uniontown. At his death, reported the Morning Herald, he was survived by five grandchildren and three great-grandchildren. He and Bertha are buried together in the Dickerson Run Cemetery near Vanderbilt.
Meanses' graves at Dickerson Run Union Cemetery
~ Daughter Mary (Means) Harshman ~
Daughter Mary Means (1896- ? ) was born in 1896. She was age 3 when her mother died, and age 7 when her father married our Bertha Freed.
She married Harry P. Harshman (1894-1934) in about 1916. Harry was a coal miner.
They had three known children -- Sarah M. Harshman, Jacqueline Harshman and John Harshman.

The federal census of 1930 lists the family in Redstone Township, Fayette County, where Harry was employed as a labor foreman in a coal mine.
Tragedy struck the family in the mid-summer of 1934, when they made their home at Grindstone, Fayette County. On Aug. 15, 1934 when Harry was killed when his skull was fractured in a coal mine accident at the Colonial No. 4 Mine. He was buried at Mt. Olive Cemetery in Connellsville, Fayette County.
Mary provided for herself afterward by working at Montgomery Ward Company for 28 years. As a single mother, she often visited her parents on weekends. In April 1950, she and son John moved from Morgantown Street to 90 Pennsylvania Avenue in Uniontown. Her name often appeared in the social columns of the Uniontown newspapers.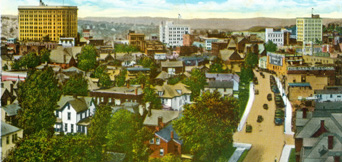 Uniontown skyline, circa 1920s
Grandddaughter Sarah M. Harshman (1917- ? ) wed Harry Saunders and resided in Morgantown, Monongalia County, WV.
Grandddaughter Jacqueline Harshman (1927- ? ) married James Smithburger, son of Raymond Smithburger of Uniontown. The nuptials were performed on June 14, 1948. At the time of marriage, Jacqueline was employed at the Uniontown Dental Laboratory, and James with Bryson Motors. Circa 1960, they made their home at 38 Clyde Avenue in Uniontown. They had two known daughters, Susan Smithburger and Ann Smithburger.
Grandson John Harshman (1929- ? ) served with the U.S. Air Force during the Korean War. He was stationed at the Warren Air Force Base in Cheyenne, WY. He married Connie Lou Marshall, daughter of Harold C. Marshall, an attorney of 240 North Gallatin Avenue in Uniontown. At the time their engagement was announced in the Uniontown Morning Herald, on Dec. 29, 1950, Connie was employed with Bell Telephone Company. They were wed in May 1951 at Asbury Methodist Church in Uniontown. They had two known children, Marshall Thomas Harshman and Jill Harshman. After the war, the Harshmans returned to Uniontown from Wyoming.
~ Daughter Ruth (Means) Case ~
Daughter Ruth Means (1905- ? ) was born in 1905. She married William I. Case (1900- ? ).
They had at least three children, Betty Case, William Case and Joseph T. Case.
The federal census of 1930 shows the family living on Prospect Street in Uniontown. William's occupation was as a "transit man" in a coal mine.
Circa 1946-1950, they made their home on Connellsville Road in Uniontown. When Ruth's father died in March 1950, word reached them while on vacation at the home of their son Joseph in Myrtle Beach, SC, and the two couples returned to Uniontown for the funeral. By 1960, the Cases relocated to Winter Haven, FL.
Granddaughter Betty Case (1922- ? )
Grandson William Case (1924- ? )
Grandson Joseph T. Case (1926- ? ) resided in Myrtle Beach, SC circa 1950.
~ Daughter Esther (Means) Merryman ~
Daughter Esther Means (1907- ? ) was born in 1907.
Esther was a teacher for 35 years in Redstone Township, near Uniontown. The 1930 census lists her living in her parents' household in Redstone Township, at age 23, and employed as a teacher in a public school.

In August 1932, at the age of 25, she and her mother, aunts Sara Freed and Leona (Colbert) Freed and elderly grandfather Christian Stoner Freed, attended the Minerd Reunion together at Lake Forest Park in Scottdale, Westmoreland County.
Esther married Paul I. Merryman ( ? - ? )
Paul worked for Motor Sales and Service, and later as an accountant for U.S. Steel Corporation's Filbert Plant.
Esther was a member of the Uniontown Business & Professional Women's Club and the Uniontown College Club, and a past matron of Chapter 263, Order of Eastern Star, and district deputy. In her role with Eastern Star, she occasionally posed with other leaders of the group for photographs appearing in the Uniontown Morning Herald.
Circa 1950, she worked as a kindergarten teacher at the Filbert elementary school near Uniontown.
Copyright © 2001, 2009 Mark A. Miner