On Jan. 18, 1866, when she was 21 years of age, Jennie was united in holy matrimony with 24-year-old Eugene Huggins (1841-1909) in Preston County. Rev. McNeal officiated at the nuptials held in Independence, Preston County. Brother in law Thomas L. Purinton witnessed the wedding.
Tragically for genealogists, official records of their marriage were "entirely destroyed" in the great Preston County courthouse fire in Kingwood just a few years later in 1869.
Before the Civil War broke out, circa 1860, Eugene worked as an photographer using an early day technique known as ambrotyping. He stood 5 feet 8 inches, and weighed 144 lbs., with dark hair and blue eyes.
After joining the Union Army, Eugene was placed within the 3rd West Virginia Infantry, and later was transferred to the 6th West Virginia Cavalry, Company D, of which he was promoted to sergeant.
During the war, his regiment was stationed at Clarksburg, Harrison County and in New Creek, Mineral County, WV.
Later, in battle at McDowell, Highland County, VA, on May 8, 1862, Eugene received a slight gunshot wound in the right forearm. The ball remained in his arm the rest of his life. The battle was fought between the armies of Confederate General Stonewall Jackson and Union General Robert Milroy. This was considered the first battle in Jackson's famous "Valley Campaign" in the Shenandoah where his foot cavalry marched 400 miles in 40 days and defeated four armies of West Virginia, Ohio, Virginia and Georgia troops commanded by four different generals.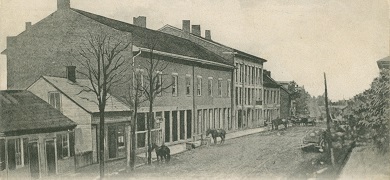 Above: Clarksburg, WV during the war. Below: mountainous, wooded McDowell battlefield in Highland County, VA, where Eugene was wounded in action.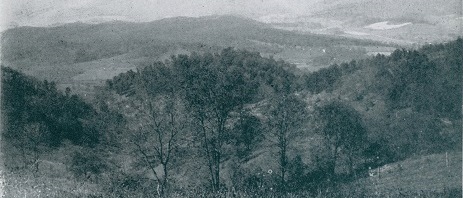 Morgantown, hard by the Monongahela River
After his discharge, on Aug. 15, 1864, Eugene returned home to Newburg, Preston County, where he worked as "clerking, carpenter & tinner..." They lived in Newburg for a time. While residing in Newburg, Eugene "was one of Preston county's prominent citizens, and served as justice of the peace for several terms," said a local historian. Wiley's 1882 History of Preston County says that in 1870-1871, Eugene served as clerk of the Lyon District of the county
Later, the family relocated to Morgantown, Monongalia County, WV, where Eugene was engaged in the insurance business with his son, Frank Huggins, and as very successful in this field of activity."
To be certified to receive a federal pension for his war wound, he often was summoned to physical examinations by authorized physicians. At one point, he was unable to go, and later had to testify why:
…I was employed in an undertakers shop. At that time my order was sent to me and the Proprietor not being here I could not leave as the Typhus was vary bad here at that time. I was called in nearly every day and often two and three times a day. I could not get any one to fill my place in the shop. Going before the board I would [have] had to [have] been away nearly all day and one night I was sick my self a great deal of the time and not able to go. If I could of left the business as there was no other undertakers shop here or near here. It was nessary that I should be here all the time.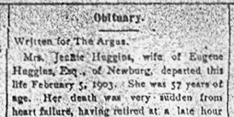 West Virginia Argus, 1903
Grief blanketed the family when Jennie died suddenly in her sleep on Feb. 5, 1903, at age 57. The West Virginia Argus eulogized:
…Sister had been a member of the church since early life, and was a faithful and consistent Christian lady. The M.E. Church of which she was a member, has lost in her death a valuable and consistent member. Her life was exemplary, pure and beautiful…. The very large assemblage of people attending the funeral service … was an indication of the high regard in which this elect lady was held.
The Argus also reported that "Her death was very sudden from heart failure, having retired at a late hour apparently in good health as at any time in the past and an hour later was discovered by her husband to be sinking into death in tranquil silence." She was buried at the Damon Cemetery in Newburg.
On May 31, 1905, after two years as a widower, Eugene married 34-year-old maid Annie G. Morrell (1870-1961), daughter of furniture manufacturer Loren and Susanna (Custer) Morrell of Meyersdale, Somerset County, PA. The nuptials were held at Cumberland, Allegany County, MD. Annie's mother claimed to be a cousin of General George Armstrong Custer, killed at the Battle of Little Big Horn.

Centre Street and bandstand in Meyersdale, early 1900s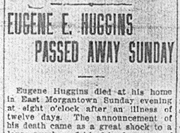 Morgantown New Dominion, 1909
The couple did not reproduce. Their marriage lasted a relatively short four years, until Eugene's death.
Eugene passed away in his residence at 16 Union Street in East Morgantown on March 7, 1909, at age 68. The Morgantown New Dominion said that the announcement "came as a great shock to a large number of friends, many of whom did not know of his illness. He suffered from a complication of illnesses, which gradually undermined his strength." His remains were brought by rail to Newburg Cemetery for burial.
After his death, the 39-year-old widow Annie moved across the state line into the railroad town of Meyersdale, Somerset County, PA, residing circa 1910 with her recently widowed mother and unmarried sister Hattie at 413 Beachly Street and at some point at 413 Salisbury Street.
The day after Christmas 1911, Annie married again to 42-year-old Ernest Richie McCarty (March 5, 1868-1939), son of Richard and Martha E. McCarty. Rev. George Avery Neeld officiated at the ceremony held in Meyersdale. The newlywed Annie then moved to Ernest's home farm in Delaplane, Fauquier County, VA, near Harpers Ferry and about 50 miles west of Washington, DC.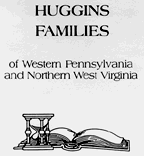 Book naming Jennie and Eugene
After their mother's death in Meyersdale on New Year's Day 1913, Annie's unmarried sister Hattie relocated to Washington, DC. There, Hattie obtained employment as a bond clerk in the registration office of the United States Treasury.
Circa 1920, Annie and her husband lived on the farm in Delaplane where he raised cattle and provided room and board for Ernest's 30-year-old nephew Harry McCarty and 29-year-old niece Edith McCarty. During the decade of the 1920s, they relocated into the District of Columbia, in a home on Hobart Street NW, with Ernest obtaining work as manager of a tire business. Federal census records for 1930 show Ernest and Annie living there, and under their roof was Annie's sister Hattie and lodgers Margaret E. Ralston and Swiss immigrant Pierre Grosheintz.
Sadly, Ernest passed away on May 3, 1939. His remains were placed into repose in Ivy Hill Cemetery in Upperville, Fauquier County.
Later, apparently in retirement, Annie established a residence in St. Petersburg, Pinellas County, FL. Annie's sister Hattie retired from her work in the U.S. Treasury and traveled to St. Petersburg to visit. While there, the sister developed bronchitis which turned into deadly pneumonia, and passed away in the McCarty home on May 1, 1946.
At the age of 91, Annie entered eternity in 1961. The cause and location of her passing is not yet known. Her remains were interred beside her parents and sister in Union Cemetery in Meyersdale.
Jennie and Eugene are mentioned in the 1987 book, Huggins Families of Western Pennsylvania and Northern West Virginia authored by Charles E. Huggins (Gateway Press, Inc.).
Copyright © 2000-2005, 2008, 2017, 2020 Mark A. Miner