Matilda (Hanshaw) Purinton
(1847-1880)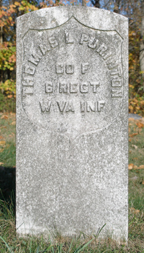 Damon Cemetery
Matilda E. "Tillie" (Hanshaw) Purinton was born in 1847 in Preston County, WV, the daughter of Hiram B. and Catherine (Miner) Hanshaw. Her husband was a veteran of the Civil War.
On July 1, 1866, at Independence, Preston County, the 19-year-old Tillie married 25-year-old farmer Thomas Lagee Purinton (1841-1919), a native of Truxton, Cortland County, NY. He was the son of Orpheus and Mary (Call) Purinton and one of 13 children. The wedding was performed by Thomas's uncle, Rev. Jesse Martin Purinton (1808- ? ).
News of the Hanshaw-Purinton marriage was published in the Preston County Journal, and later was recorded in the book, Preston County West Virginia, Newspaper Marriage and Death Notices, by Mary K. Williams. Because the county courthouse burned just three years after the marriage, the newspaper record is the only known source of this information. (Another family record has the wedding taking place in New York City.)
Following the family pattern, Thomas had migrated at a young age from New York to Rowlesburg, Preston County. As an adult, he stood 5 feet 8 inches tall, with brown hair and blue eyes. He apparently was named for his famed grandfather, Thomas Purinton, D.D., who led Baptist church congregations in Massachusetts and was editor of the official Baptist publication in New York State. Writing about the grandfather, the 1923 book History of West Virginia Old and New said: "Some years before his death, which occurred in New York State, he made a trip in to Western Virginia, and while here purchased upwards of a thousand acres of wild land in Preston County. It was this land that influenced the following generation to locate in West Virginia."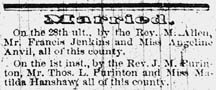 Preston County Journal, 1866
Tillie and Thomas had four daughters, all born between 1867 and 1873 -- Helen Menear Liady White, Martha Elizabeth "Mattie" Wyandt, Jessie Van Zandt and Katharyn "Kate" Haller Tower.
During the Civil War, Thomas served as a private in Company F of the 6th WV Infantry. His unit, said the History of Preston County, was "mustered into the service for the special duty of guarding the Baltimore & Ohio" Railroad."
The B&O lines, built in West Virginia from Harper's Ferry to Wheeling in 1853, with a branch from Grafton to Parkersburg completed in 1857, were a strategic asset. "Its tracks carried the troops and supplies for the eastern and western theaters of war," writes Stan Cohen in his 1976 book, The Civil War in West Virginia. "The railroad was the cause of frequent battles, raids and skirmishes and its protection tied up thousands of Union troops all along its line. Whichever side controlled the railroad would have a convenient conduit to the other's territory."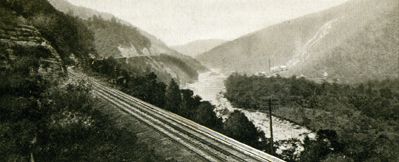 B&O line passing through the spectacular Cheat River Canyon near Rowlesburg, from an old postcard
Thomas was discharged on June 10, 1865 and returned home to Preston County.
The family lived in a town lot purchased at Independence, Preston County, from 1865 to 1887. It later was sold it to Tillie's parents, who operated it as a hotel -- the "Hanshaw House" -- which was painted yellow to attract attention. When the federal census was taken in 1870, Thomas was a farmer.
At some point, when the Purinton daughters were young girls, they were introduced to their father's first cousin, Daniel Boardman Purinton, who later went on to fame as president of Denison University and later West Virginia University. In 1926, in old age, D.B. Purinton wrote to one of the now-adult daughters, saying: "I remember you as nice, bright, promising children, and would much enjoy renewing our acquaintance."
Sadly, Tillie died on May 17, 1880, of unknown causes, at the young age of 33. Thirteen-year-old daughter Mattie was taken in by the Kinney family of Angola, Steuben County, IN, and was raised to adulthood apart from her sisters.
As a widower, Thomas after that became somewhat a nomad, residing alternately with family, including his married daughters in West Virginia, Ohio and New York. From 1887 to 1897, Thomas lived in Wheeling, Ohio County, WV, but as he later wrote, he had "no fixed residence."
Joy turned to heartache for Thomas during the 16-month period between April 1888 and August 1889. Daughter Helen married an up-and-coming carpenter in Kingwood, William H. Menear, and the future looked bright. William purchased a town lot and began building a house for him and Helen and their new baby. He also joined the local Knights of Pythias lodge. Thomas traveled from Wheeling to Kingwood in February 1889 to visit his family there.

Preston County Journal, 1889
While in town on that February 1889 visit, the Preston County Journal -- a Republican newspaper -- interviewed Thomas about his views on the controversial, disputed election of Republican Nathan Goff Jr. to the governorship of West Virginia. Reported the Journal: "Lagee thinks Goff is elected. So do we all."
But the happiness over his newlywed daughter and grandson were crushed when son-in-law William Menear became deathly ill in July 1889 with lead poisoning from his labors as a painter. At the same time, daughter Jessie was laid low with a severe case of the usually fatal typhoid fever. Thomas traveled again from Wheeling, in the company of unmarried daughter Mattie, to be with his daughters in Preston County at a time of great need. While Jessie fortunately recovered, William did not. He fought for about five weeks, and "up to a short time before his death, there were good hopes of his recovery," said the Journal. Sadly, though, he gave up the fight on Sept. 5, 1889, at the age of 23.
Following a very solemn funeral, the grieving Thomas began to help his newly widowed daughter with the agonizing process of rebuilding her life. The Journal reported that immediately following the funeral, Thomas took Helen and the baby to Wheeling. There, she remained with him for several years until she married again and moved to New York City.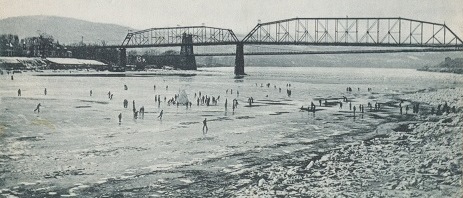 Ice skaters on the frozen Ohio River at Wheeling, where Thomas lived for about 10 years, from 1887 to 1897.
Though Thomas was employed at a hardware store in Wheeling circa 1894, he could only work for short periods due to his poor health, suffering from "rheumatism." In 1912, he wrote that he had "not been able to work for 13 years." It's likely that his employer was his brother-in-law, Theudas A. Hoge, known to have owned and operated a hardware store in Wheeling at that time.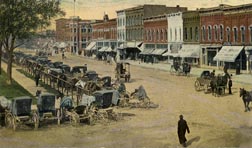 East Side Court Square, Bryan, OH, 1913
In 1902, Thomas relocated to Helen's home at 1253 Amsterdam Avenue in New York City. After staying there for about eight years, he moved again in 1910 to married daughter Mattie's residence at 132 Portland Street in Bryan, Williams County, OH.
Thomas died in the Wyandt home in Bryan on Sept. 8, 1919, at the age of 78. His remains were shipped back to Preston County for burial at the Damon Cemetery in Newburg. A standard issue Civil War military marker was erected over his grave. Today it stands tall and legible and is just across an interior road in the cemetery from the final resting places of his daughter Jessie Van Zandt and her husband and offspring.
In the early 1900s, Rev. Charles N. Sinnett of Brainerd, MN, compiled and typed a voluminous genealogy of the extended Purinton family. Running to 234 pages, it is entitled Lieutenant John Purington: His English and American Ancestry. Thomas himself is not mentioned in the work, but his father Orpheus and brothers are named -- C.D Purinton of Cooperstown, ND and John R. Purinton of Independence, IA. A copy today is preserved in the Minerd.com Archives.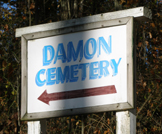 Newburg, WV
Wiley's 1882 History of Preston County notes that several of Thomas's close relatives were active in the community, including his uncle, Rev. Jesse Martin Purinton, a Baptist minister "who came to Reno for a time on account of ill health..." Others mentioned by Wiley were Dr. Daniel B. Purinton, "the acting president of the West Virginia University..."; Prof. G.D. Purinton, "vice president of the DesMoines University, Iowa..."; and A.L. Purinton, "principal of the Parkersburg schools..."
In 1905, Thomas' first cousin Daniel Boardman Purinton was the first occupant of the President's House on the campus of WVU, which became "home to many WVU presidents in the early days of the past century," said West Virginia University Alumni Magazine. Today, the Purinton House has been converted to offices for university officials. Other prominent members of this family were Daniel's sons Edward Earl Purinton, author of Triumph of a Man Who Acts, which sold three million copies; and John Alden Purinton, a prominent lawyer in Washington, DC with the firm of Brown & Purinton.
Copyright © 2000, 2002-2009, 2021 Mark A. Miner