Mary (Houser) McMurray
(1838-1907)
Mary (Houser) McMurray was born on Oct. 16, 1838 in or near Rushville, Fairfield County, OH, the daughter of George and Barbara (Miner) Houser. Most of what we know about her and her husband is found in the 1883 book, The History of Madison County, Ohio, published by W.H. Beers & Co.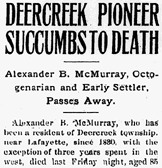 Obituary, 1906

When Mary was just age five, her mother died, of causes unknown. Within a month, her father remarried and later moved to Delaware, Coshocton and Franklin Counties, OH, and eventually to Scipio, IN. How she met her husband in Madison County is unknown.

On the Fourth of either January or July 1854, Mary married Alexander Blaine McMurray Jr. (1820-1906), a native of Westmoreland County, PA, and the son of Alexander and Ellen McMurray.

Alexander as a six-year-old had moved to Ohio with his parents, first settling in Highland County for two years, and then in Ross County for two more years. In January 1830, when Alexander was 10, they moved to Madison County, where they settled for good.

Said the History of Madison County, Alexander "here grew to manhood, fully acquainted with the early pioneers and the hardships and trials of those days."

Mary and Alexander had 10 children, of whom seven are known -- Alexander McMurray, Louisa McMurray, George McMurray, Ella McMurray, Robert A. McMurray Sr., Sallie McMurray and Florence McMurray, born over a 24 year span between 1855 and 1879. Sadly, their other three children died sometime prior to 1883.
Alexander's entry in the History of Madison County
The McMurrays resided on a farm in Deer Creek Township, Madison County. Circa 1883, their post office was in the town of Lafayette. Mary's married sister Elizabeth Baker Dillow and her first and second husbands also resided in Lafayette, but later migrated to Illinois, Iowa and back to Illinois.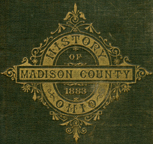 Book profiling Alexander

Alexander was profiled in a biographical entry in the History of Madison County:

...has made farming his occupation through life, and all in this township, but three years, from the fall of 1855 to the fall of 1858, during which he lived in Iowa. In September 1861, he bought and located on the place where he now lives and has since resided. This farm consists of fifty-two and a half acres, which he purchased of Mrs. Rogers. McMurray has served his Township as Trustee, and is one of the early settlers of this county.

Alexander passed away on Feb. 8, 1906.

Mary died the following year, on Dec. 5, 1907.

The McMurrays are mentioned in a booklet, Our Family Tree and Its Many Branches, McMurray Branch, published in November 1988 by Charles E. Parker.

~ Son Alexander McMurray Jr. ~

Son Alexander McMurray Jr. (1855-1924) was born in 1855.

He married Alice Ann Simmons (1853-1923), the daughter of Addison and Mary E. (Bulen) Simmons.

They were farmers for many years, and lived in Grove City, Franklin County, OH.

Four children were born to the couple -- William McMurray, Dora McMurray, Grace McMurray and one other not yet known.

Alice suffered from gallstones, caused by stomach cancer and colon problems, and died at the age of 69 on June 19, 1923.

As a widower, Alexander moved into the nearby city of Columbus, OH, and made his home at 180 South Harris Avenue. He bore the disease of diabetes, like his younger brothers.

He died a little over a year after his wife, at the age of 69, on Nov. 13, 1924. His remains were laid to rest beside his wife in Mt. Sterling, Madison County.

Son William McMurray ( ? - ? ) was born in (?).

Daughter Dora McMurray ( ? - ? ) was born in (?).

Daughter Grace McMurray ( ? - ? ) was born in (?).

~ Daughter Louise McMurray ~

Daughter Louise McMurray ( ? - ? )

~ Son George McMurray ~

Son George McMurray (1862-1945) was born in 1862.

He entered into marriage with Calistia (also spelled "Cliopia") (1862- ? ) in about 1903, when they both were in their mid 40s.

They lived near George's brother Robert in London, Madison County, and were farmers, as shown in the 1910 and 1920 censuses.

Calistia passed away sometime before George.

At the age of 82, having endured heart disease, hardening of the arteries and diabetes, George died on Jan. 30, 1945, at Wilson Sanitarium in Franklin County, OH. His remains were returned home for burial in Lafayette Cemetery.

~ Daughter Ella McMurray ~

Daughter Ella McMurray ( ? - ? )

~ Son Robert A. McMurray Sr. ~

Son Robert A. McMurray Sr. (1870-1947) was born in 1870.

Hee did not marry until later in life. In 1910, when the federal census was taken, he lived near his brother George, but in his own household, where he employed two men as hired help on the farm.

He eventually married Flora "Flo" (1886- ? ) sometime during the 1910s.

They resided near London, Madison County, where they were farmers for many years.

The McMurrays together bore at least two children, Sarah McMurray and Robert A. McMurray Jr.

Robert Sr. suffered from diabetes and died from its effects at the age of 77 on Oct. 8, 1947. He was laid to rest at Lafayette.

Daughter Sarah McMurray ( ? - ? ) was born in (?).

Son Robert A. McMurray Jr. ( ? - ? ) was born in (?).

~ Daughter Sallie McMurray ~

Daughter Sallie McMurray ( ? - ? )

~ Daughter Florence McMurray ~

Daughter Florence McMurray ( ? - ? )

~ More on the McMurrays ~

Based on information provided by the Madison County (OH) Genealogy Society, it is believed that the McMurrays' descendant Sara J. (McMurray) Goodyear was an educator and civil servant. "For ten years," said the Madison Press, "she was employed as a school teacher in the Lafayette and Monroe schools and served as principal at the Lafayette school for three years. She was later employed for 28 years in Civil Service with the U.S. Air Force at Wright-Patterson Air Force Base, retiring from there with the grade of GS12."

Another of the McMurrays' descendants, Robert A. McMurray Jr., "retired as a Major from the United States Air Force after 21 years of service," said the Madison Press. "He had served in World War II as a bomber pilot where he received several medals including the Distinguished Flying Cross and was also a veteran of the Korean War."

Copyright © 2004, 2007, 2008, 2022 Mark A. Miner