Bertha (Inks) Wilson
(1882-1956)

Bertha Wilson

Bertha (Inks) Wilson was born on March 24, 1882 near Farmington, Fayette County, PA, the daughter of Andrew J. and Minerva (Minerd) Inks.
On Valentine's Day 1906, Bertha married Arthur B. Wilson (1885-1973).
They are not thought to have had any children who survived to adulthood. Sadly, their only known child was born and died sometime before 1910.
The Wilsons resided in Uniontown, Fayette County. They also lived in Greensburg, Westmoreland County, PA circa 1923, when Bertha's mother resided with them and passed away in their home.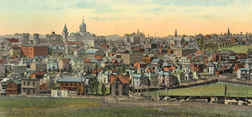 Greensburg, PA

A rare bird's eye postcard view of Greensburg is seen here.

Later, they moved to Brownsville, Fayette County, and thence to Fairchance, Fayette County.

Circa August 1949, at the death of Bertha's brother Calvin, they lived in Washington, Washington County, PA. Their last home, for their final three years together, was at 35 Sheldon Avenue in Fairchance.

Arthur was a member of various lodges in Greensburg and Pittsburgh. Bertha owned a convection newsstand circa the mid-1950s. She belonged to the Fairchance Presbyterian Church.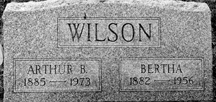 Mountain View Memorial Park

Bertha was stricken by bleeding on the brain and within the hours passed away at home on Jan. 16, 1956, at the age of 73. She was buried at Mountain View Memorial Park in nearby Brownfield.

Arthur survived hiw wife by more than 17 years.

On April 25, 1973, Arthur died at age 88 in a convalescent home in Markleysburg, Fayette County. He was buried beside Bertha at Mountain View.

Copyright © 2001-2002, 2020 Mark A. Miner