Emma (Inks) Williams
(1863-1918)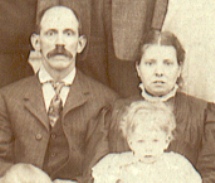 Joseph and Emma
Emma (Inks) Williams was born in March 1863 near Farmington, Fayette County, PA, the daughter of Andrew J. and Minerva (Minerd) Inks.
On New Year's Day 1890, when she was age 27, Emma married 20-year-old Joseph G. Williams (1869-1936), son of John R. and Martha Williams of Washington County, PA. At the time of marriage, he was residing in Elk County, PA. She was six years older than her husband.
They are seen here, holding baby daughter Laura, in a photograph taken in November 1906, at what may have been a family Thanksgiving gathering.
Their seven children were Ella "Florence" Phillips, Mary M. Morrow, Joseph Albert Williams, John A. Williams, Katherine Williams, Orthilla Williams and Laura Stuckman.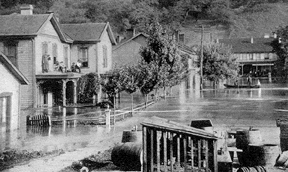 River flooding in Brownsville
The Williamses resided in a variety of towns in and around Fayette and Westmoreland Counties over the years as Joseph followed his trade of blacksmithing in the up and down cycles of the coal mining industry. Like her sisters, Emma was a dressmaker.
Among their residences was Hopwood (circa 1894), Strohms (near Greensburg, 1900), Uledi (1902), Railroad Street in South Brownsville, and Bullskin Township near Connellsville (1910), and Keister (1914).
As a town hard by the Monongahela River, Brownsville was prone to occasional flooding. The rare old postcard photograph seen here depicts high water in Brownsville circa 1906. Note the citizens on their porch roof at left, and the rowboat in the upper right hand corner. It's not known whether the Williams residence was in the lowlands, or whether they ever faced any hardships due to the rising, dangerous river.

Orthilla's grave
Sadly, daughter Orthilla, who was born on New Year's Day 1900, died at the tender age of five days, just after her parents' 10th wedding anniversary. Her badly faded grave marker in Uniontown's Park Place Cemetery is seen here.
Tragedy again rocked the family on June 6, 1914, when the family was residing in the coal patch town of Keister, Menallen Township, near Brownsville. Their 16-year-old son John was strong and emerging into adulthood, and was employed at the local coke ovens.
But while swimming in the nearby coal mine water reservoir in the town of Helen, John drowned. Reported the Connellsville Courier, he died "in eight feet of water in the Helen reservoir Saturday evening about 7 o'clock, while his two elder brothers and two other companions stood on the opposite bank, powerless to aid him. The body was recovered about 11.30 o'clock a few feet from where he was last seen alive." A physician examining the evidence concluded that the cause was "supposed cramps." He was placed at rest at Park Place Cemetery in Uniontown. (See a tribute on our special webpage, "Life and Death in the Coal Regions.")
During World War I, son Albert served with the US Army in Europe. At the time, the family lived in West Brownsville.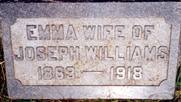 Park Place Cemetery
Emma suffered from chronic "Bright's Disease," a kidney disorder causing renal failure which led to her death. She passed away at the age of 55 on May 8, 1918. She was buried at the Park Place Cemetery in Uniontown, PA.
Joseph remained in West Brownsville for many years. He married again, on March 28, 1919, to Germany-born Lena Cook Williams, widow of Henry C. Cook. (Cook had disappeared in the 1910s and never been heard from again.) Joseph and Lena were wed in a ceremony at his daughter Mary Morrow's home in a ceremony performed by Emma's cousin, Rev. David Ewing Minerd, the "Blacksmith Preacher" of Fayette County. Among the guests was Emma's double cousin, Nevada (Minerd) Inks.
The census of 1930 shows Joseph, Lena and boarder Thomas Ross residing in West Brownsville, Washington County.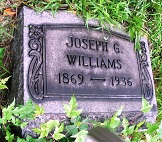 Minersville, PA
In the early 1930s, Joseph moved to the Allison Park suburb of Pittsburgh. He may have made the move to be closer to daughter Laura, who was known to be living in the Pittsburgh area. His final address was 1312 Sussex Avenue in the Borough of Ingram near Pittsburgh.
He died there at age 66 on Oct. 20, 1936, of chronic heart disease, or as a newspaper called it, "a complication of diseases." While the funeral was held in Brandt Funeral Home in Perrysville in Pittsburgh's North Hills, his remains were shipped to Minersville, Cambria County, PA for burial.
At the time of Joseph's death in 1936, daughter Laura Stuckman was residing in Pittsburgh, daughter Florence Phillips in Chicago and son Albert Williams in Haddenville, near Uniontown.
~ Daughter Ella "Florence" (Williams) Phillips ~
Daughter Ella "Florence" Williams (1890-1972) was born on Nov. 8, 1890 in Fayette County.
Divorced by 1930, she moved to Chicago, where she was employed as a bookkeeper for a restaurant. The federal census of 1930 shows her living on Cornellis Street, and keeping a boarder, 24-year-old widow Gertrude Penrice.
She later married Adolph Phillips (1888-1969), and they resided in Chicago.
Adolph died at the age of 81 on Aug. 30, 1969, in Chicago.
Florence outlived him by three years. She too died in Chicago on July 17, 1972, at age 82.
~ Daughter Mary Minerva (Williams) Morrow ~
Daughter Mary Minerva Morrow (1894-1922) was born on Sept. 2, 1894 in Hopwood, Fayette County. She married Andrew T. Morrow (1890-1948), on Dec. 20, 1914, whose parents were natives of Austria.
They had one daughter, Anna Mary Aspinwall. Circa 1920-1922, they made their home on 222 Morgantown Street in Uniontown, where Andrew operated his own stove repair business. In the early 1920s, he partnered with Miles E. Pritts, former purchasing agent for the Union Supply Company, with the name of their new enterprise known as "Morrow & Pritts." He also bought and sold kitchen appliance and furnace parts. His advertisements, headlined "For Better Cooking ... Better Living," were printed over the years in Uniontown newspapers.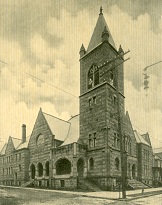 The Morrows' church, Great
Bethel Baptist in Uniontown
Mary was a member of the Great Bethel Baptist Church, and belonged to its women's group known as the Sunshine Girls. Other distant cousins belonged to this church body over the years. Among them were Edward Eugene Minerd, founder of the Minerd Funeral Home; Mahlon S. and Lillie (Griffey) Kern; William H. and Missouri (Shelkey) Minerd; Bruce H. and Agnes (Cooper) Leonard Sr.; and Thomas B. and Mary (Richter) Hunt Sr. The church also hosted the wedding of Arthur Paul and Alverta Mae (Stull) Ream in 1936.
Heartache rocked the family when Mary, expecting another child, could not regain her health after suffering with chronic endocarditis and bronchitis. While she had endured the ailment for 15 years, she succumbed six months into her pregnancy, at the age of 28, on April 15, 1922. Burial was in Park Place Cemetery.
Andrew outlived his wife by nearly a quarter of a century. He married, Josephine Peterson of Duquesne, an event which took place in November 1922, just seven months after Mary's passing. Josephine brought a daughter to the marriage, Alberta (Peterson) Connell.
The Morrows went on to have at least one other daughter, Delores Morrow.
They had a longtime home in the Rush Apartments at 104 Peter Street directly behind the Titlow Hotel in Uniontown, where he also ran his business. Andrew was a member of the Eagles Club and Elks Club of Connellsville, the Maccabees and the Great Bethel Baptist Church.
The marriage had its rocky moments, including in 1929 when Andrew allegedly threw a glass vase at Josephine, and she sued him for aggravated assault. Andrew sued for divorce in August 1935, citing abandonment. After the marriage ended, he took up company with Mabel Hostetler. In 1939, he moved from his longtime home on Peter Street to a new dwelling at 13 Kensington Avenue.
Mary's cousin, Samuel Inks and family, came for a visit to the Morrow home in June 1945, as reported in the Uniontown Morning Herald.
Andrew endured two major surgeries at Johns Hopkins Hospital in Baltimore in 1948. He did not survive the malady, and died on Nov. 23, 1948, at age 63. He was laid to rest in Sylvan Heights Cemetery. The business continued on in his name, "Andrew T. Morrow, Inc.," for several more years.
Daughter Anna Mary "Ann" Morrow (1916-2011) was born on Sept. 28, 1916. She grew up in Uniontown, and maintained relationships with her Minerd family. In June 1933, as a high schooler, she flew to Chicago "to visit for the greater part of the summer with her aunt, Mrs. Florence Phillips," said the Uniontown Morning Herald. "Miss Morrow will make the journey by airplane from Pittsburgh and will be joined in Chicago by her cousin, Miss Virginia Minerd of Connellsville, who plans to make the journey by rail." In May 1934, Anna Mary graduated from high school, with the commencement attended by her grandfather Joseph Williams, her father's cousin Ella Florence (Dawson) Minerd and daughter Virginia, her aunt Laura Stuckman of Pittsburgh, her uncle Albert Williams of Brownsville, and her aunt and uncle, Calvin and Nevada (Minerd) Inks. She enrolled in Bucknell University, and circa 1939 was employed with Bethlehem Steel Corporation in Pittsburgh. Ann married Joseph Aspinwall, the son of Mary Aspinwall of Perryopolis, Fayette County. The family lived at 12 Kensington Circle, next door to Ann's father in Uniontown. They had at least five children: Patricia Louise, Mary Jo Frame, Cathy, Lawrence A. and William Joseph Aspinwall. During World War II, Joseph served with the U.S. Armed Forces, and was active in the South Pacific Theatre, stationed at a camp in Leyte, the Philippines. In late October 1949, the children were pictured in the Uniontown Morning Herald, in connection with young Mary Jo's shared birthday with her father. Joseph was employed in the Morrow firm, and became president after his father in law's death. In May 1950, he was pictured in the Morning Herald at a trade conference in the West Penn Auditorium. In October 1951, he served as grand marshal of Uniontown's sixth Fall Foliage Festival. He was active in leadership with the Lions Club in Uniontown, and was president circa 1954.More heartache shook the family in July 1953, when daughter Cathy Aspinwall contracted polio. She was treated in the D.T. Watson Home for Crippled Children in Pittsburgh. Circa 1971, she attended Seton Hill College in Greensburg. Ann moved to Lake Forest, CA, where she spent her final years. She died at the age of 95 on Oct. 5, 2011.
Daughter Patricia Louise Aspinwall ( ? - ? ) married Stanley A. Machesky Jr. ( ? - ? ). They made their home circa 1961 at 40 Union Street in Uniontown. They had twin daughters in August 1961, Michelle Marie and Jamie Ann Machesky. They also had a daughter Deborah Lee Machesky.
In February 1969, daughter Mary Jo Aspinwall ( ? - ? ) passed her state nursing board examination and was employed at St. Margaret Memorial Hospital, where she had graduated. She had a daughter Jenifer Myers, born in 1972. Later, she married Michael Frame, and resided at Star City near Morgantown, Monongalia County, WV. They had twins, Michael Lee and Melanie Lynn Frame, in August 1977, and Michael formally adopted daughter Jenifer.
Son William Joseph Aspinwall ( ? - ? ) married Deborah Delores Mallicone ( ? - ? ) of Baltimore, MD in November 1976. The following year, at age 24, he was named United States Postmaster at Stockdale, Washington County, PA.
~ Son Joseph "Albert" Williams ~
Son Joseph "Albert" Williams (1895-1972) was born on Dec. 27, 1895, in Hopwood. He served in the United States Army, 140th Aerial Squadron, stationed in France.
He married Edna "Blanche" Shaffer (1895-1955), the daughter of Annie Shaffer of Scottdale, Westmoreland County. They had two children -- Charles G. Williams and Armetta Parrish.
Circa 1936, their home was in Haddenville, Fayette County. Later, they moved to 603 Mulberry Street in Scottdale. While there, they became members of the First Baptist Church of Scottdale. He also was a member of the Uniontown-Fayette Lodge of the Masons.

Haddenville, west of Uniontown along the National Road/U.S. Route 40, featuring an Amoco service station and furnished cabins for tourists
Blanche was stricken with peritonitis and was admitted to Montefiore Hospital in Pittsburgh, where she succumbed at the age of 60 on Oct. 8, 1955. Rev. T.A. Stacey conducted the funeral service, with burial in the Scottdale Cemetery.
Albert outlived Blanche by a decade. He relocated to 640 Brown Street in Scottdale, and married Sara (Momyer) Anderson (1899-1967), who brought six adult children to the marriage.
At the age of 69, he died on Aug. 17, 1965 in the Veterans Administration Hospital in Pittsburgh. He was laid to rest in Scottdale Cemetery, in a service officiated by Rev. Gordon Wilson. His obituary was published in the Connellsville Daily Courier.
Albert's widow, Sara, lived another two years. She died in Indiana, PA, on Nov. 28, 1967. Her remains were brought back to Westmoreland County for interment at Mt. Lebanon Cemetery in the town of Tarr.
Circa 1955, son Charles G. Williams made his home in Tucker, GA. By 1967, he had moved to Atlanta.
Daughter Armetta ("Armedia") Williams wed Harold T. Parrish and lived in Pittsburgh in 1955.
~ Daughter Laura Elizabeth (Williams) Stuckman ~
Daughter Laura Elizabeth Williams (1905- ? ) was born on Aug. 4, 1905 in Fayette County.
In about 1930, when she would have been about 24 years of age, she wed 33-year-old Raymond Daniel Stuckman (July 10, 1897-1974), a resident of Kelly Station, PA and the son of Err and Alberta (Nagel) Stuckman. He stood 6 feet high, weighed 178 lbs. and had grey eyes and brown hair.
The couple produced an only daughter, Lauray Alberta "Ray" Miller.
Raymond was a veteran of World War I, having served as a corporal with Company A of the 111th Infantry. He joined the Army on April 18, 1917 -- saw action in Champagne, the Marne and Meuse Argonne -- was woulded on Sept. 6, 1918 -- and received an honorable discharge on May 13, 1919. At his wounding, his name was published in casualty lists throughout the nation, including on the pages of the Des Moines (IA) Register, El Paso (TX) Herald, Dayton (OH) Daily News, Billings (MT) Gazette and Lancaster (PA) Daily New Era.
He had been married previously, to Jeannette Mansfield (1898-1965), and had lost a stillborn infant on Oct. 15, 1922.
The Stuckmans made a home in the 1930s and '40s in Pittsburgh. When Laura's brother Joseph died in Pittsburgh in 1936, she was named in the obituary. The federal census enumeration of 1940 shows Laura and Raymond in Pittsburgh, with her 23-year-old niece Ann Morrow and four lodgers in the household. In 1940, Raymond was employed as a draftsman by the Works Progress Administration (WPA). The WPA was one of the ways President Franklin Delano Roosevelt and the federal government tried to overcome unemployment and is widely considered one of the Roosevelt's largest and most ambitious undertakings of his "New Deal" to get the nation back on sound economic footing. Over the years, the WPA hired millions of out-of-work individuals to build public works projects, such as roads, bridges, retaining walls and buildings.
Their address in 1942 was 1310 Federal Street on Pittsburgh's North Side. At that time, Raymond was unemployed.
Laura and Raymond later divorced.
Laura remained in Pittsburgh and died circa 1972-1973. No obituary or grave has been located.
Raymond passed away on Oct. 28, 1974, in Pittsburgh. His remains were transported to Leechburg, Armstrong County for burial in Forks-Zion Lutheran Evangelical Church Cemetery.
Daughter Lauray Alberta "Ray" Stuckman (1940-2000) was born on Aug. 1, 1940 or 1941 in Pittsburgh. At the age of about 21, in 1962, she received a degree from Ohio University. In March 1963, she was joined in wedlock with Don Curray Miller ( ? - ? ). During the early years of their marriage, she obtained a master's degree from the State University of New York. The couple went on to become the parents of Stephen Christopher Miller and Michael Charles Miller. She became an educator in her early career in New York State. Circa 1977, Lauray and Don relocated to West Hartford, CT and was there for the balance of their years. She was the co-founder and president of C3 Inc., of Bloomfield, which developed computer software. The Hartford Courant said that she had a keen intellect, compassionate interest in people, wit and sense of humor. In her free time, she liked to play four-hand piano, study Egyptology and Mayan archaeology and be involved with the Brandeis Book Club. Lauray and Don traveled in the 1990s to Mayan sites in Central America and Mexico so she could conduct research. She had hoped to make a similar trip to Egypt, but it was not to be. As a patient in Hartford Hospital, she was gathered in by the angels at the age of 59 on Sept. 27, 2000. In an obituary in the Courant, the family asked that any memorial donations be made to the American Cancer Society.
Grandson Michael Charles Miller (1972-living) was born in 1972.
Copyright © 2001-2003, 2011-2012, 2016 Mark A. Miner
Grave marker photos by Ritz Ramirez