Minnie (Inks) Johnson
(1858-1928)
Arminda "Minnie" (Inks) Johnson was born on Dec. 17, 1858 near Farmington, Fayette County, PA, the daughter of Andrew J. and Minerva (Minerd) Inks. Her husband was a pioneering telephone company executive of the late 1890s.
Minnie grew up as a near neighbor to her grandparents, James and Sarah (Walters) Minerd Sr.
On Aug. 17, 1892, at her parents' home, Minnie married Evan Johnson (1867- ? ) . She was eight years older than her husband. Rev. H.F. King performed the ceremony. Evan was the son of Robert H. and Nancy (Evans) Johnson of Greene County, PA. The Uniontown Genius of Liberty, in reporting on the wedding, said "Cards are out for the marriage... Accept our congratulations."
Evan worked as an electrician for the Redstone Electric Company in Uniontown. Providing a precedent for her sisters, Minnie was a dressmaker.
In about 1896, Evan accepted a position as vice president of the Wheatstone-Bridge Telephone Company, and transferred to Philadelphia. They resided at 1625 West Cumberland Street in Philadelphia.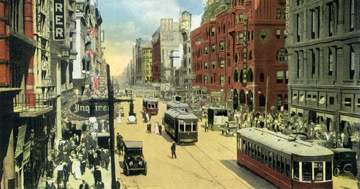 Busy Market Street in Philadelphia's business section
After being away from Western Pennsylvania for a long time, they returned in the late summer of 1903. That year, the Aug. 20 issue of the Uniontown Daily News Standard reported that they "arrived on Wednesday evening on a visit to friends in this section after an absence of seven years…. [They] will visit her parents, Mr. and Mrs. A.J. Inks at Fairchance, and his father, Robert Johnson in Greene county, after which they will spend some days here before returning to Philadelphia."
Circa 1928, their home was at 1625 West Cumberland Street in the 28th Ward.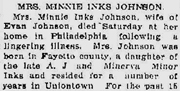 After suffering a cerebral hemorrhage in February 1927, Minnie lingered for 19 months in increasingly declining health. She died at the age of 69 on Sept. 15, 1928. Her funeral was held in Philadelphia, at the Evoy Parlors, and attended by her brother and sister in law, Calvin and Nevada (Minerd) Inks. She is buried in Philadelphia's Forest Hills Cemetery.
In 1930, when the federal census was taken, Evan was listed as a widower. At the age of 63, he operated his own machine shop in Philadelphia.
Evan was felled by a cerebral hemorrhage in mid-June 1931. He received treatment at the Women's Homeopathic Hospital, where he died a week later on June 20, 1931. He joined his wife in eternal repose in Forest Hills Cemetery.
Copyright © 2001, 2003-2004, 2006, 2014 Mark A. Miner