James Minerd Sr.
(1815-1877)


James and Sarah Minerd
James Minerd Sr. was born in 1815 in Fayette County, PA, one of 15 children of Henry and Hester (Sisler) Minerd. He was one of the earliest iron-industry laborers in our clan.
In the mid-1830s, James married Sarah Walters (1821-1901). She was born in July 1821. The names of her parents are not known.
They had 11 children -- Minerva Inks, James Minerd Jr., William Minerd, Hester Ann Rankin, Isaac F. Minerd, Calvin Minerd Sr., Mary Whetzel, Mariah Jane Whetzel, Sarah "Emily" Smith, Morris Minerd and Margaret A. "Maggie" Minerd. The fate of daughter Maggie is unknown.
Sarah gave birth to their eldest daughter in 1837, at the tender age of 16, and to their youngest in 1865, at the age of 44. At the time of the births of their children, no public records were kept, and there were church records of their births. Son Isaac once testified that "the family Bible or family record, in which the births & deaths of the family was recorded, was destroyed about [1888]."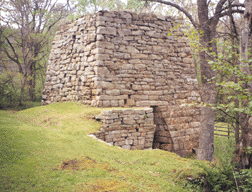 Wharton Furnace ruins
The Minerds resided at Farmington, Wharton Furnace and Chalk Hill, Fayette County, where James was a laborer at the well known Wharton Furnace (seen here). The site was a short distance from the National Highway (today's Route 40), but down at the bottom of a steep valley. Uniontown historian Walter "Buzz" Storey has called it the "last of the small furnaces to be built." The Minerds may have resided there in worker housing, and at least three sons are known to have been born there between 1840 and 1847.
An advertisement placed in the Sept. 8, 1869 edition of the Bulletin of the American Iron and Steel Association gives an excellent description of the furnace and environs. It said that the facility consisted of a hot blast charcoal furnace, in complete repair, of which the hot blast and blowing apparatus was entirely new.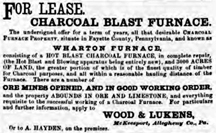 American Iron and Steel Bulletin, 1869
The property itself was 3,000 acres, "the greater portion of which is of the finest quality of timber for charcoal purposes, and all within a reasonable hauling distance of the furnace. There are a number of ore mines opened, and in good working order, and the property abounds in ore and limestone, and everything requisite to the successful working of a charcoal furnace." The onsite superintendent was "A. Hayden."
With his sons as helpers, James is said to have driven six-mule teams and hauled iron ingots (and possibly Civil War cannonballs) along the National Highway through Uniontown and thence westward to the river town of Brownsville, Fayette County, PA, where they were shipped by river to Pittsburgh. It's believed that James' brothers Samuel and John also may have labored at the furnace, burning charcoal and hauling iron away in the days before railroads.
One of the last ingots produced at the furnace, seen here, today is on display at the site. Wharton Furnace was built in 1837-1839 by congressman Andrew Stewart. According to a plaque at the preserved ruins of the furnace, the charcoal iron furnace "was first fired in 1839 and remained in operation until 1873." The furnace, however, is known to have been idle from 1856 to 1858, and then from the early 1860s to 1870, forcing laborers such as the Minerds to find other employment.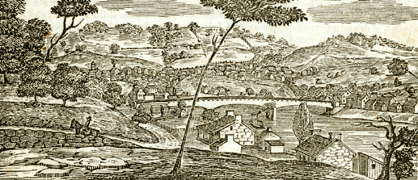 Sketch of Brownsville as seen from the National Turnpike, circa 1843, a view with which James and his brothers would have been familiar when hauling iron ingots from the Wharton Furnace.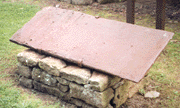 Wharton Furnace ingot
"Ore and coal are plenty, but the distance, over bad roads, to haul the metal is the great trouble in running the Wharton Furnace," said Franklin Ellis' 1882 History of Fayette County. A history by M. Hayes Liston states that it was "believed to have been the last iron furnace to operate along the slopes of Chestnut Ridge in the Allegheny Mountains."
Many years later, in July 1918, the Minerds' aged son Isaac returned to the family's old residence for a birthday picnic thrown by Mary (Williams) Morrow and her husband. Reported the Courier, "the picnic was held at the Wharton Furnace, near the Summit, the old home and birthplace of Mr. Minerd. The house in which he resided is torn down, but a part of the old furnace and the orchard are still there. The apple trees are laden with fruit. A most enjoyable day was spent by all present."
James also worked as a coal miner circa 1860. During the Civil War, from 1861 to 1865, three sons and one son in law served in the Union Army, with three coming home with war wounds.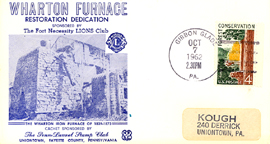 Wharton Furnace was restored and dedicated in 1962, sponsored by the Fort Necessity Lions Club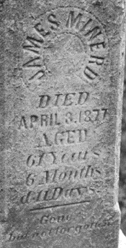 Hopwood Cemetery
Little is known about Sarah, although according to her obituary, she "was always a devout member of the Methodist Episcopal Church."
When the federal census was taken in 1870, James and Sarah made their home at Chalk Hill, Fayette County, known at the time as Fayette Springs. James' occupation was recorded as farmer. At age 54, he still had many mouths to feed, as Sarah and their children Calvin, Emily, Morris and Maggie were still living under their roof. Their next-door neighbors that year were James' step-cousin Eli and Catherine (Dean) Leonard, also farmers.
In 1873, James is believed to be the same man who filed a lawsuit against the business partners of Stewart Furnace Company -- Edward C. Pechin, Maurice Haley (or "Healy"), John McCleavey and J.H. Bramwell. He filed a legal complaint against them over an unpaid $114.75 debt. The outcome of the case is unknown. Pechin also is known to have been president of the Dunbar Iron Company circa 1866, and he, Healy and C.E. Swearingen also leased Wharton Furnace in its declining years circa 1870.
James died on April 3, 1877, at the age of 61 years, six months and 11 days. He is buried at Hopwood Cemetery under a still-legible pylon marker, seen here, near the grave of his father.
Sarah survived James by nearly a quarter of a century. In 1900, she was living in the residence of her eldest daughter Minerva Inks in Wharton Twp.
She died on Feb. 10, 1901, at Juniataville, a coal mining patch town between Connellsville and Uniontown, Fayette County. Her death was caused by "general debility, the result of old age..., having been ill for two years," said a local newspaper. Her burial site is unknown, but is believed to be near James at Hopwood.
Copyright © 2000-2005, 2009, 2011 Mark A. Miner
Wharton Furnace ad from the AISA Journal courtesy of Google Books