Nellie (Knight) Ambler
(1869-1942)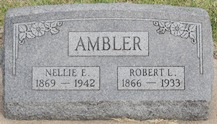 Burrton Cemetery
Nellie E. (Knight) Ambler was born on Nov. 23, 1869 in Illinois, possibly in Morrison, Whiteside County, the daughter of Norman D. and Sarah (Baughman) Knight. When she was a young girl, she and her parents and siblings migrated to Kansas, settling on a rural farm in Reno County, just a few miles west of Burrton, Harvey County.
On Sept. 4, 1887, at the age of 17, Nellie married 23-year-old Robert Lee Ambler (1865-1933). The nuptials were performed at Burrton by, and at the home of, W.L. Tucker, a justice of the peace. Robvert was a native of Paducah, KY, and was residing in Reno County at the time. A copy of their marriage license is on file today, on microfilm, in the District Court office of the Reno County courthouse in Hutchinson.
They together bore a brood of six children – Earnest Paul Ambler, Charles "Ross" Ambler, Clinton Brice (or "Booth") Ambler, Norma French Haddock, "Little Joe" Ambler and one who died very young. Tragically, Little Joe died at the tender age of 18 months, in or about the year 1900.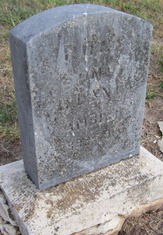 Ross Ambler's fading grave marker, Burrton Cemetery
The Amblers were farmers. One day in mid-November 1891, the Amblers received a terrible, tragic shock. A buggy driven by Nellie's brother Harry pulled up to their home, and out staggered Harry's hunting friend David Chalmers "Chal" Hanselman, who had accidentally shot himself and had a gaping gunshot wound in his torso and abdomen, "leaving his bowels drop down and exposing his lungs," reported the Burrton Free Lance newspaper. Chal summoned the energy to get out of the buggy and "walked to the house, holding his bowels in with his hands. E.H. McFall, who was teaching school nearby, was appraised of the accident, and immediately dismissed and came to town after Dr. Hempstid who, upon arrival at the place found Chal sinking rapidly and told him it was only a question of a few hours, but in order to satisfy the family sent for Drs. Easling and Lawrence, the latter of whom lived in Halstead and arrived too late, the young man having passed away a short time before his arrival. Medical skill could do nothing...." [ more ]
When the federal census was enumerated in 1900, the Amblers lived in the Valley Township section of Reno County, KS. Quite likely, their home was in a dwelling house on the farm of Nellie's parents. They lived in the southwest quarter of Section 12, Township 24, Range 4, west of the sixth principal meridian.
Heartache rocked the family in the hot summer of 1905, when 90-degree days were common. Son Charles "Ross" Ambler (1893-1905), age 12, came down with typhoid fever and pneumonia while "working in the country for some time," reported the Burrton Graphic. He may well have been laboring in farm fields with his father. Ross returned home "nearly sick," but despite "the best of medical care," after two weeks of suffering, he died on July 27, 1905.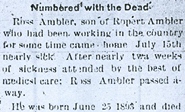 Ross Ambler obituary, 1905
Ross's funeral was held in the local Christian church, with burial following in the Burrton Cemetery. Said the Graphic, "Many friends gathered at the church [are] in sympathy with Mr. and Mrs. Ambler."
By 1910, the Amblers had found a new home 15 miles from Burrton in the town of Haven, Reno County, where Robert was proprietor of a restaurant.
In the 1920s, the Amblers made their homes in different locations. Robert, age 54, lodged in the rooming house of Martin Trippet in Buhler City, Reno County. He marked his occupation as "Roomer - Hotel," while Nellie and the children were not with him at that address. Nellie's whereabouts that year have not yet been located.
When their daughter Norma's marriage fell apart in the 1920s, in northern California, the Amblers brought their grandson Robert A. French to live with them. They dwelled together in Cunningham, Kingman County, KS when the federal census was taken in 1930. That year, Robert continued in his business specialty as manager of a local restaurant.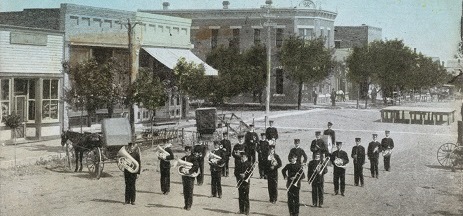 Haven, Kansas -- local band gathered on South Kansas Avenue, 1907, about the time Robert managed a restaurant in town
Robert passed away on May 30, 1933, at the age of 68.
Nellie outlived her husband by nine years. As a widow, in December 1934, she purchased a small farm near Burrton from the families of J.M. and Mildred Osborne, Walter and Hazel Gibb, W.L. and Myrtle Butler, E.E. and Goldie Osborne, and G.O and Mildred Strong. The tract was located in Section 16, Township 24 South, Range 3 West. She also owned the south half of several adjoining lots in the town of Burrton. She rented some of the properties to generate a stream of income.
She died at Burrton at the age of 73 on June 2, 1942. She and Robert are buried together at the Burrton Cemetery, beside their son Ross.
Because Nellie passed away without leaving a last will and testament, she was considered to have died "intestate." Her divorced daughter Norma filed a petition in the Probate Court of Harvey County, asking that Nellie's longtime friend B.E. Churchman was suitable for handling the role as executor of the estate. The only other property that Nellie owned at the time of her death was old, worn household goods and furniture, worth no more than $20.
~ Son Earnest "Paul" Ambler ~
Son Earnest Paul Ambler (1888- ? ) was born on Sept. 18, 1888 in Burrton, KS. He was said by an Arizona newspaper to have been "a friendly man, an enthusiastic sportsman and well liked by all."
Paul served in the Army in World War I, and was attached to a Pennsylvania company.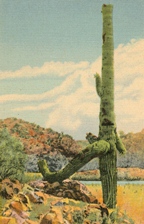 Giant old cactus (saguaro) in
the Wickenburg landscape
After coming home after the war, Paul made a name for himself as a semi-professional baseball player. He later moved to California and was employed by Los Angeles newspapers as a proofreader. He has not yet been located on the federal censuses of 1910 and 1920.
Paul was married and had at least two children -- Stewart Ambler and Pauline Ambler.
In 1932, he moved to Wickenburg, Maricopa County, AZ, where he worked as a painter. He was a member of the Kellis-Draper Post of the American Legion.
By 1942, he was unmarried, either widowed or divorced. Later in life, he went to live in the Echo Hill Rest Home in Wickenburg.
He died in a Phoenix hospital in late June/early July 1952. His remains were laid to rest in the Wickenburg Cemetery. The Wickenburg Sun carried a lengthy obituary.
Son Stewart Ambler is said to have lived in San Bernardino, CA. In 1952, at the death of his father, Stewart made his home in Colton, CA.
Daughter Pauline Ambler married David Iles. In 1952, they resided in Shreveport, LA.
~ Son Clinton Brice Ambler ~
Son Clinton Brice Ambler (1898- ? ) was born on Sept. 23, 1898 in or near Valley Township, Reno County, KS. His middle name also has been stated in official government documents as "Booth." Clinton was short in height and slender in build, and had blue eyes and light hair.
He married Mildred Marie Hagen (1897- ? ), daughter of John Hagen, on March 9, 1917. Clinton was age 19 at the time of marriage, and Mildred 20.
They had five children -- Chlodine Virginia Fisher, Doris Edith Krumme, Glenna Mae Tougas, Richard Clinton Ambler and an unnamed infant son.
The same year as he was married, during World War I, Clinton was required to register for the military draft. He stated that their address was R.F.D. 2, in the town of Haven, Reno County. At the time, he was a self-employed farmer, and he named his wife Mildred as his next of kin.
The 1920 United States census shows the young couple, with their two-month-old daughter Chlodine, living as farmers in Valley Township, Reno County, near Burrton.
By 1930, the family had moved to Castleton, residing at a new farm location within Reno County. Living under their roof that year, in addition to their four children, were Mildred's widowed father John Hagen, and farm helper John Wauhl. In 1946, Clinton made his home in San Diego, CA, residing at 1815 Third. But he did not stay there for long, and returned to Kansas.
When Clinton's brother Ernest died in 1952, near Phoenix, he was named in the newspaper obituary, which stated he was living in Wichita at the time.
When he passed away on May 31, 1969, Clinton's body was donated to the Kansas University Medical Center for use in medical research. Later, his remains were interred in Haven, Reno County.
Mildred's fate is unknown.
Daughter Chlodine Virginia Ambler (1919- 1993 was born on Oct. 29, 1919. She married Kermit Fisher (1914-1983). They resided in Haven, Reno County. She worked with her cousin Arveta (Knight) Brink (daughter of Harry Grant Knight) in compiling the family history names and relationships. Kermit passed away at the age of 68 in April 1983. Chlodine lived another decade as a widow. She died in Sedgwick, Harvey County, in January 1993.
~ Daughter Norma (Ambler) French Haddock ~
Daughter Norma Ambler (1901?-1958) was born on Jan. 17, 1901 or 1909 in Reno County, KS. She spent most of her adult years in California.
She is believed, but not entirely proven, to have married John Quincy French (1899- ? ), the son of Katherine French. The nuptials took place sometime between September 1918 and early 1920.
As an adult, prior to marriage, John resided with his mother at 1307 Mound in Alameda, Alameda County, and was a riveter in a local iron works. He was of medium height and build, with blue eyes and light brown hair. In September 1918, he registered for the military draft during World War I.
This couple made their home circa 1920 near Oakland, Alameda County, CA. That year, the 20-year-old John was employed as a riveter in a local shipyard.
They produced one known son, Robert A. French, born in California in 1920.
During the 1920s, the French's marriage fell apart. Son Robert was sent to live with his Ambler grandparents in Kingman County, KS.
Norma later resided in Englewood, Humboldt County, CA. Between 1942-1946, when involved in the administration of her late mother's legal estate, she was not married. During that time, for a dollar, her brothers sold her their legal interest in the farm once owned by their late parents. She sold the farm property a few years later, in 1946, to F.E. Kenny.
Later, by 1952, Norma had wed again, to (?) Haddock, and lived at 3294 Michigan in South Gate, Los Angeles County, CA.
She died in Los Angeles on Jan. 10, 1958, and is buried in Englewood.
Son Robert A. French (1920- ? ) was born on Jan. 3, 1920. His whereabouts are unknown after 1930, at which time he resided with his grandparents in Cunningham, Kingman County, KS.
Copyright © 2001, 2011, 2013, 2021 Mark A. Miner