After his mother's death when Norman was a boy, he moved with his father and siblings to Marshfield, Athens County, OH. His father later remarried. Herman Walker, a neighbor in Athens County for two years before the war, said Norman was "sound and healthy all the time."
After the Civil War broke out the Civil War, Norman at age 22 went to Mason City, WV to enlist in the Army -- Company D, 4th West Virginia Volunteer Infantry -- on June 27, 1861. Just a few months later, on Sept. 24, 1861 near Raleigh Court House, VA, he contracted rheumatism after "waiding in the Coal River." Wrote eyewitness Joshua R. King:
Fellow soldier John McGlaughlin observed that Norman had "pain and aching in left hip, left leg and left arm, pain and heaviness in stomach with spitting up of food after eating, fluttering and thumping in region of heart from which cause he was exempt from duty."
Treated at hospitals at Charleston, WV and Gallipolis, OH, he was later transferred to the regiment's musical band as a fife player. On Jan. 20, 1864, he was discharged at Larkinsville, AL, and re-enlisted the next day in Co. B of the 2nd West Virginia Veteran Volunteers. He and the regiment ultimately went to Vicksburg, MS, Youngs Point, LA; and Milikens Bend, LA. Later, they returned north to Cumberland, MD in early January 1865.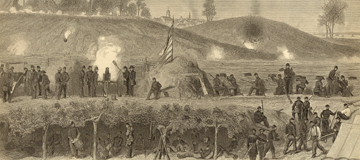 Battle action at Vicksburg. Painting by Alonzo Chappel - steel engraving by Johnson & Miles, New York, 1877.
Norman's brother, Daniel Harry Knight, served in the 92nd Ohio Volunteer Infantry. They remained close over the years, even though they lived far apart from each other. Daniel migrated to Washington State and later settled for good in Michigan.
Norman and Sarah, seated, and his brother Daniel and sister in law Caroline (Lewellyn) Knight, once posed for a studio portrait taken during a rare visit between the two couples.
In April 1864, Norman returned home from the Army on furlough. Among others, he is known to have visited with his father and stepmother, and with his sister Catherine and her husband William Younkin. Of that visit, William Younkin wrote: "He was thin, afflicted with Rheumatism also indigestion. He continued lame most of the time while at home about 30 days."
At the close of the war, Norman stood Honor Inspection for President Lincoln in Washington, DC. A granddaughter recalled that this "was a high point of his life of which he was very proud."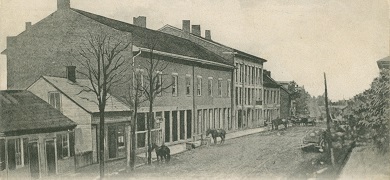 Clarksburg during the Civil War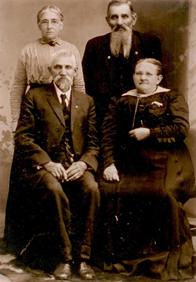 Norman and Sarah, seated, with his
beloved brother Daniel and wife
Caroline of Michigan
Discharged on July 16, 1865 at Clarksburg, WV, he returned home. His and brother Daniel's Civil War records are summarized in the 1989 booklet, Civil War Veterans of Athens County, Ohio, authored by Mary L. Bowman and published by the Athens County Historical Society & Museum. The work can be found today in the at the Alden Library at Ohio University in Athens.
His health was so poor that brother in law Younkin wrote: "He was then in general bad health, not able to perform farm labor, he being a farmer. He was quite lame most of the time and spit up nearly every thing he ate, complained of fluttering and thumping in left side near the heart, causing dizziness..."
Of Norman's broken health, stepmother Hannah Knight wrote that he "complaned of a great weight and heaviness in stomach, also attack of heart disease causeing him to fall as if in a faint. These afflictions were continuous during all the time I knew [him] after his being discharged in 1865."
The following year, on Sept. 5, 1866, Norman married Sarah Elizabeth Baughman (1844-1918), one of 13 children of Joseph and Emily (Jones) Baughman. Rev. E.A. Brooks, a Minister of the Gospel, performed the ceremony at Athens County. He was age 27, and she 22, at the time. Their marriage license is still on file today in the Athens County courthouse.
Norman was treated medically in Marshfield by Dr. Pickett. "Not haveing received any benefit," Norman later wrote, "my physician advised me to go to North west Illinois."
A month after marriage, on about Oct. 1, 1866, Norman and Sarah took their doctor's advice, and relocated to Illinois, making a home in Morrison, Whiteside County. Also migrating to Illinois during this time period were Norman's ailing sister Catherine Younkin and her husband William. They apparently never saw their step-mother, and possibly their father, again.

The Knights' marriage license, Athens County, OH
The Knights together bore a family of five children -- Harry Grant Knight, Katie L. Knight, Lena Alice Knight, Daniel Horace Knight and Nellie E. Ambler. They also lost an unnamed, infant son, who died at birth on Jan. 31, 1887.
Norman and his sister Catherine continued to suffer from poor health in their new locale. After making the move, Norman's health "somewhat improved," recalled his brother in law William Younkin, and "he was able to perform the duties of a farmer about 2/3 of the time." While in Morrison, the Knights and Younkins worked together and resided in the same house.
Sadly, though, it's believed that Norman's sister Catherine Younkin died shortly after the move. On about Nov. 1, 1867, widower William Younkin left and returned to Ohio. The Knights did not remain for long in Illinois, deciding to push further west to secure better weather conditions. He wrote: "Under climatic influence and domestic treatment I obtained temporary relief [in Illinois]. Haveing lost all confidence in medical men I then conceived the idea of moveing to Kansas hopeing to obtain relief by climatic change."
In February 1871, amid the dead of winter, and after four years in Illinois, the Knights moved further west. Along with Sarah's brother Hiram Baughman, also a Civil War veteran, and friend John Gorgas, they traveled in a wagon train to south-central Kansas. Sarah's sister Phoebe (Baughman) Gander also arrived there at some point in time. They selected farms near the town of Burrton, about a 38-mile ride north and west from Wichita. The three families settled into their new homes and remained there for the rest of their lives.


1902 Plat Book of Reno County, Valley District, showing the adjacent farms of Norman Knight and brother in law Hiram Baughman, far right. By that time, Norman had transferred title to the farm to his wife, hence the written "S.E. Knight."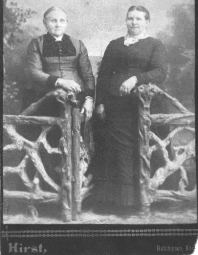 Sarah Knight, right, with sister
Phoebe Gander, Hutchinson, KS
Norman's farm, just a few miles west of the town of Burrton, Harvey County, actually sat in a different legal jurisdiction, Valley Township, Reno County, a half mile from the Harvey County border, and north of the Little Arkansas River. The farm was between Trial West and Eales Roads. The legal description was the southwest quarter of Section 12, Township 24, Range 4, west of the sixth principal meridian.
Giving a sense of the opportunity for farmers in Kansas at that time, the Baughman in-laws are known to have farmed about 320 acres in wheat at their new locale, with their farm next to Norman's, and featuring a large pond.
Sarah and her sister Phoebe Gander are known to have posed for a photographic portrait taken at the Hirst Studio in the county seat of Hutchinson, Reno County. Despite her being so far away in Ohio, the siblings Sarah, Phoebe and Hiram also remained close with their other sister, Lillie (Baughman) Young, coming back to visit from time to time.
Ten years after putting down roots in his farm near Burrton, Norman petitioned the federal government for official title to the tract. On Dec. 10, 1881, he received an official "patent" to the farm, signed by President Chester A. Arthur. The patent officially marked the government's grant of public land to the Knights. From there, in 1883, he secured a deed of ownership for the 80-acre, northern half of his land from the Lombard Mortgage Company, with a mortgage of $500, payable within five years. A few years later, in 1886, they purchased the southern half of their farm with a mortgage of $200, also owed to Lombard Mortgage. Norman made the final payment on May 14, 1891.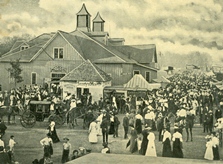 Kansas State Fair in Hutchinson
To protect their ownership, Norman deeded their farm to Sarah in December 1887, so that it legally was in her name, and not his. In the deed of conveyance, he stated he had received from her "Love and Affection and the sum of one dollar." When the Reno County plat book was published in 1902, shown elsewhere on this page, it was Sarah's name on the property, not Norman's.
~ Diphtheria Carries Off Daughters Katie and Lena ~
While they had lost an infant son in 1877, double tragedy rocked the family in the late winter of 1884, when a wave of diphtheria and typhus swept through the community, and daughters Katie and Lena Alice became deathly ill. Neither of them was able to recover.
Katie died first, on March 4, at the age of 10. In a short obituary, the Burrton Monitor said she "was an interesting little girl and was greatly loved by all. The sorrowing family have the sympathy of their many friends."
Six days later, her 18-month-old sister Lena Alice joined her in eternity. The Monitor printed a brief notice of her passing, saying only that "KNIGHT--Monday, the 10th, 1884, Allie, aged 1 year and 6 months, daughter of Mr. and Mrs. N.D. Knight." That same day's newspaper carried death reports of several other youngsters in the community due to membranous croup, diphtheria and typhoid fever.
The remains of the two young sisters were laid to gentle rest in the Burrton Cemetery. They are buried under one single grave marker shaft, with their names inscribed on separate sides. The names were fairly legible when photographed by the founder of this website in October 2011.
"Children of
N.D. & S.E.
Knight"

"Katie L.,
Born June 15, 1873
Died Mar. 4, 1884"

"Lena A.,
born Dec. 22, 1882
Died Mar. 10, 1884"
~ Norman's Continued Poor Health ~
While the move to Kansas provided the Knights with a home farm and stability over the years, it unfortunately did not solve Norman's physical suffering. Near neighbor David Kanselman, who met Norman and Sarah the year they moved there, later wrote that Norman:
... would frequently put his hand on his heart, and act as if lightheaded, and a great deal bothered with the dispepsia. He has frequently been laid up for three and four weeks with the rheumatism so that he could not work a bit. There has been no change for the better in his condition since 1871, and if any, has been for the worse.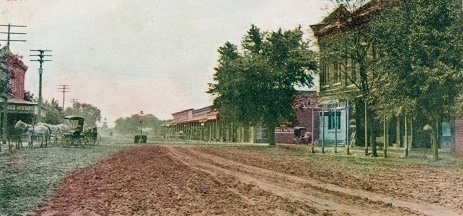 Burrton's unpaved North Main Street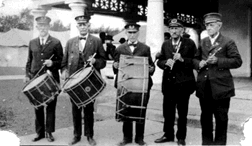 Norman (2nd from right, with fife)
Family physician P.W. Easling of Burrton once said that Norman "is a temperate man and is not addicted to bad habits of any kind that I ever heard of."
Norman received a federal government pension in compensation for his wartime disabilities. The amount eventually increased to $25 per month. He underwent routine annual medical examinations, and in 1889, at age 49, he weighed 143 lbs. These detailed physicians' reports are still on file today in Norman's Civil War pension file in the National Archives.
Norman and his brothers in law were active in Civil War veterans' activities and encampments, traveling to many parts of the nation. They were members of a musical band, with Norman on the fife, Hiram Baughman the drum and Thomas Gander another instrument. With Hiram as the band leader, all the players were family members in some way.
The photoseenhere was taken circa 1912 -- Norman is second from right with the fife, while Hiram is at far left with the drum.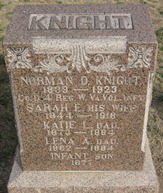 Burrton Cemetery
~ Final Years ~
Heartache again shook up the family in the summer of 1905. Grandson Ross Ambler, age 12, came down with an incurable illness while "working in the country for some time," reported the Burrton Graphic. Despite "the best of medical care," he died on July 27, 1905, with burial in the Burrton Cemetery.
In the 1910s, the Knights decided to retire after a lifetime of farming, and moved into a dwelling in the town of Burrton.
During her later years, Sarah was afflicted with a combination of heart and kidney problems. In the summer of 1918, she seemed to suffer what the Burrton Graphic called "a slight stroke of paralysis of the right side." Married daughter Nellie Ambler faithfully provided care over a period of several months.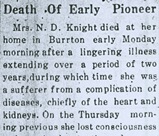 Burrton Graphic, 1918
Sadly, Sarah lapsed into unconsciousness and died at home four days later, on Aug. 18, 1918. Funeral services were held in the Christian Church, with a sermon preached by Elder C.H. Barley. She was laid to rest in the Burrton Cemetery. The Graphic reported that she "was among the earliest settlers of this section, coming here in 1871 with the family...."
Because she died "intestate" (without leaving behind a last will and testament), Norman had to file affidavits in the Reno County Probate Court stating that he and their three living children (Harry, Nellie and Daniel) were her lawful heirs.
With that legal roadblock settled, Norman agreed to sell the family farm to G.W. and Nena Kincaid. He granted a mortgage to the Kincaids, in the amount of $8,000, payable over five years.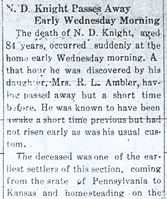 Burrton Graphic, 1923
Norman outlived Sarah by five years. He wrote on a pension application that he "can not dress himself or attend to his needs and wants. He cannot put on his shoes, or other articles of clothing without assistance." During his last physical checkup, on June 27, 1923, his weight had fallen to 119 lbs. He complained bitterly of pain in the muscles of his arms and shoulders, as well as his back and lower limbs. Doctors noted that his "hands tremor so that [he] has no control of them. Some tremor of lower extremities but not so bad as the hands."
Norman died at age 84 on Oct. 31, 1923. Having stirred in bed that morning, he died as he was awakening. His body was discovered shortly afterward by daughter Nellie Ambler, who had come into his room to check on his delay in arising.
He was buried with Sarah, and beside their young daughters Katie and Lena, from whom death had separated him almost four decades earlier.
In front-page obituary, the Burrton Graphic called him "one of the earliest settlers of this section, coming from the state of Pennsylvania to Kansas and homesteading on the farm in Valley township in 1871 where he resided for many years with the family before retiring and moving to Burrton. He was preceded in death several years by Mrs. Knight. He was a civil war veteran and a member of the Grand Army Republic."
In October 2011, Norman's distant cousins Mark Miner and Eugene Podraza came to Central Kansas to research the Knights and their legacy. They copied documents in the Harvey and Reno County courthouses, and visited local libraries to track the family's paper trail. They also visited the Burrton Cemetery to pay their respects at the Knight and Ambler graves, and to photograph them for posterity.
Copyright © 1994, 2000-2002, 2004-2006, 2011, 2021 Mark A. Miner