Home

Elijah Krick Sr.
(1859-1942)


Elijah and Ida May
Elijah Krick Sr. was born on Sept. 22, 1859 in or near Decatur, Adams County, IN, the son of Emanuel and Sarah Elizabeth "Betsy" (Minerd) Krick. His name also has been spelled "Elisha" and nicknamed "Lige" over the years.
As a 13-month-old, in late October 1860, he and his parents and siblings moved back to his mother's former home area near Monroeville, Allen County, IN.
Elijah is thought to have been somewhat of a local character and man of muscle. In April 1886, on township election day, the Monroeville Breeze reported that the "most amusing sight of the day was the wrestle between the two fat men, Charley Rollins and Elijah Krick. It was a catch-as-catch-can. Heavy betting was done on the result. The match was finally called a draw."
Elijah married Ida May Goodin (1867-1932) on Sept. 9, 1886, when he was age 26 and she 18. She was the daughter of John and Bridget (Enright) Goodin. The father was a Civil War veteran and the mother an immigrant from Ireland. The ceremony was held at the residence of Rev. S.D. Miller, who officiated, and in reporting on the nuptials, the Breeze offered the wish that "May roses and sunshine ever remain upon their life's journey."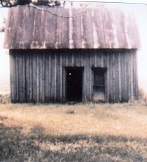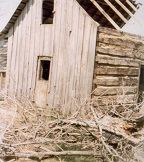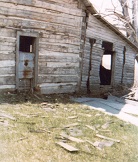 Krick farmhouse, along Rowe Rd., Monroe Twp., near Monroeville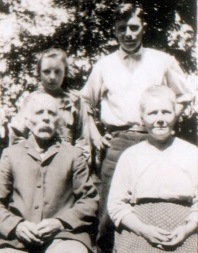 Elijah and Ida May with son Glenn
and daughter Lucille, ca. 1919
They resided on Rowe Road near Hoffman Road about four miles northeast of Monroeville, Allen County -- and three miles north of Dixon, OH -- where they labored as farmers. Because their post office location changed at one point in time, they were listed during that period as being from "Dixon, Ohio" even though they had not physically moved.
The family attended the Sugar Ridge United Brethren Church. Elijah was said to be a "well known Allen County farmer."
The Kricks had nine children, all born on the homestead farm -- Grover Leroy Krick, Elsie M. Zinn, Estella Irene "Stella" Krick, Harold Krick, Glenn Maurice Krick, Hazel B. Hart, Carl Allen Krick, Elijah Leonard "Poose" Krick and Lucille Martha Rosswurm.
Heartache struck the family when daughter Irene passed away on March 4, 1905, at age 12, and six years later when son Harold died on May 28, 1911 at the age of 10 months. Irene's funeral was held at the Ridge United Brethren Church led by Rev. J.L. Bowers, with a brief obituary published in the Journal Gazette. The children were laid to rest in the Stephenson Cemetery at Sugar Ridge.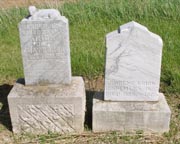 Graves of Harold and Irene
The grave markers of Harold and Irene are still legible and stand erect, as photographed in May 2009. Irene's contains a verse of scripture in a semi-circular carving, reading "suffer the little children to come unto me." Harold's marker is adorned with a carved lamb at the top, and an epitaph carved at the base of the stone reads as follows (as best can be deciphered):
Sleep on small boy and take thy rest. God calls thee home and he thinks best.
When the federal census was taken at 10-year intervals from 1900 to 1930, Elijah, Ida and their offspring resided together on a farm near Monroeville. They owned a 60-acre farm along Rowe Road, just south of Baker Road.
The family attended the nearby Sugar Ridge United Brethren Church on Ridge Road. Wrote their grandson Richard Rosswurm:
The farm house, exceedingly small for a large family, never had electricity or plumbing. Winter heat, little as it must have been, no doubt came from a small stove in addition to a cook stove, both likely fueled by wood and maybe at times by coal. Life there could not have been physically anything less than harsh and taxing. Elijah never owned a motor vehicle.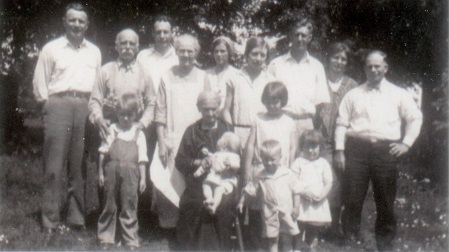 Elijah and Ida May with her aged mother and offspring, ca. 1930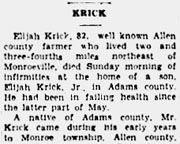 Fort Wayne Journal-Gazette
In the autumn of 1908, Ida became ill, and was admitted for treatment to an "insane asylum." She recovered quickly, reported the Breeze, and returned home within a few weeks.
Sadly, Ida contracted cancer. She was unable to beat the illness, and died at home at the age of 65 on Oct. 22, 1932. The funeral was held at the Krick residence and then the Sugar Ridge United Brethren Church, officiated by Rev. G.R. Champlin. Burial was at the Stephenson Cemetery at Sugar Ridge.
Writing to Minerd cousins in Monroeville in September 1929, from his home in Pittsburgh, PA, a cousin Corwin D. Tilbury asked: "How is everybody? McCormicks, Fosters, Kricks and so on down the line?"
In March 1933, Tilbury again inquired, "What has become of Lige Krick? Let me know if you can." In March 1934, he asked again, "No, have had no word from Lige Krick; is he still living alone?"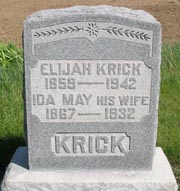 Sugar Ridge Cemetery
In his final year, Elijah stayed for periods of time with his adult children, including at the Hart and Rosswurm homes. In late May 1942, Elijah became ill, and went to live in the home of son Elijah in Adams County, IN. There, he died at the age of 82 on Aug. 2, 1942.
His remains were returned to Monroeville for a viewing at the Painter-Marquardt Funeral Home, followed by burial at the Stephenson Cemetery at Sugar Ridge. At the time of his death, he and Ida had produced 16 grandchildren and five great-grandchildren, said the Journal-Gazette.
After Elijah's death, his small farmhouse was abandoned and left in a state of disrepair. Photographs shown here were taken in the 1970s and early '80s.
~ Son Grover Leroy Krick ~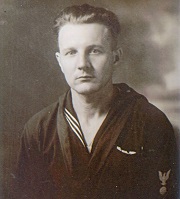 Grover L. Krick, 1910s
Son Grover Leroy Krick (1888-1970) was born on Feb. 10, 1888 on the family farm in Monroe Township, Allen County.
He left home at an early age. The census of 1910 shows him serving the U.S. Navy, stationed at the U.S. Navy Yard in Portsmouth, VA. After his discharge from the military, he moved to Reno, Washoe County, NV, where he studied for several years at the University of Nevada and was admitted to practice law by a local judge. He established a law practice with offices in the Washoe County Bank Building. He lived in a Reno hotel in 1920, and apparently earned extra money as a chauffeur for the hotel.
Grover was interested in public service and in 1922 was elected on the Republican ticket as district attorney in Douglas County, NV. To this position he was re-elected for eight more consecutive terms of four years each. In 1930, still single and at the age of 42, he lived in Minden, Douglas County, NV.
Grover eventually made the decision to marry. On Sept. 8, 1933, at the age of 45, he was wedded to 42-year-old Utah native Hattie E. (Horn) Stewart (1891-1988). Having been married and divorced previously, she brought two sons to the marriage, Robert H. Stewart and George L. Stewart Jr.
When the federal census was enumerated in 1940, the Kricks dwelled on Mono Street in Minden, East Fork Township, Douglas County.
He retired at the age of 70 though may have maintained a private law practice.
At the age of 82, Grover passed away in Minden on April 1, 1970.
Hattie survived him by 18 years and relocated to Marin County, CA. She died there on July 15, 1988.
Stepson Robert H. Stewart (1922- ? ) was born in 1922 in California. At the age of 18, he dwelled with his mother and stepfather in Minden, about 50 miles from Reno, Douglas County, NV. That year, he earned a living as a laborer with a government cricket control program.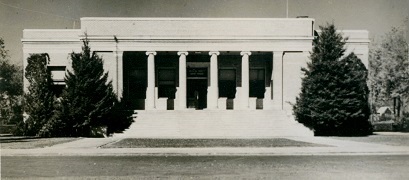 Douglas County Courthouse in Minden, Nevada
~ Daughter Elsie M. (Krick) Zinn ~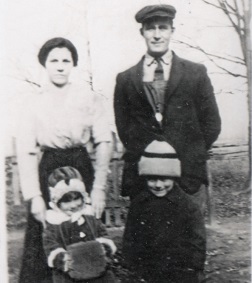 The Zinns, about 1917
Daughter Elsie May Krick (1890-1987) was born on Aug. 6, 1890 on the family farm in Monroe Township, Allen County.
At the age of 21, on May 1, 1912, Elsie was wedded to 21-year-old Nolon Evert Zinn (1891-1947). The ceremony took place in Fort Wayne. Nolon's name also has been spelled as "Nolan" but he wrote it as "Nolon" and it is inscribed as such on his grave marker.
They had two known offspring, Orlan Joseph Zinn and Vivian Zinn. Sadly, daughter Vivian died at the age of five years in 1919 and is interred in the IOOF Cemetery in Convoy, OH.
In 1920, when the federal census was enumerated, they made their home on the state line road near Monroeville, Allen County, where Nolan was a tenant farmer. They relocated by 1924 to Michigan's upper peninsula, making their home in Iron Mountain.
Elsie, Nolon and their son traveled back home for a visit in August 1924, as reported by the Monroeville Breeze, spending time with her parents and grandmother Bridget Goodin, who at the time was residing on Forest Street.
By 1930, they had migrated to Michigan, a distance of 490 miles from home, making their home in the village of Kingsford, Dickinson County, where Elsie's brother Glenn also resided on the same street. Nolon had found work there as a laborer in an automobile plants. Within two years, they relocated again, to Iron Mountain, Dickinson County.
The Zinns then migrated to a warmer climate in Santa Monica, Los Angeles County, CA, making the move sometime between 1935 and 1940. There, Nolon worked as a millwright for Lockheed Aircraft, based in Burbank. During World War II, the company produced fighters and bombers to support the Allied war effort, including the P-38 Lightning which shot down more Japanese aircraft than any other Air Force craft.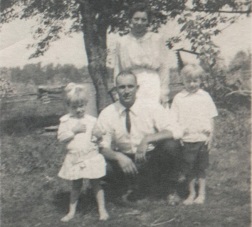 The Zinns, about 1916
Elsie and Nolon traveled to visit with family in Indiana in 1947. Sadly, a short time after returning home to Santa Monica, he passed away on Oct. 17, 1947. Burial was in Woodlawn Cemetery in Santa Monica.
Elsie survived her husband by four decades.
She passed away on June 25, 1987 as she neared her 97th birthday. She was placed into eternal repose beside her husband.
In her will, she generously bequeathed a substantial amount of funds to her four surviving siblings.
Son Orlan Joseph Zinn (1912-1991) was born on Dec. 15, 1912 in Van Wert County, OH. As a youth he relocated with his parents to Kingsford, Dickinson County, MI. He attended Kingsford High School and played on the school's football squad. He married Wisconsin native Fern B. (1908-1979), who was three years older. Circa 1935, their home was in Marinette, Marinette County, Wisconsin. By 1940, after Orlan's parents had had relocated to Southern California, he and Fern also made the move. There, Orlan was employed in maintenance for an apartment house. He served in the U.S. Armed Forces during World War II. They made their residence in Santa Monica on Washington Street. Fern passed away in Los Angeles at the age of 71 on Dec. 14, 1979. Orlan survived as a widower for a dozen years. He died in Pacific Palisades, Los Angeles County, CA on April 1, 1991. His remains were placed into repose beside Fern's in Woodlawn Cemetery in Santa Monica.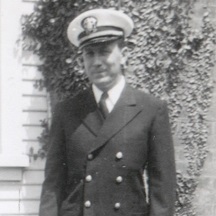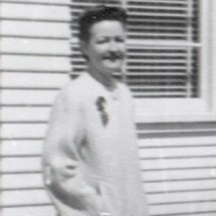 Orlan and Fern Zinn, circa 1944
~ Son Glenn Maurice Krick ~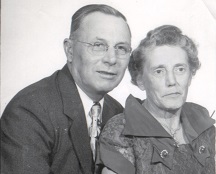 Glenn and Alice, 1950s
Son Glenn Maurice "Jimmy" Krick (1895-1960) was born on Sept. 19, 1895 on the family farm in Monroe Township, Allen County. He was of medium height and build, with grey eyes and dark brown hair.
He registered for the military draft in 1917 during World War I and listed himself as laboring as a farmer for his brother-in-law Nolan Zinn of Monroe Township. He eventually joined the U.S. Armed Forces.
The book History of War Work of Allen County, Indiana, 1917-1919, lists Glenn as a corporal in the Regular Army, Air Service Corps, with the 65th Air Park of the American Expeditionary Forces, having served in France.
After the war's end, Glenn earned a living in Nevada for some time harvesting wheat. On Oct. 17, 1925, in Washoe County, NV, the 30-year-old Glenn married 25-year-old divorcee Alice (Carpendale) Cregger (March 10, 1898-1959), a native of Cardiff, Garfield County, CO. She had received a divorce from Elbert Duard Cregger (1896-1963) in August 1925 and brought a seven-year-old son to the marriage, whom Glenn adopted -- Lyle Lee Cregger.
The newlyweds made their way in the late 1920s to Dickinson County, MI, likely for Glenn to begin work at the same automobile factory as his brother in law Nolon Zinn.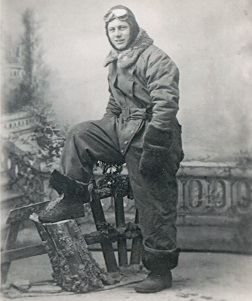 Airman Glenn Krick, WWI
When the 1930 federal census was taken, the family dwelled in Kingsford, Dickinson County, with the census-taker misspelling the family name as "Quick." During the 1930s and early '40, Glenn worked as a truck driver for the village of Kingsford.
By early 1959 the family lived with their son in Ada, Kent County MI, near Grand Rapids. Their address was 6730 Knapp Road NE.
Tragically, Alice lost her life at the age of 61 on March 3, 1959, a result of an automobile accident on the outskirts of Grand Rapids, near her Knapp Road home. The Benton Harbor (MI) News-Palladium reported that she "was killed in a two-car collision at an intersection on the city's eastern outskirts." Rev. Clifford Lones, of the West Cannon Baptist Church, officiated at the funeral.
Glenn only lived for another year after his wife's passing. He died suddenly at age 64 at Butterworth Hospital on April 20, 1960. His remains were lowered into eternal rest in Blythefield Memory Gardens, Rockford, Kent County MI. Rev. Floyd Peterson, of Wealthy Street Baptist Church, led the service.
Son Lyle Lee Cregger Krick (1918-2000) was born on Aug. 5, 1918 in Glenwood Springs, Garfield County, CO, the son of Elbert Duard Cregger and Alice Carpendale. He was but a boy when his mother married Glenn Maurice Krick. Lyle was twice married. His first bride was Dorothy Lindberg -- married on March 26, 1938 and divorced on Feb. 11, 1949. They produced four daughters -- Sharon Wierks, Sandra Krick, Penny Weaver and Pamela Flint. At the age of 30, on July 30, 1949, he was united in wedlock with his second bride, Tena (Boomers) Posthumus (Jan. 24, 1922-2006), the daughter of Gerritt and Ada (Hovinga) Boomers of Ada, MI. Tena had been married previously and brought a daughter and two sons to the union -- Jean Alexander, Gerald Posthumus and Harry Posthumus. Lyle and Tena went on to have a son and daughter of their own Ronald Lee Krick Sr. and Beverly Buffinga. In 1959, at the death of his mother, he lived on Egypt Valley Road in Ada. Tena was a member of Huggard Bible Church in Sand Lake. He died in Orlando, FL on Feb. 22, 2000. Tena survived him by six years and made her home in Cedar Springs, MI. At the age of 84, at Spectrum Health-Butterworth Campus, she passed into eternity on Oct. 2, 2006. Pastor Jonathan Williams preached the funeral sermon, and an obituary was published in a local newspaper. She rests with Lyle in Blythefield Memorial Gardens in Rockford, Kent County, MI.
Granddaughter Sandra Krick (1940-1987) was born on July 8, 1940. She passed away at the age of 37 on Feb. 7, 1987.
Granddaughter Pamela Krick was joined in marriage with Robert Flint. In 2006, they dwelled in Newaygo, MI.

Hazel Hart
~ Daughter Hazel Beatrice (Krick) Hart ~
Daughter Hazel Beatrice Krick (1899-2006) was born on May 3. 1899 on the family farm in Monroe Township, Allen County.
On Nov. 4, 1918, at the age of 19, she was united in matrimony with 27-year-old farm laborer Lyman Venora "Cub" Hart (July 31, 1891-1980). They were eight years apart in age.
The Harts went on to had six children -- Dorothy M. Eibling, Delbert J. "Johnny" Hart, Velma Bacon, Elsie May Weaver and Marvene Bower, in addition to a son who died in childbirth on May 13, 1920.
At the time of the U.S. census in 1920, they lived near Monroeville, just a few farms away from Hazel's cousin John Reuben and Alice (Bell) Minerd.
In about 1935, they dwelled on a farm in rural Adams County, IN but by 1940 were back in Monroe Township. Once Cub stopped farming, the couple lived in a rented farm house, without modern conveniences, not far south of Monroeville on the east side of Indiana Route 101. For the last 11 years before his retirement, he worked for Panhandle Eastern Pipeline Company.

Monroeville's unpaved Summit Street, early 1900s
Following retirement, he helped his son by providing farm labor. They were members of the East Liberty United Methodist Church near Monroeville. (The church is the outcome of the merger of the Methodist and United Brethren Churches.
Cub died at the age of 88 on May 21, 1980.
In later years Hazel lived in an apartment in the town of Monroeville, and spent her last years in the Convoy Care Center just across the state line in Ohio, near her daughter Elsie Mae. Hazel passed away at the extraordinary age of 106 on Jan. 26, 2006. They are interred in Monroeville Memorial Cemetery. She was survived by 13 grandchildren, 27 great-grandchildren, and at least 39 great-great-grandchildren. Her obituary was printed in the Fort Wayne newspaper.
Daughter Dorothy M. Hart (1921-living) was born in August 1921. In October 1941, when she was 20 years of age, she married George W. Eibling (1917-2003). They lived in the Fort Wayne area and had two children. Their final residence was in Ossian, Wells County, IN. George died at the age of 86 on March 12, 2003 and is buried in Oaklawn Cemetery in Ossian.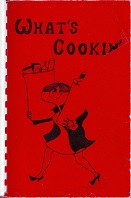 St. John's cookbook
Son Delbert J. Hart (1923-2006) -- also called "Johnny" and later "Cub" -- was born on Sept. 27, 1923. During World War II, Delbert served in the U.S. Army Air Force for nearly three years and attained the rank of corporal, serving in the Western Pacific Theater. At age 22, on May 11, 1946, Delbert was united in wedlock with Arvis R. Lehman (1928-2007). The nuptials were held in Allen County. They produced five children -- Rebecca Coomer, Bernard J. Hart, Burton E. Hart, Betty J. Klenke and Bryan J. Hart. They were members of the St. John's Lutheran Church, Flatrock near Monroeville, where Delbert served as a trustee and usher. He belonged to the local American Legion and Veterans of Foreign Wars posts. Delbert retired from farming in 1988. He passed into eternity at home on Sept. 25, 2006. Funeral services were held in the family church with Rev. Douglas Christian preaching the sermon. A newspaper obituary reported that he was survived by 17 grandchildren and 17 great-grandchildren. Arvis lived as a widow for only nine months, and joined him in death on May 25, 2007. They rest in eternal sleep in Monroeville Memorial Cemetery.
Daughter Velma Hart (1925-2008) was born four days after Christmas 1925. She was married to Harvey "Junior" Bacon, Jr. (1925-living). They had one daughter, Shirley Philbrook, and spent all or most of their married lives in New Haven IN. The Bacons were members of the St. Louis Catholic Church - Besancon near New Haven. Velma died 10 days before Christmas in 2008, terminating their marriage which had spanned 63 years. Fr. Stephen Colchin oversaw the mass of Christian burial. She was placed into repose in St. Louis Besancon Cemetery. [Find-a-Grave]
Granddaughter Shirley J. Bacon (1951-2008) was born on Aug. 10, 1951 in Fort Wayne. She married (?) Fowler and Donald Philbrook ( ? -living). She produced one son, Scott Fowler. "She "was a clerk and former manager at the New Haven License Branch," reported the Fort Wayne News-Sentinel. She was a member of the St. Louis Catholic Church - Besancon. Sadly, Shirley died at the age of 56 in Parkview Hospital on June 23, 2008. She also rests in the St. Louis Besancon Cemetery near New Haven.
Daughter Elsie May Hart (1932-2009) was born on May 15, 1932. When she was age 19, in May 1951, she was joined in matrimony with Robert Weaver (1930-living). They made their home for several decades in Convoy, OH and had three children. Elsie passed on June 5, 2009, with interment in the IOOF Cemetery in Convoy.
Daughter Marvene Hart (1934-living) was born on Sept. 2, 1934. Her husband was Paul Bower (1924-2009). They produced two children. The Bowers lived all of their married life in the same house near Hoagland, Allen County IN. Paul was swept away by the Grim Reaper on Feb. 1, 2009, with burial in the Odd Fellows Cemetery in New Haven, IN.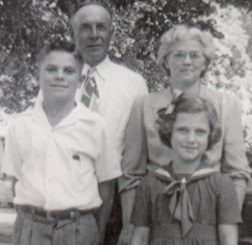 Carl, Ruth, Larry and Elaine
~ Son Carl Allen Krick ~
Son Carl Allen Krick (1902-1995) was born the day after Christmas 1901 on the family farm in Monroe Township, Allen County.
He married Ruth Miles (1908-2003), daughter of Rev. Lester D. and Susie R. Miles. The nuptials were held on Sept. 1, 1927, when he was age 25, and she 19.
The had one son, Lawrence "Larry" Krick and two foster daughters, Elaine VanVolkinburg and Arla Kimbrell.
When the census was taken two years into their marriage, in 1930, the Kricks made their home on Burton Street in Grand Rapids, Kent County, MI. Carl worked there as a machinist in a local brass company, with Ruth employed as a clerk in a publishing office.
Later, they resided in Kalamazoo, MI (1932), Wayland, MI (1942-1972) and spent many winters in Nakomis, FL. In Wayland, Carl was employed as a die setter for an automobile manufacturer. During the 1940s, they acquired a farm near Wayland and spent the rest of their working years as farmers. In later years, they drove a pickup truck and camper trailer back and forth to Florida to visit their son.
Stricken with prostate cancer, Carl died in Wayland at the age of 93 on Nov. 21, 1995. A newspaper obituary reported that he was survived by 13 grandchildren and 15 great-grandchildren. Burial was in Elmwood Cemetery, with Dr. Richard Gregory of Byron Center Bible Church and Pastor John Miles officiating.
As a widow, Ruth maintained her home in Wayland. She died at age 95 on Feb. 23, 2003. She rests with her husband in Elmwood Cemetery.
Son Larry Krick (1935-1996) was born on Nov. 14, 1935. He married Marilyn Bishop (1937-living). They produced three children. Their residence in the mid 1990s was in Nokomis, FL. Sadly, suffering from cancer, Larry passed away in Nokomis on Jan. 6, 1996, just a month and a half after his father's death.
Foster daughter Elaine (1931-2009) was born on Aug. 17, 1931. She married Duane VanVolkinburg (1928- ? ). In 1995, they made their home in Wayland, MI. Sadly, Elaine passed away on June 13, 2009.
Foster daughter Arla ( ? - ? ) was born in (?). On Oct. 8, 1993, she married William Kimbrell and dwelled in Texas. In more recent years their home has been in Milton, FL.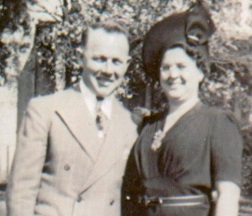 Poose and Theresa
~ Son Elijah Leonard "Poose" Krick ~
Son Elijah Leonard "Poose" Krick (1904-1994) was born on Nov. 16, 1904 on the family farm in Monroe Township, Allen County. He is said to have received his nickname from his mother who called him her "little papoose."
He grew up on the Krick farm and when the census was taken in 1930, he was shown there unmarried at age 26. On March 28, 1933, when he was 29 years of age, he was united in holy wedlock with Tresia Fry (1912-1960), daughter of William Henry and Laura Fry.
She had grown up on a 40-acre farm on Ridge Road in Monroe Township that earlier had been owned by Jacob and Caroline Rosswurm.
They had one son, David Krick, born in February 1946, whom they adopted as a baby in the 1940s.
Said the Journal Gazette, Poose "worked as a mechanic for Springer John Deere in Decatur and Farm Bureau Co-op in New Haven, as a farmer, and as pastor of the Haviland, Ohio, Baptist Church for 10 years, retiring in 1970."
Tresia contracted a serious illness in mid-October 1960. After suffering for a month, she died on Nov. 16, 1960.
Poose outlived her by more than three decades. He passed away at Brighton Hall Nursing Center in New Haven at the age of 89 on Jan. 15, 1994. Burial was in Monroeville Memorial Cemetery.
Son David Krick (1946-living) was born in February 1946. He was married and had a family. Circa 2017, he dwelled in Monroe Township.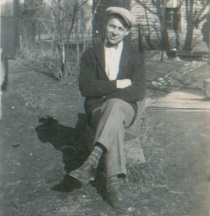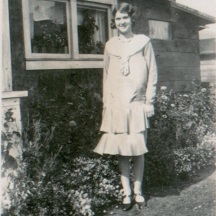 Poose and friend, 1930s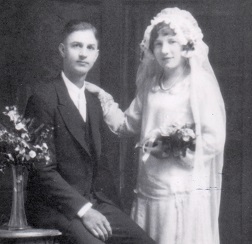 Wedding day, June 15, 1926
~ Daughter Lucille Martha (Krick) Rosswurm ~
Daughter Lucille Martha Krick (1907-1996) was born three days after Christmas 1907 on the family farm in Monroe Township, Allen County.
After grade school at the nearby "one-roomer" and one year of high school in Monroeville, Lucille worked for about three years at a Monroeville dress factory. During the week she boarded in town with co-worker Rose Rosswurm at the home of Rose's older sister, Hilda. The Rosswurm and Krick farms were close to each other.
In 1925, at a dance in Monroeville, Rose introduced Lucille to Rose's first cousin (once removed) Glenn Rosswurm, a handsome, dapper fellow, who had three or four years earlier moved with his large family from a Madison Township farm near Monroeville to New Haven.
Glenn fell fast and hard, as he said decades later, for a girl who "looked awfully shapely and nice." Though not in the Krick fashion to express such, Lucille no doubt also fell head over heels for her admirer. Their courtship was interrupted when Lucille's father forbade her to see Glenn because he was Catholic.
Glenn was persistent and persevering, however, somehow got to know Lucille's parents, and managed to allay at least Elijah's misunderstandings and fears about Catholicism and to win approval to resume the courtship. Glenn also led Lucille to accept his religion, and she was baptized a Catholic just two days before their wedding.
At the age of 18, on June 15, 1926, she and 22-year-old Glenn (1904-1980) were married at St Rose Catholic Church in Monroeville.
They went on to produce nine children -- Stanley J. Rosswurm, Dorothy L. Nichter, Lois A. Emenhiser, Edwin L. Rosswurm, Rosemary E. Rosswurm, Sister Barbara Jean, CSA, Richard H. Rosswurm, Nancy H. Hauser and Linda M. Love.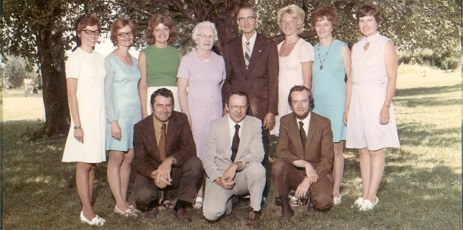 The Rosswurms, 1970s
Glenn made a lot of jaunts, mainly on the old Lincoln Highway, between New Haven and Monroe Township, running his Model T Ford, as he said "wide open at 55 miles an hour." In 1919, Glenn completed commercial school at St. Rose Academy, taking classes in bookkeeping, shorthand and typing. The January 1920 census does not note any occupation for Glenn, but he probably was helping his father in the cement block business.
After the family's move to New Haven, in about 1921, Glenn got a job at a pump company in Fort Wayne and rode the interurban rail car there from New Haven and back. The pay was low, so he turned to bricklaying sometime in the early 1920s.
Glenn and Lucille lived first in a rented house on East Main Street in New Haven, close to what was called "uptown," the town's business center. After about a year they bought a bungalow on Rufus Street, just north of St. John Baptist Catholic Church. There were born their first five children. Their other four children made their appearance after their move in 1937 to West St in New Haven. All were born at home, none in a hospital.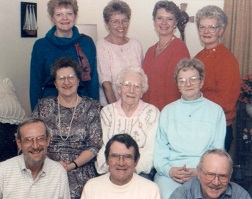 Lucille and children, Christmas 1993
At the height of the Great Depression, when they were about to lose their house to bank foreclosure, Glenn somehow astutely maneuvered the bank out of that disaster and into a new mortgage on a larger house on West Street where the family moved and then lived until 1963. For many years, Glenn kept a milk cow at their town home and tended an outsized garden. Lucille bottled mild, churned butter, and summer days on end canned enough produce to last until the next summer's harvests. Such exhausting overtime exertions helped Lucille and Glenn to get their large family through the Depression.
Although he had found work as a bricklayer in the late 1930s, in 1943 Glenn went to work at the Zollner Piston Company factory in Fort Wayne as a machinist, even though the pay was not as high as that of a union journeyman bricklayer. The job kept the 39-year-old father of eight from being drafted during World War II. From the end of the 1940s until his retirement in 1971, he was the plant's cabinet-maker and maintenance carpenter. (Zollner may best be known as the company which in 1939 founded the Fort Wayne Zollner Pistons basketball team which evolved and relocated over the years and was the forerunner of today's Detroit Pistons of the National Basketball Association.) In later years Lucille worked part-time as the expert seamstress she was. They built their modest dream house in 1963 near St Louis Catholic Church - Besancon, Jefferson Township, Allen County, about six miles east of New Haven.
They were able to enjoy their country ambience, with Lucille's big modern kitchen, paid for largely with her inheritance from her father, and Glenn's big yard, which allowed for a manageable vegetable garden and enviable flower displays. A few years before his retirement, Glenn's health began to decline from Parkinson's Disease, and in 1976, they were forced to move back to New Haven, where they lived the remainder of their years on Green Road.
The ravages of Parkinson's took Glenn on July 19, 1980, at the age of 76.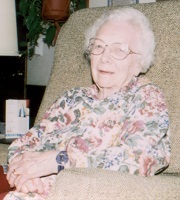 Lucille's last Christmas, 1995
Determined to be independent, at 73, the widowed Lucille bought a new car, learned to drive and for 13 years motored around town and occasionally to Monroeville to visit her sister Hazel. For several decades or more, despite rheumatoid arthritis that twisted and stiffened her fingers, she crocheted and knitted hundreds of art-museum-worthy afghans, baby booties, caps, sweaters, and blankets. She also pieced and knotted countless quilts, both winter and summer for her grandchildren.
Lucille lived independently in her own house until her sudden death from apparent heart failure on Sept. 8, 1996, never having spent so much as one night in a hospital. She was survived by 44 grandchildren and at least 94 great-grandchildren.
Son Stanley J. Rosswurm (1927-1999) was born on Oct. 8, 1927. During World War II, he served in the U.S. Navy. Later, he went on to become a baker at Kroger Bakery in Indianapolis and Columbus, OH. In August 1947, at the age of 19, he married his high school sweetheart, Barbara Jo Knox (1929-2007), daughter of Harold and Edith (Holman) Knox of New Haven. They produced seven children -- Steven Rosswurm, Kevin Rosswurm, Susan Hoff, Sharon Rosswurm, Stanley Joseph Rosswurm, Patrick Rosswurm and Gretchen Tallman. They resided in Greenfield, Hancock County, IN. Stanley died in Greenfield's Community East Hospital on Aug. 26, 1999, at age 72, ending their marital union which had spanned 53 years. Barbara Jo lived for another eight years. "Following the death of her husband, Barbara became actively involved with Team in Training and began walking marathons to raise money for the Leukemia and Lymphoma Society," said the Indianapolis Star. "Barbara walked eight marathons or half marathons after her 70th birthday. Barbara was an accomplished seamstress, quilter, gardener and creator of stained glass. She was also a volunteer in the community and a Master Gardener. She was renowned for her baking which she learned from her mother." Barbara joined Stanley in death on Oct. 7, 2007. A funeral mass was celebrated at St. John the Baptist Catholic Church in New Haven, with interment in the church cemetery. The Star reported that she was survived by 10 grandchildren and three great-grandchildren.
Granddaughter Susan Rosswurm (1952-2010) was born on June 10, 1952. She obtained a bachelor's degree in social work from Indiana University-Purdue University Indianapolis. On June 23, 1984, at the age of 32, she married Thomas Hoff ( ? - ? ) and they dwelled in South Bend, St. Joseph County, IN. Their two daughters were Leah Hoff and Sarah Hoff. She enjoyed sunflowers, reading and taking walks. She volunteered her time at the local Salvation Army Thrift Store. Suffering from Parkinson's Disease, which had claimed her maternal grandmother and paternal grandfather, she died on Aug. 29, 2010 in the Golden Living Center in Mishawaka. Funeral services were led by Salvation Army Majors Tim and Beverly Best.
Granddaughter Gretchen Rosswurm was wedded to Douglas Tallman and dwelled in Springfield, OH. Later, they relocated to Dallas, TX.
Daughter Dorothy L. Rosswurm (1929-living) was born on Oct. 4, 1929. At age 18, in May 1948, she was wedded to Jerome "Jerry" Nichter (1927-living) of Fort Wayne. The couple lived in New Haven, IN and had 10 children.

Lois Emenhiser
Daughter Lois A. Rosswurm (1931-2017) was born on Sept. 15, 1931. In August 1950, when she was 18 years of age, Lois married Kieth [sic] Emenhiser (1931-2002) of rural Allen County. They made their residence in New Haven, IN and had a dozen children -- Douglas Emenhiser, Gregory Emenhiser, Jean Eisaman, Sandra Sell, Nicholas Emenhiser, Kathryn "Kitty" Richards, Jennifer Guertin, David Emenhiser, Randall Emenhiser, Curtis Emenhiser, Matthew Emenhiser and Mary Della Emenhiser. Sadly, the family endured the death of their daughter Mary Della Emenhiser died in infancy. The couple divorced in the 1970s, and Lois did not remarry. She was a longtime member of St. John the Baptist Catholic Church of New Haven. Reported the Fort Wayne News-Sentinel," While most of her years were spent as a homemaker, Lois did spend five years as a school aide for East Allen County Schools and was a certified nursing assistant at Regency Place. Known for her poetry, she also wrote for Neighbors Supplement and was a freelance writer for the Allen County Times. Among the many things that brought her happiness, her flower garden was one of her favorites." Former husband Kieth died on Nov. 9, 2002. Lois survived him by nearly 15 years. She was admitted to Parkview Hospital Randallia in Fort Wayne and, at the age of 85, died on April 10, 2017. An obituary in the News-Sentinel said that her survivors included 39 grandchildren, 54 great-grandchildren and one great-great grandson. Father Bill Sullivan led the funeral mass at Lois' church, followed by interment in St. Louis Catholic Cemetery in New Haven.
Grandson Douglas Emenhiser resides in Topeka, KS.
Grandson Gregory Emenhiser married Sandy and they dwell in Monroeville, IN.
Granddaughter Jean Emenhiser wedded (?) Eisaman and lives in Woodburn, IN.
Granddaughter Sandra Emenhiser was united in matrimony with (?) Sell. She makes her home in New Haven.
Grandson Nicholas Emenhiser was joined in wedlock with Linda (?). They reside in New Haven.
Granddaughter Kathryn "Kitty" Emenhiser married Larry Richards. They dwell in Columbia City, IN.
Granddaughter Jennifer Emenhiser wedded (?) Guertin and lives in Noblesville, IN.
Grandson David Emenhiser was joined in matrimony with Jackie. They make their home in Battle Creek, MI.
Grandson Randall Emenhiser resides in Arnoldsville, GA.
Grandson Curtis Emenhiser was united in wedlock with Anne (?). In 2017, their home was in Freemont, MI.
Grandson Matthew Emenhiser married Shari and dwells in Fort Wayne.
Son Edwin L. Rosswurm (1933-living) was born on July 25, 1933. At the age of 23, in October 1956, he was united in wedlock with Shirley Busick (1936-living) of Hoagland IN. They went on to have six children. He was a longtime farmer and brick layer, residing for about five decades near Churubusco, IN.
Daughter Rosemary E. Rosswurm (1936-living) was born on June 1, 1936. She never married and spent her adult years in Fort Wayne.
Daughter Barbara Jean Rosswurm (1937-living) was born on Aug. 2, 1937. In 1956, feeling the call to Catholic service, she became Sister Barbara Jean, CSA (Congregation of St Agnes). She moved to Florida in 1981. In 1999, her home was in Tampa, FL and today she dwells in Venice, FL.
Son Richard H. Rosswurm (1940-living) was born on Jan. 4, 1940. In September 1964, at the age of 24, he was joined in marriage with Mary Ann Herrity (1940-living) of Trenton, NJ. They produced three children. Richard earned his Ph.D. from the University of Maryland and taught political science at Marshall University in Huntington, WV from 1968 to 1981. He then obtained a law degree from the University of Cincinnati. From there, he served as administrative counsel for the West Virginia Supreme Court for 16 years, from 1984 to retirement in June 2000. They relocated to Cincinnati in 2000.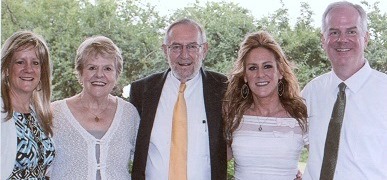 Richard & Mary Ann celebrating their 50th wedding
anniversary with their children, September 2014
Daughter Nancy H. Rosswurm (1941-living) was born on Sept. 22, 1941. When she was age 19, in June 1961, Nancy married her first husband, James DeVinney (1942-living). They had four children. Later, in about 1994, she was united in wedlock with Walter F. Hauser (1921-2008). He brought two adult children to the marriage, Walter E. Hauser and Sandy Gaylord. The couple resided in Rochester, Monroe County, NY, where Walter owned and operated Hauser Machine Company for three decades. He also was chairman of the Rochester Chapter of the Society of Manufacturing Engineers, the Masons (for 60-plus years) and the Charlotte-Lake Ontario Kiwanis Club, and was a ham radio operator. Sadly, Walter passed away at the age of 86. on June 2, 2008. An obituary was printed in the Rochester Democrat and Chronicle.
Daughter Linda M. Rosswurm (1949-living) was born on Oct. 22, 1949. She and Steven Love (1950-living) were married in June 1969, when she and he both were about 19 years old. They adopted two children -- Scott Love and Lori Love -- and lived in Leesburg, VA. The couple divorced circa 1988. Linda has remained in the Delaware area and makes her home at Milford, DE.
Grandson Scott Love (1979-2002) was born on April 20, 1979. He resided in New Haven, Allen County. Tragically, at age 22, he was killed in an automobile accident on March 28, 2002.
Granddaughter Lori Love dwells in Magnolia near Dover, DE.
~ More ~
In writing extensively about the Krick/Rosswurm family, family historian Richard H. Rosswurm said:
It would be remiss for this unworthy descendant chronicler to close this account of so many "ordinary," down-to-earth -- yet exceptional -- forebears and contemporaries without a tribute: In my clear memory the four youngest of Elijah and Ida May Krick's children, and no doubt their older siblings as well, were endearingly slow-moving (never hurried) and soft-spoken but very hard-working, kindly, gentle, generous -- and devoted beyond measure to family. All that, incalculably, redounds to our later generations!
Copyright © 2009, 2016-2017 Mark A. Miner
Many thanks to Richard Rosswurm, Cincinnati, OH for generously sharing his extensive research and writings.