Sarah Elizabeth 'Betsy'
(Minerd) Krick
(1839-1895)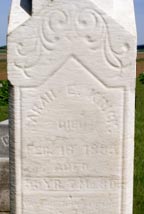 Sugar Ridge Cemetery
Sarah Elizabeth "Betsy" (Minerd) Krick was born on July 8, 1839 near Scio, Harrison County, OH, the daughter of John and Barbara (Shaeffer) Minerd Jr.
She was a pioneer settler of western Ohio and eastern Indiana.
In 1840, when Betsy was age two, she and her parents left Harrison County. Using "a good team of horses and a substantial wagon," a newspaper once said, they traveled across the state, a "very tedious and slow" journey. The family settled in Van Wert County, OH, and in 1845 moved to a farm along the Ohio state line in Allen County, IN.
On Aug. 24, 1856, when she was 17 years of age, Betsy married 23-year-old Emanuel Krick (1833-1881), the son of Philip and Susan (Kumler) Krick. The ceremony took place in Allen County. He also was known occasionally as "Manuel."
Emanuel was a native of Perry Township, Wayne County, OH who migrated with his parents to Union Township, Adams County, IN. His father was born in the same region of Pennsylvania as Betsy's Meinert/Minerd ancestors -- Berks County, PA.
Their eight known children were Minor Crick, Elijah Krick Sr., Philip D. Krick, Anna B. Foster, John Willis Krick, twins James Alfred Krick and Eva Jane Plumley and Mary "Doris" Hertel.
The Kricks' first child, Miner Krick, was born in 1857 in Ohio. When the federal census was taken three years later, in 1860, they had migrated to Union Township, Adams County, IN, where Emanuel labored a farmer. Young sons Miner and Elijah were living under their roof that year.

Monroeville Breeze newspaper, 1881
In October 1860, they bought a farm of 80 acres in Monroe Township, about four miles northeast of Monroeville, Allen County, IN. Emanuel was a farmer, and as his sons became teenagers, they too worked on the family farm. When the census was taken in 1870, they lived as near neighbors to Sarah's parents and brother James Minerd.
The 1880 census shows the family of parents and seven children living and working on their farm near Monroeville. That year, they were living in the general neighborhood as Sarah's uncle, Henry Minerd. At some point Emanuel sold off a 20-acre parcel from the farm, and an 1880 plat map of Monroe Township lists "E. Krick" as owning 60 acres near the intersection of Baker and Rowe Road about half a mile west of the Indiana-Ohio state line.
Just three days after his 48th birthday, Emanuel passed away, on May 3, 1881. He was buried in Stephenson Cemetery, today known as Sugar Ridge Cemetery. In its "Town and Country" column, the local Monroeville Breeze newspaper simply reported: "After a long illness Emanuel Krick died." No more lengthy obituary has been found, despite a search of the Breeze for several weeks afterward. An upright marker was placed at the grave, and inscribed. The lettering was faintly legible when viewed in August 2002 and May 2009.
EMANUEL KRICK
DIED MAY 3, 1881
AGED 48 YRS & 3 DAYS
Betsy was left with six children ages six to 19 on their farm four miles northeast of Monroeville. She survived her husband by 14 years and was considered "a good neighbor as well as a staunch and loyal friend." She and other local farmers became irritated with trespassers on their properties and in November 1890 placed a notice in the Breeze, stating: "Notice is hereby given that we the undersigned farmers of Monroe township, Allen county, Ind., do strictly forbid any and all hunting with dog or gun or trespassing in any manner upon our premises and that we will positively prosecute any and all so offending to the full extent of the law."
On March 8, 1892, at her farm, she offered for sale all of her personal property. Handbills promoting the sale were printed by the Monroeville Breeze.
In the early winter months of 1895, at the age of 55, living just over the Indiana-Ohio state line, Betsy became "dangerously ill," and the Breeze said "at this writing [she] is not expected to live." She held on for several weeks, but succumbed on Feb. 16, 1895. Said the Monroeville Weekly Breeze: "The funeral services were held Monday at the house and was attended by the largest crowd that has been seen in these parts for sometime.... [She] leaves a large number of children and grand children, besides a large circle of friends to mourn her loss."
Betsy was buried with her husband at Sugar Ridge. The Breeze reported that her undertaker, M. Strauss, had "used his new funeral car" at her burial service. Her estate administration papers were filed in Allen County.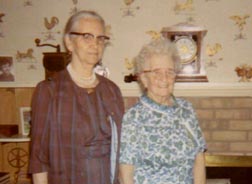 Eleonore Daehnke and Ethel Krick

Ethel Krick
The legacy of the Kricks and Minerds was carried forward for many years.
Writing to the Indiana Minerds in September 1929, from his home in Pittsburgh, PA, cousin Corwin D. Tilbury asked: "How is everybody? McCormicks, Fosters, Kricks and so on down the line?" He asked again in October 1932, "How is Ida Krick?" In March 1933, he inquired, "What has become of Lige Krick? Let me know if you can." In March 1934, he asked again, "No, have had no word from Lige Krick; is he still living alone?"
Seen here are photographs of Krick friends from the collection of John "Reuben" Minerd. At left is a portrait of Ethel Krick in profile taken in May 1971. At right are Eleonore Daehnke and Ethel Krick in October 1970. Eleonore's precise relationship to the family is not known, and she may have simply been a good friend to the family. She was known to have boarded with Charles H. and Ethel Krick in 1930 in Monroeville, IN.
Copyright © 2002, 2006, 2008, 2016-2017 Mark A. Miner