Corwin D. Tilbury
(1853-1947)


Corwin and Eva Tilbury
Corwin D. Tilbury was born on Feb. 8, 1853 near Dixon, Van Wert County, OH, the son of Elihu and Amy (Minerd) Tilbury.
He is the only known member of our family to serve on Pittsburgh City Council, the governing body of the great industrial city. His wife is the first known educator in our clan to be certified to teach by the Chicago Board of Education.
Corwin and his brother Mentzer were very young when their father died. Recalling the sad event much later in life, Corwin wrote about being brought with his brother to a loving uncle's farm, where they would grow up: "When my father died I was taken on horseback by uncle Jim to grandfather's, I on one horse and M.E. on another with my mother and that was my home until my mother married again six years later. So do you wonder why I feel as I do about that old farm?"
The farm he referred to and was raised on was owned by his uncle and aunt, James and Martha Jane (Sheehan) Minerd, on the Indiana-Ohio state line just north of Dixon, near Monroeville, IN. He resided with the Minerds when the federal census was taken in 1870, when Corwin was age 17. As a boy, when the weather turned cold with long black nights, Corwin and the Minerds "would go out in the garden and dig a hole in an apple hill then sit by the old fireplace and eat red apples until our stomached ached," he wrote. He also once said that "Uncle Jim and Aunt Jane were always kind to me when I needed a friend, and I shall always revere their memory."
He was close with the Minerds over the years, and even as an elderly man living in Pittsburgh, PA, often wrote letters to his "favorite cousin" Goldie Minerd, the daughter of his cousin John "Reuben" Minerd. In one letter to Goldie in November 1937, when he was in his mid-80s, he wrote: "I love the old farm as well as the people on it!"
Corwin lived for a brief time with his mother and father-in-law in Chicago, Cook County, IL. The federal census of 1880 shows him working at the age of 27 as a photographer.
On New Year's Eve 1883, he married Eva Mary Marsh (1853-1934), a teacher in the Chicago schools. She was a native of Michigan. They had no children. Eva was an 1873 graduate of Chicago's Central High School. She received a teaching certification on Feb. 27, 1879 from the Board of Education of the City of Chicago. Nothing else of this aspect of her career is known. Oral tradition in the family said that Eva may have lost some possessions in the Great Chicago Fire of 1871.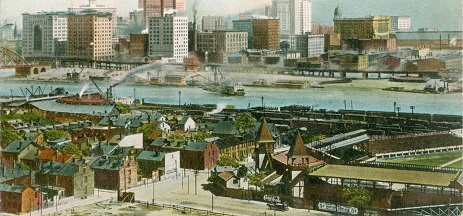 Turn of the century Pittsburgh, the Tilburys' new home.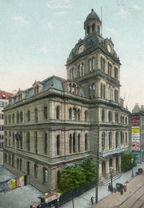 Pittsburgh City Hall
In the late 1880s or 1890s, Corwin and Eva moved to Cincinnati, Hamilton County, OH, where he was employed as factory superintendent of American Press Association, a maker of metal printing plates called "stereotypes." 1890-1891 Cincinnati, Ohio Directory lists their address as 24 Williamson Place in the 25th Ward, while brother Mentzer made his home at at 23 Lingo, also in the 25th Ward, and worked as a "stereotyper," most likely as Corwin's employee. A year or so later, Corwin accepted a position as president of the Provident Loan Company in Cincinnati. According to the First Annual Report of the Inspector of Building and Loan Associations of the State of Ohio for 1892, the institution had assets of $45,600 that year. Corwin and Eva lived in Cincinnati for some years, and he joined the Masonic Order of Cincinnati, and remained a member until his death many years later.
The portrait of Corwin at the top of this biography was taken in 1899 in Elmira, NY, at the studio of W.C. Rowley, 110 & 112 West Water Street. He may have gone there on vacation, but otherwise the circumstances of him being there are not known.
By 1905, and possibly earlier, Corwin and Eva had moved to Pittsburgh. Brother Mentzer moved to Pittsburgh as well at some point. The following year, in 1906, Corwin was elected to the Select Council of Pittsburgh City Council, which along with the Mayor was (and is) the governing body of the city.

Mayor Guthrie
Seen here is Pittsburgh's old City Hall, where the Council Chambers were located. Corwin served as a Select Councilman for three years, completing his service in 1908. Corwin is mentioned for this service in Pittsburgh Borough and City Officials, 1794-1941, compiled by Lucille A. Tomko, and on file at the Carnegie Library of Pittsburgh.
The Mayor of Pittsburgh during that era was George W. Guthrie. The Pittsburgh to which Corwin had begun a political career was hopelessly corrupt and polluted. In his classic book Shame of the Cities, published in 1904, McClure's Magazine journalist Lincoln Steffens writes:
Pittsburg is an example of both police and financial corruption... The city has been described physically as "Hell with the lid off"; politically it is hell with the lid on ... There are earnest men in the town who declare it must blow up of itself soon.
Stefan Lorant's landmark book, Pittsburgh: The Story of an American City, states that some of the highlights of the 1906-1908 era in Pittsburgh were: a 1907 flood that left the city under 14 feet of water; Andrew Carnegie's dedication of the Carnegie Institute (now Carnegie Mellon University); an annexation that made Pittsburgh the sixth largest U.S. city; and the city's sesquicentennial (150th birthday). All-time Pittsburgh Pirates great Honus Wagner won three straight batting titles, setting the stage for the Pirates' 1909 World Series championship team.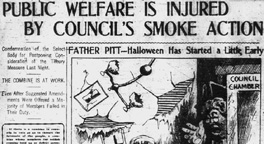 Some of the Pittsburgh Sun headlines covering the "Tilbury Smoke Bill"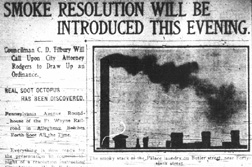 News coverage of Corwin's legislation
During his tenure on City Council, Corwin forcefully advocated the cleanup of industrial pollutants and thus was an early environmentalist. He entered office "ready to make smoke his mission." One local newspaper headline claimed that "Real, Soot Octopus Has been Discovered; Pennsylvania Avenue Roundhouse of the Ft. Wayne Railroad in Allegheny Belches Forth Soot All the Time."
In June 1906, Corwin introduced a resolution to draft the "1906 Smoke Ordinance," and it was passed by the City Council right away. Predictably, this placed him in direct opposition to the interests of large steelmakers, other industrial manufacturers and railroad companies, who would have perceived it as far too harsh. The cost of implementing smoke-reduction technology would have been high and thus a threat to corporate profitability.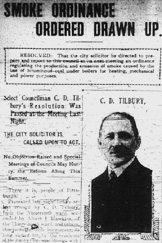 Pittsburgh Sun, 1906
Corwin often was mentioned and quoted in headlines and stories in the Pittsburgh Sun newspaper, and even was pictured in the edition of June 26, 1906, seen here. The bill faced delay after agonizing delay, with Council balking at certain provisions. In September 1906, the ordinance was approved by the health and sanitation subcommittee of Council, but the following month, 19 of the 31 Council members voted for further postponement. Said the Sun:
The fact that Councilman C.D. Tilbury, sponsor of the smoke ordinance, followed out everything demanded by the council clique in the way of proper amendments at their own suggestion, per the opinion of the city attorney, and yet saw his measure temporarily killed by the vote taken, went to show that select council last night was determined to oppose the instrument under all conditions, for personal or combined reasons of their own.
Mayor Guthrie was furious at Council's motives behind their stalling tactics, and the supportive Pittsburgh Sun ran a front-page headline, "Public Welfare Is Injured By Council's Smoke Action." Yet the ordinance is not thought to have been seriously considered again. An excellent summary of the matter is published in Hell with the Lid Taken Off: A Cultural History of Air Pollution - Pittsburgh, a dissertation by doctoral candidate Angelina Gugliotta at the University of Notre Dame. Corwin is mentioned 69 times in the Gugliotta report. Click for the full document. Corwin also is mentioned in connection with this work in the 2005 book Devastation and Renewal: An Environmental History of Pittsburgh and Its Region, edited by Joel A. Tarr.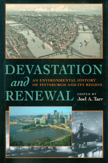 Mentioned in Joel
Tarr's book
Two years later, during Pittsburgh's 150th birthday celebration, Corwin was not named in several of the commemorative publications listing hundreds of VIPs who took part in the many activities. He may well have chosen to forego any participation. The reasoning can only be surmised, but may be because he was embittered by the smoke ordinance politicking leading to what he may have considered a personal, embarrassing defeat. He received a perfunctory mention in a list of Council members in the Official Municipal Program of the Sesqui-Centennial of the City of Pittsburgh (1758-1908), of which an original copy today is preserved in the Minerd.com Archives.
Another landmark event occurring during Corwin's service on City Council was pioneering research led by sociologist Paul U. Kellogg that resulted in publication the following year of The Pittsburgh Survey. The six-volume Survey -- produced between 1909-1914 -- took a deep, analytical look at urban conditions in the city in the areas of women and the trades, work-accidents and the law, steel workers, households of the mill town of Homestead, the civic frontage of the Pittsburgh District, and wage-earning Pittsburgh. Click for a summary.

Listed in the city's official program
Ironically, their new home was just 65 miles from the ancient Laurel Hill farm where Corwin's grandfather, John Minerd Jr., had been born, and left behind in 1817 to migrate to Ohio. Their home also was about one mile from the Pittsburgh Zoo.
Circa 1910, Corwin is believed to have accepted a transfer to St. Paul, MN, for his longtime employer, the American Press Company. In this role, the company produced syndicated printing plates for newspapers, using news content provided by third parties. He was involved in a controversy in 1912 when his firm declined an opportunity to provide exclusive news to the St. Paul Pioneer newspaper about explorer Roald Amundsen's discovery of the South Pole. He wrote a letter to the editor, published in the Bemidji Sentinel, explaining his position. [link] Eva's whereabouts during this period are unknown.
Corwin returned to Pittsburgh sometime after 1912 and before 1920. He and Eva resided at 811-817 Farragut Street in the East Liberty section (11th Ward) of the city when the 1920 federal census was taken. That census shows that Corwin was employed as a salesman in a department store.
In keeping in touch with their Minerd cousins in Indiana, Eva sent a Christmas gift in 1917. Her cover note read: "This famous book has always been such a delight to me - tho I have never owned a copy - that I am sending it to you with the thought that you will enjoy the bit of nonsense together with many others beside myself." Corwin often sent cash to the Minerds for the purchase of coal during winters.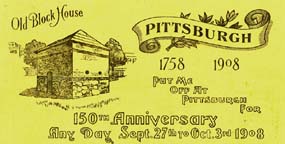 Pittsburgh Sesquicentennial postcard, 1908

Eva, 1908
The photo of Eva seen here was taken in August 1920 on a visit to the old family farm in Indiana.
When Franklin Delano Roosevelt was inaugurated in March 1929 for his first term as President of the United States, Corwin and Eva "sat down at the Radio at 10 in the forenoon and stuck to it until 2 then our hunger forced us to quit," Corwin wrote. "We felt sure that he would 'get in' so there was no use of our staying any longer."
Corwin and Eva are known to have traveled from Pittsburgh to near Dixon, OH to attend the funeral of his uncle James Minerd in 1929. In June 1932, Corwin sent many of his household items, including rugs and furniture, to his cousin John Reuben Minerd, who lived on the Ohio-Indiana border. Corwin visited his half-siblings in Chicago about once a year. He is known to have been in Chicago and seen a movie with his sister Nettie Blood in early December 1932.
He had a deep, abiding affection for the old Minerd farm on the Indiana-Ohio border where he had been raised. Writing to cousin John Reuben Minerd in June 1933, about an upcoming visit to the farm, he said: "About all that we shall need to eat is chicken and noodles three times a day!" In a letter to the Minerds dated Jan. 30, 1939, he asked: "Now some one tell me how many bushels of corn, oats and wheat you harvested this last year. Also how many pigs, calves and cows you have and most important of all, how the Bay horses have behaved since I stopped taking care of them?? No fooling, I am much interested and mean what I have said."
Corwin also enjoyed keeping abreast of the lives of his Krick and Ball cousins. Writing to the Indiana Minerds in September 1929, he asked: "How is everybody? McCormicks, Fosters, Kricks and so on down the line?" He asked in October 1932, "How is Ida Krick?" In March 1934, he received a newspaper clipping about the death of his cousin Jas. Pring, and wrote in response, "One by one the old family disappears." Also in March 1934, when he learned of the death of his aunt Matilda (Bodle) Minerd in Michigan, he wrote: "So Aunt Matilda is gone; do I know how old she was? Must have been near 90."
He also kept in touch with his cousin John Hixon Ball and in a 1927 letter to another cousin asked, "Do you hear from the Balls? I wrote them when we got home but have had no reply." In June 1929 he again wrote to a cousin, "Do you hear from Balls? We have written twice and no reply so far. Hope both are well. I do not think John has very good health. Her work keeps her pretty busy too I thin; you know she sews for people. Is it not remarkable how Uncle and in face his predecessors hold out? Mother was 84½. M.E. because of his easy quiet way will be another." He commented on the passing of Ball in March 1935, saying: "Sorry about John Ball. What ailed him?"
Corwin also refers to a cousin "Eva Etter" in letters written in 1928, saying she "is not expected to live [and] is at the Hospital at Van Wert and should she pass away, We are going to the funeral if we get the word in time... This might seem like hurrying the departure of my cousin, but Norma wrote us that it did not seem possible for her mother to last very long since she cannot take much if any food." Eva Etter (1859-1928), widow of John Etter (1860- ? ), was the daughter of Corwin's aunt Betsy Tilbury and her husband A.W. Jones, and died on Aug. 30, 1928.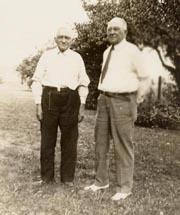 Brothers Mentzer (left) and Corwin
The photo seen here shows Corwin and his brother
Mentzer
, possibly taken at the Minerd farm on the Indiana-Ohio state line. Mentzer's son George recalled that Corwin "sometimes would spend the summers out there [on the Minerd farm], sometimes a month, two months ... just like a vacation."
Corwin and Mentzer were close, and spent much time together during their years in Pittsburgh. For some reason, though, Mentzer's daughter Ethel kept her distance. Corwin wrote in 1928 that "In fact during the 30 odd years we have been living here she has never been inside our house. So much for that."
In the winter of 1928, Corwin closed his store and faced an uncertain future of unemployment. Writing to the Minerd cousins in Indiana, he said, "I regret to say that I am not working at the store anymore, having been laid off last Saturday night. The reason is poor business and a desire to reduce expenses. But I was not the only one laid off; in fact I was the very last one. However, we are still eating three meals per day!"
During the Great Depression, Corwin was hit hard by the financial downturn and found it ever harder to let rooms at his two rental properties. At the end of 1932, he wrote: "I am getting uneasy about things in Pgh. The renting season commences in January and I don't know what (tenants) Welch & Wickham intend doing."
Eva discovered a lump on her breast in August 1930, and only lived less than a year more. In January 1931, with great sadness, Corwin wrote to the Indiana Minerds:
My dear little pal is in bad condition. Last August a growth appeared on her left breast and it was not painful nor annoying but we thought best to have it examined by a competent surgeon-physician. He pronounced it a cancerous condition and advised the removal of the entire left breast. I consulted another doctor who is a near neighbor, and a specialist, and he said we should loose no time in having it attended to. We arranged to go to the Pittsburgh Hospital and the operation was performed there the last of Aug. Eva was there 14 days; I staid there from 8 a.m. until evening all that time but not being allowed there nights I came home. Well, Eva seemed to get along fine for two or three months then another attack which was pronounced the same thing. Came on the right side of the spine and was most severe for two or three weeks when the pain ceased but she did not get any better. She could hardly walk and finally ceased walking altogether. She has no control of her legs and cannot stand on her feet at all. Poor Eva, she will never be on her feet again.
On May 27, 1931, Eva passed away at age 78. Her sister in law Nettie Blood traveled from Chicago to attend the funeral. She was buried in Woodlawn Cemetery in the Pittsburgh suburb of Wilkinsburg. A search for her obituary in Oakmont's newspaper, the Allegheny Valley Advance Leader, proved fruitless.
Eva's grave was not marked for a number of years. In a May 1935 letter, Corwin wrote: "I went out to the cemetery last week and set out some geraniums on the grave of Eva and her mother. Was there Sunday to see if the frosts have had hurt them, but they are all right."
Corwin outlived his wife by 16 lonely years. A 1935 letter written by his half-sister Leona Thorne said:
Corwin has been fairly well this summer with the exception of two rather bad spell. A card this morning tells us he is feeling better again. If he didn't have to worry over his property he would be much better.
Another of Lena's 1935 letters said:
It is too bad Corwin does nor write oftener - but I know he has not been so very well. Not really sick tho'. The depression has brought on property worries - which do not tend to make me feel like doing much of anything except say bad words.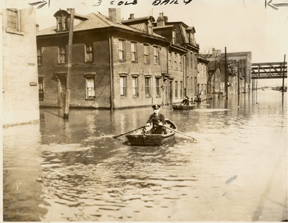 Flooding in Pittsburgh, 1936
In 1935, Corwin moved into a rented home in the fashionable Pittsburgh suburb of Oakmont, with the Brooks family, at 510 Delaware Avenue in Plum Township. In August 1937, Corwin's sister in Chicago wrote:
Corwin finds writing difficult since his illness, so much so, that I have been looking after his affairs in Pittsburgh and attending to his correspondence. He still drives about Oakmont, and is kept quite busy especially since Mr. Brooks has been ill. He hasn't been out of town since he returned last May - and we discourage his taking long trips on account of the hard driving over the mountains.
When the Great Flood of 1936 caused heavy damage in the City of Pittsburgh, Corwin fortunately was not impacted. Writing to cousin Goldie Minerd, he said: "The recent flood did not bother either Mentzer or I. We were higher up but we both felt the effects as we were without light and heat about a week. Here at Brooks' the cooking was done in the coal furnace which of course was a nuisance. Yet we managed very well and the flood did not touch my place in Farragut St., but like us out here, they had to depend on candles for light." Seen here is a photograph taken of the flooding, part of a set of original news photographs preserved in the Minerd- Minard- Miner- Minor Archives.
In April 1938, Corwin and Mentzer and nephew George and his wife Marie drove from Pittsburgh to Chicago to visit the Thorne relatives. Marie did all of the driving. Because they had to rush home on the return trip, they did not stop to see the Minerd cousins on the state line farm, causing a bit of a stir in the family. Also in the summer of 1938, when Corwin was age 85, he and his landlords traveled by automobile to Three Springs, PA; thence to Washington DC and to George Washington's home at Mount Vernon, VA; and along Skyline Drive in the Shenandoah Valley; and thence back to Culpeper, VA, Hancock, MD and back to Pittsburgh.
Corwin wrote a will on July 11, 1938. Of his assets, he left 40 percent each to his sisters Leona Thorne and Annette Blood, and the remaining 20 percent to his nephew George Tilbury. He also left his cousin Reuben Minerd "all my house hold goods and furniture now located at his place of residence in the State of Indiana." Sometime later, perhaps in 1939 or 1940, during his last known visit to the Minerd farm, he gave them his items outright.
Brother Mentzer is believed to have died sometime prior to 1938. A letter written by Corwin, in early September 1938, states: "While I saw but little of Mentzer the last couple of years I miss him very much."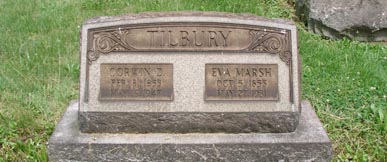 Corwin and Eva's grave at Woodlawn Cemetery in Wilkinsburg.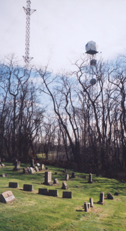 Final resting place in Wilkinsburg
From Oakmont, in July 1939, Corwin wrote to his cousin Goldie (Minerd) Moennig. His letter speaks of lady friends and travels with his nephew George Tilbury. Among other things, he said:
My health at 86 and a half is quite good. I really have no right to complain. However, it irks me sometimes that I cannot do the things I used to do - I should know better than to try, but agressiveness is and always has been my middle name and it is rather hard to curb my natural ambitions. I still drive my Desoto about town here and now and then out in the country.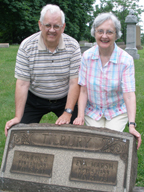 Bill and Gloria Carey
pay their respects, 2008
Corwin lived the last nine years of his life in the residence of Sarah B. McCurdy on Hulton Road in Oakmont. He described her thus: "Her husband is seldom at home which makes it rather nice for me -- she is 37 years old and has red hair! Seems I am strong for red heads!!" Fred Shoemaker, the future executor of his estate, later said that: "...he was 93 when he died, ... and we carried him along, his rents weren't hardly enough to take care of his property and expenses."
He passed away at the McCurdy home on May 16, 1947. In June 1948, per the terms of the court decision, a grave marker of dark barre granite was erected for Corwin and Eva at Woodlawn Cemetery. The marker is within 150 yards of the tall transmission tower for WTAE-TV (seen here), the ABC affiliate in Pittsburgh, a longtime landmark for drivers on the Parkway East/Interstate 376 in Wilkinsburg.
In June 2008, while in Pittsburgh to attend the Pittsburgh 250 Minerd- Minard- Miner- Minor Reunion, Goldie's daughter Gloria (Moennig) Carey and her husband Bill, lifelong residents of Fort Wayne, IN, visited the Tilbury grave for the very first time so they could pay their respects.
That same year, a photograph portrait of Corwin was published in the Pittsburgh Tribune-Review in connection with the clan's annual family reunion.
Copyright © 2002-2005, 2008, 2012, 2019 Mark A. Miner