Edna A. Lytle
(1885-1981)

Edna Lytle

Edna A. Lytle was born on Aug. 28, 1885 in McLuney, Perry County, OH, the daughter of John Thomas and Elizabeth "Lizzie" (Miner) Lytle. The family resided near Lizzie's parents, Thomas and Maletha (Ogburn) Miner.
When Edna was a young girl, the family moved eastward to Cambria County, PA, where her father found work in the coal mines there.
On Nov. 30, 1904, Edna gave birth to a baby girl, named Pearl. Because Edna was unmarried, Edna's parents raised Pearl as their own.
Edna found work as a domestic servant for the Leahey family of Lilly, where she worked for many years.
On Aug. 25, 1921, tragedy struck when daughter Pearl died from typhoid fever. She was only 16 years old.
Edna never married. For over 80 years, she lived in Lilly, in the house by the railroad tracks where her mother had resided for so many years. The kitchen featured a wood burning stove, located in the basement. The whole house would shake when trains rolled by.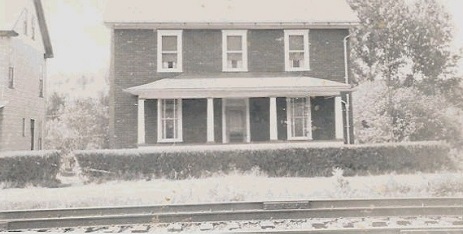 Edna's home in Lilly, inherited from her mother
Edna and her bachelor brother Wilseresided together with their mother for decades. When the federal census enumeration of 1940 was made, Edna had no occupation while her brother toiled as a coal miner.

Lillydale Cemetery

The two took care of their mother until her death in 1960 at the age of 94.

Edna inherited her mother's longevity genes. She died on May 12, 1981 in Lee Hospital, Johnstown, PA. She was 95 years old.

Edna is buried beside her daughter in Lillydale Cemetery, Lilly.

Copyright © 2004 Craig Adams. Published on Minerd.com with permission.