Wilse Gilmore Lytle
(1896-1982)

Wilse Lytle

Wilse Gilmore Lytle was born on Aug. 8, 1896, likely in Bakers, Cambria County, PA, the son of John Thomas and Elizabeth "Lizzie" (Miner) Lytle.
Wilse was the youngest of six. However, when he was just a baby, oldest brother George died at the age of 15.
When Wilse was about three, his family made their permanent home in the small borough of Lilly on Railroad Street, so named because it ran alongside the railroad track of the busy Pennsylvania Railroad.
In 1904, his sister Edna gave birth to a daughter, Pearl, and in 1906, his sister Bess produced a son, John "Pete." Edna and Bess were both young and unwed, so John and Lizzie raised them as their own, and Wilse was no longer the baby in the family.
Like his father, and most of the townsmen of Lilly, Wilse was a longtime coal miner. A niece remembered him as "a very kind man."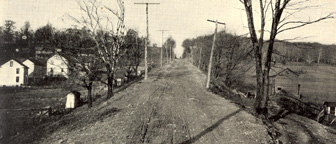 Old portage road running through Lilly, PA
Wilse never married. He and his sister, Edna, who also never wed, lived with their mother until her death in 1960 at the age of 94. They had a difficult time caring for their mother all of those years especially at the end stage.
Wilse died on Sept. 25, 1982 at Murray Manor in Murrysville, PA. He was 86 years old. He is buried in Lillydale Cemetery in Lilly, PA.


Text copyright © 2004, 2011 Craig Adams. Published with permission.