Laura Edna
(McKnight) Horstman
(1881-1951)

Laura Horstman
Laura Edna (McKnight) Horstman was born on Sept. 9, 1881 (or 1882) in Fayette County, PA, the daughter of Henry and Martha (Nutt) McKnight.
On May 11, 1899, as she approached her 18th birthday, Laura married 22-year-old Samuel William Horstman (Sept. 13, 1876-1956), a native of Cross Creek, PA and the son of Charles Horstman. The ceremony took place at the Brownsville First Presbyterian Church in Fayette County, led by Rev. Scott Bowman. The bride was six years younger than the groom.
The Horstmans went on to bear a family of nine children -- Samuel W. Horstman, George Howard Horstman, Annabelle Smith, Margaret Horr, Henry Horstman, Lillian Aline Blanock, Charles "Wilbert" ("Bic") Horstman, Arthur Rabe Horstman and Dora Estelle Horstman.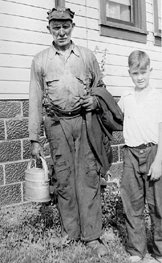 Sam and grandson Bobby Harr
When the federal census was taken in mid-June 1900, Samuel was listed as residing near Grindstone, Fayette County, with his newborn son Samuel Jr. Samuel Sr.'s occupation was provided as "coal miner." Laura's whereabouts are unknown but she may have been convalescing at the nearby home of family following childbirth. Sadly, the infant died the following month, on July 27, 1900.
Sam is seen here with his grandson Bobby Harr and his trusty coal miner's lunch bucket.
In 1910, the Horstmans lived near Grindstone as next door neighbors to Laura's aged parents and married brother and sister in law James and Nora (Victor) McKnight. Samuel was employed as a coal miner, while his brother in law James McKnight labored on the family farm.
By 1919, possibly with coal mining work scarce in the Brownsville-Uniontown area, Laura and Samuel moved to a house on Short Street in nearby Canonsburg, Washington County, PA. There, the Horstmans resided for more than 30 years. A census-taker once noted that their home was on the "southern end of Cecil township, adjoining Canonsburg borough line."
Sam was a longtime coal miner in the Canonsburg area. An undated newspaper article once said that:
...Horstman, who joined the old Knights of Labor when he entered mining at the age of 11, possesses a gold medal denoting 50 years of membership in the UMWA. Though unable to work now, he is known and liked, as he was during his active years in the mines, for his eager willingness to be of service to his fellow men. Recently, Horstman received his first check from the UMWA Welfare and Retirement Fund, for which he expressed thanks to President [John L.] Lewis and all who made it possible. He believes the Welfare Fund is the greatest single accomplishment in the history of the UMWA and of very real benefit to coal miners.

Samuel Horstman, right, with his father in law Henry McKnight

Laura Horstman
Seen here: Laura in a relaxed, un-posed snapshot.
When the census again was taken in 1920, Laura and Samuel and their eight children made their home together in Cecil Township, with Samuel continuing his longtime labors as a coal miner.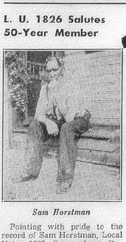 Article featuring Samuel
The 1930 federal census shows the Horstmans in Cecil Township, with Henry employed as a coal miner, and three of their children bringing home extra income by working at a local tin mill -- most likely Continental Can Company or Standard Tin Plate Company.
In 1940, the United States Census enumeration shows Samuel and Laura now in their Cevil Township household devoid of children. Now age 63, he was employed as a timberman in a coal mine.
Laura at the age of 67 suffered a mini stroke in December 1948. After being hospitalized for two weeks, she returned home for further convalescence. By May the following year, her condition was said to have been much improved, and she was beginning to walk around her house for short periods of time.
On May 11, 1949, the Horstmans celebrated their 50th wedding anniversary, and were profiled in an article in the Canonsburg Daily Notes. The story said they were going to celebrate quietly, inviting family and close friends "to visit the couple and extend their congratulations" as Laura was still recovering from her stroke. At the time, they had seven living adult children, 16 grandchildren and five great-grandchildren." Said the Daily Notes: "Mr. Horstman, now 72 years of age, is a retired coal miner and in fairly good health."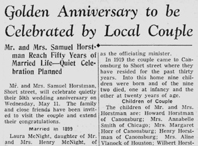 Canonsburg Daily Notes
Suffering from hardening of the arteries, Laura suffered a heart attack and passed away in Canonsburg General Hospital on Jan. 7, 1951, at the age of 68. Her daughter Doris signed the official Pennsylvania certificate of death.
Samuel outlived her by five years and remained in North Strabane Township near Canonsburg. He was afflicted with hypertensive heart disease as well as an infection of his hips, perhaps due to bedsores. As his health failed, he was admitted to Canonsburg General Hospital. There, after a stay of five days, and just two days after his 80th birthday, he died on Sept. 15, 1956.
They are buried together at Oak Spring Cemetery in Canonsburg.
~ Son George "Howard" Horstman ~
Son George "Howard" Horstman (1902-1964) was born on Nov. 2, 1901.
He was employed as a helper in a Canonsburg tin mill circa 1920.
He married Sarah L. (?) (1905- ? ) in about 1923, when he was age 21, and she 18.
They had at least three known children -- Howard George Horstman, Marcella J. Horstman and Samuel W. Horstman.
When the federal census was taken in 1930, the family resided on Marple Alley in Canonsburg. Howard's occupation was as a "catcher" in a tin mill. Circa 1949, they lived in Canonsburg.
Howard died at the age of 62 on April 13, 1964.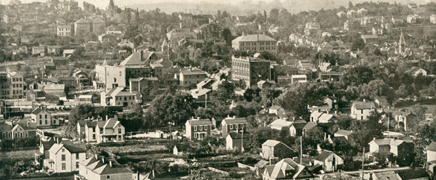 Central Canonsburg, up "Sheep Hill," as seen in 1901
~ Daughter Annabelle (Horstman) Smith ~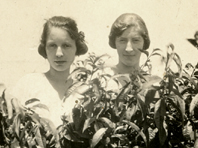 Annabelle and friend. Who was who?
Daughter Annabelle Horstman (1903- ? ) was born on Aug. 20, 1903.
She was employed as a helper in a Canonsburg tin mill circa 1920, when she was age 16.
In the photo seen here, she and a girlfriend pose behind a small tree of some sort. But which girl is Annabelle?
Annabelle married Walter Smith. They had three daughters -- Laura Catherine Smith, Ruth Scears and Dora Smith.
In 1949, when Annabelle's parents celebrated their 50th wedding anniversary, Annabelle made her home in Chicago. She was still in Chicago circa 1984 at the death of her brother Wilbert.
The fates of Annabelle and Walter are not yet known but will be added here when learned.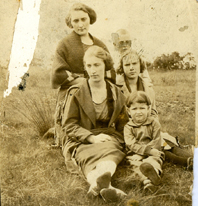 Margaret and Annabelle with relatives
~ Daughter Margaret "Peg" (Horstman) Horr ~
Daughter Margaret "Peg" Horstman (1905- ? ) was born on July 27, 1905.
In the photo seen here, Margaret and her sister Annabelle sit with their young cousin, William Curtis Radcliffe Jr. (foreground), son of William C. and Adeline Stephens (McKnight) Radcliffe. The identity of the other two children in the background are not yet known. And which sister is which?
Margaret married Robert Lee Horr.
They lived in Canonsburg, Washington County and had three known children -- Edna Strimel, Robert Lee Harr and Wilbert "Bo" Orr.
The family surname has had several alternative spellings -- "Horr" -- "Harr" -- and "Orr."
Their fates are not yet known.
Their grandson Danny Lee Strimel has been a longtime Chief of Police in North Strabane Township in Canonsburg, Washington County. He has been a police officer in the community for almost four decades, starting in 1972.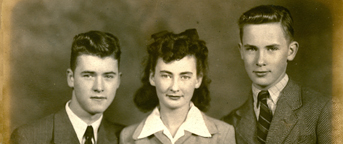 Margaret Horr's children, L-R: Robert, Edna and Bo
~ Son Henry McKnight Horstman Sr. ~
Son Henry McKnight Horstman Sr. (1907-1976) was born on Christmas Day 1907.
He resided at home with his parents in Canonsburg in 1930, when he was age 22. That year, his occupation was "operator - machinist" at a tin plate canning factory.
On July 18, 1932, Henry married Evelyn M. Wortman (March 14, 1910-1992), a Canonsburg native and the daughter of Clarence Henry and Emma M. (Neely) Wortman.
The couple bore three children -- Henry McKnight Horstman Jr., PhD, Donna Horstman and Donald Lee Horstman. Sadly, son Donald died in infancy in 1948.
The federal census enumeration of 1940 shows the family in Canonsburg, with Evelyn's parents living under their roof. Henry was employed as a machinist in the can factory and Clarence Wortman as a night watchman at a pottery.
Henry passed away on Nov. 9, 1976. He is in eterrnal sleep in Oak Spring Cemetery in Canonsburg.
Evelyn outlived her spouse by 16 years and dwelled at 572 West McMurray Road. When her health plummeted, she was admitted to Canonsburg General Hospital, and succumbed to death there at the age of 82 on May 26, 1992.
The Horstmans had two grandsons, whom we are trying to fit into the picture -- Jeremiah Horstman and Matthew Horstman.

Dr. H.M. Horstman
Son Dr. Henry McKnight Horstman Jr. (1933-1984) was born in about 1933. He was joined in marriage with Elena Moretti ( ? - ? ), a native of Italy. During his career, Henry played key roles in astrophysics research related to the NASA space program. While his work is being researched more fully, he is known to have received a Ph.D. in physics in 1962 from the Carnegie Institute of Technology, today known as Carnegie Mellon University, studying under Sergio De Benedetti. From there he worked at the NASA Goddard Space Flight Center, conducting experiments with "balloon and rocket-borne detectors designed to study the newly discovered x-ray emission from celestial objects," said Physics Today. He went on to join the staff in 1968 at the Instituto di Astronomia, Universita di Bologna, Italy.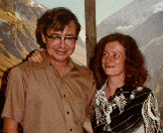 Henry and Elena Horstman
In her own right, Elena was a research scientist with Italy's National Research Council. Henry's specialty was researching cosmic fireballs and gamma ray bursts -- the most powerful type of explosion in the universe, found in deep space -- using balloon observation techniques. He also is said to have been involved with the development of solid rocket fuel. Some results of his "burst camera" and findings are posted on NASA's website. Between 1977 and 1984, he is known to have published at least six scholarly papers, listed on the A Gamma-Ray Burst Bibliography, 1973-2001 of the Space Sciences Laboratory of the University of California at Berkeley. His wife Elena Horstman-Moretti was a co-author on at least one paper, and served with the Laboratorio TESRA/CNR in Bologna, Italy. He died on the eighth anniversary of his father's passing, at the age of about 51, on Nov. 9, 1984. An obituary, co-authored by G.G.C. Palumbo and G. Pizzichini, was published in Physics Today. It stated that Henry was "a complete scientist, capable not only of building instruments, but also of interpreting his and other's experimental results and doing theoretical work. His research ideas were unconventional and always provocative; his spirit was always high. His strong sense of humor and rigorous honesty gave him a special place in the laboratory." He and Elena also are named in the memoir by Brian R. Dennis, Always a Farm Boy, which states that Henry liked to explore caves and chain smoke and that his was a "productive but too-short life."
Daughter Donna Horstman ( ? - ? ) was born in (?). She was unmarried and resided at home with her widowed mother in 1992.
~ Daughter Lillian "Aline" (Horstman) Blanock ~
Daughter Lillian "Aline" Horstman (1910-1996) was born on March 7, 1910 in Brownsville.
She lived at home with her parents in 1930, at age 20, and worked as a laborer at a tin can factory.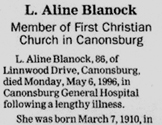 Observer-Reporter, 1996
She married Gregory "Gus" Blanock ( ? -1980) on May 18, 1936, when she was age 26.
They had two children -- Philip Gregory Blanock and Patricia Alderson.
Gus was employed for many years as an ironworker in Western Pennsylvania. Aline was a member of the first Christian Church of Canonsburg.
Gus passed away on Jan. 16, 1980.
Aline survived him by 16 years, making her home on Linnwood Drive in Canonsburg. Following a "lengthy illness," said the Washington Observer-Reporter, she died at the age of 86, on May 6, 1996, at Canonsburg General Hospital. At the time of her passing, she was survived by nine grandchildren and 12 great-grandchildren.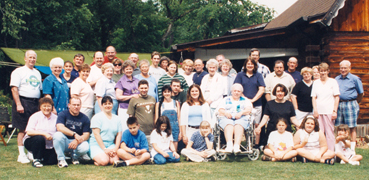 McKnight Reunion at the Alderson home, 1999

Patricia Alderson
Daughter Patricia Blanock (1938-2005) was born on Oct. 3, 1938. She married Arthur Alderson ( ? - ? ), and had four children -- Arthur S. Alderson III, Matthew Alderson, Lara Alderson and Lynn Fox. Patricia "was a teacher and a volunteer," said the Washington Observer-Reporter. They hosted the 1999 McKnight Reunion at their beautiful log home near Canonsburg. Patricia passed away at the age of 67 on Oct. 12, 2005.
Son Philip Gregory Blanock (1940-2011) was born in about 1940. He apparently was twice married. His first wife is thought to have been Rosemary Turiczek. He had seven children -- Kristin Magee, Eric Blanock, Karen Goode, Kurt Blanock, Craig Blanock, Tara Lutton and Kenneth Hast. Later, after a divorce, Philip was wedded to Judy Hast, and Rosemary was joined in matrimony with Dr. Peter J. Nikas. Philip and Judy resided in the Bethel Park suburb of Pittsburgh, where he was a member of Iron Workers Local 3 for more than 50 years. Philip died at age 71 on Oct. 28, 2011.
Grandson Kurt Blanock married Janice (Graham) Marratto, daughter of Donald Charles and Lois Jean Graham. They resided in Cecil, PA, where they were members of St. Mary Parish, and their children attended Canon-McMillan School District. They produced these offspring -- Luke Michael Blanock, Carla Marratto Cumming, Pierce Marratto and Kaitlyn Mary Blanock. Their son Luke was captain of the 2016 Canon-McMillan basketball team, was an entrepreneur selling on Craigslist and was married to Natalie Britvich in the spring of 2016 only to be cut down by cancer at the age of 19 on Aug. 7, 2016. His remains were interred in St. Mary's Cemetery in Cecil, following a Christian funeral mass at the family church, officiated by Father Stan Gregorek.
~ Son Charles "Wilbert" ("Bic") Horstman ~
Son Charles "Wilbert" Horstman (1912-1984) was born in 1912. He was a boy of age seven when the family relocated to Canonsburg.
He was nicknamed "Bic." As a teenager, he went to work in Canonsburg at Continental Can Company.
Bic married Rita Falcocchio (Sept. 16, 1914-1974), a native of Arden, Washington County and the daughter of Vincenzo and Giaconda (Pabula) Falcocchio. Wilbert was four years older than Rita.
The couple produced two children -- Arthur Robert Horstman and Judith Aline Weishner.
Federal census records for 1940 show the Horstmans living in Canonsburg. At that time, he was employed as a mechanic at Standard Tin Plate Company. At that time, the couple had not yet reproduced.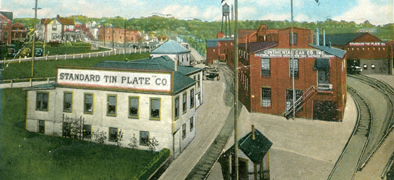 Standard Tin Plate (left) and Continental Can (right) -- longtime employers of the Horstman family in Canonsburg

Arthur Horstman
While working at Continental Can, Bic helped produce tin cans and, during World War II, airplane parts. Later, he was a shearman, cutting steel for power transformers for Pennsylvania Transformer. When he retired in April 1974, from the shearing department, the company was known as McGraw-Edison.
Rita generated additional income through her work at Western State School and Hospital.
Bic was close with his second cousin, William Q. Pratton, and received letters from his relative while away serving in the world war. He was a member of the Canonsburg Sportsmen's Club and National Rifle Association.
The family lived in the early 1970s at 737 Glenn Street in the McEwen Heights section of Canonsburg. Rita was a member of the Canonsburg United Presbyterian Church and its Priscilla Circle.
Sadly, with her health in decline, Rita was admitted to Canonsburg General Hospital. There, she died on June 4, 1974, at the age of 59. Burial was in Oak Spring Cemetery in Canonsburg.
Bic outlived his wife by nearly a decade and remained in their residence. He passed away on March 26, 1984, at the age of 72.
Son Arthur Robert Horstman (1936-2020) was born on June 10, 1936 in Canonsburg, Washington County. He joined the U.S. Air Force in 1955 and served as an airman first class for eight years. He was assigned to a B-36 bomber and was a mechanic. In his spare time, he learned how to parachute and made 99 jumps over the years. Upon his discharge from the Air Force, Arthur received an associate degree in specialized technology from the Pittsburgh School of Aeronautics. He then went on to a 34-year career with American Airlines, with aircraft maintenance crew chief assignments in Elyria/Cleveland, OH, Tulsa and Nashville. Said an obituary, "One of his favorite jobs at work was taxiing a plane from the hanger to the blast fence, putting on the brakes, revving up the engines at full throttle and 'lettin' her rip'." Arthur was married twice. He and his first wife were the parents of Richard Atmore. While working in Cleveland, he met and married his second bride, Kathy ( ? - ? ) in nuptials held on Dec. 9, 1967 in St. John's Lutheran Church of New Franklin, OH. Their marital union endured for 52 years. Arthur and Kathy produced two daughters -- Laura Graybill and Amy Horstman. His final years were spent in Greensboro, NC. Said an obituary, "He enjoyed walking in the woods and along the beach, traveling, wood working, fishing, watching the History and Smithsonian channels and his darling little red-headed dachshund." Sadly, at the age of 83, he succumbed to death on April 19, 2020. Funeral services were held privately, due to the national quarantine over the coronavirus, and were officiated by Rev. Richard Kennedy.
Granddaughter Laura Horstman wedded Ronald Graybill. their daughter is Kelsey Graybill.
Granddaughter Amy Horstman
Daughter Judith Aline Horstman (1948-2020) was born on May 31, 1948 in Canonsburg. On June 20, 1970, she was united in holy matrimony with her high school boyfriend, Anthony S. Weishner Jr. ( ? -living). Their marital union endured for 50 years. The couple dwelled in Canonsburg, and their two offspring were Stephanie Weishner and Timothy Weishner. As a stay-at-home mother, said the Washington Observer-Reporter, she "excelled at showing her children how to love, and supported them through many passions and adventures throughout their lives. She made it her mission to love and improve the lives of her children. Judith found love in raising her cats and a deeper love for her Russian blue breed."She also enjoyed photography and raising flowers and vegetables in her gardens and was an avid student of "A Course in Miracles." Judith attended many of the McKnight Reunions in the late 1990s and early 2000s, where she met the founder of this website and shared valuable information and images. Sadly, she contracted ovarian cancer in about 2018 and endured the illness for almost two years. The Angel of Death carried her away at the age of 72 on July 26, 2020.
Granddaughter

Stephanie Weishner
Grandson Timothy Weishner

married Melinda. They are the parents of Peyton Weishner and Olivia Weishner.
~ Son Arthur Rabe Horstman ~
Son Arthur Rabe Horstman (1914-1935) was born on St. Patrick's Day 1914 in Brownsville, PA.
Unmarried at the age of 20, he resided at 3 First Street in Cecil, Washington County.
When he was about age 14, he was diagnosed with diabetes mellitus. This impacted the metabolism of carbohydrates in his system as well as heightened amounts of sugar in the blood and urine.
Arthur suffered for six years and six months. Grief blanketed the family when his body gave up. He died on July 13, 1935, at the age of 20 years, five months and 26 days in Cecil.
Interment of the remains was held in Oak Springs Cemetery in Canonsburg.
~ Daughter Dora Estelle Horstman ~
Daughter Dora Estelle Horstman (1919-1974) was born on May 6, 1919, the youngest of nine siblings.
She lived at home with her parents in 1949, when she was age 30.
For many years, she worked for United States Steel Corporation's Irvin Works. She belonged to the First Christian Church, Canonsburg.
As she got older, Dora relocated to Sarasota, FL, sharing a home with her sister Margaret Horr. She passed away on May 16, 1974. Her remains were shipped back to Canonsburg for burial in Oak Spring Cemetery.
Copyright © 2000-2005, 2010, 2014, 2016, 2020 Mark A. Miner