Laura Edna
(McKnight) Horstman
(1881-1951)

Laura Horstman
Laura Edna (McKnight) Horstman was born on Sept. 9, 1881 in Fayette County, PA, the daughter of Henry and Martha (Nutt) McKnight.
On May 11, 1899, as she approached her 18th birthday, Laura married 22-year-old Samuel W. Horstman (1876-1956). The ceremony took place at the Brownsville First Presbyterian Church in Fayette County, led by Rev. Scott Bowman. The bride was six years younger than the groom.
The Horstmans had nine children -- Samuel W. Horstman, George Howard Horstman, Annabelle Smith, Margaret Horr, Henry Horstman, Lillian Aline Blanock, Charles "Wilbert" ("Bic") Horstman, Arthur Rabe Horstman and Dora Estelle Horstman.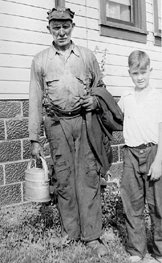 Sam and grandson Bobby Harr
When the federal census was taken in mid-June 1900, Samuel was listed as residing near Grindstone, Fayette County, with his newborn son Samuel Jr. Samuel Sr.'s occupation was provided as "coal miner." Laura's whereabouts are unknown but she may have been convalescing at the nearby home of family following childbirth. Sadly, the infant died the following month, on July 27, 1900.
Sam is seen here with his grandson Bobby Harr and his trusty coal miner's lunch bucket.
In 1910, the Horstmans lived near Grindstone as next door neighbors to Laura's aged parents and married brother and sister in law James and Nora (Victor) McKnight. Samuel was employed as a coal miner, while his brother in law James McKnight labored on the family farm.
By 1919, possibly with coal mining work scarce in the Brownsville-Uniontown area, Laura and Samuel moved to a house on Short Street in nearby Canonsburg, Washington County, PA. There, the Horstmans resided for more than 30 years. A census-taker once noted that their home was on the "southern end of Cecil township, adjoining Canonsburg borough line."
Sam was a longtime coal miner in the Canonsburg area. An undated newspaper article once said that:
...Horstman, who joined the old Knights of Labor when he entered mining at the age of 11, possesses a gold medal denoting 50 years of membership in the UMWA. Though unable to work now, he is known and liked, as he was during his active years in the mines, for his eager willingness to be of service to his fellow men. Recently, Horstman received his first check from the UMWA Welfare and Retirement Fund, for which he expressed thanks to President [John L.] Lewis and all who made it possible. He believes the Welfare Fund is the greatest single accomplishment in the history of the UMWA and of very real benefit to coal miners.

Samuel Horstman, right, with his father in law Henry McKnight

Laura Horstman
Seen here: Laura in a relaxed, un-posed snapshot.
When the census again was taken in 1920, Laura and Samuel and their eight children made their home together in Cecil Township, with Samuel continuing his longtime labors as a coal miner.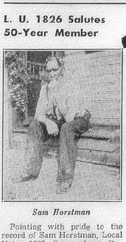 Article featuring Sam
The 1930 federal census shows the Horstmans in Cecil Township, with Henry employed as a coal miner, and three of their children bringing home extra income by working at a local tin mill -- most likely Continental Can Company or Standard Tin Plate Company.
In December 1948, at the age of 67, Laura suffered a mini stroke. After being hospitalized for two weeks, she returned home for further convalescence. By May the following year, her condition was said to have been much improved, and she was beginning to walk around her house for short periods of time.
On May 11, 1949, the Horstmans celebrated their 50th wedding anniversary, and were profiled in an article in the Canonsburg Daily Notes. The story said they were going to celebrate quietly, inviting family and close friends "to visit the couple and extend their congratulations" as Laura was still recovering from her stroke. At the time, they had seven living adult children, 16 grandchildren and five great-grandchildren." Said the Daily Notes: "Mr. Horstman, now 72 years of age, is a retired coal miner and in fairly good health."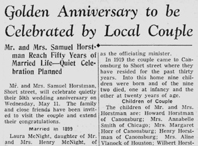 Canonsburg Daily Notes
Laura passed away on Jan. 7, 1951, at the age of 70.
Sam outlived her by five years, and died on Sept. 16, 1956.
They are buried together at Oak Spring Cemetery in Canonsburg.
~ Son George "Howard" Horstman ~
Son George "Howard" Horstman (1902-1964) was born on Nov. 2, 1901.
He was employed as a helper in a Canonsburg tin mill circa 1920.
He married Sarah L. (?) (1905- ? ) in about 1923, when he was age 21, and she 18.
They had at least three known children -- Howard George Horstman, Marcella J. Horstman and Samuel W. Horstman.
When the federal census was taken in 1930, the family resided on Marple Alley in Canonsburg. Howard's occupation was as a "catcher" in a tin mill. Circa 1949, they lived in Canonsburg.
Howard died at the age of 62 on April 13, 1964.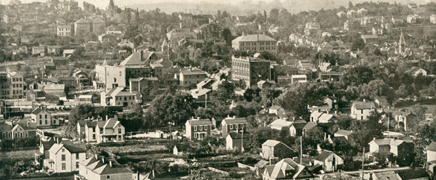 Central Canonsburg, up "Sheep Hill," as seen in 1901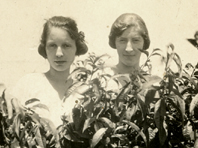 Annabelle and friend. Who was who?
~ Daughter Annabelle (Horstman) Smith ~
Daughter Annabelle Horstman (1903- ? ) was born on Aug. 20, 1903.
She was employed as a helper in a Canonsburg tin mill circa 1920, when she was age 16.
In the photo seen here, she and a girlfriend pose behind a small tree of some sort. But which girl is Annabelle?
Annabelle married Walter Smith. They had three daughters -- Laura Catherine Smith, Ruth Scears and Dora Smith.
In 1949, when Annabelle's parents celebrated their 50th wedding anniversary, Annabelle made her home in Chicago.
The fates of Annabelle and Walter are not yet known but will be added here when learned.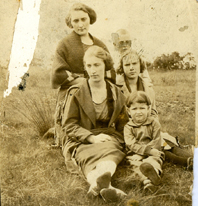 Margaret and Annabelle with relatives
~ Daughter Margaret "Peg" (Horstman) Horr ~
Daughter Margaret "Peg" Horstman (1905- ? ) was born on July 27, 1905.
In the photo seen here, Margaret and her sister Annabelle sit with their young cousin, William Curtis Radcliffe Jr. (foreground), son of William C. and Adeline Stephens (McKnight) Radcliffe. The identity of the other two children in the background are not yet known. And which sister is which?
Margaret married Robert Lee Horr.
They lived in Canonsburg, Washington County and had three known children -- Edna Strimel, Robert Lee Harr and Wilbert "Bo" Orr.
The family surname has had several alternative spellings -- "Horr" -- "Harr" -- and "Orr."
Their fates are not yet known.
Their grandson Danny Lee Strimel has been a longtime Chief of Police in North Strabane Township in Canonsburg, Washington County. He has been a police officer in the community for almost four decades, starting in 1972.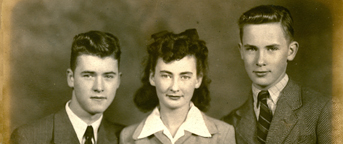 Margaret Horr's children, L-R: Robert, Edna and Bo
~ Son Henry M. Horstman Sr. ~
Son Henry M. Horstman Sr. (1907-1976) was born on Christmas Day 1907.
He resided at home with his parents in Canonsburg in 1930, when he was age 22. That year, his occupation was "operator - machinist" at a tin plate canning factory.
He married Evelyn Workman ( ? - ? ).
The couple bore three children -- Henry M. Horstman Jr., Donna Horstman and a child who died in infancy.
Henry passed away on Nov. 9, 1976.

Dr. H.M. Horstman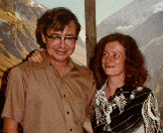 Henry and Elene
Son Dr. Henry M. Horstman Jr. (seen here) ( ? -1984) married Elene Morett, a native of Italy. Henry played key roles in astrophysics research related to the NASA space program. While his work is being researched more fully, he is known to have served at the Instituto di Astronomia, Universita di Bologna, Italy. Henry's specialty was researching cosmic fireballs and gamma ray bursts -- the most powerful type of explosion in the universe, found in deep space -- using balloon observation techniques. He also is said to have been involved with the development of solid rocket fuel. Some results of his "burst camera" and findings are posted on NASA's website. Between 1977 and 1984, he is known to have published at least six scholarly papers, listed on the A Gamma-Ray Burst Bibliography, 1973-2001 of the Space Sciences Laboratory of the University of California at Berkeley. His wife Elena Horstman-Moretti was a co-author on at least one paper, and served with the Laboratorio TESRA/CNR in Bologna, Italy. The first of Henry's known papers, authored in 1977, was "Effect of Multiple Scattering on Balloon Observation of Gamma Ray Bursts," published in Astrophysics and Space Science. He died on the eighth anniversary of his father's passing, on Nov. 9, 1984.
~ Daughter Lillian "Aline" (Horstman) Blanock ~
Daughter Lillian "Aline" Horstman (1910-1996) was born on March 7, 1910 in Brownsville. She lived at home with her parents in 1930, at age 20, and worked as a laborer at a tin can factory.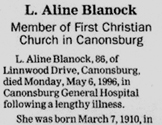 Observer-Reporter, 1996
She married Gregory "Gus" Blanock ( ? -1980) on May 18, 1936, when she was age 26.
They had two children -- Philip Gregory Blanock and Patricia Alderson.
Gus was employed for many years as an ironworker in Western Pennsylvania. Aline was a member of the first Christian Church of Canonsburg.
Gus passed away on Jan. 16, 1980.
Aline survived him by 16 years, making her home on Linnwood Drive in Canonsburg. Following a "lengthy illness," said the Washington Observer-Reporter, she died at the age of 86, on May 6, 1996, at Canonsburg General Hospital. At the time of her passing, she was survived by nine grandchildren and 12 great-grandchildren.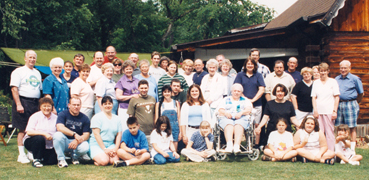 McKnight Reunion at the Alderson home, 1999

Patricia Alderson
Daughter Patricia Blanock (1938-2005) was born on Oct. 3, 1938. She married Arthur Alderson, and had four children -- Arthur S. Alderson III, Matthew Alderson, Lara Alderson and Lynn Fox. Patricia "was a teacher and a volunteer," said the Washington Observer-Reporter. They hosted the 1999 McKnight Reunion at their beautiful log home near Canonsburg. Patricia passed away at the age of 67 on Oct. 12, 2005.
Son Philip Gregory Blanock (1940-2011) was born in about 1940. He apparently was twice married. His first wife is thought to have been Rosemary Turiczek. He had seven children -- Kristin Magee, Eric Blanock, Karen Goode, Kurt Blanock, Craig Blanock, Tara Lutton and Kenneth Hast. Later, after a divorce, Philip was wedded to Judy Hast, and Rosemary was joined in matrimony with Dr. Peter J. Nikas. Philip and Judy resided in the Bethel Park suburb of Pittsburgh, where he was a member of Iron Workers Local 3 for more than 50 years. Philip died at age 71 on Oct. 28, 2011.
Grandson Kurt Blanock married Janice (Graham) Marratto, daughter of Donald Charles and Lois Jean Graham. They resided in Cecil, PA, where they were members of St. Mary Parish, and their children attended Canon-McMillan School District. They produced these offspring -- Luke Michael Blanock, Carla Marratto Cumming, Pierce Marratto and Kaitlyn Mary Blanock. Their son Luke was captain of the 2016 Canon-McMillan basketball team, was an entrepreneur selling on Craigslist and was married to Natalie Britvich in the spring of 2016 only to be cut down by cancer at the age of 19 on Aug. 7, 2016. His remains were interred in St. Mary's Cemetery in Cecil, following a Christian funeral mass at the family church, officiated by Father Stan Gregorek.
~ Son Charles "Wilbert" ("Bic") Horstman ~
Son Charles "Wilbert" Horstman (1912-1984) was born in 1912.
He was nicknamed "Bic." As a teenager, he went to work at Continental Can Company in Canonsburg.
Bic married Rita Falcocchio ( ? - ? ). They had two children -- Arthur Robert Horstman and Judith Weishner.
While working at Continental Can, Bic helped produce tin cans and, during World War II, airplane parts. Later, he was a shearman, cutting steel for power transformers for Pennsylvania Transformer.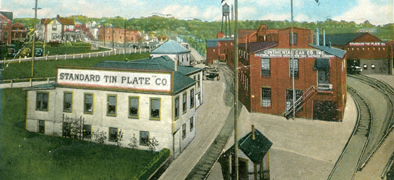 Standard Tin Plate (left) and Continental Can (right) -- longtime employers of the Horstman family in Canonsburg

Arthur Horstman
Bic was close with his second cousin, William Q. Pratton, and received letters from his relative while away serving in the world war.
Bic passed away on March 26, 1984, at the age of 72.
Son Arthur Robert Horstman served in the U.S. military, and is seen here, as an airman first class.
Daughter Judith Horstman married (?) Weishner. She attended many of the McKnight Reunions in the late 1990s and early 2000s.
~ Son Arthur Rabe Horstman ~
Son Arthur Rabe Horstman (1915-1935) was born on St. Patrick's Day 1915.
He lived a relatively short life.
Sadly, Arthur died on July 13, 1935, at the age of 20. Details of his untimely passing are not yet known.
~ Daughter Dora Estelle Horstman ~
Daughter Dora Estelle Horstman (1919-1974) was born on May 6, 1919, the youngest of nine siblings.
She lived at home with her parents in 1949, when she was age 30.
Dora passed away on May 16, 1974.
Copyright © 2000-2005, 2010, 2014, 2016 Mark A. Miner