Viola 'Grace' (McKnight) Soules
(1892-1942)

Grace Soules

Viola "Grace" (McKnight) Soules was born on June 3, 1892 near what today is Grindstone, Fayette County, PA, the daughter of Henry and Martha (Nutt) McKnight.
She grew up on her parents' farm on a steep hillside in what was known as Lynn Station near Braznell, Jefferson Township, Fayette County.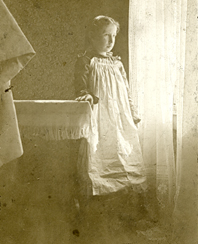 As a young girl

Grace is seen here as a young girl, in a simple, somewhat mysterious image. It likely was taken by her maternal uncle, William C. Nutt, who was a commercial photographer.

In 1912, at the age of 20, Grace married 21-year-old James Eli Soules (1890-1951).

Together, the pair produced a brood of three children -- James Henry Soules, Hugh Melvin Soules and Martha Mae Cacchione.

The family surname alternately was spelled "Soles" after the children were born, but not consistently.

Sometime during the decade of the 1910s, the Souleses relocated to a home in Canonsburg, Washington County, PA, where jobs would have been more plentiful. The federal census of 1920 shows the family residing on Second Street, with James working as a machinist in a tin plate mill. At that time, Grace's brother Charles, who had been seriously wounded in battle during World War I, boarded in their home, and labored as a coal miner.

Grace and James later moved to their permanent home at 216 Grant Street in Canonsburg where they remained for many years, near the intersection with Boyle Avenue. There, Grace was active in the local Baptist Church.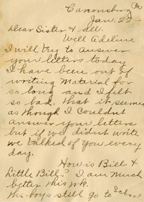 Grace's letter, 1922

In about 1922, Grace wrote a three page letter to her sister Adeline Stephens Radcliffe. Many such letters must have been exchanged between the sisters and among the family over the years, but precious few have survived. In her letter, Grace wrote:

I have been out of writing material for so long and I felt so bad that it seemed as though I couldn't answer your letters but if we didn't write we talked of you every day... The boys still go to school. Martha wants to go too... I got a card from Mama yesterday. She said Sammy Redman was dead. I felt so sorry for his father & Mother. If he was ready for the Journey it was a great thing for him but there are so many who live so careless. If they could just take Jesus for their leader they would find so many good things on this earth and more in eternity. Well Adeline have you been down home lately? I was over just after Xmas. Went to take them over a little Xmas. Is Bill working? Jim gets an other reduction on wages this month...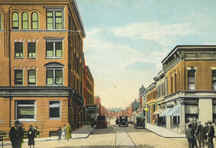 Canonsburg, PA

When the federal census was enumerated in 1930, Grace and James and their children resided on Grant Street, with James employed as a coal miner. Son James, age 16, earned extra income for the family as an errand boy for a can factory.

Just a few years later, while in the grip of the Great Depression, work for James was exceptionally scarce. In August 1932, Grace's mother wrote a letter to relatives, saying: "Mollie and Jo [Pratton] has a hard time. So has Grace, 2 to 3 days a week."

In August 1937, having suffered a debilitating stroke, Grace's aged mother was brought to live in the Soules residence in Canonsburg. She remained there for six months, until her death on Feb. 16, 1938, at the age of 79.

Grace only outlived her mother by five years. During that time she was burdened with chronic heart/kidney disease and hypertension. The couple's final address together was 216 Grant Street in Canonsburg.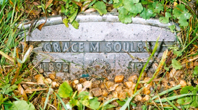 Little Redstone Methodist Cem

She was felled by a cerebral hemorrhage and died on April 18, 1942 at the age of 50, "following an illness of three years," said a local newspaper. She is buried at Little Redstone Methodist Cemetery, beside her parents. At her death, said her news obituary, she was survived by four grandchildren.

A small metal plate, almost obscured by the growing grass, marks her grave. It was photographed in the summer of 2001, when the McKnight family reunion was held nearby.

James died on June 7, 1951, at the age of 61. He is buried in the Old Masontown Cemetery.

~ Son James Henry Soles ~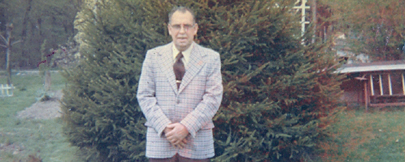 James Soles, date unknown
Son James Henry Soles (or "Soules") (1914- ? ) was born in 1914 in the house next to the old family farm.
James married Ruth Mary McMillen on June 18, 1936. She was the daughter of Merle and Lydia (Kephart) McMillen.
The Souleses had two daughters -- Henrietta Chloe Soules and Ruth Ann Soules.
They lived in the Wilkinsburg section of Pittsburgh for many years.
~ Son Hugh Melvin Soles ~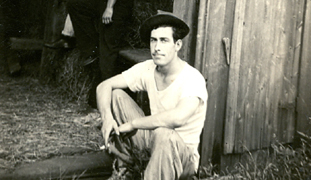 Hugh Melvin Soules, relaxing at Pud Garrison's barn
Son Hugh Melvin Soules (1915-1966) was born on Dec. 2, 1915.
He made his home in Weavertown, Washington County, PA in 1942.
Hugh died in Creighton, Allegheny County, PA on Sept. 2, 1966, at the age of 50. He is buried in the Penn Hills suburb of Pittsburgh.
~ Daughter Martha Mae (Soules) Cacchione ~
Daughter Martha Mae Soles (1918-1979) was born on Jan. 4, 1918 in Canonsburg.
She married Perry Cacchione ( ? - ? ).
Circa 1942, Martha lived with her widowed mother in Canonsburg, possibly while her husband was away at war.
Martha and Perry bore at least three children -- Rose Ann Cacchione, Grace Cacchione and James Cacchione.
Martha apparently later moved to Hyattsville, Prince Georges County, MD. She died there, at age 61, in October 1979.
Copyright © 2000-2002, 2010 Mark A. Miner