Sarah (Menefee) Gibson
(1854-1926)
Sarah (Menefee) Gibson was born in January 1854 in Preston County, WV, the daughter of John and Sarah (Evans) Menefee. One of her sons gave his life for our nation during World War I.
When she was just an infant, Sarah's mother died, and the following year, in 1855, her father married Ruhama Hanshaw. Thus, for all intents and purposes, Ruhama became Sarah's mother, and apparently raised her.
In 1882, when Sarah was age 18, she married 18-year-old John L. Gibson (1855-1907), the son of James and Rebecca Gibson. They had seven children, only four of whom lived to adulthood -- Homer Scott Gibson, John Russell Gibson, Horace Gibson and Agnes Gertrude Pratt. Barbour County records show that two of their children died of the croup within a day of each other -- George E. Gibson, age four years, three months, on Nov. 6, 1896; and Anna R. Gibson, age six, on Nov. 7, 1896.
John "was a prominent citizen of Tunnelton [Preston County] who had much to do with the shaping of the affairs of that city," said the Preston County Journal. Sarah herself "was well known [locally] where she had spent most of her active life and was highly esteemed by everybody."
When William H. Menear, husband of Sarah's step-cousin Helen (Purinton) Menear tragically died of lead poisoning at the age of 23 in September 1889, Sarah and Charles, and her sister Della and husband Charles Frazier, traveled from Tunnelton to attend the funeral, and were mentioned in a related story in the Preston County Journal.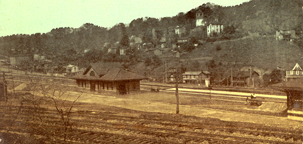 Bird's eye view of Tunnelton, circa 1915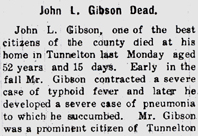 In the fall of 1906, as he approached his 52nd birthday, John "contracted a severe case of typhoid fever and later he developed a severe case of pneumonia," said the Journal. He died on Jan. 29, 1907. Said the Journal, "The funeral was held in the Tunnelton M.E. church Tuesday by his pastor and the interment was made in the cemetery at the camp ground."
Sarah outlived her husband for another 19 years. She supported herself with her own income. When the federal census of 1910 was taken, she headed a household including her three youngest children ranging in age from 12 to 21. By 1920, all of her sons had moved out of the home. The census of 1920 shows Sarah and Alice living under one roof on Gibson Street in Tunnelton.
She eventually moved to Terra Alta, Preston County, where she lived the remainder of her years.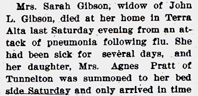 On March 13, 1926, at the age of 72, Sarah passed away "from an attack of pneumonia following flu," said the Journal. "She had been sick for several days, and her daughter, Mrs. Agnes Pratt of Tunnelton was summoned to her bed side Saturday and only arrived in time to see her mother alive." In a separate article, the Journal said that Sarah's remains were "brought to her old home at Tunnelton and buried beside her husband on March 16th. The Rev. M.L. Gamble preached the funeral in the Baptist church here and interment was made at the Campground cemetery by funeral director Bert Hartman."
The Journal noted that Sarah's niece Mrs. Howard Shaffer of Morgantown attended the funeral, and stayed in nearby Kingwood as the guest of Mr. and Mrs. F.T. Shaffer.
Son John R. Gibson of Terra Alta was the informant for Sarah's death certificate.
~ Son Homer Scott Gibson ~
Son Homer Scott Gibson (1884-1952) was born in March 13, 1885. As an adult, he resided in Fairmont, Marion County, WV, working as a mechanic.
He married Etta F. Herndon, a native of Preston County, on Feb. 5, 1906, when he was age 22 and she 24.
Suffering from hardening of the arteries, and heat exhaustion, Homer died on June 28, 1952, at the age of 68.
He was buried in Meadowdale Cemetery near Fairmont.
~ Son John Russell Gibson ~
Son John Russell Gibson (1888- ? ) was born in May 1888.
On June 10, 1910, at the age of 22, he married 20-year-old Playa Mabel Michael of Terra Alta.
~ Son Horace Gibson ~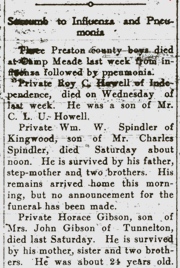 Son Horace Gibson (1895-1918) was born in August 1895 in Tunnelton.
During World War I, he joined the U.S. Army and was stationed at Camp Meade. Tragically, at a time when an epidemic of influenza was sweeping our country, Horace contracted a fatal case while at the camp. He died there in mid-October 1918, at age 23. Two other Preston County soldiers stationed at Fort Meade also succumbed to the illness: Roy C. Howell and William W. Spindler.
His remains were returned to Tunnelton for a funeral at the family home, followed by burial at Camp Chapel [Campground Cemetery] beside his father."
In an obituary, the Preston County Journal printed the following moving eulogy:
These three young men were among the flower of the county. There were no better young men in the county and the people will mourn for them. They had been called into their country's service and had gone gladly to the defense of the nation we all love so well. The attack of pneumonia is more deadly than German bullets. While these boys were not on the battle line it is known that it was their desire to be there.
~ Daughter Agnes Gertrude (Gibson) Pratt ~
Daughter Agnes Gertrude Gibson (1897-1929) was born in on Sept. 29, 1897. She wed her next door neighbor Roy Pratt on March 30, 1921.
They resided in Tunnelton.
Tragedy struck this young family in the fall of 1929, after Agnes had given birth at her home. Suffering from post-partum bleeding, and anemia at City Hospital in Kingwood, she died on Sept. 17, 1929, less than two weeks before her 32nd birthday. She was laid to rest at Camp Chapel (Campground Cemetery).
Copyright © 2006, 2008, 2011 Mark A. Miner