Helen (Purinton)
Menear Liady White
(1867-1927)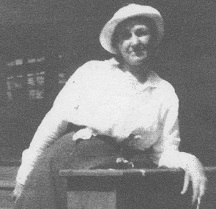 Helen (Purinton) Menear Liady White was born on April 28, 1867 in or near Independence, Preston County, WV, the eldest of four daughters of Thomas L. and Matilda "Tillie" (Hanshaw) Purinton.
As a young girl, Helen and her sisters were introduced to their father's cousin, Dr. Daniel Boardman Purinton, who went on to a prominent career as president of Denison University and later West Virginia University. As an old man, many years later, he wrote to Helen's sister, saying: "I should like to know more about yourself and family, and your sisters as well. I remember you as nice, bright, promising children, and would much enjoy renewing our acquaintance."
Helen was married three times -- her first husband a victim of lead poisoning, her second husband tragically dying of heart disease during construction of the river tunnels in New York City, and her third a husband a prominent state legislator, newspaper editor, publisher and postmaster in West Virginia.
~ Helen's Marriage to William H. Menear ~
Helen's first husband was William H. Menear (1866-1889?), the son of A.B. Menear of Kingwood. They were married on April 4, 1888 in Preston County, when she was age 21, and he 22.
They bore one son, Bernard Purinton Manear, born in April 1889 in Kingwood, Preston County.
At some point in time, although the exact years are not known, Helen worked in the newspaper offices of both newspapers in Kingwood.
William was a promising young house painter in Kingwood, and his future looked bright. In June 1889, he became a charter member of a Knights of Pythias lodge organized at nearby Fairmont, Marion County. He was among 22 Preston County men to join the lodge initially -- including his wife's cousin Capt. James Eyster Murdock Sr. -- and its new name was the Mountain City Lodge No. 48, reported the Preston County Journal. He was elected to the Inner Guard of the lodge. He also was a member of the Good Templars.
Also in the early summer of 1889, William purchased a town lot in Kingwood from Prosecuting Attorney Fortney, and began making plans to "soon begin building his dwelling-house on the lot," said the Journal. "In his eagerness to build himself a home he worked this season late and early at his trade."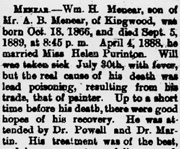 Preston County Journal, 1889
But fate cruelly intervened in early July of that year. His wife's sister Jessie Purinton, living in Newburg, Preston County, became "dangerously ill" with typhoid fever, most likely caused by impure water. William and Helen received the news by telegraph and William traveled to and from Newburg the same day to bring her to Kingwood for treatment and rest. By late July, William himself came down with fever, and added to fatigue from overwork on his house, and the long-term effects of inhaling and ingesting lead from paint scraping and sanding, "the poison of the paints took fatal hold upon him."
He suffered for about about five weeks, and "up to a short time before his death, there were good hopes of his recovery," the Journal said. Attended by Drs. Taylor Powell and Martin, "His treatment was of the best, and he was most carefully nursed. But the powerful poison could not be overcome." Helen's father traveled from Wheeling, WV, and sister Martha "Mattie" Purinton from Indiana, to be with the family.
William gave up the fight and succumbed on Sept. 5, 1889, at the age of 23.
William's "unusually solemn" funeral was held at their home, led by Rev.'s Orwen and Wallace. Among the mourners traveling from out of town to attend were Helen's father Thomas Lagee Purinton from Wheeling; Mattie Purinton from Indiana; Eugene and Jennie (Hanshaw) Huggins and daughter Pauline from Newburg; Charles and Della (Menefee) Frazier from Newburg; Alvin Van Zandt from Newburg; Dr. and Mrs. Taylor Powell from Tunnelton, Preston County; and step-cousins John and Sarah (Menefee) Gibson of Tunnelton. His tired remains were laid to eternal rest at Maplewood Cemetery in Kingwood, with the hymn "Rock of Ages" sung to complete the ceremony.
In a long obituary, the Journal said thus:
It is sad to think of one so full of hope and ambition, with a young wife and a sweet babe, with a lot bought and a part of the material on the ground to build himself a dwelling-house, lying down to die in his young manhood. Born in Kingwood, he was well known, and in his effort to make something of himself, he had the sympathy and encouragement of all our people, who greatly deplore his untimely end. Will was a good boy; he was honest and upright... he was very industrious; indeed to overwork may be ascribed his fatal sickness... His death was the first in the Kingwood lodge of Knights of Pythias, of which he was a member but a few weeks.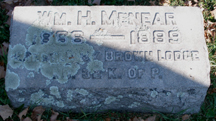 Maplewood Cemetery, Kingwood, WV
His grave marker was erected by the Knights of Pythias, Brown Lodge, No. 32. Photographed in October 2008, it is covered with moss or lichen but is still legible.
Helen then began the agonizing process of rebuilding her life. The Journal reported that immediately following the funeral, she accompanied her father and sister Mattie to Wheeling, Ohio County, WV, "to remain for some weeks." She ultimately stayed on and off for several years.
Circa September 1890, her sister Kate Purinton -- "another of Mrs. Helen Menear's pretty sisters," said the Journal -- traveled from her home in Courtland, NY to visit for an extended time. In 1892-1893, Helen boarded in Wheeling at 7 South Broadway, as recorded in Wheeling City Directories (as researched and published on Isabel Carter's pages on Ancestry.com).
~ Helen's Second Marriage to Michael Harry Liady ~
By 1892, after three years as a widow, Helen had wed her second husband Michael Harry Liady (1865-1909?). He was a native of Maryland, the son of Aaron G. and Emily (Gardner) Liady.
The Liadys first lived in Kingwood, and had one son, Thomas Lagee Liady, named after his maternal grandfather. At the time of the son's birth in 1894, the family resided in Burton, Wetzel County, WV, where Helen's uncle and aunt, Robert M. and Marian (Percy) Hanshaw, also made their home. Burton at that time was a key Baltimore & Ohio Railroad delivery point for equipment used in the burgeoning oil and gas industry of Wetzel County.
When the federal census was taken in 1900, the 34-year-old Michael boarded with Samuel and Minnie Guesman in Kingwood and was employed as a harness maker. The census taker marked that Michael had been married for eight years. Helen's whereabouts that year are unknown.
Circa 1905, the Liadys migrated to New York City, where Michael is believed to have found employment in the construction of a railroad tunnel. Helen's sister and brother in law, Kate and Charles Haller, also lived in New York during that era. One of their addresses is believed to have been 1253 Amsterdam Avenue, and another 526 West 151st Street.
At the death of her uncle Dr. Guy R. Hanshaw in 1908, Helen received an inheritance in the form of a 1/32 share of the estate, which included lucrative oil and gas wells. She received an immediate payout from the estate of $57.81 in 1909. At intervals over the years, she received royalty payments from the wells. The high point was in 1918, when she received $24.54. The records of these transactions are still on file in the Ritchie County courthouse in West Virginia.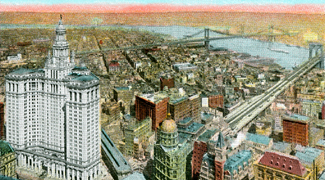 Manhattan skyline of the early 1910s -- about the time Helen and Michael Liady resided there while he helped construct a river bridge
Tragically, Michael suffered from heart disease. This infirmity was compounded in his tunnel construction labor, working underground and possibly breathing compressed oxygen, and he is said to have contracted the "bends." He was in the care of "house physician" Dr. Paul B. Fitzgerald, and treated at J. Hood Wright Hospital in Manhattan, but was unable to recover. Michael died at the hospital on Jan. 14, 1909, at the age of 43. Dr. Fitzgerald listed the causes of death as heart and lung issues -- using the medical terms of "mitral stenosis, chronic endocarditis, hypostatic pneumonia, pulmonary ordered." Michaels remains were transported to Valhalla, a village in Westchester County, NY, for burial at the Kensico Cemetery. An online search of the New York Times obituary archive has not located a printed notice Michael's passing.
When the 1910 federal census of Manhattan, NY, the 43-year-old Helen was widowed, and employed as a dressmaker. Making their home under her roof that year were 21-year-old son Bernhard Manear and 15-year-old-son Thomas L. Liady. Bernhard was employed as a subway clerk, and Thomas as an office broker.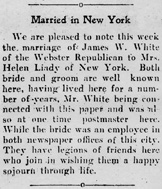 Preston County Journal, 1921
~ Helen's Third Marriage to James W. White ~
On March 5, 1921, at the age of 56, Helen married again, to widower James Wesley White (1858-1946), called the "dean of West Virginia newspaper publishers," who was an old friend and had spent his career as a prominent newspaper editor and politician in her home turf of Preston County, WV. She was living in New York City at the time, but apparently moved back to West Virginia following the marriage, making her new home in Webster, the county seat of Webster County. No record of the marriage exists in Preston County courthouse records, and the ceremony is believed to have taken place in New York.
In a short article about the wedding, headlined "Married in New York," the Preston County Journal said:
We are pleased to note this week the marriage of James W. White ... to Mrs. Helen Liady ... Both bride and groom are well known here, having lived here for a number of years, Mr. White being connected with this paper and was also at one time postmaster here. While the bride was an employee in both newspaper offices of this city. They have legions of friends here who join in wishing them a happy sojourn through life.
James was the son of John Nelson and Malinda Jane (Feather) White. He and his first wife, Nettie F. Graham (1872-1896), had two children -- Martha J. Snyder and Kathleen Graham White. At the time of his marriage to our Helen, James had been a widower for some 25 years, his first wife passing away on Feb. 1, 1896, at the age of but 24. (James' 23-year-old daughter Kathleen had died in 1918, of food poisoning, adding to his heartache.) Thus James' only surviving daughter from the first marriage, Martha J. Snyder, became Helen's step-daughter.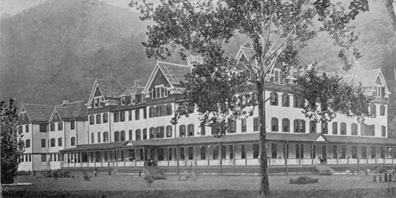 Webster Springs Hotel, a major attraction at the foot of the mountains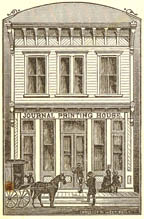 Preston County Journal
office, Main Street, Kingwood
An extensive biography of James appears in volume III of the 1923 book, The History of West Virginia, Old and New, published by the American Historical Society, Inc. It has been reprinted on RootsWeb, with an original copy in the West Virginia and Regional History Collection at West Virginia University. The biography states that James was "a citizen of maximum progressiveness and influence in Webster ... he is serving as postmaster and is also editor, publisher and active manager of the Webster Republican, a weekly newspaper that is an effective exponent of local interests and of the principles of the republican party." He also was a member of the Masons for more than six decades.
Early in his career, James began an apprenticeship in the printing business, and worked as a "journeyman" with the community's newspapers, including the Preston County Journal. Later, he became an investor in the Journal with E.M. Heermans as an editor and publisher. Says the Old and New history:
[A]fter a period of ten years he sold his interest in this paper and became editor and publisher of the Preston Leader and New Era. With this paper he continued his active alliance until 1910, when he purchased the plant and business of the Webster Republican, of which he has since been editor and publisher and which has been brought to a high standard under his vigorous and progressive management. While a resident of Kingwood Mr. White there served two years as postmaster, besides which he represented his native county two terms in the Lower House of the State Legislature [circa 1893]. He has been a resolute and resourceful advocate and supporter of the principles and policies for which the republican party has ever stood sponsor in a basic way, and has done much to advance its local interests, both through his newspapers and his activity in its councils and campaign work.
James was great friends with two Governors of West Virginia -- William M.O. Dawson (who served from 1904 to 1908) and William G. "Gus" Donley (1928-1932). He and Conley, said the Shepherdstown (WV) Register, "made for themselves enviable reputations as baseball players. Their team, with Mr. White as pitcher and Mr. Conley using an extra size bat, could beat almost any challengers that came their way. Uncle Jim retained his interest in baseball and kept track of the big league games with the best of baseball fans..."
For a decade, James was secretary "of what was known as the 'Three-Jim Committee'," said the Republican, a Preston County committee which was recognized as being highly influential in Republican politics, and which was able to 'make' or 'unmake' political candidates both in the county and in wider areas. Serving with him on the committee were James W. Flynn and James A. Lenhart."

Helen's prominent obituary in the Webster Echo (see red arrow)
The Webster Echo once said of Helen:
She came into our midst seven years ago as a consequence of her marriage to our esteemed fellow-citizen, J.W. White; and since her coming this sweetness of her character, the power of her strong personality and the constructive forces of her pioneering mind have been felt in every way of our community life. With a character broadened and sweetened by years of service and sacrifice, she possessed that inimitable understanding of the ebb and flow of human emotions which enabled her to walk always with cheer and comfort among her neighbors and friends. Her pleasing personality mellowed and ripened by the passing years, made her home a sanctuary for those who sought diversion from the aggravating cares of daily life, and as a result her intimate and loving friends were legion.
She knew no hate; every arrow which left her bow was tipped with love. Simple good was her panacea for all ills occasioned by envy and hate and greed. In the conflicts and cross currents which must inevitably arise from active participation in civic affairs, she carried herself in such a way as to earn the respect and admiration of those who differed from her point of view. She made no enemies; though many crossed her views, they respected her sincerity of purpose and utter devotion to principles.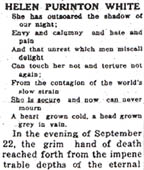 Webster (WV) Echo, 1927
Helen is known to have traveled to northern New York to visit her son Thomas Lagee Liady, and to have stayed at Tupper Lake.
While in her 50s, Helen suffered from problems with her heart valves. She died of a heart attack, at the age of 60, on Sept. 22, 1927. The Webster Echo said that "While Mrs. White had been an invalid for nearly a year from heart trouble and had been near death several times, it was though for the past several days that she was growing stronger, and while it was known that she would never be strong again her sudden death cast a gloom over the town and community." The funeral was held at the Baptist Church in Webster, and "Banks of beautiful flowers surrounded the casket, many of which were sent by friends, relatives and societies to which she belonged."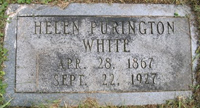 Maplewood Cemetery, Kingwood
Her remains were shipped to Kingwood, "her old home," where they were laid to rest in the Maplewood Cemetery. It can be found in section AMOS 3, Section 9. Her son Thomas signed her official certificate of death. The Webster Echo and Preston County Journal newspapers both carried lengthy obituaries.
Attending her funeral were her sister Jessie Van Zandt of Newburg, Preston County; sister Kate Tower of Pleasantville, NY; stepdaughter Martha Snyder of Shepherdstown, WV; and other relatives including Mr. and Mrs. Joe Van Zandt of Newburg, and Mr. and Mrs. Cole and a sister of Mrs. Cole of Bridgeport, WV.
At the time of her passing, son Bernard resided in Bell, Los Angeles County, CA, and son Thomas in Webster Springs.
In 1938, Helen's sons then began receiving their share of the estate payments. The checks stopped coming in 1942, when nothing was left in the estate. All told, Helen and her children received $267.18 in inheritance over the span of 36 years.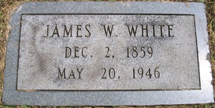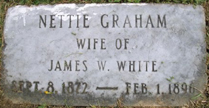 Graves of James W. White and his first wife Nettie at Kingwood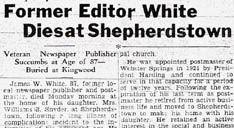 Widowed for the second time, James continued to live a full life. As one example, observed the Webster Republican:
He owned a farm up in Webster county which happened to have the only level space large enough to land and airplane. Not so many years ago, and since he had turned eighty, he was at his farm when a couple of young men who owned a cub plan suggested he fly with them to Martinsburg. Uncle Jim did not wait to send word ahead of his unexpected trip to this section. He just hopped in the plane, and in an hour or so was in Martinsburg. The pilot of the plane, Uncle Jim said, was a fine 'driver,' but the only trouble was it took longer to get to Shepherdstown from the Martinsburg airport than it did to fly from the farm to Martinsburg.
James spent his final years living with his daughter in the winters in Shepherdstown, Jefferson County, WV, and in the summers at his home in Webster Springs. He suffered during that time with uremia, hardening of the arteries, and problems with his esophagus. He passed away at Martha's home at the age of 87, on May 20, 1946. The Shepherdstown Register carried a lengthy obituary in its May 23 edition. His daughter Martha Snyder signed his official death certificate.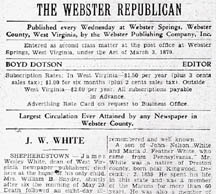 Eulogy for James, Webster Republican
After a funeral in Charles Town, WV, his remains were shipped to Kingwood for burial near his two wives. Despite his obvious prominence, James rests today under a rather simple grave marker, not indicative of his lifetime of journalistic and civic accomplishments. Surviving were his daughter Martha; three grandchildren -- Mrs. John B. Schley of Asheville, NC; Cora Crawford Snyder, a cadet nurse at Duke University Hospital in Durham, NC; and William Baldwin Snyder, Jr., who had served in the U.S. Army during World War II; and two great-grandchildren -- Elizabeth Boone Schley and John B. Schley, Jr., of Asheville, NC.
James' passing generated major news headlines in the Webster Republican and Shepherdstown Register. In fact, the Republican ran two obituaries, one at the top of the editorial page.
~ Son Bernard Purinton Menear ~
Son Bernard Purinton Menear (1889-1973) was born in 1889.
He married Edith Madeline Rudd (1886-1965).
The couple relocated to Los Angeles, where their twin daughters were born in 1917.
He is known to have received payouts from the estate of his great-uncle Guy Hanshaw in 1941 and 1942, collecting a grand total of $8.13.
The Menears had twin daughters -- Helen Rudd Dutcher and Marjorie R. Rodriguez Glade.
Bernard's family occasionally misspelled his middle name as "Puritan."
Bernard died in the Los Angeles area three days before Christmas in 1973.
Daughter Helen Rudd Manear (1917-2009) was born on Feb. 8, 1917 in Los Angeles, a twin with her sister Marjorie. She was joined in the bonds of wedlock with Carl Walker Dutcher (May 6, 1913-1988). Three children of the couple were Carl Thomas "Tom" Dutcher, Steven B. Dutcher and Dorothy Martinez. The Dutchers resided in Montebello. For 37 years, Carl was employed by the Montebello School District, including from 1953 to 1976 as administrator. He also belonged to the Montebello Lions Club for 43 years, holding a term as president. As well, the Boy Scouts bestowed him with a Silver Beaver Award. Sadly, Carl passed away at age 75 on Sept. 23, 1988. Funeral services were held in the First United Methodist Church, with an obituary appearing in the Los Angeles Times. He sleeps for the ages in Rose Hills Memorial Park, Whittier, CA. Helen survived for another 21 years. At age 86, in 2003, she made a home in Montebello and in 2009 in Whittier. Death swept her away at age 92 on March 27, 2009.
Grandson Carl Thomas "Tom" Dutcher dwelled in Montebello in 2009.
Grandson Steven B. Dutcher put down roots in Fullerton, CA.
Granddaughter Dorothy Dutcher was united in matrimony with (?) Martinez. She was in Hemet, CA in 2009.
Daughter Marjorie R. Manear (1917-2003) was born on Feb. 8, 1917 in Los Angeles, a twin with her sister Helen. Her first spouse was (?) Rodriguez ( ? - ? ). Their two children were Judy Robinson and Richard Rodriguez. In 1966, when she would have been about 49 years of age, she entered into marriage with Alex Glade ( ? - ? ). Their nuptials were held in Las Vegas. For 14 years, she helped sell women's apparel. She also belonged to the Palm Desert Greens Country club. Marjorie's final address was in Palm Desert, CA. She passed away at age 86 on the Fourth of July 2003. Her cremains were placed into rest in Rose Hills Memorial Park in Whittier, CA. Her obituary appeared in the Palm Springs (CA) Desert Sun.
Granddaughter Judy Rodriguez wed (?) Robinson. She lived in Palm Desert, CA in 2003.
Grandson Richard Rodriguez was deceased by 2003.
~ Son Thomas Lagee Liady ~
Son Thomas Lagee Liady (1894-1963) was born in 1894 in Burton, Wetzel County, WV.
He moved to New York with his parents. After his father's death, Thomas remained in New York and lived in Childwold, Saint Lawrence County.
At the age of 22, on June 30, 1917, Thomas married Lena Ferry (1895- ? ), the daughter of James and Olive (McCuen) Ferry.
A resident of Childwold, she was a school teacher.
The couple bore one daughter, Clair Louise Wilkins.
Thomas is said to have moved to South America to obtain employment. During the time away, their baby daughter was taken in by her maternal grandparents and raised to adulthood. When the federal census was taken in 1930, Clair lived with her grandparents in Childwold. At the time, the grandfather was employed as a caretaker of a local club house.
Later in life, Thomas wed Mary Sue Nolls (1907- ? ). They had a son of their own. In the 1920s, they are believed to have visited Thomas's step-father in Webster Springs in 1941 or '42 as the older man aged and became ill.
He resided in or near Atlanta, Fulton County, GA, where he died Dec. 26, 1963. More will be reported here when learned.
Daughter Clair Louise Liady (1920-2020) was born on Jan. 30, 1920 at Tupper Lake, NY. She grew up in Childwold, NY and obtained a teaching degree. Her early career as an educator began in a one-room school in Norwood, NY and later she was employed by Tupper Lake School District. She married Bernard Wilkins (June 1, 1919-1977). The couple produced three offspring -- William Wilkins, Bernard T. "Tom" Wilkins and Cynthia Cohen. Said an obituary, "Clair enjoyed her travels throughout the world after her retirement and enjoyed gardening and was an avid reader, belonging to several book clubs and the Business and Professional Women's Club." She outlived both her husband and daughter. Bernard surrendered to death at age 57 on May 1, 1977. Clair survived another 43 years. At the age of 100, in the home of her son William in Childwold, she passed into the arms of the angels. Her remains were laid to rest in Gale Cemetery, Piercefield, NY.
Grandson William Wilkins wed Doreen. They make a home in Childwold, NY.
Grandson Bernard T. "Tom" Wilkins lives in Ogdensburg, NY.
Granddaughter Cynthia Wilkins married (?) Cohen She was deceased by 2020.
Copyright © 2004, 2006, 2008, 2011-2012, 2021-2022 Mark A. Miner
Grave marker photos by Gary Maxwell