Home

Emma Frances 'Frankie'
(Minard) Dumars
(1861-1945)

Frankie Dumars

Emma Frances "Frankie" (Minard) Dumars was born on Nov. 29, 1861 (or 1863) in Mt. Vernon, Knox County, OH, the daughter of Nathan Williams and Sarah Jane (Woodruff) Minard.

She was a pioneer settler of Iowa, Missouri and Kansas.
As a young girl, Frankie moved with her parents to Iowa, settling near Stanwood, Cedar County. Later, they migrated to Caldwell County in Missouri. Finally, in 1879, when Frankie was age 16, the Minards moved again to Richland, Monmouth Township, south of Topeka, Shawnee County, KS
On Nov. 4, 1879, at the home of Frankie's parents near Richland, at the age of 16, she married 29-year-old Leroy James Dumars (1850-1922), a native of Pennsylvania. Leroy was 13 years older than his bride, and family lore says that her strong-willed father forced her into this union.
A copy of the Dumarses' marriage license may be found today on microfilm in the probate court office at the Shawnee County Courthouse.
The Dumarses produced a family of three children -- Matie Gleason, Kenneth William Dumars Sr. and Minnie "Rhey" Dumars.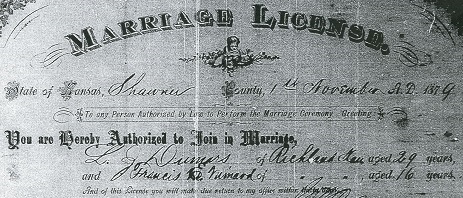 The Dumars' marriage license, Shawnee County, Kansas
When the federal census was taken in 1880, the family lived in Topeka, where Leroy was employed as a plasterer.
Three years later, in 1883, the family lived in Henry County, IL, where their daughter Mattie was born. But they did not reside in Illinois for long, and eventually returned to Topeka. By 1890, Leroy was working as a carpenter and building contractor.
Said the Manhattan (KS) Republic, Frankie "was a member of the Beulah chapter, Number 34, of the Order of the Eastern Star in Topeka, and a member of the United Brethren church...."
In 1900, when the federal census of Topeka was enumerated, the Dumarses are shown to have been living next to Frankie's brother and sister in law, Royal and Mame Minard. Leroy continued his work in Topeka as a carpenter and contractor.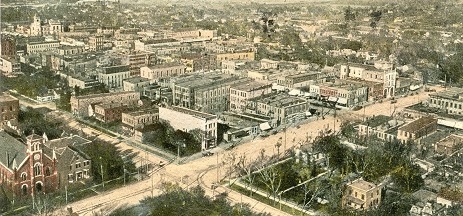 Bird's-eye view of Topeka, early 1900s

Topeka Daily State Journal, 1922

The census of 1910 shows Leroy and Frankie living in Topeka, where he labored as a carpentry contractor. Daughter Rhey, and "adopted" daughter Berniece Pelsma (age 11, actually their niece) lived under their roof.

By the time the federal census was taken in 1920, Frankie and Leroy were residing in separate households. He maintained his residence at 1014 Quincy Street in Topeka. She made her home with her widowed daughter Mattie, single daughter Rhey and nephew and niece in Topeka. Mattie and Frankie had no occupation, but Rhey worked as a professional nurse, and 17-year-old nephew Kenneth Gleason as a clerk in a railroad office. The census-taker erroneously recorded Frankie's birthplace as Iowa when in fact it was Ohio.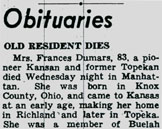 Obituary, 1945

Leroy passed away at the age of 71, on March 26, 1922, "in a local hospital," reported the Topeka Daily State Journal. The specifics of his final illness are not known. In a short, three sentence news obituary, the Daily State Journal said that the funeral was held at Penwell's chapel, followed by burial at an undisclosed location.

In 1928, following Leroy's death, Frankie and her widowed daughter Mattie relocated to a new home in Manhattan, Riley County, KS.

The federal census of 1930 shows 68-year-old Frankie in the residence of 48-year-old Mattie in Manhattan.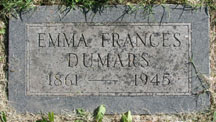 Mt. Hope Cemetery, Topeka

Frankie passed away at age 83, in Mattie's home, on July 25, 1945, after an illness of 10 months, said the Manhattan Republic. Following funeral services held in Manhattan, her remains were transported back to Topeka for burial. She was laid to eternal rest beside her parents at Mt. Hope Cemetery in Topeka, Shawnee County.

In an obituary headlined "Old Resident Dies," the Topeka Daily Capital reported that Frankie was "a pioneer Kansan and former Topekan... She was born in Knox County, Ohio, and came to Kansas at an early age, making her home in Richland and later in Topeka."

Frankie's grave marker was photographed in September 2010 by the founder of this website.

Matie Gleason

~ Daughter Matie (Dumars) Gleason ~
Daughter Matie Dumars (1883-1981) was born on June 12, 1883 in Henry County, IL.
On Jan. 29, 1902, she married John J. "Jack" Gleason (1862-1918). She was age 19 at the time of marriage, and John 40, meaning he was 18 years older than his bride.
They bore two children -- Dr. Kenneth J. Gleason and Frances L. Girvin.
The census of 1910 shows the family in Topeka, with John working on a grain elevator. By 1918, their home was at 117 Kellam Avenue in Topeka. Matie was a member of the Otterbein United Methodist Church and, following in her mother's legacy, the Beulah Chapter No. 34 of the Order of Eastern Star.

Topeka Daily State Journal, 1918

Tragically, after 16 years of marriage, John died at the age of 56 on Dec. 7, 1918. While the cause of death is not yet known, it may have been due to the deadly epidemic of influenza sweeping across the nation at that time. A two-sentence obituary in the Topeka Daily State Journal said that funeral arrangements would be announced later, but a search of old Topeka newspapers in September 2010, at the Topeka and Shawnee County Public Library, failed to locate any further reporting.

Left as a widow at age 34, with two children to feed, Matie apparently found work as a property abstractor, compiling legal documents such as deeds, mortgages, probate files and wills pertaining to specific parcels of land being bought and sold.

Sometime before 1928, Matie obtained employment as an abstractor in a real estate office in Manhattan, Riley County, KS, and so relocated there with her widowed mother. The federal census of 1930 shows 48-year-old Mattie and 68-year-old Frankie there under the same roof.

Pillsbury Drive over the Kansas River in Manhattan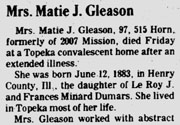 Topeka Capital Journal, 1981

In her later years, Matie lived at 2007 Mission and 515 Horn in Topeka. Tragedy rocked her world in 1965, when her son Kenneth, a physician living in Independence, KS, died at the age of 62.

Matie died in a Topeka convalescent home at the age of 97 on May 22, 1981. She was laid to rest in the Topeka Cemetery. An obituary in the Topeka Capital Journal said that she "lived in Topeka most of her life" and that she was survived by a granddaughter, two great grandchildren and three great-great grandchildren.

Daughter Frances L. Gleason ( ? - ? ) married (?) Girvin and/or (?) Goodwin. Circa 1981, she made her home in Topeka at 2319 Briarwood Place.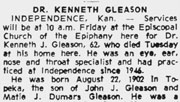 Topeka Daily Capital, 1965

Son Kenneth J. Gleason, M.D. (1902-1965) was born on Aug. 22, 1902 in Topeka. He was a 16-year-old when his father died. He married Katherine (?) Hall and had a daughter, Jacque Buckner, and stepson, Jerry Hall. Kenneth obtained his bachelor's degree from the University of Kansas, and later received a medical degree from Kansas. During World War II, he served with the U.S. Medical Corps for six years, achieving the rank of lieutenant colonel. Upon his discharge from the Army, he returned home and established a medical practice in Independence, Montgomery County, KS, specializing in eye, ear, nose and throat issues. Said the Topeka Daily Capital, "He was a member of the Episcopal Church of the Epiphany at Independence and was a former vestryman at the church. he was a member of local, state and national medical associations, Shrine and Rotary Club at Independence, and Masonic bodies in Topeka." Kenneth died at home at age 62 on March 24, 1965. Following a funeral in the family church, he was interred in the Altoona Cemetery.
Daughter Jacque Gleason married (?) Buckner and in 1965 resided in Stillwater, Payne County, OK.

Stepson Jerry Hall made his home in 1965 in Severy, Greenwood County, KS.
Much of the printed legacy of the Dumars family may be found today in the Topeka and Shawnee County Library, in the holdings of the Special Collection's Topeka Room, with an extensive archive of documents, books, maps, photographs, newspaper articles and genealogical material about Topekans.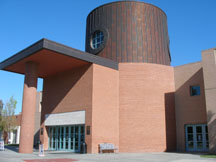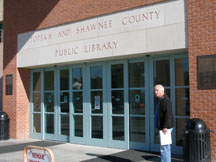 Topeka and Shawnee County Public Library where much printed matter about the Dumars family is preserved today. Right: cousin Eugene Podraza, traveling with this website's founder, prepares to begin work there in September 2010.
~ Son Kenneth William Dumars Sr. ~
Son Kenneth William Dumars Sr. (1885- ? ) was born in June 1885.
He entered into marriage with Anna (?) (1889- ? ), a native of Louisiana, in about 1910. They resided in Iowa (circa 1913), Denver, Denver County, CO (ca. 1920) and Englewood, Arapahoe County, (ca. 1930).
Their three children were Erminie I. Sager, Dr. Kenneth William Dumars Jr. and Anna Maye Dumars.
The 1920 and 1930 censuses show Kenneth's employment as a telegraph operator. Nothing more is known.
Daughter Erminie Dumars married Albert E. Sager, possibly in Denver, CO. In the 1940s, the Sagers moved to Baltimore, MD where Albert obtained employment as an agent with the United States Treasury. When he accepted a position with the U.S. Treasury's Appellate Division in 1953, they relocated again, to Kansas City. Erminie was a teacher.
Daughter Anna Maye Dumars married Robert Parker. During World War II, she served as a nurse, and he was a naval commander.
Son Kenneth William Dumars Jr. received his doctorate in medicine in 1945 from the University of Colorado School of Medicine. He received advanced training with a residency at the University of Colorado Hospital in Anschutz (circa 1950) and a fellowship at the University of Wisconsin Hospitals (1961). He was board-certified in clinical cytogenetics and clinical genetics by the American Board of Medical Genetics and in pediatrics by the American Board of Pediatrics. For many years, he was a professor of pediatrics with the University of California Irvine Medical Center. (His many publications are listed below.) In October 1999, in response to a Los Angeles Times column suggesting that troubled NBA basketball player Dennis Rodman run for president, Kenneth published a letter to the editor, rejecting the idea on the grounds of its impact on "a segment of vulnerable youth."
Select Publications of Dr. Kenneth W. Dumars, Jr.
"The Cham: A Population Isolate," with co-author Chantan S. Chea, in a publication of the Southeast Asian Genetics Program (SEAGEP), a study of the Cham community, a Muslim group in Cambodia and Vietnam.
"Diphenhydramine (Benadryl) and Tripelennamine (Pyribenzamine) Intoxication in Children," in a 1953 edition of the American Journal of Diseases of Children, and read in part the year before at a meeting of the Colorado State Medical Society [see excerpt].
"Screening for Developmental Disabilities," 1985 edition of The Western Journal of Medicine [see abstract].
"Parental Drug Usage: Effect Upon Chromosomes of Progeny," Journal of Pediatrics, 1971 [see abstract].
"Potassium Bromate Poisoning," Journal of Pediatrics, with William Kitto, M.D. (Vol. 35, Issue 2, August 1949).
"Minimizing the Risk of Amniocentesis for Prenatal Diagnosis," Journal of the American Medical Association, with Arthur I. Goldstein, M.D., 1977.
"Prenatal Detection of Chromosomal Mosaicism, Prenatal Diagnosis, with Touran M. Najafzadeh and Timothy C. Cahill, Vol. 2, Issue 1, January-March 1982 [see abstract].
Review of the book, Advances in Human Genetics, Vol. 12, edited by H. Harris and Kurt Hirschhorn, in the Journal of Clinical Immunology, Vol. 4, No. 1, 1984 [see excerpt].

~ Daughter Minnie "Rhey" Dumars ~
Daughter Minnie "Rhey" Dumars (1891-1948) was born in December 1891 in Topeka.
She studied nursing at St. Francis Hospital. During World War I, in August 1918, she enlisted in military service and was assigned to the base hospital at Camp Logan, TX. Her brother Kenneth already was serving there as a wire chief. She was pictured in a related story in the Topeka Daily Capital. She was shipped overseas in November 1918 and was placed in charge of the gas ward of Hospital No. 7 in Ailerey, France.
In 1920, Rhey made her home in Topeka with her separated mother and widowed sister Matie Gleason. Rhey's occupation that year was listed as a professional nurse.
Evidence suggests that Rhey was joined in wedlock with Perry Adelbert Thomas ( ? - ? ). She sued for divorce in March 1930, alleging "extreme cruelty and gross neglect of duty," as reported in the Manhattan (KS) Mercury. The divorce was granted in July 1931, and she took back her maiden name.
Rhey is known to have dwelled in Denver, CO in 1938. During that era she worked as a superintendent of nurses at the Ivinson Memorial Hospital
Sheeventually moved to California and was named night superintendent at the San Luis Obispo General Hospital. She held that post for five years. During that time, she held a membership in the San Luis Obispo White Shrine of Jerusalem.
She became seriously ill and resigned from the hospital in May 1948. From there she moved back to Topeka.
Death claimed her on July 3, 1948. An obituary was printed in the San Luis Obispo Tribune.
Copyright © 2001-2003, 2009, 2022-2023 Mark A. Miner
Gene Dixon graciously has contributed content for this biography.