Lawson Minerd
(1859-1944)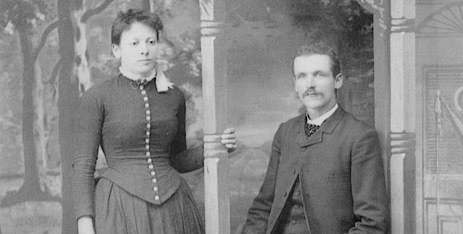 Lawson and Lutitia's wedding portrait.
Ward Studio, Connellsville, PA, 1890
Lawson Minerd was born on Oct. 24, 1859 at Hexebarger, near Kingwood, Somerset County, PA, the son of Charles and Adaline (Harbaugh) Minerd. He was active in our family's reunions in the 1910s and '20s.
Lawson grew up knowing many of his extended cousins in and around Fayette and Somerset Counties, PA. At the age of eight, he and his parents and siblings moved to a farm along the Old Turkeyfoot Road at Nicolay (Maple Summit), near Mill Run, Fayette County, PA, an area where Lawson's great-grandparents had settled as pioneers in 1791. He remained on that farm for the next 59 years of his long life.
Lawson at the age of 27 is known to have attended the wedding of and "stood up" for his first cousin once removed, Rachel Long, when she married John B. Pritts on July 18, 1886. Many years later, having spent a lifetime of acquaintance, Lawson attended the Prittses' golden wedding anniversary celebration.
On Dec. 20, 1890, at the age of 31, Lawson married 24-year-old Lutitia Steyer (Oct. 28, 1866-1946), the daughter of Daniel R. and Celesta Ann (Growall) Steyer of Mill Run, Fayette County. Husband wife were seven years apart in age. The ceremony took place at Connellsville, Fayette County.
The Minerd and Steyer families were close. Lawson's step-cousin, Marshall Ellsworth Rowan, married Lutitia's sister, Jennie Steyer, and step-cousin Charles Ross Burkholder married Lutitia's sister Ida Steyer.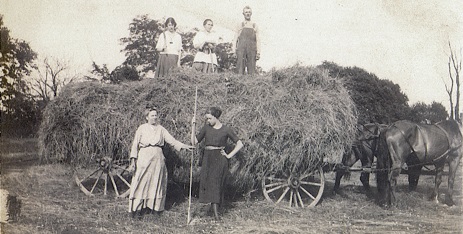 Lawson (top right) and Lutitia (bottom left) making hay.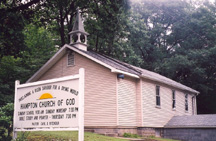 Hampton Church of God
The Minerds produced two sons -- Albert "Ward" Minerd and Otis "Freed" Minerd.
They lived on an 70-acre portion of the farm owned by Lawson's parents at Maple Summit and spent most of their adult years there toiling the soil as farmers.
Active in community work, Lawson served as a school director of Stewart Township, Fayette County in 1904. He also served as an elder of the Peoples United Church of Maple Summit, also known as the Maple Summit Church of God, located just a short distance from their farm, circa 1897 through 1912.
Then in February 1936, Lawson made some remarks at a surprise party for Rev. Paul A. Morris at the parsonage of the Mill Run United Brethren Church. In reporting on the event, the Connellsville Daily Courier said: "A fine program, directed by Mrs. F.B. Livingston, included group singing, solos, readings, recitations and addresses by D.L. Dickey, superintendent of the Sunday school, and Lawson Minerd. Rev. Morris responded with remarks of appreciation."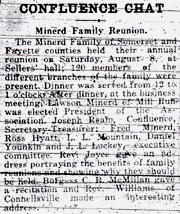 Reunion news naming Lawson
Later, Lawson served as superintendent of the charter Sunday School of the newly built Hampton Church of God near Mill Run, opened in November 1940. He also served as teacher of the Hampton church's Bible Class.
The family received shocking news in 1905 when Lutitia's brother Albert Steyer, living in South Dakota, was killed in a railroad accident.
Lawson and Lutitia are mentioned in the 1912 book by John W. Jordan and James Hadden, Genealogical and Personal History of Fayette and Greene Counties.
In 1913, Lawson and Lutitia went to the first Minerd Reunion at Ohiopyle, the first of many they attended over the years. In 1922, he was elected president of the reunion, but for unknown reasons he was absent at the following year's event, held at Confluence Park.
Then in 1925, Lawson again was elected president of the Minerd Reunion, with Joseph Ream elected Secretary-Treasurer and Freed Minerd, Ross Hyatt, L.L. Mountain, Daniel Younkin and Joseph M. Luckey named to the executive committee. He was re-elected president in 1927, with the event held at Confluence Park, and joined cousin John Ross Miner and nephew-by-marriage Frank Zearfoss that day in giving what the Connellsville Daily Courier called "interesting talks." Of the 1927 gathering, the Courier added that "There were eighty members of the family attending. The gathering this year was quite small, but all who attended reported having a fine time... Old memories were recalled and acquaintances renewed."
Lawson attended the 1930 Minerd-Miner Reunion held at Shady Grove Park with his sisters Martha Gorsuch, Sadie Luckey and Jennie Woodmency. His name was published in an account of the affair in the Huntingdon (PA) Daily News, in a column authored by his niece Laura Jane (Minerd) Williams.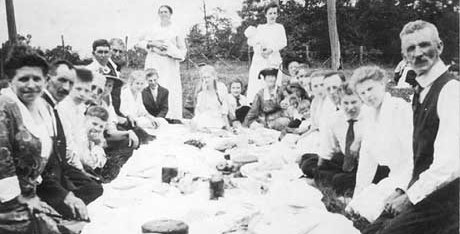 Above: Lawson (far right) at a Minerd-Harbaugh family gathering. Below: the park at Confluence, where Minerd reunions were held in the 1920s.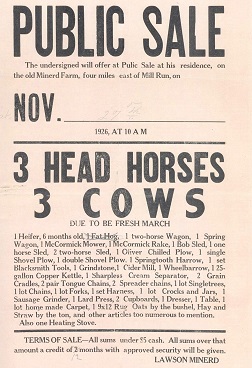 Farm sale poster, Nov. 1926
With Lawson having reached the age of 67, and deciding to retire from active farming, the Minerds sold their old family farm and housewares and relocated to a home in Mill Run just after Thanksgiving in 1926.
A poster advertising the public sale shows that they advertised three head of horses and three cows due to be fresh the next March. Also offered were a two-horse wason, spring wagon, McCormick mower and rake, bob sled, one-and-two horse sleds, an Oliver chilled plow, single and double shovel plows and a springtooth harrow. Among the other items were a set of blacksmith tools, grindstone, cider mill, wheelbarrow, 25-gallong copper kettle, Sharpless cream separator, two grain cradles, two pair of tongue chains, two spreader chains, one lot of singletrees and chains, one lot of forks and a set of harness. The last of the possessions were one lot of crocks and jars, a sausage grinder and lard press, two cupboards, a dresser and table, one lot of homemade carpet, a 9-inch by 12-inch rug, oats by the bushel, hay and straw by the tone, a heating stove "and other articles too numerous to mention." Lawson stated in his terms that all sums bought under $5 were to be paid in cash and above $5 with credit of 12 months with approved security.
When Lawson's cousin Rachel (Long) Pritts and her husband John celebrated their golden wedding anniversary on July 18, 1936, Lawson and Lutitia attended, and are pictured in a panorama photograph taken that day.
On Dec. 22, 1940, they celebrated their 50th wedding anniversary at home with 61 guests attending from Mill Run, Lemont Furnace, Dawson, Somerset, Stoystown, Ruffsdale, Connellsville, Confluence and Poplar Grove. Girls Scouts sang Christmas carols all throughout the afternoon.
Lawson suffered toward the end of his life from anemia and hardening of the arteries. In late May 1944, the situation growing worse, he was admitted to Connellsville State Hospital in the hope of a recovery.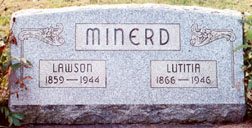 Indian Creek Baptist Church Cemetery
Sadly, he died just 10 days later on June 8, 1944 at the age of 85. Funeral serices were held in the Indian Creek Baptist Church in Mill Run, officiated by Rev. Paul A. Morris of Everson, PA, formerly the pastor of the Mill Run United Brethren Church. An obituary in the Connellsville Daily Courier reported that "he had retired 18 years ago when he moved to Mill Run" and that he was survived by seven grandchildren.
The community church newspaper, The Messenger, printed a poem written in tribute by neighbor Laura Hewitt. Among the many mourners known to have attended was Harry David Miner of Connellsville, whose mother Rosetta (Harbaugh) Minerd was a double cousin of Lawson's. Grandson Delbert Minerd, serving in the Army in the Hawaiian Islands during World War II, was unable to get home for Lawson's funeral, but saw the tribute in the newspaper and penned these words to his widowed grandmother:
I know you have been praying for all of us who [are] over here doing our little bit to win this war. I don't want you to quit for one minute because it looks like it is about over, but just keep right on. I'm sure that is the reason we are making such progress. I read in the 'Messenger' the poem that Mrs. Hewitt wrote about Grandfather. I think it is very good and I am going to keep it. I sure wish I had seen Grandfather before he was laid away but we know he is happy where he is. We have no need to worry about him. If every one was like him, we wouldn't be at war today.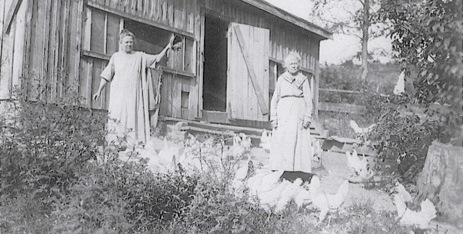 Above: Lutitia and her mother Celesta Steyer tending their chicken coop. Below, news story about their 50th anniversary (misspelled "Lawrence") and obituaries.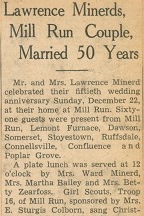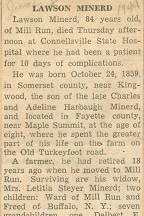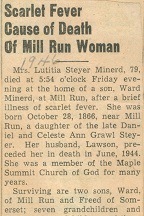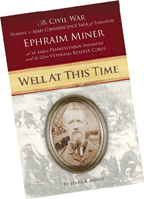 Book picturing the Minerds
Lutitia outlived her husband by two years. Having borne hardening of the heart arteries for two decades, she contracted a deadly case of scarlet fever. Under the care of her husband's nephew Dr. Paul David Luckey Sr., she tried to rally at the home of her son Ward, but a recovery was not to be.
She succumbed to the Angel of Death on May 24, 1946, at the age of 80. Funeral services were conducted by Rev. Merle S. Cowher, pastor of the United Brethren Church, with the remains interred beside Lawson's at the Indian Creek Baptist Church Cemetery in Mill Run. The Courier noted in an obituary that her survivors included her three sisters Amelia Nicholson and Ida Burkholder of Mill Run and Jeannette Rowan of Uniontown.

Book naming Lawson

The Minerds were not forgotten in the years following their deaths. In 1970, when the book A History of Mill Run was published by the History Committee of the Socialite Club, Lawson and his son Ward were mentioned.

Lawson and Lutitia also were pictured, and they and son Ward are mentioned, in a lavishly illustrated, 2011 book about about Lawson's double-cousin who was a veteran of the Civil War and lived in his boyhood home shortly after his return from the army -- entitled Well At This Time: the Civil War Diaries and Army Convalescence Saga of Farmboy Ephraim Miner. The book was authored by the founder of this website. [More]

Copyright © 2000-2002, 2005, 2007-2008, 2020 Mark A. Miner