Home

Anna Belle (Miner) McCormick
(1881-1927)


Anna Belle and Walter McCormick
Anna Belle (Miner) McCormick was born on Feb. 2, 1881 in Connellsville, Fayette County, PA, the daughter of Henry and Eliza (Swink) Minerd (or "Miner.").
On Sept. 24, 1898, when she was age 17, Anna Belle married 21-year-old George "Walter" McCormick (1877-1947), the son of Noble and Priscilla (Spriggs) McCormick of Connellsville. James Echard performed the nuptials.
At the time of marriage, Walter was employed as a laborer in Connellsville.

Anna Belle
The McCormicks had two children – Noble McCormick (born 1900) and Margaret May (McCormick) Lewis Myers Cowdery (1902).
Sadly, Noble died as a youngster after suffering from diphtheria in about 1904. The boy's death was a terrible shock to the family.
Daughter Maggie was raised by her grandparents, Henry and Eliza Miner, until she reached the age of 12, in about 1914.
When the federal census was taken in 1910, Walter lived under his parents' roof on Connellsville's Fayette Street and was marked as "married" for 10 years. He had no occupation that year. Anna Belle's whereabouts that year are unknown.
According to the excellent book The Lewis Family of Oliphant Furnace, PA, Walter "worked as a yard boss for H.C. Frick [at Oliphant] … [He] used to take a train to Point Marion, then bring back a number of horses to Connellsville." He was a baseball fan and enjoyed listening to games on the radio. He especially admired New York Yankees slugger Babe Ruth.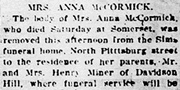 Connellsville Daily Courier
Sadly, Anna Belle died at age 44, on Oct. 4, 1927, after a series of strokes. Her death occurred in Somerset, Somerset County, PA. The funeral was held at the home of her parents in the Davidson Hill section of Connellsville. She was laid to rest in nearby Chestnut Hill Cemetery.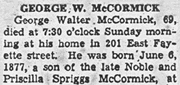 Obituary, 1947
Walter never remarried and outlived his wife by two decades. For many years he resided at 201 East Fayette Street in Connellsville.
Suffering from a heart blockage and cirrhosis of the liver, Walter passed away at home at the age of 69 on March 16, 1947. He also was buried at Chestnut Hill. C.A. McCormick of Connellsville signed the death certificate.
~ Daughter Margaret "Maggie" (McCormick) Lewis Myers Cowdery ~
Daughter Margaret "Maggie" McCormick (1902-1975) was born in 1902. She was thrice married.
Her first husband was Lindsey Chester Lewis (1899-1974), the son of Martin J. and Ellen (Swaney) Lewis. He served in World War I, World War II and the Korean Conflict.
Their children were Hazel Abraham, George Marshall Lewis, James R. Lewis, Eleanor Miller, Thomas Lindsey Lewis and Jack Walter Lewis.
After she and Lindsey divorced, Maggie married (?) Myers. Circa 1953, she made her home in Beaver Falls, Beaver County, PA.
Later, she wed Grover Cowdery ( ? -1973), who was a World War I veteran and a resident of Beaver Falls. Grover died at the age of 84 on June 24, 1973. He was interred in Mountain View Memorial Park.
Maggie's former husband, Chester Lewis, made his home in LaBelle, near Brownsville, Fayette County. LaBelle has been described by one newspaper as a "coal mining patch on an inside bend of the Monongahela River" in Luzerne Township. Chester mined coal at the Robena Mine and was a member of the Rebena local of the United Mine Workers of America. He was a member of the Luzerne Township Volunteer Fire Department. He died at the age of 74 on March 9, 1974, in Brownsville General Hospital. He was buried in the veterans section of LaFayette Memorial Park.
Maggie passed away on June 7, 1975, at the age of 73, in the home of her married daughter Hazel Abraham. She was laid to rest in Mountain View Memorial Park. At her death, said the Uniontown Morning Herald, she was survived by 16 grandchildren and six great-grandchildren.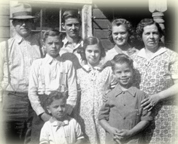 Margaret and Lindsey Lewis, and with their family

Willard Abraham
Young American Patriots
Daughter Hazel Ruth Lewis (1920-2018) was born on June 29, 1920 in Oliphant Furnace, Fayette County. As a young woman, she worked as a clerk for G.C. Murphy Company at Christmas 1939 and then obtained work in the office of the Oliphant Union Supply Company and at Anchor Hocking Company. On Feb. 5, 1941, when she was 20 years of age, she eloped to Cumberland, MD to marry Willard Allen "Wib" Abraham ( ? - ? ), the son of Harry Benson and Myrtle Susannah (Bowlen) Abraham of Smithfield, Fayette County. Their marital union lasted for 50 years until the separation of death. Their two children were James Harry Abraham and Susan Eileen Hugh. Willard served in the U.S. Army during World War II, entering the service on Feb. 10, 1941. He saw activity in the Pacific Theatre in New Zealand, New Guinea and the Philippines,, and was gone from home for 38 months. He wrote many letters home, illustrated with his sketches of Army life. After the war's end, Willard obtained employment with a radiator plant in Uninotown, and then in March 1946 joined Sears Roebuck and was assigned to the warehouse. They resided for many years in White Rock near Fairchance. He retired in 1973 after serving Sears for 27 years. In retirement, Willard enjoyed gardening, home remodeling, fishing, Boy Scouts leadership and carpentry, and built an outdoor shelter and fireplace in their back yard. On Feb. 5, 1991, the couple celebrated their golden wedding anniversary by having dinner out and seeing a movie. But just a month later, having suffered a third heart attack, Willard died on April 5, 1991. Hazel survived her husband by more than a quarter of a century and remained in Fairchance. She contributed her memories to the Lewis Family book published by her brothers. Said the Uniontown Herald Standard, she "was an active member of White Rock and Brownfield United Methodist Church. Throughout her life, she held various positions within the church, including the Kitchen Band and United Methodist Women. Having been a former Girl Scout leader, she also volunteered her time at Uniontown Hospital. In her later years she enjoyed card club with her many friends." She died at the age of 98 on July 12, 2018. Rev. Diane Olson officiated at the funeral service, with an obituary appearing in the Herald-Standard which noted that her survivors nicluded seven grandchildren and 19 great-grandchildren. Burial was in Mount Moriah Baptist Cemetery in Smithfield.
Grandson

James Harry Abraham

was wedded to Lynn Renee Altizer on April 3, 1971. Their two children were Timothy Abraham and Amy Cummings. The couple eventually divorced. He married again to Rebecca "Becky" ( ? - ? ).
Granddaughter Susan Eileen Abraham ( ? - ? ) married LaMonte Edison Hugh on Feb. 25, 1967.

He was a green beret during the Vietnam War. Over the years, the couple has lived in Arlington, VA; Forestville, MD; Landover, MD; Fredericksburg, VA; Mars, PA; Catonsville, MD; Monroeville, PA; West Des Moines, IA; and Nokesville, VA. Their four children are Wade Alan Hugh, Wesley Scott Hugh, Wendy Beth Ankrom and Ward Evan Hugh.
Son George "Marshall" Lewis (1922-1977) was born on Oct. 8, 1922 and grew up in Oliphant Furnace. He enjoyed hunting and fishing. He and his first wife, Loretta Pauline Davis, began dating in high school, and they married on Jan. 27, 1943. She was the daughter of Oscar J. Davis of Fairchance. The night of the wedding, at 10:30 p.m., George left for service in the U.S. Armed Forces, during World War II. He was based in the European Theatre of war. The marriage did not last long. Later, he wed a second time to Anna Mary Hall (May 15, 1926-1991), daughter of William Edward Hall. They are believed to have produced two offspring -- Gale Coley and twins Dale Lewis and William Edward Lewis. Sadly, son Dale died at birth. George was employed in the shipping and receiving department of Conrail in Conway, Beaver County. Anna Mary was a nurse's aide at the Beaver County Geriatric Center. They endured the tragedy of their daughter contracting brain cancer and dying at the age of 43. They made their home in Freedom, Beaver County, PA in 1974-1977 at 345 Springer Avenue. He died at the age of 54 on Sept. 22, 1977. An obituary in the Uniontown Morning Herald noted that funeral services were held in Freedom. Anna Mary lived for another 14 years after George's death. She was swept away by the Grim Reaper at the age of 4 on March 27, 1991.
Granddaughter Gale Lewis (1950-1993) was born on Sept. 23, 1950 in Rochester, Beaver County. She married James

Michael Coley. Their two daughters were Kelly Lynn Coley and Kimberly Jahoda. The couple eventually divorced. Her home in 1977 was in Fayetteville, NC and in 1993 in Brighton Township, near Beaver.

Heartache swept over the family when she contracted a brain tumor and died at the age of 43 on Nov. 23, 1993, leaving behind a husband and family.
Grandson William Edward Lewis

married Elizabeth Ann Cranston. He dwelled at home in Freedom in 1977.

James R. Lewis
Young American Patriots
Son James Robert Lewis (1926-1986) was born on Dec. 23, 1926 in Oliphant Furnace. He was a member of the U.S. Army during World War II, enlisting March 22, 1945, and serving in Italy. Upon returning home, he hoped to return to work at Fairchance Lumber Company, but when the company reneged, he joined Pittsburgh Plate Glass Company (today's PPG Industries). On March 26, 1948, at the age of 22, he was united in matrimony with Wanda June Davis (June 11, 1928- ? ), daughter of Naomi (Kissenger) Davis. The couple relocated to Beaver County, with the promise of a good job, and thus joining the railroad. They produced an only daughter, Kathleen Diann Lieb. They resided in Beaver Falls and later in Van Buren Homes in Vanport (Beaver) in 1975. He died suddenly at home at the age of 59 on March 2, 1986. His remains were lowered to eternal repose in Freedom, Beaver County. Their daughter Kathleen married Charles Lieb.
Daughter Eleanor Lewis (1929-2003) was born on May 3, 1929 in Crows Works, Georges Township near Fairchance, Fayette County. When she was 21 years of age, on Aug. 20, 1950, Eleanor was joined in marriage with 23-year-old Edgar Wallace Miller (Feb. 3, 1927-1993), son of Franklin and Velle (Victor) Miller. He was a veteran of the Korean War, serving as a sergeant with the U.S. Merchant Marine. The Millers dwelled in Smithfield, Fayette County and were members of the Smithfield United Methodist Church. They produced four children -- Franklin K. Miller, Karen M. Smith, Daniel R. Miller and Laurel F. Miller. In 1958, Edgar obtained employment with U.S. Steel Corporation in helping to construct Maple Creek Coal Preparation Plant at New Eagle, PA. He remained at Maple Creek until his retirement 33 years later, in 1991.Sadly, Edgar passed away on Valentine's Day 1993. Eleanor outlived her husband by a decade. She joined him in death on Oct. 1, 2003, while a patient at Ruby Memorial Hospital in Morgantown, WV. Rev. Maggie Foreman officiated at the funeral service. An obituary in the Uniontown Herald Standard noted that her survivors included seven grandchildren and two great-grandchildren. They rest together for eternity in Mount Moriah Baptist Cemetery in Smithfield.
Grandson Franklin Kenneth Miller

married Joanne Chabanik on Oct. 6, 1973. They resided circa 2003 in Lexington, KY. Their offspring are Michelle (a.k.a. Miller Lynn) Israel and Lanah Jo Miller.
Granddaughter

Karen Elaine Miller wedded Richard Clark Smith on Aug. 30, 1974

. Their home in 2003 was in Smithfield. Their children are Holly Smith and Richard Smith.
Grandson

Daniel Reed Miller

was joined in wedlock with Debbie Gower on Nov. 25, 1978. In 2003, they lived in Carmichaels, Greene County, PA. They produced three daughters -- Hilary Miller, Mallory Miller and Valerie Miller.
Granddaughter

Laurel Faye Miller

made her residence in 2003 in Smithfield.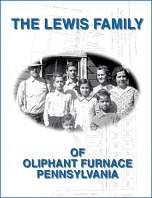 Lewis Family book
Son Thomas Lindsey Lewis (1933-2015) was born on Feb. 12, 1933 in Oliphant Furnace. During the Korean War, he served in the U.S. Army. At about the age of 25, circa 1958, he was united in holy matrimony with Joanne Rae Weigle (Dec. 7, 1937-2015), daughter of Edward and Thelma Weigle of Monaca. Their marriage lasted for 57 years until the separation of death. The Lewises resided in Center Township near Monaca, Beaver County and produced five children -- Linda Glasser, Thomas E. Lewis, Dwayne Lewis, Robin Vander Wagen and Keith Lewis. Thomas was employed for nearly 50 years by Conrail. He was a Boy Scout leader, model railroader and a tenor with the choir of First Baptist Church in Rochester. Joanne was active with the Girl Scouts as a leader and mentor for more than half a decade. Sadly, Joanne passed away at the age of 77 on March 18, 2015 in Good Samaritan Hospice at Heritage Valley Beaver. Thomas only outlived her by a few months. He succumbed at the age of 82 on July 17, 2015, in Beaver Valley Nursing and Rehab. An obituary in the Beaver County Times noted that funeral services were held in the family church, followed by burial in Union Cemetery.
Granddaughter

Linda Lewis married Hugh Glasser

. Their home is in Center Township, Beaver County.
Grandson

Thomas E. Lewis

wedded Pamela. They live in Hopewell Township, Beaver County.
Grandson

Dwayne Lewis

was joined in matrimony with Kimberly. They also make their home in Center Township.
Granddaughter

Robin Lewis was united in wedlock with Glenn Vander Wagen. They dwell in Hopewell Township.
Grandson

Keith Lewis

resides in Hopewell Township.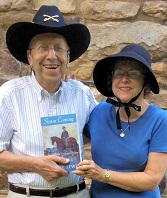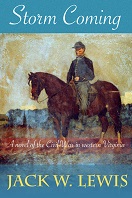 Jack and Carol Lewis with their book Storm Coming
Son Jack Walter Lewis has had careers as a U.S. Coast Guard officer, marine engineer, corporate CEO, software developer, horse breeder/trainer, textbook author and, late in life, a registered nurse, volunteer paramedic and washtub bass player in an oldtime string band. He lives with his wife in the middle of Jefferson National Forest in rural western Virginia, in a county that didn't quite make the cut into West Virginia. A history buff, he has had a decades-long fascination with the Civil War. He was featured as our "Photo of the Month" in January 2006. Educated at the U.S. Coast Guard Academy and MIT, Jack is a registered professional engineer. His specialty is the design of automatic control and instrumentation systems, especially as related to the marine industry. He is the author of numerous technical papers and articles, including national award-winning papers for the American Society of Naval Engineers (ASNE) and the Society of Naval Architects and Marine Engineers (SNAME). He is working on interactive ebooks that explain how to use the Arduino microcontroller to study the dynamics of engineering systems and the design of digital feedback controllers. In 1975, he lived in Columbia, MD. Today he is married to the former Carol Surber, owner of Surber Publishing. In 2017, Jack and Carol collaborated on his first book, a Civil War novel entitled Storm Coming, billed as "Based on a true story, this first of a trilogy of Civil War novels chronicles the fateful events of 1861 in western Virginia, as a young man learns to cope with his world turned upside down by war."
Lewis Reunions continue to be held today. The 1999 reunion was held at Bradys Run Park in Beaver County, PA. The founder of this website was privileged to attend the 1999 event, despite a very hot, muggy day.
The 2009 event was on July 25, 2009, at Yogi Bear's Jelly Stone Park in Mill Run, Fayette County.In 2011, the reunion took place at the Buckaloons campground near Warren, PA, hosted by Dwayne Lewis.
Many thanks to our cousins Jack Lewis and Thomas Lewis for their permission to use their book, The Lewis Family of Oliphant Furnace, PA, as source material for this biography.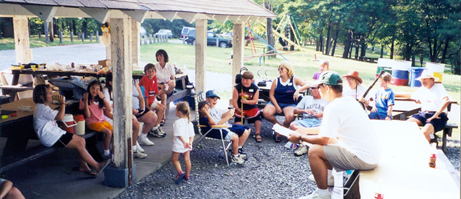 Lewis Reunion, Bradys Run Park, Beaver County, PA, 1999

Copyright © 2003-2004, 2009-2012, 2017 Mark A. Miner