Home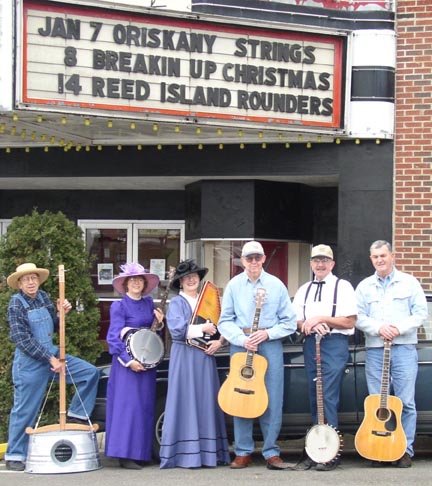 The Oriskany Strings, founded in 1997, hails from the little mountain village of Oriskany, Virginia, about 40 miles west of Roanoke. It performs and promotes old time country and bluegrass music, led by Carol Surber Lewis (second from left) and her husband Jack Walter Lewis (left). The band plays its unique style of music throughout southern Virginia and has recorded two albums, including the two-volume Live At the Rex Theatre, recorded in January 2005. The Oriskany Strings' other album is Mostly Gospel, recorded in 2004.
Other members of the band are, left to right: Rita Parady, Gene Guilliams, Dick Parady and James Christian.
At one time, Jack operated an internet radio station devoted to bluegrass, old-time and gospel music by independent bands only. Jack is the grandson of George W. and Anna Belle (Miner) McCormick of Connellsville, Fayette County, PA. Jack and his brother Thomas have authored the definitive history of this branch of the family, The Lewis Family of Oliphant Furnace, PA, found in libraries throughout Western Pennsylvania, including the Uniontown Public Library. They also are active with organizing the reunions of the Lewis clan.
Copyright © 2005 Mark A. Miner