Henry and Lyda Minerd

Henry Minerd was born on April 6, 1853 (or 1846 or 1856) in Fayette County, PA, the son of Daniel and Susan (Stettman) Minerd. Various sources of his birth year provide differing dates.
Henry was a longtime coal miner in the "Connellsville Coke" region, and later shortened his own name to "Miner."
On the 4th of July 1879, when he was age 23, Henry was joined in holy wedlock with 15-year-old Eliza "Lyda" Swink (April 7, 1864-1942), the daughter of George and Martha (Baker) Swink of Fayette County.
They couple stayed together throuth thick and thin for an extraordinary 63 years.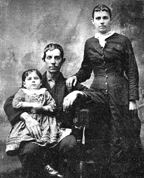 Henry, Lyde & Anna Belle

The two daughters they produced togetherwere Anna Belle McCormick and and Margaret Bottomley.

Henry's father is reputed to have been killed during the Civil War, but no evidence has been found to date to support this. Nevertheless without a father at about age 12, Henry began laboring in the burgeoning iron works near Connellsville, Fayette County. He went on to spend 35 years as a coal miner and coke oven laborer for the H.C. Frick Coke Co. in Connellsville.

It's believed that Henry worked at Frick's well-known Davidson Works, where many other Minerd-Minard-Miner-Minor family members were employed over the years. Other of our known cousin-laborers at Davidson were John Ross Miner and Frank J. Minerd.

The smoky Davidson Works, with railcars running above and below the brick beehive ovens, is seen here in a rare old photographic postcard.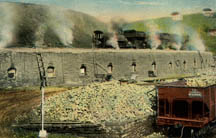 Frick's Davidson coke works

The book The Lewis Family of Oliphant Furnace, Pennsylvania, authored by Henry and Lyda's great-grandsons Thomas L. and Jack Walter Lewis, reports that Henry:

...started at about the age of 12, working in the iron works near Connellsville. Later on he worked in the coal and coke fields of Southwestern Pennsylvania for Andrew Carnegie's Carnegie Steel Corp., later to become U.S. Steel Corp. He retired from U.S. Steel with 35 years of service. I believe this was around 1930-35. Upon retirement, U.S. Steel presented him with a pocket watch with a fob attached. On the end of the fob was a bronze medallion. On the front of the medallion was an engraving of corporate president E.H. Gary. On the back side was an engraving of coal and steel workers. Also engraved on the back side was Henry Miner and thirty-five years service.... For years they won prizes for their gardens and flowers, awarded by the Frick company.

The Miners lived in the Davidson Hill section of Connellsville, in a white two-story house with a picket fence. They helped raise their granddaughter, Margaret (McCormick) Lewis.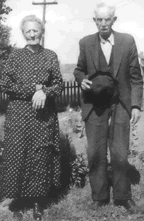 In older years

Henry and Eliza's vegetable and flower gardens regularly won awards at the Davidson works of the Frick coke company. They took a $5 first price for vegetables and a $2 second prize for flower gardens and lawns in July 1924. Said the Connellsville Daily Courier, the judges' task "was a very difficult one, as the competition this year was greater than at any time in the past, and several visits had to be made to a number of the plots before a final decision could be made. In addition to the prize winners receiving the cash,... each one will receive an engraved certificate of a handsome design, framed, ready for adorning the home of the recipient." One of the runner-up awards went to cousin John Ross Miner of Davidson for his flower gardens and lawns. In July 1929, they captured first place prizes of $5 each for vegetable and flower gardens. Again, in July 1931, they won the top prize in the vegetable garden category. Each time, the results were published in the Daily Courier.

During November 1924, Henry and 50 other retired co-workers at Davidson were filmed by U.S. Steel Corporation as they drew their pension checks. Said the Daily Courier, "The movie was taken in connection with a program which calls for a big picture being presented ... showing the processes in production of steel. Davidson plant had the largest list of pensioners and for this reason was selected as the one for the pension feature. Superintendent H.G. Brown was paymaster and he gave the men their checks as they passed the window."

In the Lewis Family book, great-granddaughter Hazel (Lewis) Abraham recalled visiting Henry and Lyda as a child. She said that Henry was 10 years older than Lyda, and that she:

... always said he took her to raise. She was a trim little lady and full of fun. She had an old organ on which she would pick out tunes and sing. One of her favorites was "Nearer My God to Thee." Sometimes she would lift her skirts above her shoe tops (she dressed old-fashioned -- long skirts and high shoes) and dance a jig for us. This didn't please Grandpap and he would tell her she was silly or something like that. Their home was a very humble one. No rugs on the floor, no screens at the doors or windows, yet I don't recall seeing flies in the house. They always used Ivory Soap. Just to smell it today brings back memories of them. They could neither read nor write. When we visited, Grandpap would buy a paper so Mom could read to him. He was interested in the sports page, especially boxing.

Obituary, 1942

The couple's final address together was at 612 North Second Street on Connellsville's East Side.

Henry and Eliza died in the same year -- 1942. Burdened with senility and old age, he passed away first, on April 16, 1942. The funeral was conducted by Rev. Howard W. Jamison, pastor of the Central Methodist Church. His remains were laid to rest at Mt. Olive Cemetery.

Eliza only survived him by four-and-a-half months. She joined him in death later in the year, on Sept. 2, 1942, at the home of their daughter Margaret Bottomley at 226 North Arch Street, Connellsville. The examining physician wrote that the cause of death was "probably coronary occlusion."

Many thanks to Tom and Jack Lewis for their permission to republish excerpts from their excellent book


Copyright © 2000-2004, 2008, 2012, 2022 Mark A. Miner