Home

Emma (Miner) White
(1888-1966)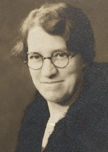 Emma White
Emily Elizabeth (Miner) White was born on Aug. 8, 1888 at Hundred, Wetzel County, WV, the daughter of Andrew Jackson and Mary Louise (Johnston) Miner. Her husband was an early Methodist-Episcopal Church minister in our family.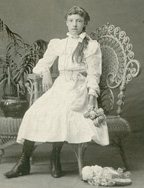 Emma as a teen
In 1898, when Emma was 10, she and her parents moved back across the state line into Pennsylvania, making their home as tenant farmers in Chartiers Township, Washington County, and living on the farm of Alexander Gaston.
The Miners moved again in about 1901 to a rented house on Broad Street in the west end of Washington, the county seat of Washington County, PA.
Emma is seen here as a young teenager, with long hair wrapped around her shoulder, and holding a bunch of flowers, with a fancy hat at her feet. She is believed to have been close with her first cousin Minnie (Miner) Gary, who was just four years younger and lived in the old family farming region of Kingwood, Somerset County, PA.
On Nov. 9, 1910, when she was age 22, Emma married 22-year-old Lester Allen White (1888-1929), the son of Homer C. and Nettie M. White. At the time, Lester resided in his parents' dwelling on North Franklin Township in Washington, on the north crossroad between the National and Prosperity Pikes. He disclosed on the marriage license application that he was a farmer. Rev. J.W. McIntyre officiated. (The two families were close, and Emma's niece Grace Miner later married Lester's much-younger brother Lynn Forrest White.)
Emma and Lester bore two sons, Kenneth Allen White and Dr. Thurman C. White.
The Whites made their home during their early years of marriage in Washington.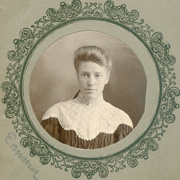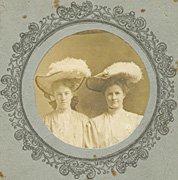 Emma posing by herself (left) and with friend Beatrice Canan
In 1914, they moved to Upland, Grant County, IN, where Lester began to pursue his dream of Christian ministry by enrolling in seminary classes at Taylor University Academy. After obtaining an academy degree in 1918, he began studying for a bachelor of arts degree in the ministry. He served as the "campus storekeeper" and was a member of the Thalonian Society, an important literary group.
Taylor yearbooks for the era show that Emma played an important role in promoting Lester's studies. One yearbook listed him with the quote, "Give me, next good, an understanding wife." Another yearbook listed him with the comment, "It is not good for man to be alone." During that time, their son Thurman was born.

Stylish Emma poses in a series of arcade photographs with her nieces Grace Miner (who later became her sister in law) and Ollie Miner (bow in hair).

Graduation 1922
The federal census enumeration of January 1920 shows the Whites living in Upland, with the 31-year-old Lester marked as a "student." Later that year, after her father suffered a stroke of paralysis, and was unable to care for himself, he and Emma's mother traveled from Washington to live under the Whites' roof. It's said that she forbade her father from using chewing tobacco, even though he complained, "But it pleases my mouth so."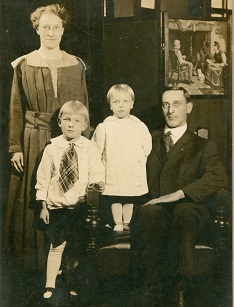 White family portrait, circa 1919
Emma's father died in their home in early January 2921, and the mother lived only until the end of that year, succumbing on Christmas Eve 1921. their remains were shipped back to Washington for interment.
Graduating in 1922, Lester and Emma made the decision to return to Western Pennsylvania. The family maintained ties to Taylor, as a nephew of Emma's, Richard A. Plants, later studied there and today is enshrined in the university's sports hall of fame for a standout track career.
Emma immersed herself in her home community. She was a member of the West Washington Methodist-Episcopal Church (seen here) and sang in the choir for more than 50 years. She also was an active member of the Women's Christian Temperance Union (WCTU). Emma's brothers Ward and Harry were active in the West Washington congregation, and Harry's widow Armena and their daughter Grace were Sunday School participants for more than half a century.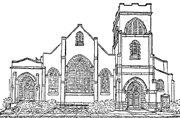 West Washington M-E Church
Lester entered the Pittsburgh Conference of the Methodist Episcopal Church on trial, later receiving full ordination. During the next six years, he served three churches -- Luxor, east of Greensburg, PA; Robinson Street Mission on Pittsburgh's North Side, and Freedom, Beaver County. While at Luxor, he added four Sunday School rooms to the church.
While at Freedom in January 1928, heartache rocked the family when Lester became gravely ill. He "gave up his work to others, although he retained the direction of the church activities until conference met in October, when he took a retired relation until he should regain his health," said the Washington Observer.
On April 29, 1929, unable to beat the cancer that had ravaged his body, Lester died at the home of his parents in Washington. He was laid to rest at Washington Cemetery. His passing left Emma as a widow at age 41 with adolescent sons aged 15 and 12.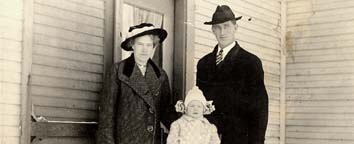 Emma, Lester and Kenneth, Christmas time

Obituary, 1929
Emma outlived her husband by nearly four decades. She made her home alone as a widow on Church Street in 1930. Son Kenneth helped support her and the family by working as a sales clerk in a department store. Later, she moved to a residence at 588 Fayette Street in Washington.
When her aunt Rosetta (Harbaugh) Miner died in Somerset County in 1953, Emma went out of her way to take a bus to attend the funeral.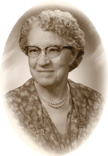 Emma, later years
Emma died on April 17, 1966, at the age of 78, at Shawley's Nursing Home, Youngstown, Mahoning County, OH. She was buried beside her husband, after a separation of nearly 37 years.
Lester's career is summarized in Smeltzer's 1968 book, Methodism in Western Pennsylvania 1784-1968. Emma also is mentioned in the volume, still found in used bookstores today.
Years later, in about 1981, cousins of the Farabee branch visited Emma's cousin Minnie Gary at her home in Kingwood, Somerset County. Afterward, Minnie sent them a card, and, not knowing whether Emma was dead or alive, Minnie asked, "Did you hear [any word] from Emma or Lucy Martin?"
~ Son Kenneth Allen White ~
Son Kenneth Allen White (1913-2006) was born on Oct. 28, 1913 in Washington.
As a young boy he moved with his parents to Upland, IN, where he grew up. In about 1922, his father having graduated, they returned to Washington.
On Aug. 20, 1935, he married Edith Aileen Supler (1912-2005), age 22, the daughter of Lester and Sarah Naomi (Morris) Supler. At the time, he was age 21, employed as a clerk and lived at 141 Church Street in Washington.
Their three daughters were Joy Elaine Goetz, Meredith Ann Tarbell and Faith Irene Berg.

Green-Mont Motel in Rutland
Kenneth built his career in store management with Montgomery Ward. This took the family from Pennsylvania to West Virginia and New York, and finally to Rutland, Rutland County, in the heart of Vermont's Green Mountains. There, from 1942 to 1955, he spent a dozen years as manager of the Montgomery Ward store. He tried real estate brokerage and then in 1953 the couple purchased and operated the Green-Mont Motel at 138 North Main Street. Promotional postcards for the motel show that it featured "30 modern rooms - private bath with shower or combination tub and shower. Connecting units. TV - telephones and radios available. Automatic heat - room controlled. Open all year. Fine restaurants nearby."

Matchbook cover
Active in the community, Kenneth was president of the board of trustees of the Rutland United Methodist Church and chaired committees and was a delegate to the yearly conference. He served on the advisory board of the Rutland Open Door Mission and volunteered his time with the Rutland Lions Club, from which he received a "Life Membership Award" in 1993. He also donated his time for 13 years with the Rutland Regional Medical Center.
When the couple celebrated their 40th wedding anniversary in 1975, they were pictured in the Rutland Daily Herald and held a reception and buffet dinner at the home of their married daughter Faith Berg in Rutland.
Edith suffered from congestive heart failure. She died in Wake Robin assisted living facility in Shelburne, VT on June 16, 2005, at the age of 92.
Kenneth endured metastic colon cancer, and spent his final years in the Wake Robin facility in Shelburne. He died at the age of 93 on Dec. 22, 2006. Funeral services were held at the United Methodist Church, with Rev. Edward Hackett Jr. officiating. Burial was in Evergreen Cemetery in Rutland. The Rutland Herald published a detailed obituary.
Daughter Joy Elaine White (1936-2008) was born on July 28, 1936. She received a degree as a physical therapist in 1958 from Ithaca College and went on to secure her license. She was employed in 1960 as a staff physiotherapist at the Beth Abraham Home in The Bronx, NY. On July 16, 1961, she was united in wedlock with Raymond Arnold Goetz ( ? - ? ), a native of Long Beach, NY and the son of William A. Goetz. The wedding was held at St. Mary of the Isle Church at Long Beach, NY. Said the Rutland Daily Herald, Joy wore "a gown of bombazine silk with a scalloped bodice of Alencon lace, and a full skirt, touched with appliques of Alencon lace, which was swept into a chapel train. Her tulle veil fell from a crown of seed pearls. She carried a cascade bouquet of white gladioli and stephanotis, centered with a white orchid." Their union endured for 47 years. At the time of marriage, Raymond was an alumnus of the Massachusetts Institute of Technology and a student at Brooklyn Polytechnic Institute, pursuing a master's degree in engineering. He also was working part-time for American Arma Bosch Corporation. The couple dwelled in Commack, Long Island and Holtsville, NY and raised three sons -- among them Andrew William Goetz, Stephen Ryan Goetz and Kenneth A. Goetz. Sadly, suffering from what's believed to have been Parkinson's Disease, Joy passed into eternity at the age of 71 on Jan. 11, 2008. An obituary appeared in the Rutland Daily Herald, and interment was held at Gate of Heaven Cemetery in Valhalla, Westchester County, NY.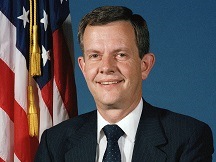 William A. Tarbell Jr.
Daughter Meredith Ann White ( ? -living) grew up in Rutland, VT. She studied at Becker Junior College in Worcester, MA. On June 14, 1958, she wedded William Allen Tarbell Jr. ( ? - ? ), of Rutland, and the son of William Allen Tarbell Sr. Rev. Dale Russell led the nuptials, held at the First Methodist Church. News of the wedding was printed in the Rutland Daily Herald. The pair went on to bear three daughters -- Dawn Tarbell, Karen Tarbell and Sharlene Rhodes. At the time, William was a student in the General Electric apprentice training program at Pittsfield, MA. He went on to a career with the U.S. Navy Naval Sea Systems Command (NSSC), engaged in the design, engineering, construction and acquisition of naval ships and submarines, which included their weapons and electronic combat systems. He is known in 1987 to have appeared at hearings before the House Subcommittee on Merchant Marine and Fisheries to discuss the critical need for shipbuilding, repair and financing. In 1990, as a member of the Senior Executive Service and Deputy Commander for Corporate Planning for the NSSC, he received the 1990 Presidential Meritorious Executive Award, which the Daily Herald said was "one of the most prestigious prizes in government service." They dwelled over the years in Pittsfield, MA, Greenbelt and Laurel, MD, Livingston, TX and Hanover, PA.
Granddaughter

Dawn Tarbell

married Greg Broomall.
Granddaughter Karen Tarbell

was united in matrimony with Steve Klitsch.
Granddaughter Sharlene Tarbell

grew up in Laurel, MD. She wedded Tony Rhodes. The couple dwell in Laurel, where she is employed with the Goddard Space Flight Center of the National Aeronautics and Space Administration (NASA).
Daughter Faith Irene White (1941- ? ) was born in 1941. For two years, she was a private first class with the U.S. Army Women's Air Corps in Arlington, VA. After her term of service ended, she obtained employment with Howe Richardson Scale Company. Then on Sept. 20, 1969, at the age of 28, she married 42-year-old co-worker Allen Norman Berg (Jan. 3, 1927-2001), son of Carl L. and Anilla (Tillberg) Berg of Rutland. The nuptials were led by Rev. Dale D. Russell at the United Methodist Church. Faith wore a wedding dress featuring "a floor-length, empire A-line style gown of satin, featuring a funnel neckline, long tapered sleeves appliqued with re-embroidered pearl and crystal-trimmed Alencon lace," said the Rutland Daily Herald. "The matching detachable train fell in a chapel sweep. Her fouffant shoulder-length nylon illusion veil fell from a pearl tiara." The Bergs did not reproduce. They resided in Rutland, where Allen earned a living as a production supervisor for Howe Scale Company. Later, he worked as a tool gauge maker for General Electric Company and retired in 1989. The couple were members of the Methodist Church, with Allen serving as head usher for 10 and with a seat on the congregation's board of trustees. He also held a membership in the Killington Sports Car Club. He had a passion for building and flying radio-controlled model airplanes, golfing and carpentry. Sadly, Allen died at home in Rutland at the age of 74 on Feb. 1, 2001. Burial of the remains was in Evergreen Cemetery in Rutland. Rev. Edward A. Hackett Jr. of the family church led the funeral service, with interment following in Riverside Cemetery in Proctor. Faith outlived her husband by exactly 20 years, not a day more or a day less. She passed into eternity on Feb. 1, 2021.
~ Son Dr. Thurman C. White ~
Son Dr. Thurman C. White (1917-1990) was born on Jan. 26, 1917 in Upland, IN, where he father was studying for the ministry at Taylor University.
As a boy, he returned to Western Pennsylvania with his parents and brother.
At the age of 23, while a student, he lived at 734 Brunot Street in Verona, near Pittsburgh.
On Aug. 31, 1940, he married 19-year-old Hazel Elizabeth "Betty" Best (1920- ? ) , a stenographer living in the Pittsburgh suburb of Oakmont. She was the daughter of Elmer C. and Hazel I. (Coulter) Best.
They produced two sons, David Lester White and Keith Allen White.
He became a doctor of chiropractic and practiced for many years in Blairsville, Indiana County, PA. In 1955, he received a certificate of merit from the Pennsylvania Chiropractor Society. In all, his career spanned 36 years.
The Whites eventually divorced. Thurman relocated to Spartanburg, Spartanburg County, SC where he is said to have owned an antiques business.
Thurman married a second time to Helen Fassett (July 19, 1918-1984), a native of Elders Ridge, Indiana County, PA and the daughter of Robert and Winnie (Myers) Fassett. She was a member of the Waterloo United Methodist Church in South Carolina and had worked in retail sales. Helen passed away at the age of 65 on April 14, 1984.
As his health failed, Thurman was admitted to the Skylyn Health Center in Spartanburg. He died on Feb. 15, 1990, at the age of 73. An obituary was published in the Greenville (SC) News. Interment of the remains was next to Helen's in Forest Lawn Cemetery.
Son David Lester White ( ? - ? ) established a home in Blowing Rock, NC and was there in 1984-1990.
Son Keith Allen White ( ? - ? ) resided in 1984-1990 in Houston, TX.
Copyright © 2000, 2002, 2006, 2008, 2010, 2014, 2020 Mark A. Miner