Nancy (Minor) Farabee
(1848-1918)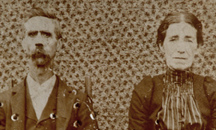 Spencer and Nancy Farabee
Nancy (Minor) Farabee was born in 1848 on the family farm at Hexebarger near Kingwood, Somerset County, PA, the daughter of Henry and Polly (Younkin) Minerd. She is believed to have been named after her mother's sister, Nancy (Younkin) Sanner (1829-1880).
As a girl, Nancy migrated with her parents from Kingwood to near Beeler Station, Marshall County, WV and later moved again just over the state line into Greene and Washington Counties, PA.
In 1862, at the age of 14, she married Spencer Farabee (1842-1917), the son of David and Mary (Friend) Farabee and a native of Sparta, Greene County.
The Farabees had eight children: Ida Ellen Taylor, Anna Eliza Burke, James Warren Farabee, Flora Belle Miller, Henry "Wiley" Farabee, Clinton Theodore Farabee, Cleveland Farabee and Oliver Jasper Farabee.
In 1865 and 1866, following his discharge from the Army after the close of the Civil War, Nancy's brother Ephraim Miner came to visit her in Greene County, as noted in his diary. Ephraim is known to have visited again as an older man -- and, upon leaving, turned down her offer for a cup of coffee despite it being a cold day, preferring instead a cup of hot water. Ephraim also is known to have corresponded with Spencer's relative Isabelle Farabee.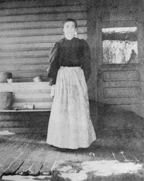 Nancy on her porch
Spencer was a farmer and basket weaver. In 1870, a few years after they were first married, they resided in the Sand Hill District of Marshall County, WV.
Later, they lived near Hundred, Wetzel County, WV, and circa 1873 in West Finley, Washington County, PA. They moved again to New Freeport and Sparta, Greene County, PA, before relocating for good to near Waynesburg, Greene County in 1892. Nancy was a wisp of a woman who suffered from asthma. This may have influenced their decision to move from rural Greene County into the county seat of Waynesburg.
Spencer, Nancy and three of their sons purchased adjacent properties and built frame homes in the same block, a major step up from the log houses they had lived in previously. They were members of the Methodist Protestant Church.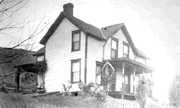 Farabee home, Morrisville
section of Waynesburg
Nancy's brother Eli Minor occasionally would ride up in his small horse cart from Pursley Creek, south of Waynesburg, for a visit, or to drop off his young son Albert "Ross" Minor, whom Nancy or her son Clint would babysit for the day.


~ Pennsylvania German Song ~
As a young girl, Nancy was taught nursery rhymes or Mother Goose sayings, and recited one of them later in life to a young grandson. The words were pronounced as --
See-bee quah-bee,
English Mary,
Singlum, sanglum, buck
Younkin cousin and genealogist Linda Trimpey Marker has provided this different version as recited by her father in law of Somerset County:
Ornery, orrey, ickery, a,
Fillacy, fallacy, nicholas, j
Quebily, quabily, Irish, may
Stringam, strangum, buck!
Additional research done by one of Nancy's descendants, and found on the website MamaLisa.com, reveals that the oldest version of the saying dates to 1825, and was published in a book called Mother Goose's Quarto. The rhyme also is claimed to be a gypsy saying.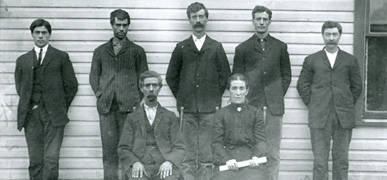 Spencer and Nancy in front. Standing, L-R: Cleve, Wiley, Oliver, Clinton and James
~ Final Years ~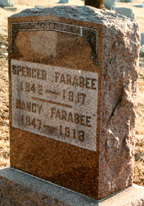 Farabee grave in
Oakmont Cemetery
Heartache rocked Spencer and Nancy repeatedly over the years. In 1886, their daughter Anna died at the age of 19. In 1906, their married daughter Flora Belle died in childbirth. In 1913, their daughter in law Grace (Cumley) Farabee died of tuberculosis. And in 1915, their son James was mangled and killed in a freak railroad accident.
The worst heartache, however, began one day in May 1917. He was in ill health and his mind was thought to have become "unbalanced." He even hinted several times that he might try to end his own life. On May 20, 1917, after having a midday dinner as it was called then, he went out to the stable near their home. When he didn't return after about 15 minutes, Nancy went to look for him. To her shock, she found his lifeless body in the outbuilding, where he had died suddenly. A coroner was called to investigate.
Spencer's sudden demise generated news headlines in Waynesburg. One article noted that among his survivors were his brothers Warren Farabee of Jerusalam, Ohio and Theodore Farabee of Preston County, WV.
The following winter, in 1918, while reaching into a woodbox to get wood for her stove, Nancy got a splinter in her hand that soon became infected. She also was suffering from pneumonia at the time, and her health declined rapidly. She died on Feb. 8, 1918.
Nancy and Spencer are buried at the Oakmont Cemetery near Waynesburg. Their grave marker is seen here, as photographed in the winter of 1989.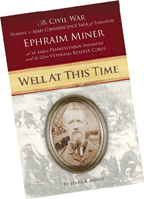 Book about Nancy's brother
~ Legacies ~
In 1935, when widespread research was being done by Nancy's Younkin cousins coast to coast, to determine how everyone fit into the massive clan, and to organize a national home-coming reunion, Nancy was mentioned in a letter authored by Charles Arthur Younkin. Click to see this letter, dated Feb. 19, 1935.
Charles wrote: "I have learned the whereabouts of several of the Farabees also Burches and Bedillions but as yet have not come into contact in person but hope to do so in the near future." It's unknown if Charles was successful in meeting or interviewing any of Nancy's children or grandchildren as future letters and records as late as 1940 are silent on the matter.
Nancy and Spencer are pictured, and their grandson Donnus Franklin Farabee is mentioned, in a 2011 book about her brother Ephraim -- entitled Well At This Time: the Civil War Diaries and Army Convalescence Saga of Farmboy Ephraim Miner. The book, authored by the founder of this website, is seen here. [More]
Copyright © 2000-2003, 2005-2007, 2011, 2014, 2018 Mark A. Miner