Jay C. Miner

Jay C. Miner was born on April 28, 1875 near Tontogany, Wood County, OH, the son of Jacob and Louise (Finkenbeiner) Miner. He and his sister Jennie Goodger were twins.
When the federal census enumeration was made
After his father's death, Jay continued to share a home with his mother in Tongotany.
After his father
For 11 years, from 1920 to 1931, he operated a Tontogany pool room and billiard room
At some point in time, Jay began to suffer from stomach pain and rheumatism. In 1931, said a newspaper, when he was age 55, his health problems problems had become so severe that he was: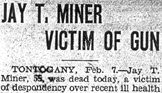 Obituary, 1931

...unable to continue actively operating his business himself and had been confined to his room. Wednesday night, to complicate matters, thieves entered the pool room by breaking down the front door, and took a large amount of candy, cigars and cigarettes and 150 pennies. They left no clues as to their identity.
On Feb. 7, 1931, a few days after the theft, feeling depressed and despondent over life's misfortunes, Jay told friend Jay Huston that he did not feel well. He went to his room, placed a shotgun in his mouth and pulled the trigger. Death was instantaneous.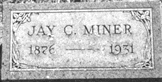 Union Hill Cemetery

Jay's remains were lowered into eternal repose at Union Hill Cemetery near Tontogany near the graves of his parents and grandparents.

A small stone marks his final resting place.



Copyright © 2002, 2010, 2022 Mark A. Miner