Jennie (Miner) Goodger
(1876-1926)
Jennie (Miner) Goodger was born in 1876 near Tontogany, Wood County, OH, the daughter of Jacob and Louise (Finkenbeiner) Miner. She and her brother Jay were twins.
In 1898, when Jennie was age 22, she wed Harry Allen Goodger Jr. (1878-1953), the son of Harry and Rebecca (Thorne) Goodger Sr. (The name is pronounced "goodgear.") He was an Englishman who had come to the United States from Chatteris, England in 1889, when he was age 11, and was naturalized as an American citizen in 1901.
The Goodgers had one daughter -- Nellie Parcell. They resided in Tontogany, where Harry worked as a farmer.
By 1910, when the census was taken, Harry worked as a pumper in a railway pump house in or near Tontogany.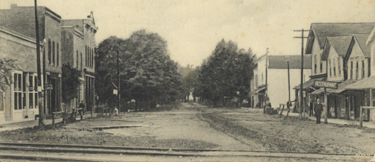 Rare photograph of Tontogany's Main Street
According to the 1975 booklet, Tontogany Times, Harry owned a grocery and meat market in town, and among other owners, he "was in this location for the most number of years, trading properties with Allen Ewing about 1918, and selling his stock to Ross English of Bowling Green in 1934." Jennie's cousin Ross Robinson also owned the property at one time. The census of 1920 lists Harry as a grocer of meats and in1930 as "retail merchant - general store."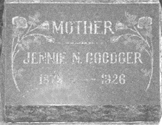 Sadly, Jennie died on June 30, 1926, having suffered from lobar pneumonia. She was just 50 years of age. She was laid to rest in Tontogany Cemetery. Her grave marker, headlined "Mother," is seen here.
Harry outlived Jennie by nearly 30 years. After spending two years as a widower, he remarried to Alma E. (?) (1905- ? ), who was almost a quarter century younger than he was. They had one daughter of their own, Virginia R. Goodger (1908- ? ).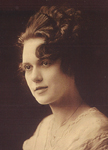 He passed away at the age of 73 on March 20, 1953. He also is buried at Tontogany Cemetery.
Daughter Nellie Goodger (1899- ? ) (seen here) is mentioned in Tontogany Times, saying that she was a member of the first graduating class of "all girls" in 1917 from the Washington Township Rural School District. She married Elmer R. Parcell, an engineer for the E.W. Bliss Company. The Parcells moved to Toledo, Lucas County, OH in 1926, and Nellie is mentioned in the 1932 Washington Township School Toganette yearbook as residing there. In about 1939, the Parcells relocated to Hastings, Wood County.
Copyright © 2002, 2007, 2009 Mark A. Miner