Simon Miner was born on May 15, 1844 in Unity Twp. near East Palestine, Columbiana County, OH, one of 15 children of Jacob and Julianna (Forney) Miner.
As a young man, he went by the spelling of "Minerd," though later in life the name is thought to have been shortened to "Miner" or "Minor."
When the federal census was taken in 1870, Simon was boarding in the home of farmer Solomon Fries in Wood County, OH, and working there as a farm laborer. Why Simon made the 200-mile relocation from Columbiana County to Wood County is unknown, but it carries some logic since two sets of Simon's known aunts and uncles (Samuel Minerd and Sophia [Minard] Van Horn) resided in Wood County too.
Later in 1870, Simon married Lear Shaffer (1848-1930). She was the daughter of Andrew and (?) (Echelbarger) Shaffer of Wood County -- the father a native of Pennsylvania, and the mother a native of Germany.
The Miners had four children -- Etta May Miner, Rose Leech and two others who are not yet identified.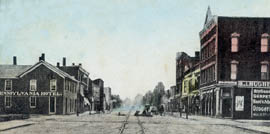 They resided in North Baltimore, Wood County, OH, where Simon found employment as an oilfield worker and pumper. North Baltimore's South Main Street is seen here in a rare old photographic postcard dated 1914.
The 1900 census shows Simon (age 56), Lear (52) and Etta May (15) living in Henry Township, Wood County.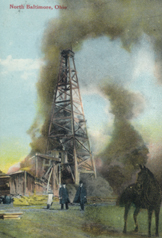 Seen at left, this old postcard shows a smoky, dirty oil derrick in North Baltimore, a scene which Simon would have known well.
By 1910, the census shows that Simon was employed in odd jobs, and living with Lear by themselves in Henry Township.
Circa 1920, when his elderly sister Eliza Mathany died in Ohio, Simon was named in her obituary in the Warren (OH) Daily Tribune, and mentioned as a surviving brother. The census that year shows that Simon and Lear had moved to Seneca Township, Seneca County, OH. Simon, age 75, was retired and thus not working that year.
Simon died at age 80 on June 28, 1924 of the effects of a stroke in addition to hardening of the arteries. Daughter Rose (Mrs. J.W. Leech) of Toledo, OH was the informant on his death certificate. Rose did not know the names of either Simon's father or mother.
Lear outlived Simon by six years. As an invalid in 1930, she made her residence at 32 Short Street in Tiffin, Seneca County. She passed away at the age of 82, on May 7, 1930, of a stroke. She was buried at Maplewood Cemetery in North Baltimore. Daughter Rose Leech of Toledo again was the informant for the certificate of death.
They are buried at the Old Maplewood Cemetery, in Row 2, South Section, between East and Center Drives. Their lives are being researched further.
He is not to be confused with a nephew, Simon Henry Miner of Kalida, OH and Kalamazoo, MI, nor a cousin, Simon S. Miner of Trumbull County, OH, the son of John Miner.
~ Daughter Rose (Miner) Leech ~
Daughter Rose Miner (1874-1941) was born on Nov. 28, 1874.
At the age of 19, in about 1893, she married John W. Leech (1870-1941) of Fulton County, OH, the son of Matthew F. and Anna (Williams) Leech.
They had at least one daughter, Ruth Leech (born in 1900).
The family may have resided in Cleveland, Cuyahoga County, OH early in their marriage. Later, they are known to have lived on Starr Avenue, Eastmoreland Boulevard and then at 436 Grasser Street in or near Toledo, Lucas County, OH.
When the 1920 federal census was taken, the Leeches lived on Starr Avenue in Toledo. John was employed as a railroad engineer. The 1930 census shows them making their home on Eastmoreland Boulevard, with John continuing his work as an engineer with the steam railroad.
Rose died at home at the age of 66 on Aug. 2, 1941. She was laid to rest at Toledo Memorial Park. John only survived his wife by three months. He died of heart failure at the age of 70 on Nov. 6, 1941. He joined his wife in eternal repose in Toledo Memorial Park. His passing occurred just one month and one day before our nation was plunged into World War II. Mrs. Walter L. Wickard of Pittsburgh was the informant on John's death certificate.
Copyright © 2003-2005, 2007, 2010 Mark A. Miner