Eliza Jane (Miner) Mathany
(1849-1920)
Eliza Jane (Miner) Mathany was born on June 10, 1849 in Unity Twp. near East Palestine, Columbiana County, OH, one of 15 children of Jacob and Julianna (Forney) Miner. She was born with the name "Minerd," but it was shortened in her lifetime to "Miner" or "Minor." Her husband was a veteran of the Civil War.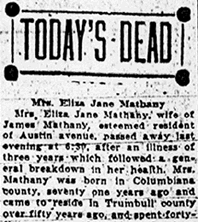 Warren Daily Tribune, 1920
As a young woman, Eliza "came to reside in Trumbull county" in about 1870, said the Warren (OH) Daily Tribune. She "spent forty-five years on a farm owned by them at Hardscrabble. She was a devoted Christian woman, an exemplary wife and mother…"
On July 3, 1867, Eliza married Civil War veteran James A. Mathany (1842-1929), a native of Liberty, OH. The ceremony was performed by Russell M. Warren, a minister of the gospel. Their name also has been spelled "Mahany."
They were the parents of three daughters: Ida Spitler, Gertrude Drennan and Nellie Williamson.
During the Civil War, said the Warren Tribune Chronicle, James served for "three years and 11 months ... with the Trumbull Guard." Little is known of the Guard, other than it was organized at Gallipolis, OH in November 1862 for the purpose of "River Guard." The unit lost six enlisted men by disease during the war, and mustered out July 1, 1865, without having seen any service. Its brief history is chronicled in the book The Military History of Ohio by Hiram H. Hardesty.
Later in life, James was a member of the Bell-Harmon Post of the Grand Army of the Republic, a lobbying organization for veterans. However, unlike most Civil War veterans who lived to old age, he apparently never was able to receive a government pension for his service. A search in 2003 at the National Archives in Washington, DC failed to find his name among comprehensive lists of veterans receiving pension benefits. This will be researched further.
The Mathanys resided for many years in Leavittsburg and then Champion, Trumbull County. When the federal census was taken in 1870, James and Eliza had not yet had any children, and his brother Thomas H. resided in their home.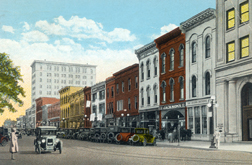 Warren's Market Street, 1920s
The 1880 census shows the family living in Champion as next-door neighbors to Eliza's uncle and aunt, Joseph and Elizabeth (Forney) Miner, and cousins Cornelius Miner and Ellen Miner [Eliza Ella Guessman]. They all were farmers.
In 1897, at the time her late mother's estate was being divided among heirs, Eliza was listed in the official papers, and received $6.56 in cash as her share of the estate.
At some point, in about 1917, the Mathanys retired from farming and moved to Warren, residing at 32 Austin Avenue. They were members of the Second Christian Church in Warren. Seen here is a rare old photographic postcard of Warren's Market Street in the 1920s.
Eliza accidentally fell down stairs in May 1920, at the age of 71, and broke her femur. She never recovered, and passed away in Warren at age 71 on Aug. 12, 1920. The "announcement of her death brings sorrow to a large circle of friends in Warren and vicinity," said the Daily Tribune. Her remains were "placed in a crypt in the Western Reserve Mausoleum in Oaklawn." At her death, she had six grandchildren and one great grandchild.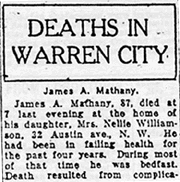 Warren Daily Tribune, 1929
James outlived Eliza by nine years. In the period between her and his deaths, five great-grandchildren were born.
In 1924, he apparently served as a pallbearer at the funeral in Warren of Eliza's cousin-in-law, Mary Elizabeth (Ward) Miner, widow of Cornelius Miner. This is further evidence of a connection between these two major branches of the family.
James was "in failing health for ... for years," said the Tribune Chronicle, prior to his death at age 87 on Aug. 13, 1929. "During most of that time he was bedfast." Death resulted from hardening of the arteries and a stomach ulcer. He was buried with Eliza at Oaklawn in Warren. "The pallbearers were Sherman Drennen, Ernest Williamson, Hallie Drenne,, Ira Spitler, Mark Henderson, and Delbert McFarland."
~ Daughter Ida Mae (Mathany) Spitler ~
Daughter Ida Mae Mathany (1870-1935) was born in 1870.
She married Willard Spitler ( ? - ? ).

Obituary, 1935
They lived for many years at 948 Buckeye Street in Warren.
They had two children -- Bessie Brown of Anderson, IN; and Ira Spitler.
Sadly, Ida suffered from cancer of the stomach, and passed away at age 65 on Nov. 13, 1935. She was laid to rest at Oakwood Cemetery in Warren.
~ Daughter Gertrude (Mathany) Drennan ~
Daughter Gertrude Mathany ( ? - ? )
She married Sherman Drennan (or Drennen) ( ? - ? ).
In 1920, they resided in Warren on Hunter Street.
Circa 1935, they were still in Warren.
~ Daughter Nellie (Mathany) Williamson ~
Daughter Nellie Mathany ( ? - ? )
She married Ernest Burr Williamson (1874-1939), the son of Peter Williamson of Painesville, OH.
The Williamsons resided near Lordstown, Trumbull County circa 1935, where they were farmers.
At age 64, Ernest died of heart disease on March 17, 1939. He was buried at Western Reserve Mausoleum.
Copyright © 2003-2004, 2008, 2009, 2012, 2015 Mark A. Miner