Simon Miner was born on March 25, 1866 in Warren Township, Trumbull County, OH, the son of John and Elizabeth Miner. (He is not to be confused with his father's cousin, Simon Miner, of North Baltimore, Wood County, OH, or Simon Henry Miner, of Kalamazoo, MI.)
In about 1890, when he was age 24, Simon married 18-year-old Della Sprague (1871-1937), the daughter of Horace and Matilda (Abrams) Sprague of Bristolville, Trumbull County. Della had been born on June 26, 1871.
The Miners produced a family of these 11 known children -- Bert Miner, Leroy Miner, Kenneth Miner Sr. of Warren, OH; Harold S. Miner of Spokane, OH; Clarence Dewey Miner of Leavittsburg, OH; Henry S. Miner of Mineral Ridge, OH; Annabelle Neil of Spokane; Hazel Marie Hayes of Warren; Betty Miner; Lena Bell Miner; and Mary Ellen Miner.
Sadly, at least three of their children died in youth -- Leroy, who expired on Valentine's Day 1895, at the age of one; Lena Belle, who died on Dec. 2, 1909, at age three; and Mary Ellen Miner, who died in birth in March 1914.
Simon initially was a farmer. Later, they "moved from Niles to Bristol Township [in 1921] and was a cement contractor before his retirement," said the Warren Tribune Chronicle. He "was a member of the Bristolville Methodist Church."
When the federal census was taken in June 1900, Simon and Della and children Bert, Hazel and Clarence made their home in Niles, Trumbull County. Simon's employment was listed as "grouting."
The census of 1910 shows Simon, Della and their brood of six children residing in Niles, Trumbull County. That year, Simon was shown as "contractor for side walks" and son Bert working in a rolling mill as a laborer.

Obituary, 1942
In 1920, the census lists Simon and Della on Cedar Street in Niles, with his occupation marked as a "contractor - cement work."
Della died on Aug. 7, 1937, at the age of 66.
Simon survived her by five years. He passed away at home in Spokane in 1942 at age 76, "after a year's illness," said a newspaper, and was buried with his wife at Union Cemetery in Niles. Son Kenneth was the informant on Simon's death certificate.
In 1930, the Miners and their children were listed in the book, History of the Descendants of John Hottel, authored by Rev. W.D. Huddle and Lulu May Huddle (Strasburg, VA: Shenandoah Publishing House). A copy today is preserved in our family archives, and has been a valuable source of information for sorting who's who in this family.
~ Son Bert Miner ~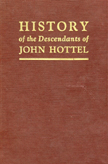 Book naming the Miners
Son Bert Miner (1892-1918) was born on Dec. 13, 1892.
He married Elva McMillen (1896- ? ) on Jan. 12, 1913. Sadly, they were only together for five years before death intervened.
During their brief life together, they had two sons -- Leroy Miner and Clarence Miner.
Bert labored as a "cement worker and contractor at Niles," said the 1930 book, History of the Descendants of John Hottel, authored by William David Huddle and Lulu May Harden Huddle.
Heartache rocked the family when son Leroy died at the age of 18 months on June 4, 1917, after he accidentally ingested a number of strychnine pills.
The tragedy was compounded 17 months later when Bert died of influenza on Nov. 9, 1918, at the age of 26, just three days after his wife had given birth to their second child. He was laid to rest in Niles, Warren County.
Elva's fate is not yet known
Son Leroy Miner
Son Clarence Miner
~ Daughter Hazel Marie (Miner) Hayes ~
Daughter Hazel Marie Miner (1896-1960) was born on July 3, 1896.
On Oct. 30, 1918, she married Jefferson "Bert" Hayes (1898-1973). Bert, a native of Niles, was a machinist.
They resided in Warren and had two children -- Virginia Mae Hayes and Edward C. Hayes.
Hazel passed away in 1960, and is buried in Niles City Cemetery.
Bert outlived her by 13 years, and died in December 1973 in Warren.

Virginia Wheeland

Daughter Virginia Mae Hayes (1921-2002) was born on Nov. 12, 1921. She married Dennis Woodrow Wilson Wheeland (1916-2004) on Aug. 30, 1944. Dennis was a veteran of World War II. They lived in Warren, where Dennis was a desk clerk at VanHuffel Tube Corporation.

Son Edward C. Hayes (1923-2004) was born on Aug. 4, 1923. He resided in Nottingham, Baltimore County, MD, and died on June 17, 2004.

~ Son Clarence Dewey Miner ~

Son Clarence Dewey Miner (1898-1983) was born on May 5, 1898.

On Oct. 30, 1922, he married Marion Eva Frederick (1892-1942), the daughter of Adam and Martha A. (Barnes) Frederick of Chicora, PA. Clarence was six years younger than Marion.

They resided in adulthood in Leavittsburg, and later in Warsaw, IN, where Clarence pursued his career as an electrical worker.

Sadly, Marion contracted lung cancer, and died at the age of 50 on March 31, 1942. She was laid to rest in Braceville.

Clarence outlived his wife by more than four decades. He passed away at the age of 85 in February 1983.

~ Son Henry S. Miner ~

Son Henry S. Miner (1902-1980) was born on April 2, 1903.

On Oct. 30, 1922, he married Gertrude Hocker (1900-1976).

They lived in Mineral Ridge and Warren, OH, where Henry was employed as a cement worker and contractor.

The Miners bore four children -- Barbara Rinda, Caroline Louise Miner, Jean Kostar and Russel Miner.

Gertrude died at the age of 76 in August 1976.

Henry outlived her by four years, and passed away at age 78 in August 1980.

~ Daughter Annabelle (Miner) Neil ~

Daughter Annabelle Miner (1904- ? ) was born in 1904.

She wedded Harry Neil (1903-1966).

They resided in Bristolville, Trumbull County.

Harry died in October 1966 at the age of 63.

~ Daughter Lena Bell Miner ~

Daughter Lena Bell Miner (1906-1910) was born on June 29, 1906. She died of an attack of croup at the age of four on Dec. 4, 1910. She was laid to rest in Niles.

~ Son Kenneth Miner ~

Son Kenneth Miner Sr. (1908-1986) was born on Jan. 9, 1908.

He married Virginia Bertuzzi ( ? -1996) in Trumbull County.

They lived in Warren and had three sons -- Edward C. Miner, Donald Frank Miner and Kenneth Bert Miner Jr.

Kenneth Sr. died at age 77 in September 1986, but nothing else is known.

Son Edward C. Miner was an educator and professor.

~ Son Harold S. Miner ~

Son Harold S. Miner (1910-1966) was born on Feb. 20, 1910.

He married Hazel (?).

They made their home in Bristolville.

He died in July 1966 at the age of 56.

Copyright © 2003-2005, 2007-2010, 2020 Mark A. Miner