Simon Miner was born on March 25, 1866 in Warren Township, Trumbull County, OH, the son of John and Elizabeth Miner. (He is not to be confused with his father's cousin, Simon Miner, of North Baltimore, Wood County, OH, or a more distant cousin Simon Henry Miner, of Kalamazoo, MI.)
On Dec. 2, 1891, when he was age 25, Simon married 19-year-old Della Sprague (June 26, 1871-1937), the daughter of Horace and Matilda (Abrams) Sprague of Bristolville, Trumbull County. Officiating was Rev. Louis Paine.
The Miners produced a family of 11 known children -- Bert Miner, Leroy Miner, Kenneth Miner Sr., Harold S. Miner, Clarence Dewey Miner, Henry S. Miner, Annabelle Neil, Hazel Marie Hayes, Betty Miner, Lena Bell Miner and Mary Ellen Miner.
Sadly, at least three of their children died in their youth -- Leroy, on Valentine's Day 1895, at the age of one; Lena Belle, on Dec. 2, 1909, of the croup at age three; and Mary Ellen Miner at birth in March 1914.
Simon initially toiled as a farmer.
When the federal census was taken in June 1900, Simon and Della and children Bert, Hazel and Clarence made their home in Niles, Trumbull County. Simon's employment was listed as "grouting."
The census of 1910 shows Simon, Della and their brood of six children residing in Niles, Trumbull County. That year, Simon was shown as "contractor for side walks" and son Bert working in a rolling mill as a laborer.

Obituary, 1942
In 1920, the census lists Simon and Della on Cedar Street in Niles, with his occupation marked as a "contractor - cement work."
A year later, in 1921, they "moved from Niles to Bristol Township and was a cement contractor before his retirement," said the Warren Tribune Chronicle. He "was a member of the Bristolville Methodist Church."
Della died on Aug. 7, 1937, at the age of 66.
Simon survived her by five years. He passed away at home in Spokane in 1942 at age 76, "after a year's illness," said a newspaper. The remains were buried next to his wife's at Union Cemetery in Niles. Son Kenneth was the informant on the death certificate.
In 1930, the Miners and their children were listed in the book, History of the Descendants of John Hottel, authored by Rev. W.D. Huddle and Lulu May Huddle (Strasburg, VA: Shenandoah Publishing House). A copy today is preserved in the Minerd.com Archives, and has been a valuable source of information for sorting who's who in this family.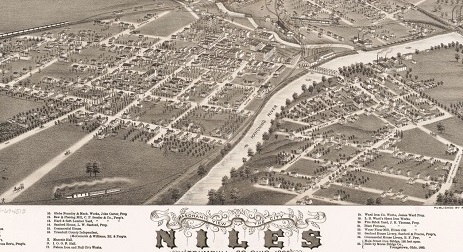 Niles, Ohio, 1882.
Library of Congress
~ Son Bert Miner ~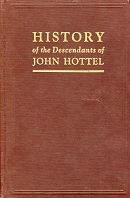 Book naming the Miners
Son Bert Miner (1892-1918) was born on Dec. 13, 1892 in Warren, OH.
He was employed in young manhood as a concrete contractor.
When Bert was 22 years of age, on Jan. 12, 1913, he entered into marriage with 18-year-old Elva Blanche McMullen (July 18, 1896- ? ). She was a native of Howland, OH and the daughter of Frank and Bessie Irene (Crum) McMullen. The nuptials were conducted by Rev. C.L. Warrick, pastor of the Methodist Episcopal Church in Mineral Ridge, OH.
Sadly, the Miners were only together for five years before death intervened.
During their brief life together, they had two sons -- Leroy Miner and Clarence Miner.
Bert labored as a "cement worker and contractor at Niles," said the 1930 book, History of the Descendants of John Hottel, authored by William David Huddle and Lulu May Harden Huddle.
Heartache rocked the family when son Leroy died at the age of 18 months on June 4, 1917, after he accidentally ingested strychnine pills.
The tragedy was compounded 17 months later when Bert died of influenza on Nov. 9, 1918, at the age of 26, just three days after his wife had given birth to their second child. He was laid to rest in Niles, Warren County.
Elva's fate is not yet known
Son Clarence Miner (1918- ? ) was born on Nov. 6, 1918 and was only three days old when his mother died.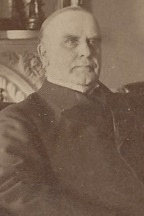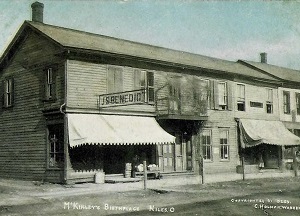 President William McKinley and his Niles birthplace, a local landmark
~ Daughter Hazel Marie (Miner) Hayes ~

Hazel Hayes

Daughter Hazel Marie Miner (1896-1960) was born on July 3, 1896 in Niles, OH.

She earned a living in young adulthood as a clerk in or near Niles.

On Oct. 30, 1918, the 22-year-old Hazel married 20-year-old machinist Jefferson "Bert" Hayes (March 29, 1898-1973). Bert, a native of New Waterford, was the son of Jefferson B. and Ella (Burt) Hayes. Their nuptials were by the hand of Rev. Wilford H. McLain of the Christian Church in Niles.

They resided in Warren and had two children -- Virginia Mae Hayes and Edward C. Hayes.

Hazel passed away in 1960, and is buried in Niles City Cemetery.

Bert outlived her by 13 years, and married again after a year as a widower to Marguerite Adelia Severine (1895-1980).

Bert died on Dec. 2, 1973 in Warren.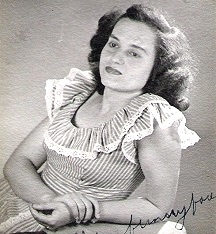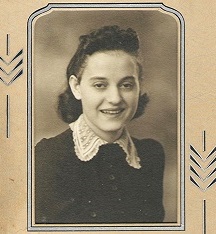 Virginia Mae (Hayes) Wheeland in young womanhood.
Courtesy Christine Phelps

Virginia Wheeland

Daughter Virginia "Mae" Hayes (1921-2002) was born on Nov. 12, 1921. On Aug. 30, 1944, she married Dennis Woodrow Wilson Wheeland (Nov. 5, 1916-2004), a native of Ohiowa, NE and the son of Dennis Edgar and Bessie Mae (Myers) Wheeland. Dennis was a veteran of the National Guard and then U.S. Army during World War II where he had attained the rank of sergeant. During the war, he served in the Asiatic Pacific Theatre and received two Bronze Stars and the American Defense Medal. The Wheelands lived in Warren and produced a family of four -- Sue Martinosky, Denise Andrews, Sharon Whaley and Robert K. Wheeland. Dennis made a living for a quarter century as a desk clerk at VanHuffel Tube Corporation. He held a membership in the United Steelworkers of America, the local posts of the American Legion and Veterans of Foreign Wars, and at one time served as president of Ben Hur Insurance Lodge. He liked to fish, especially on trips to Canada, and at one time was a stock car racer. Virginia loved music of all kinds. She also was talented in the kitchen and known for porcupine balls and cheese souffles. Their address was 405 Meadowbrook Avenue Southeast. Virginia passed away at the age of 80 on July 11, 2002.Her remains were placed into eternal repose in Niles Union Cemetery. Dennis outlived his bride by two years. As a patient in Forum Health Trumbull Memorial Hospital, he was carried away by death at the age of 87 on Sept. 7, 2004. His funeral service was held in the chapel of Niles City Cemetery.

Denise Wheeland and grandmother Hazel

Granddaughter Sue Wheeland married Robert Martinosky. Their home in 2004 was in Green Valley, AZ.
Granddaughter Denise Wheeland wed Terry Andrews. The pair dwelled in Rocky Mountain, VA in 2004.
Granddaughter Sharon Wheeland entered into marriage with Joseph Whaley. Circa 2004, they resided in Cortland, OH.
Grandson Robert K. Wheeland was joined in wedlock with Deborah. They have lived in Niles, OH.
Son Edward C. Hayes (1923-2004) was born on Aug. 4, 1923 in Niles. He was a 1942 graduate of Warren G. Harding High School. When he was 20 years of age, on Nov. 1, 1943, he was united in matrimony with Lois Volk (Aug. 7, 1923-2006). Their union endured the ups and downs of an extraordinary six decades. Two offspring born to the couple were Nancy Gary and David Hayes. During World War II, Edward was drafted into the U.S. Army in 1943 and went on to serve for three years with the 8th Armored Division, 88th Cavalry Reconnaissance Squadron. He served for part of that time in the European Theatre. The Hayeses later resided for years in Niles. Edward was employed for 43 years by Wean United and retired in 1985. He belonged to the Old Erie lodge of the Masons and was a member of the Veterans of Foreign Wars and Disabled American Veterans. Then in 1990, they relocated to Nottingham, Baltimore County, MD. Their final home was in Perry Hall, Baltimore County, MD. Edward was stricken at home with a heart attack at the age of 80 and died on June 17, 2004. Interment was in Crown Hill Mausoleum. Lois lived for another two years until the spirit of death whisked her away on Feb. 3, 2006.
Granddaughter Nancy Hayes wed Jeff Gary. Their one known daughter is Alexa Hayes Gary.
Grandson David Hayes married Judy. Together they bore a son, Matthew Hayes.
~ Son Clarence Dewey Miner ~
Son Clarence Dewey Miner (1898-1963) was born on May 5, 1898 in Niles, OH..
He worked as a contractor as a young man and lived in Niles.
On Oct. 30, 1922, he was united in the bonds of matrimony with 30-year-old waitress Marion Eva Frederick (1892-1942), the daughter of Adam and Martha A. (Barnes) Frederick of Chicora, PA. Leading the wedding was S.B. Salmon. Clarence was six years younger than Marion.
The pair did not reproduce. They resided in 1930 in Cleveland, where Clarence worked in maintenance at a steel mill. That same year, the couple provided a home for Clarence's younger bachelor brother, Kenneth..
Then by 1940, the Miners returned to Warren and shared a residence with Marion's widowed father. Clarence was employed in 1940 as a road project laborer.
Sadly, Marion contracted lung cancer, and died at the age of 50 on March 31, 1942. She was laid to rest in Braceville.
Clarence outlived his wife by more than four decades. He joined the U.S. Navy during World War II and was assigned to the Navy Construction Battalion, better known as the "Seabees."
After his military service ended, Clarence was employed for 18 years as a machine operator for Thomas Steel Corporation and retired from the company.
He wed again at the age of 47, on Sept. 15, 1945, to 45-year-old Justine Virginia Wilson (Dec. 25, 1899- ? ). She was the daughter of James and Elsie Wilson of Warren and a shoe clerk at the time of marriage. This was her third marriage. Officiating was Rev. John W. Burrows of Leavittsburg.
The Miners made their residence in Leavittsburg at 4446 West Market Road. They belonged to the Leavittsburg Community Church. The federal census enumeration of 1950 shows Clarence working as an operator at a fabricating mill.
Clarence suffered from heart problems for the last five years of his life. As the issues grew worse, he was admitted to the Crile Veterans Hospital. He passed away there at the age of 65 on Nov. 13, 1963. Interment of the remains was in Pine Knoll Cemetery in Lordstown, with Rev. Wallace Schnelling officiating.
~ Son Henry S. Miner ~
Son Henry S. Miner (1902-1980) was born on April 2, 1902 in Niles, Trumbull County, OH.
He generated income in the early 1920s as a contractor.
On Oct. 30, 1923, when he was age 21 and she 23, Henry wed factory worker Gertrude Hacker (1900-1976) of Youngstown, OH. She was the daughter of John and Emma (Wall) Harker/Hacker. Rev. H.W. Walker, pastor of the Lutheran Church in Gertrude's hometown, led the nuptials.
The Miners bore four children -- Caroline Louise Minehart Kalapos, Russel K. Miner, Barbara Rinda and Jean E. Kostur.
When the federal census enumeration was made in 1930, the Miners dwelled with Gertrude's parents in Youngstown. Henry's job at that time was as a cement contractor.
During the decade of the 1940s, they moved again within the county to Weathersfield. That year, Henry earned a living as a repairman for a pressed steel company.
The early 1960s found the family back in Mineral Ridge. In 1973, the pair celebrated their golden wedding anniversary.
Gertrude died at the age of 76 in August 1976.
Henry outlived her by four years, and passed away at age 78 in August 1980.
Daughter Caroline Louise Miner (1924-2002) was born on Aug. 7, 1924 in Niles. As a young woman she lived in Mineral Ridge and worked as a packer. She appears to have been twice-wed. Her first spouse was Joseph Edward Minehart (Nov. 6, 1924- ? ) of Youngstown, the son of J.J. and Getta M. (Brennan) Minehart. The pair tied the knot on Jan. 4, 1947, when both were age 22. The wedding ceremony was led by Rev. James W. Malone of St. Columba Cathedral in Youngstown. Joseph was employed as a shipper. These known children were born into the family -- Kathleen Ann Leskovac, Deborah Lynn Suarez and Cynthia Louise Majovsky Meckler. The family made its home in McDonald, Trumbull County. Sadly, Joseph was deceased by 1973. In time Caroline married (?) Kalapos ( ? - ? ). In 1986, she resided in Liberty Township, OH and in 2002 in McDonald, OH. She passed into the realm of eternity on May 18, 2002.
Granddaughter Kathleen Ann Minehart (1948- ? ) was born in 1948 in Youngstown. She lived at home at 819 Ohio Avenue in McDonald in the late 1960s. On June 21, 1969, when she was 21 years of age, and he 20, she entered into marriage with Daniel Leskovac ( ? - ? ), the son of Michael and Mildred (Vuletich) Leskovac, also of McDonald. Rev. Richard W. Hibbey of Niles officiated. Daniel was a serviceman with the U.S. Army at the time of marriage.
Granddaughter Deborah Lynn Minehart (1951- ? ) was born in 1951. She dwelled in McDonald, OH in 1973. When both were age 22, on Sept. 1, 1973, she was joined in wedlock with Canton student Louis Michael Suarez ( ? - ? ), son of Louis and Beulah (Wolfle) Suarez. The wedding was conducted by the hand of Rev. James F. Cook of Trinity Lutheran Church of Niles.
Granddaughter Cynthia Louise Minehart (1954- ? ) was born in 1954. At the age of 20, on Feb. 8, 1974, she married 19-year-old John Michael Majovsky (March 9, 1954-2022) of Girard, the son of John and Betty Jane (Macek) Majovsky. Rev. Fr. Vincent J. Lese, of St. Rose Catholic Church in Girard, officiated. John at the time of their marriage was employed by U.S. Steel as a mill worker. Two sons born to this couple were Craig Majovsky and John Majovsky. The Majovskys' marriage ended in divorce in 1984 in Trumbull County Court. Cynthia supported herself through work as a sales clerk. Then at the age of 39, on July 17, 1993, she wed again to 24-year-old service technician Cordell Allen Meckler (1968- ? ), son of Harold Ray and Joanne Marie (Mittal) Meckler. Conducting the wedding was Rev. R. Langley Collins in Niles. Former husband John married again on April 12, 1985 to Carol Grundy and lived in Mineral Ridge. He died on March 22, 2022 at the age of 68.

Great-grandson Craig Majovsky married Tabitha.

Great-grandson John Majovsky wed Jackie.
Son Russel K. Miner (1926-1986) was born on March 18, 1926 in Niles. He is known to have served in the U.S. Navy during World War II. On July 10, 1948, he entered into marriage with Norma Lucille Leonhart (July 21, 1928-2012), a native of Oceola, Crawford County, OH, and the daughter of Gerald and Maude (Mollinkopf) Leonhart. Norma was a 1946 graduate of Mineral Ridge High School. The couple resided in McDonald near Warren and together bore a brood of three -- Kenneth L. Miner, Patricia Stanton and Pamela Miner. For nearly a quarter of a century, Russel was employed by Copperweld Corporation in Warren as a crane operator. The family held a membership in the Woodland Park United Methodist Church. Russell also belonged to the Girard lodge of the Masons, Scottish Rite of Youngstown, Al Koran Shrine of Cleveland and Sunrise Chapter of the Order of Eastern Star. Their final address was at 245 Ohio Avenue, McDonald. After suffering a stroke, Russel died in Northside Medical Center in Youngstown at the age of 60 on Nov. 19, 1986. His obituary was printed in the Warren Tribune Chronicle. Burial was in Green Haven Memorial Gardens in Canfield. Norma survived her husband by more than 25 years and relocated to Mineral Ridge, Trumbull County. The angel of death spirited her away at age 83 on Feb. 24, 2012.
Grandson Kenneth L. Miner ( ? - ? ) wed Gloria. They resided in McDonald, OH in 1986-2012.
Granddaughter Patricia Lynn Miner (1951-2020) was born on July 1, 1951 in Youngstown. She was a 1969 alumna of McDonald High School. On Oct. 19, 1974, when she was 23 years of age, Patricia married Robert Stanton (May 23, 1954-2015), son of Harry and Bonnie (Parke) Stanton of Warren. Their marriage endured the ups and downs of more than 40 years. Two children born to this union were Beth Kinser and Brian Stanton. Robert was a graduate of Niles McKinley High School. He was self-employed over the years in the oil and gas field. For more than three decades, she earned a living at Tri-State Measurement as an account representative. In her free time Patricia liked to go gambling, camp,, travel to Myrtle Beach and read. Robert was a Harley Davidson motorcycle enthusiast and enjoyed fishing at Lake Erie. The family was in Niles, OH in the mid-1980s and in Brookfield, OH in 2012-2020. They belonged to Girard United Methodist Church. Sadly, Robert died in Cleveland's University Hospital on Oct. 10, 2015. The Youngstown Vindicator printed an obituary. Patricia endured as a widow for nearly five more years. As a patient at Continuing Healthcare at the Ridge, she died at the age of 69 on Aug. 25, 2020. Interment of the remains was in Green Haven Memorial Gardens, Canfield.

Granddaughter Beth Stanton wed Donald Kinser. They have lived at Mineral Ridge and are the parents of Madeline Kinser.
Granddaughter Pamela Lou Miner (1960-2020) was born on Nov. 28, 1960 in Youngstown. She was a 1980 graduate of McDonald High School. She never married and dwelled with her parents over the years in McDonald. Pamela held a membership in the Girard First United Methodist Church, where she taught Sunday School and Bible studies, volunteered with the K'Motion youth program and attended the Lydia Circle. She rooted for the Cleveland Indians baseball team and liked to listen to music and bowl. She surrendered to death at age 59 on Sept. 24, 2020. The remains were lowered into eternal repose in Greenhaven Cemetery.
Daughter Jean Miner (1931-2010) was born on Jan. 4, 1931 in Youngstown. She was joined in wedlock with Korean War veteran George W. Kostur (April 30, 1932-2011), a native of Hubbard and the son of Wasyl and Elizabeth (Hamash) Kostur. They stayed together for a remarkable 58 years. The four children born to the pair were Linda Aubel, René Morrison, Diane Bartha and David William Kostur. Grief descended on the family when son David died in infancy. George was employed for 38 years as an electrician with Copperweld Steel in Warren. He also was on the board of directors of the company's credit union and its supervisory and credit committees. He held a term as president of the High Twelve Club and belonged to the Masons, Scottish Rite and Knights Templar. George also held a license as a private aircraft pilot. Jean made her residence in Liberty Township circa 1986. They both were charter members of Christ the King Lutheran Church in Liberty Township, with George superintending and teaching Sunday School. Together they held a membership in Grace Lutheran Church in Hubbard, where George was an usher, member of the worship committee and men's club treasurer. In the community, she supported Meals on Wheels. Sadly, she was gathered away by the angel of death on Dec. 19, 2010. Funeral services were held at the family church, and burial followed in Green Haven Memorial Gardens. George only survived his bride by a year and relocated to Wendell, NC. Death claimed him on Oct. 2, 2011. His remains were returned to Canfield to join Jean's in eternal sleep.
Granddaughter Linda Kostur wed (?) Aubel. Her home in 2010-2011 was in Wendell, NC.
Granddaughter René Kostur married Robert Morrison. They moved to Cary, NC.
Granddaughter Diane Kostur was joined in marriage with William Bartha. They put down roots in Youngstown, OH.
Daughter Barbara Miner (1933- ? ) was born in about 1933. She was united in matrimony with (?) Rinda ( ? - ? ). Her residence in 2010 was in McDonald, OH.
~ Daughter Annabelle Helen (Miner) Neil ~
Daughter Annabelle Helen Miner (1904- ? ) was born in 1904.
She wedded Harry Neil (1903-1966).
Circa 1963, the Neils resided in Bristolville, Trumbull County.
Harry died in October 1966 at the age of 63.
~ Son Kenneth Bert Miner Sr. ~
Son Kenneth Bert Miner Sr. (1909-1986) was born on Jan. 6, 1909 in Niles, OH.
He dwelled in Spokane, OH as a young man and made a living as a laborer.
At the age of 21, in 1930, he lived in the home of his married brother Clarence in Cleveland and earned a living as an ironworker in the building trades.
Kenneth was twice-wed. He and his first bride divorced.
Then when he was 26 years of age, on May 29, 1935, he was joined in wedlock with 19-year-old Virginia Bertuzzi (June 28, 1916-1996). She was the daughter of Alex and Effie Bertuzzi and, at the time of marriage, worked for Sunlight Electric Company. in Trumbull County. Frank W. Stanton of Warren officiated.
They lived in Warren and together produced three sons -- Dr. Edward Curtiss Miner, Donald Frank Miner and Kenneth Bert Miner Jr.
Kenneth Sr. died at age 77 on Sept. 30, 1986. He was laid to rest in All Souls Cemetery, Cortland.
The widowed Virginia survived for another decade. She succumbed to the spectre of death at age 80 on Aug. 26, 1996.
Son Edward Curtiss Miner, PhD (1939-2018) was born on Aug. 13, 1939 in Warren, OH. He was an alumnus of the machine technology program of Warren G. Harding High School. He then went on to receive a bachelor of science degree in philosophy and religion from Youngstown State University, a master of arts degree from Kent State University and his doctorate from Akron University. Edward entered into marriage with Betty Lou ( ? - ? ). Their union endured for a remarkable 59˝ years. A pair of children born to the couple were Edward C. Miner Jr. and Deborah Browning. Edward is known to have been a member of the Army Reserves for four years in Lockbourne, OH. In 1983, he was named to the faculty of Shawnee State University and until retirement in 2005 served as Social Sciences Department chair and core coordinator, serving on search committees for the positions of president and provost. He also held a seat as president of the Shawnee Education Association for a decade, and during that time negotiated four important contracts on behalf of the faculty. He taught 22-plus courses in business, psychology and sociology and wrote related programs in these fields. At one time he was an adjunct professor at Ohio University and Youngstown State University. Among his professional accomplishments were a presidential appointment to the Athletics Committee of the National Association of Intrcollegiate Athletics, awards from the Ohio Education Association, the Southern Ohio-Northern Kentucky Labor-Management Board's Ambassador of Labor Award, the Warren G Harding Academic Hall of Fame and in Who's Who Among America's Teachers. He also was employed at times over the years by the YMCA, Ohio Edison, Republic Steel, Mullins Manufacturing, Atlantic & Pacific Tea Company and Isaly Dairy. In the community, he sat on the boards of directors of Goodwill in Portsmouth and the YMCA. The Miners resided in a number of places over the years, including at Circleville, OH. In retirement, Edward liked to fish, golf, hunt, play basketball and racquetball, read and write. Said the Circleville Herald, "He was known for taking a 'stand' for what he believed. He liked helping others, had a great wit and loved to laugh. Conversations with him included a magical mixture of orneriness, wit, seriousness, wisdom and esoteric references to popular culture." Circa 2012, he and Betty Lou shared time between homes in Trenton, MI and Naples, FL.Edward's final years were spent battling heart and lung disease. He died on Oct. 2, 2018. His memorial service was held in the Presbyterian Church in Circleville. A memorial scholarship was set up in his name, through the Warren City Schools Foundation, to be "awarded to students graduating from Warren City School District with preference given to those attending a public higher education institution."
Grandson Edward C. Miner Jr. was joined in matrimony with Doreen.
Granddaughter Deborah Miner was united in wedlock with Timothy Browning.
Son Donald Frank Miner ( ? - ? ) was in Naples, FL in 2012.
Son Kenneth Bert "Bud" Miner Jr. (1942-2012) was born in about 1942 in Warren. He was a U.S. Army veteran. Kenneth was married and the father of two -- Todd L Miner and Raymond J. Miner. He was employed as a compounding technician by 3M. As time allowed he liked to fish and golf. At some point he resided in Evergreen Park, IL and then in 2002 moved to The Villages, FL. He died at the age of 70 on Nov. 17, 2012. His survivors included four grandchildren. In an obituary, the family asked that any memorial donations be made to the American Cancer Society.
Grandson Todd L Miner established a residence in New Lenox, IL.
Grandson Raymond J. Miner has dwelled in Monroe, GA.
~ Son Harold S. Miner ~
Son Harold S. Miner (1911-1966) was born on Feb. 20, 1911 in Niles, OH.
Harold stood 5 feet, 10 inches tall and weighed about 160 lbs.
In 1934, when he would have been age 23, he married Laura "Hazle" Hopkins (Feb. 8, 1914-2003), a native of Ashtabula, OH. Their wedding was held in Brooke County, WV.
The pair did not reproduce.
During the years 1935-1940, the couple shared a home in Bristol, OH with Harold's widowed father.
They also made their home in Spokane, Trumbull County in 1940 -- Masury, Trumbull County in 1950 -- and in nearby Bristolville in the early 1960s.
Harold's occupation in 1940 was with Youngstown Pressed Steel and in 1950 as as a steelworker with a kitchen sink manufacturer, perhaps the same company.
He died in Cleveland on July 15, 1966 at the age of 56. The remains were lowered under the sod of Green Haven Memorial Gardens in Canfield.
The widowed Hazle married again to (?) Irwin. Her final residence was in North Bloomfield, Trumbull County.
She passed away at the age of 89 on May 18, 2003.
Copyright © 2003-2005, 2007-2010, 2020 Mark A. Miner