Alfred Mason Minerd Sr.
(1885-1976)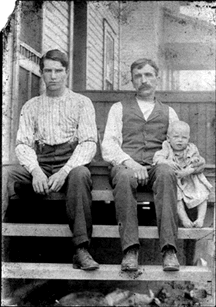 Alfred at left with his father and nephew Charles Madison, 1905
Alfred Mason Minerd Sr. was born on July 15, 1885 in Dunbar, Fayette County, PA, the son of Charles A. and Sarah (Kincell) Minerd.
He worked as a common laborer and coal miner in and around Dunbar.
His first wife was Alice Mae Alderson (1894-1941), who was about age 16 at the time of marriage in 1910. She was born in Pennsylvania, the daughter of Thomas and Frances (Rowe) Alderson of England.
The Minerds resided in Dunbar and together produced a son, Alfred Mason Minerd Jr., who passed away in infancy in 1909. They apparently also bore three other children who died young and are buried together in the family plot at Hill Grove Cemetery in Connellsville, PA -- Charles A. Minerd (1911), Thomas A. Minerd (1913) and Jean W. Minerd (Jan. 7, 1917, stillborn who was five months premature).
In May 1917, with an investment of $5,000, Alfred and his friends John and Edna (Byrne) Duggan Jr. incorporated a new company, Morrell-Connellsville Coal Company. The move generated a news story in the Connellsville Courier newspaper
That year, the Minerds moved to West Virginia, settling in the town of Buckhannon, Upshur County, where the firm likely was to operate. Alfred's father and nephew resided there as well. Alfred and Alice made their home on Depot Street.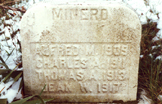 Children's graves,
Hill Grove Cemetery
Alfred registered for the World War I military draft in 1918, and stated his occupation as superintendent of the CL & M Coal Company.
When the federal census was taken in 1930, Alfred and his father made their home together in Dunbar Township. Alfred's occupation was listed as foreman in the local coal mine, while his 74-year-old father's was shown as "none."
Tragically, at the age of 47, Alice suffered from a brain tumor, and died from its effects on June 15, 1941, "after a several months' illness," said the Buckhannon Record. "She and her husband have lived in Buckhannon for the last 24 years." Her remains were returned for burial to Connellsville, where she was laid to rest near their children in the Hill Grove Cemetery.
Later, Alfred married widow Murrell (Goff) Ruggles (1898-1978), and became the stepfather of Louise (Ruggles) Breakiron and Jack Ruggles. At some point they moved to Tunnelton, Preston County, WV. They were members of the Tunnelton Methodist Church, and Murrell also was a member of Pride of Preston Lodge #38 of the Daughters of America.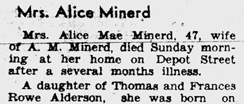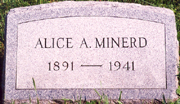 Alice's Buckhannon Record obituary and grave marker
At some point, the Minerds moved to Florida, possibly for the winter seasons. In 1962, when sister Winifred Downs died in Clarksburg, WV, Alfred and Murrell were residing in Lake Worth, FL.
Alfred returned to West Virginia. He died there at age 90 in the Grafton City Hospital on June 9, 1986, and was buried in Preston Memorial Gardens.
The following year, Murrell moved to Hyattsville, MD, to reside with her daughter Louise. On New Year's Day, 1978, she died in the Lelan Memorial Hospital in Riverdale, MD. She was buried beside Alfred in Preston County, WV.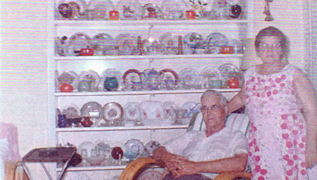 Alfred and Murrell at home, circa 1962
Copyright © 2000, 2003, 2006, 2008, 2010, 2013, 2021 Mark A. Miner