Bessie Ray (Minerd) Lemon
(1888-1966)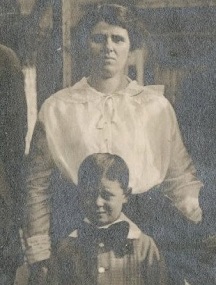 Bess Lemon and son Boydell, 1915
Bessie Ray (Minerd) Lemon was born in 1888 at Dunbar, Fayette County, PA, the daughter of Rev. David E. and Catherine (Williams) Minerd. She was an active public official of Youngwood, Westmoreland County, PA.
On Jan. 30, 1907, at the age of 18, Bess married 31-year-old railroad engineer Edward J. Lemon (1875-1937), son of Estep and Sarah Catherine (Long) Lemon of Youngwood. There was a 13-year age difference between the bride and groom, and Bessie's father had to sign his consent to the union. Rev. Francis W. Perkins performed the ceremony in Dunbar.
The Lemons produced one son, Harold Boydell "Skip" Lemon, born in 1910.
At some point, the Lemons moved to Westmoreland County, PA.
Edward was a longtime employee of the Pennsylvania Railroad, based at Youngwood, and a member of the Brotherhood of Locomotive Engineers, an early union-type organization. (Other cousins known to have been employed at Youngwood by the Pennsy were George B. Miner and Warren W. Miner.)
The Lemons made their home in Hempfield Township, Westmoreland County, in 1910, at the time they were enumerated for the federal census. He was marked as an engineer for a locomotive company.
During the decade of the 1910s, the Lemons relocated into the town of Youngwood and established a home at 23 Third Street. The federal census of 1920 shows the family living as next door neighbors to Bessie's sister and brother in law, Edna and Johnston Wagner. Edward's employment was marked again as a railroad engineer, while brother in law Johnston Wagner worked as a passenger agent for the railroad.

The Pennsylvania Railroad Yards at Youngwood

Bess in older years
The United States Census of 1930 shows Bess and Edward living next to her married sister Mary Belle Riley and family in Youngwood.
On Nov. 4, 1937, while in Juniata near Altoona, Blair County, PA, the 61-year-old Edward suffered a massive heart attack and passed away suddenly. A newspaper in Uniontown, PA reported that he died when"stricken ... after he had finished his run to Altoona and had eaten dinner." At the time, he had worked for the Pennsy for 38 years. He was laid to rest at Hill Grove Cemetery in Connellsville, Fayette County.
Bess survived her spouse by almost 30 years. Circa 1940, census records again show her residing next to the Rileys on Third Street and supporting herself through her work as a foreman "G.B." -- employed by the Works Progress Administration (WPA). The WPA is widely considered one of President Franklin Delano Roosevelt's largest and most ambitious undertakings of his "New Deal" to get the nation back on sound economic footing. Over the years, the WPA hired millions of out-of-work individuals to build public works projects, such as roads, bridges, retaining walls and buildings. Many of these structures still exist today and continue to benefit society.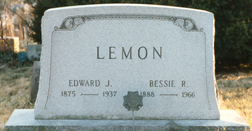 Hill Grove Cemetery, Connellsville
She was a postmistress of the town of Youngwood for more than a decade, from 1942 to 1953, one of the few in the extended Minerd-Minard-Miner-Minor family to hold this type of position prior to World War II..
Bess also was an investigator for the Westmoreland County Institution District, and a member of the Civil Defense Class during World War II. She is pictured twice in the book, Our Town in Picture and Story: Youngwood, Pennsylvania 1899-1974.
Bess was a member of the First Evangelical United Brethren Church of Youngwood, its Royal Circle Class and Woman's Society of Christian Service. She also belonged to the Dames of Malta, the Ladies Auxiliary to the Veterans of Foreign Wars and the Ladies Auxiliary to the Brotherhood of Locomotive Engineers.

Daily Courier, 1966
After nearly three decades as a widow, Bess passed away on Jan. 31, 1966, at the age of 77. Funeral services were held at the Evangelical and United Brethren Church of Youngwood, with Rev. John F. Springer officiating. Pallbearers included Keith Baird, George Orbin, Leslie Foreman, Charles Helman, Mark Ciganovic and Claude DiPasquale. She is buried with her husband at Hill Grove Cemetery, Connellsville.
~ Son Harold Boydell "Skip" Lemon ~
Son Harold Boydell "Boyd" (or "Skip") Lemon (1910-1982) was born on Feb. 8, 1910 at Hunker, Westmoreland County.
He is pictured in Our Town in Picture and Story and Way Back When: Youngwood, The Railroad Town, as a member of the Youngwood High School football team.
Boyd was married twice. The identity of the first bride is not known, but ended in divorce.
In 1937, his home was in Uniontown, where Boyd is believed to have been employed by West Penn Power Company. On July 22, 1938, while working on a West Penn powerline near Potter's Mill, Ohiopyle, Fayette County, Boyd made "a daring rescue" when his co-worker Miles B. Addleman received a massive shock from the 1,600 volt line. Reported the Connellsville Daily Courier, Boyd "heard a moan and looked up to see him lying across the pole unconscious. Quickly scaling the Pole, Lemon succeededin removing the victim from the wires without himself being electrocuted and brought Addleman to the ground." Fortunately, the man survived.
At the age of 32, on or about May 6, 1942, Boyd married 30-year-old Dorothy Jane (O'Neal) Burchinal (May 23, 1912-1981), also divorced and the daughter of Charles W. and Bertha (Snead) O'Neal. They obtained their marriage license across the state line in Monongalia County, WV. For reasons not known, Boyd stated his age as 40 in the document.
By 1966, the Lemons had relocated to Crestline, Crawford County, OH.
On Dec. 4, 1981, Dorothy died at the age of 69.
Boyd outlived his wife by about a year. He passed away at the age of 72 on Oct. 24, 1982. Funeral services were held at the James D. Barnett Funeral Home in Uniontown, formerly the Minerd Funeral Home founded by Boyd's uncle, Edward Eugene Minerd. Interment was beside his wife in Hill Grove Cemetery.
Copyright © 2000-2002, 2005, 2009, 2017, 2019 Mark A. Miner