Warren Winslow Miner
(1870-1951)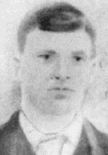 Warren W. Miner
Warren Winslow Miner was born on Aug. 30, 1870 in Normalville, Fayette County, PA, the eldest son of Martin and Amanda (Williams) Miner.
Warren married Mary M. Dannecker ( ? - ? ), daughter of John and Anna Dannecker of Everson.
They produced three children – Wilbur Karl Miner, Nelle G. Miner and John E. Miner. Sadly, Wilbur died as a baby in 1899.
Warren spent many years working as a brakeman on the railroad. Said his obituary in the Connellsville Daily Courier, "He went to Everson [PA] as a young man to work with the Pennsylvania Railroad Company. He retired [in 1934]." He belonged to an early union known as the Brotherhood of Railroad Trainmen.
Despite working for a prestigious large company that was integral to the economy, the work was not steady. The May 4, 1894 Courier said Warren was at home in Normalville, having been "laid off on account of the strike."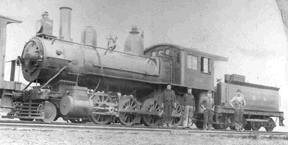 Warren and fellow trainmen at Everson
Warren ultimately went back to work, and is seen here standing in front of one of the Pennsy locomotives.
Warren and his brother George are mentioned in the book, Way Back When – Youngwood, the Railroad Town, on a 1901 list of Railroad Trainmen members who had paid their dues. (Others cousins who ere employed at Youngwood by the Pennsy was Edward J. Lemon, husband of Bess Minerd; John Scott Riley, husband of Mary Belle Riley; Ernest Earl Minerd; and Arnold A. Overholt.)
The Miners purchased a home in Everson in 1907. They were members of the Everson Evangelical United Brethren Church, where he was active in the men's Bible class.
They later purchased a six-room frame dwelling in Pennsville. Heartache rocked the family twice in January 1942. They first received news that Mary's cousin, John Henry Swink, had been killed in an automobile accident. Then, while attending the funeral in Swink's home, fire broke out in their empty house in Pennsville, destroying the building and rendering them "homeless," said the Connellsville Daily Courier.
Warren suffered from hardening of the arteries and was felled by a stroke at the age of 80 on Feb. 1, 1951.
Mary outlived him by eight years, and passed away in 1959. They are buried in the Scottdale Cemetery in a plot with all three of their children.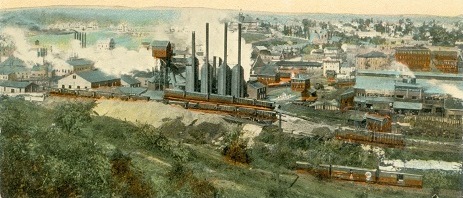 Industrial Scottdale
~ Son John E. Miner ~
Son John E. Miner ( ? - ? )
He was a draftsman at the Scottdale Machine and Foundry Company in Everson. He never married.
~ Daughter Nelle Miner ~
Daughter Nelle Miner ( ? - ? ) never married.
She was a secretary for the Weisel Ford Garage for many years.
Copyright © 2000, 2006, 2012 Mark A. Miner