George B. Miner
(1871-1964)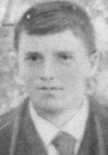 George B. Miner
George B. Miner was born the day after Christmas (Dec. 26), 1871 at Normalville, Fayette County, PA, the son of Martin and Amanda (Williams) Miner. He was a longtime railroad man.
As a young adult, George secured employment with the Pennsylvania Railroad, a major employer in the booming era of coal, coke and steel in the greater Pittsburgh area.
On the Fourth of July 1900, at age 29, George married 20-year-old Mary Ann "Annie" McLuckie (June 27, 1880-1964) of Smithton, Westmoreland County, PA. She was the daughter of Walter and Mary A. (Reese) McLuckie.
(Interestingly, Annie's nephew, Charles Edward McCluckey [variant spelling] was married to George'd distant cousin, Margaret Mills.)
The Miners produced two sons – Clyde W. Miner and Lester G. Miner.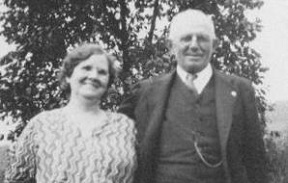 Mary Ann and George
George and Annie initially made a home in Everson. Then in July 1908, he was transferred to Youngwood, Westmoreland County. Some 30 family and friends gathered for a farewell party at their home, reported the Connellsville Daily Courier, "and was a complete surprise... At a late hour a delightful repast was served. Each guest was presented with a dainty souvenir."
In the hot muggy days of the summers, George and Annie often brought their sons back to the old family homeplace at Normalville to spend a week of vacation with his parents.
The Miners later resided for many years in their home on 7 South Sixth Street in Youngwood, Westmoreland County.
He may be the same "George Miner" who was injured in July 1913 when a Pennsy train carrying a load of coke wrecked near the Connellsville passenger station. Although a conductor at the time, he was riding in the caboose. Reported the Daily Courier:
The train was northbound. When it reached Connellsville, Engineer Woody was hauling 33 loads, and was making fair time. Conductor Miner sent a hurry up call to Youngwood, and at 4.15 A.M. the wrecking train was on the scene. They had the track cleared shortly after 6 o'clock, and passenger train No. 101 from Uniontown to Pittsburg was able to go through on schedule time. The most damage that occurred was to the ties and track. It was necessary to replace one of the switches with straight rails as a temporary expedient and to renew several of the ties. It is expeced that all of the damaged ties will be replaced before nightfall.

Pennsylvania Railroad Yards at Youngwood, ca. 1914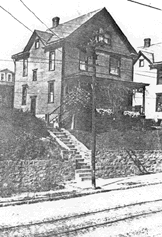 The Miner home,
Youngwood
George was a longtime laborer with the Pennsy, working as a flagman. He belonged to an early workers' union known as the Brotherhood of Railroad Trainmen.
George's brother Warren also was employed by the Pennsy, and they may have labored together for a period of time. Both men are mentioned in the book, Way Back When – Youngwood, the Railroad Town, on a 1901 list of Brotherhood of Railroad Trainmen members who had paid their dues. (Another cousin employed by the Pennsy at Youngwood was Edward J. Lemon, husband of Bess Minerd.)
The Miners were members of St. Paul's Methodist Church of Youngwood. Annie was a member of the church's Young Ladies' Missionary Society and is known to have directed a missionary play in February 1927 entitled Not of This Fold.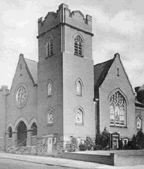 St. Paul's Methodist Church
George and Annie attended a McLuckie family reunion in the mid-1930s in Star Junction, Fayette County. They are said to have been a "fun couple" and the smiles on their faces certainly suggests this was true.
For the last 20 years of his life, George was burdened with hardening of the arteries. On July 31, 1964, at the age of 92, he suffered a heart attack and died instantly.
Annie only lived for less than four months. Stricken with heart disease and bronchial pneumonia, she was admitted to Westmoreland Hospital. She passed away there on Nov. 21, 1964. They are buried together in the Youngwood Cemetery.
~ Son Clyde W. Miner ~
Son Clyde W. Miner (1901-1980) was born on July 26, 1901 in Everson, PA.
He married Maude Diehl (1906-1983).
They bore an only son, Robert G. Miner Sr.
The couple moved circa 1933 to Monessen, Westmoreland County. Their address was 1017 Graham Avenue.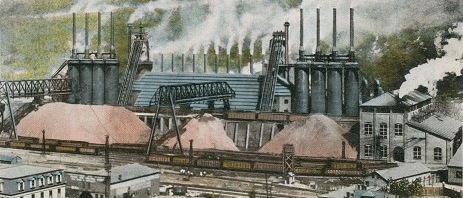 Wheeling Pittsburgh's Monessen Plant
Clyde was a longtime pipefitter employed by Wheeling-Pittsburgh Steel Corporation's Monessen Plant and is shown in this role when counted on the 1940 federal census. He was a member of the Mon Valley Association of Retired Steelworkers.
Maude worked for many years in the central supply department of Charleroi-Monessen Hospital. She belonged to the United Methodist Church of Monessen and the Golden Lodge of Youngwood.
The final years for the couple were difficult emotionally. They lost their 19-year-old grandson Timothy in 1978 followed several months later by son Robert in 1979.
After enduring a long illness, Clyde died at the age of 79 on Nov. 3, 1980 as a patient in Jefferson Center, South Hills Health System. Burial was in Monessen's Grandview Cemetery. An obituary was printed in the Valley Independent.
Maude survived for three more years and shared her residence with her widowed daughter-in-law. She passed away at age 78 on May 1, 1983. The Independent published her obituary.
Son Robert G. Miner Sr. (1926-1979) was born in about 1926 and grew up in Monessen, Westmoreland County. On June 26, 1954, when he would have been 28 years of age, Robert was joined in holy matrimony with Virginia Roethlein (Sept. 27, 1929-2003), daughter of Emil and Coletta (Hunkele) Rothlein of Spring Garden Avenue in Pittsburgh. Their nuptials were held at the Most Holy Name Church. Their two known sons were Robert G. Miner Jr. and Timothy Anton Miner. The Miners lived in Monessen at 1061 Graham Avenue and were memers of Our Lord Roman Catholic Church. Virginia helped generate income as a food service worker for Nutrition Inc. Sadness covered the family when son Timothy, age 19, died on Dec. 17, 1978, and then again when Robert Sr. died at the age of 53 on May 7, 1979. Mass of Christian burial were held for both at St. Leonard's Roman Catholic Church, with interment of the remains in Grandview Cemetery in Monessen. Respective death notices were printed in the Pittsburgh Press. Virginia outlived her spouse as a widow for 24 years. She passed into eternity at the age of 73 on May 16, 2003.

Clyde and Lester (right)
~ Son Lester G. Miner ~
Son Lester G. Miner (1911-1978) was born on June 15, 1911 in Youngwood, Westmoreland County.
As an adolescent, Lester enjoyed visits with his widowed grandmother Amanda Miner and is known to have written her letters. In one, likely in the early 1920s, he said:
Mom has the rheumatism. She can hardly walk. Is Nettie's school out yet? I got out last week. i am going into Clydes to-day and am coming back Wednesday. Clydes' are coming home Friday nite. Bobby will not call Mom Grandma since you were here. he says Grandma went in the car. He calls Mom, Ma. Do you have a girl? We would like to come up to see you but its too hard for us to get there. Are you having turkey for Xmas? We are having chicken. Pop is working every day. We haven't seen Warrens' for 2 mos. Well I will close. Take good care of yourself this winter. Wishing you all a Merry X'mas and a Happy New Year.
He married Catherine Drake (March 1, 1914-2006), daughter of William and Amy (Showalter) Drake of Youngwood.
The couple bore four children -- Edward C. Miner, Barbara Ann Tutich, Vicki Ciavarra and James D. "Alkie" Miner.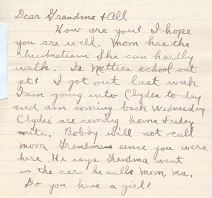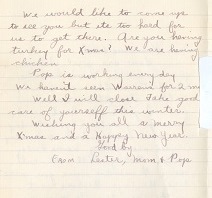 Lester's letter to his grandmother Amanda Miner, early 1920s
The family resided in the former home of Lester's parents at 7 South Sixth Street in Youngwood. Lester worked at Robertshaw Controls in Youngwood. He belonged to the American Federation of Musicians, Greensburg chapter.
Catherine was a member of St. Paul United Methodist Church in Youngwood.
Sadly, as a patient in Westmoreland Hospital in Greensburg, the 66-year-old Lester was gathered away by the Angel of Death on May 18, 1978. The Greensburg Tribune-Review published an obituary.
Catherine survived her husband by 28 years. She passed away on Aug. 10, 2006, and was laid to rest in the Westmoreland County Memorial Park. Rev. David Jack officiated at the funeral service.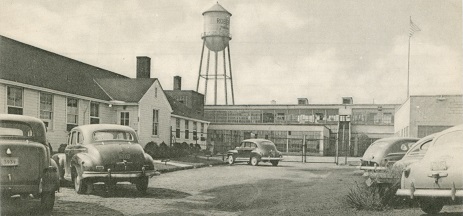 Robertshaw Controls in Youngwood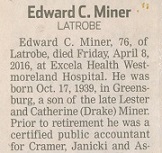 Tribune-Review
Son Edward C. Miner, CPA (1939-2016) was born on Oct. 17, 1939 in Greensburg. He may have been married twice. His first spouse was ( ? - ? ). They bore two known sons, Mark Miner and Kevin Miner. They resided in Latrobe, Westmoreland County. Edward received his license as a certified public accountant. He practiced with the firm of Cramer, Janicki & Associates of Greensburg prior to retirement. Evidence suggests that Edward's second bride was Laura J. Marchetti ( ? - ? ). She brought five children into the marriage -- Nathaniel Marchetti, Lisa Marchetti, Nicholas Marchetti, Joseph Marchetti and Kathleen Marchetti. At the age of 76, he died in Excela Health Westmoreland Hospital on April 8, 2016. Rev. David Clement preached the funeral sermon, and interment was in St. Clair Cemetery. In an obituary in the Greensburg Tribune-Review, the family asked that any memorial donations please be made to the Westmoreland County Food Bank or the Westmoreland County Blind Association.
Daughter Barbara Ann Miner ( ? - ? ) was born in (?). In about 1966, she wedded Dominick "Bugger" Tutich (May 3, 1943-2015), the son of Ignats and Flora Fredo Tutich of Forbes Road. Their marriage endured for 49 years until cleaved apart by death. They lived in Greensburg, Westmoreland County, where Dominick earned a living as a self-employed contractor. They were the parents of Douglas Tutich. Grief blanketed the family when Dominick died at home on July 14, 2015 with assistance from Excela Hospice. Interment was in Westmoreland County Memorial Park. His obituary appeared in the Greensburg Tribune-Review.
Daughter Vicki Miner ( ? - ? ) was joined in wedlock with Larry J. Ciavarra ( ? - ? ), son of John L. and Frances C. (Collincini) Ciavarra. They dwell in Greensburg and have two chldren, John Ciavarra and Jaime Ciavarra.
Son James "Alkie" Miner ( ? - ? ) makes a home in Youngwood and has been employed at the local Veterans of Foreign Wars.
Copyright © 2000, 2002-2003, 2006, 2020 Mark A. Miner
Karen Michelotti graciously provided details for the McLuckie genealogy.