Calvin Elwood Minerd
(1880-1950)

Calvin Minerd Jr.

Calvin Elwood Minerd was born on Feb. 13, 1880 in Pleasant Valley, Bullskin Township, near Connellsville, PA, the son of Calvin and Mary (Means) Minerd Sr.
Neither he nor his brother Larmer Arthur Minerd ever married, but both were lifelong farmers in the community.
Calvin registered for the World War I military draft in 1918, and stated his occupation as a farmer working on his own farm.
He and brother Larmer made a home with their parents as shown in the 1920 federal census enumeration.

Daily Courier, 1929

Though low-keyed, Calvin made news in 1929 when he defended his niece Bertha against an assault by two attackers, injuring one and driving both away. Reported a local newspaper:

Minerd and his niece went to the barn to feed stock about 7 o'clock in the evening. As they stepped into the building the two men, hidden there, attacked them with blackjacks. The girl was rendered unconscious with blows on the head, but the farmer grasped a pitchfork and ran the prongs into the neck of one assailant. The men ran. Police are holding a suspect. Miss Minerd has not been able to make a positive identification.

When the federal census was taken in 1930, Larmer and Calvin and their widowed mother made their home together in Bullskin Township. Living under their roof that year were their widowed aunt, Mariah (Minerd) Whetzel, and 17-year-old niece, Bertha Minerd. Just a few doors away were cousin Hershell Minerd and his mother, Anna (Kissinger) Minerd Collins.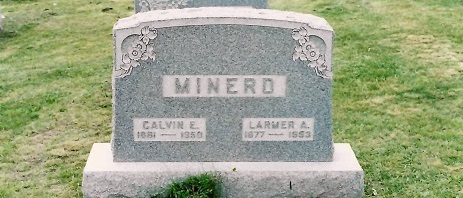 The brothers' grave at Mount Olive
The 1940 United States Census shows Calvin and Larmer (spelled "Weimer") residing together in Bullskin, with 52-year-old servant Clara Snyder in the home.
Suffering from hardening of the arteries and senility, Calvin died at the age of 68 on Jan. 11, 1950, at the Frick Memorial Hospital in nearby Mount Pleasant, Westmoreland County. He was buried with his brother, and near their parents, at the Mount Olive Evangelical United Brethren Church.


Copyright © 2001-2003, 2006, 2008, 2022 Mark A. Miner