Calvin Minerd Sr.
(1851-1927)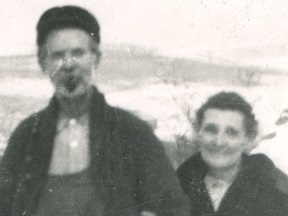 Calvin and Mary Minerd

Calvin Minerd Sr. was born on Jan. 2, 1851 at Wharton Furnace, Fayette County, PA, the son of James and Sarah (Walters) Minerd Sr.
He was a longtime farmer of Bullskin Township near Connellsville, Fayette County.
As a boy, Calvin helped his father and brothers drive six-mule teams hauling pig iron from Wharton Furnace to the river town of Brownsville, PA, where the iron was shipped (presumably) to Pittsburgh's steel mills.
When the Civil War broke out, Calvin wanted to enlist with his brothers James Jr., William and Isaac, but was underage. A grandson later quipped that Calvin "was too young and too short" to go into the army.
In 1873, when Calvin was age 22, he was united in the bonds of holy matrimony with 19-year-old Mary Means (Sept. 25, 1852-1931), the daughter of Rev. James H. and Sophia (Murphy/Schaffer) Means.
Together, the couple produced a family of five children -- Walter Edgar Minerd, twins Larmer Arthur Minerd and Gertrude Sophia Ullery, Calvin Minerd Jr. and Lawrence Earl Minerd.
As part of a very large extended family, the Minerd children are known to have enjoyed visiting their cousins, Tamzon (Inks) Grimm and Marinda (Rankin) King.
For many years, they resided on a 50-acre farm in the Narrows section of Richhill, north of Connellsville, Fayette County. Calvin made a living on the farm clearing timber and quarrying stone. Their home farm area was famed as the site of a historic French and Indian War camp during General Braddock's march toward Pittsburgh in 1755, where English military forces cut a passage through the high bluff known as the Narrows.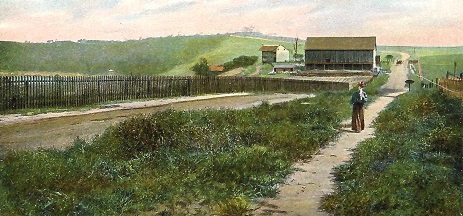 The Narrows near the Minerd farm north of Connellsville, from the "Braddock Road Series" of postcards by John Kennedy Lacock. Below: Calvin and Mary on their farm. Courtesy Debra (Minerd) Kemp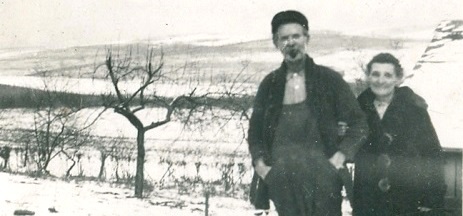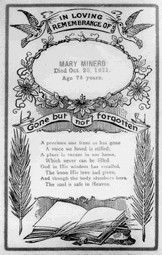 Mary's funeral card

A newspaper once reported that Calvin "was always a farmer, and was actively in it to almost the time of his death.... [He] had lived on the [old John White] farm for 14 years, and practically his entire life was spent in this vicinity."

Calvin also built a house on East Main Street in Connellsville in 1901 which he rented out for many years but did not occupy himself.

The Minerds celebrated their golden wedding anniversary on Feb. 17, 1923 with a party for family and friends in their home at the Narrows. Said the Connellsville Courier, "The affair was planned by their sons at home and was a complete surprise to Mrs. Minerd. A feature of the occasion was an oyster supper. A color scheme of yellow yellow and white, with chrysanthemums, framing the decorations, prevailed."

Calvin's final years were spent enduring chronic kidney disease.

He lapsed into a uremic coma and lingered for some time. His sister Mariah Whetzel is known to have traveled from her home in Brownsville to see him one last time, although it's not known if she arrived in time.

He passed away at age 77 on Sept. 9, 1927, having "been ill for almost a year," said a newspaper. His furst cousin, Rev. David Ewing Minerd -- the "Blacksmith Preacher of Fayette County" -- conducted the funeral service. Pallbearers were J.C. Myers, Judson Echard, Clarence King, Wilson Workman, Edward Boyd and William Ganier. Son Walter E. Minerd, who owned a meat market, advertised in the Daily Courier that he would close the store at noon on the day of the funeral.

A clipping of Calvin's newspaper obituary later was found in Rev. Minerd's prayer book.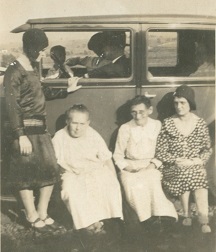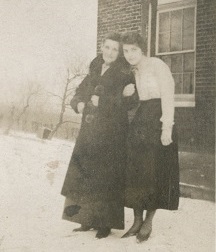 Left: the widowed Mary (2nd from right) and with an unknown friend.
Courtesy Debra (Minerd) Kemp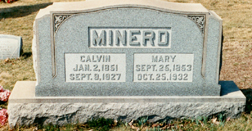 Mt. Olive Cemetery

For the last several years of her life, Mary endured a growing tumor in her abdomen, thought to have originated in her uterus. Examining physician Katharine Wakefield M.D. later wrote that "Possibly the growth was malignant." No evidence exists to suggest that she ever underwent surgery.

Sadly, Mary succumbed to the spectre of death at the age of 78 on Oct. 25, 1931. Dr. Wakefield added on the death certificate that death was due to "general wasting away."

Mary and Calvin are buried together at the Mt. Olive Cemetery in Bullskin near Connellsville. The inscription on her grave marker erroneously records the year of her birth as "1853" and of her death as "1932."



Copyright © 2000, 2003, 2008, 2022 Mark A. Miner