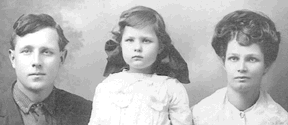 Frank Minerd was born on Jan. 8, 1887 at Hawkeye, Westmoreland County, PA, son of Charles B. and Ada Arthill (Tressler) Minerd.
On Oct. 27, 1909, at the age of 22, Frank married Margaret Malinda Kilgore ( ? -1969). They are shown here with their daughter Mildred.
The Minerds had four children, all born in different coal mining towns within Fayette County, PA -- Bertha May Minerd (at Isabella), Mildred Zona Minerd (Hopwood), Mary Ellen Minerd (McClellandtown) and Victor Everett Minerd (Vances Mills).

Mary Ellen
Only Mildred and Victor survived to become adults, while the other two daughters -- Bertha May (1911) and Mary Ellen (May 19, 1917) died in childhood and are buried at Percy Cemetery near Uniontown, Fayette County, PA. Little Mary Ellen, who lived to age two years, seven months before succumbing to acute pulmonary tuberculosis, is seen here.
Frank was a coal miner and followed the mines during a time that work was scarce and there was much labor unrest. In an August 1912 letter from his sister Bertha Pringle, she wrote: "Frank I hope you will get a job you like... you be sure and let us know where you move to. Come out when ever you can."
Frank registered for the World War I military draft in 1918, at Leckrone, Fayette County, and stated his occupation as a miner for the Parshall Coal Company.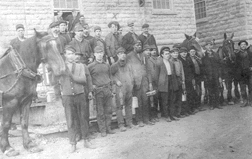 In the 1920s the Minerds lived at Tent City near Uniontown, where thugs were said to "throw sticks of dynamite to stir things up" and police regularly patrolled to keep the peace. Frank once had his photo taken among a group of co-workers at the Meadowbrook Mine, seen here. Frank stands in the back row, at center, with a small "X" penciled above his head.
Frank died on May 5, 1965.
Margaret outlived her husband by four years and died on March 17, 1969. Both are buried at the Percy Cemetery near Uniontown.
~ Son Victor Everett Minerd ~
Son Victor Everett Minerd (1919-1972) was born in 1919.
He married Helen Margaret Basili (1919-2012), daughter of Carlo and Maria (Novelli) Basili. They had one son, Richard A. Minerd.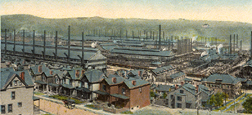 Victor was a coal and steel laborer during his career. He worked at the Meadowbrook Mine near Connellsville circa 1937. Later, he was a welder at the famed Homestead Works of United States Steel Company (seen at right). He was a member of the United Mine Workers of America.
Sadly, Victor died at work of a stroke on Feb. 4, 1972, at the age of 53. He was laid to rest in Sylvan Heights Cemetery in Uniontown.
Helen outlived her husband by four decades. She was employed at the Berkowitz Shirt Factory of Uniontown. She attended several of our national family reunions over the years with her son and daughter in law. Later in life, she was active with Senior Life.
At the age of 92, on May 19, 2012, surrounded by her family, Helen died at home. Following a funeral held in the Saint Theresa de Lisieux Catholic Church in Uniontown, she joined her husband in eternal repose in Sylvan Heights.
Grandson Richard A. Minerd married Barbara Holly. They had three children -- Mark Minerd, Cory Minerd and Jenny Minerd. Sadly, daughter Jenny died in infancy.
Rick received a United States patent in 1986 for his invention, a hunting device called a "combination tree seat and animal drag."
For more information on this family, contact Barbara (Holly) Minerd.
Copyright © 2000, 2002, 2006, 2012 Mark A. Miner