Bertha May (Minerd) Pringle
(1884-1912)

Bertha Pringle

Bertha May (Minerd) Pringle was born in 1884 at Fairchance, Fayette County, PA, the daughter of Charles B. and Ada (Tressler) Minerd.

Her death at age 28 came just two months after a divorce involving, said a court official, "the worse case of cruel and barbarous treatment that has ever come to his knowledge" where "a system of violent abuse" left her a "physical wreck." Bertha's words, taken directly from public papers in the courts of Fayette County, provide her with a voice today telling her tragic story.
As a young woman, Bertha resided with her parents in Fairchance, Fayette County. At some point, she befriended Weldon James Pringle (1883-1965), the son of James W. and Barbara Ellen (Swaney) Pringle.
Though they were not married, Bertha and Weldon produced an ill-fated son, Homer Pringle, who was born on May 1, 1904. Then, when the boy was 3½, his parents were "united in marriage by themselves" in Uniontown on Nov. 19, 1907.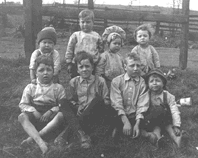 Homer, front, 2nd from right

The Pringles first resided in Fairchance, where Weldon worked as a coal miner. Later, they moved to the nearby coal mine towns of York Run, where they spent two years, and Colliers Works, where they lived a little over a year before separating.

Because Bertha was one of the eldest of 14 siblings, her son Homer was about the same age as several of his young uncles.

Their son Homer once sat in a photograph of young uncles and cousins, seated in the front row, second from right. The group photo included his uncles Ross and Harry, and his first cousins of the Daisy Hiles and Frank Minerd families. The location is not known, but the photo may have been taken at a family gathering at the home of Bertha's parents in or near Masontown, Fayette County.

In the only known photograph of Bertha (seen here), she poses with her younger brother Frank Minerd. It's possible that Frank, who was an excellent amateur photographer, set up the photo himself.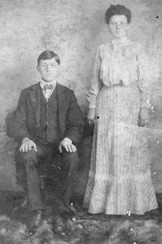 Bertha with brother Frank

Of Bertha's husband Weldon, a neighbor once said that he "was a good worker but he drank an awful lot…. I would say that every time he could get anything to drink he would get drunk." Another neighbor, John Fisher, said: "Every time he came home he would start to fight."

Trouble began just three months into the marriage. In February 1908, Bertha said, he began to beat her "once a week and sometimes twice a week and sometimes he would keep it up all the time from the time he would come home from his work until he would go to work the next morning." He would use "his fists and … a strap .. and he would kick me…. He was always striking me and always had me with a black eye and I had marks on my face and body all the time. He struck me with a whip that he whips his horses with and with a great big thick belt." He once "struck [her] in the mouth till she spit blood."

Weldon was physically intimidating. He stood 6 feet 4 inches tall, and weighed between 175 lbs. and 200 lbs. No one would challenge him.

Then, in November 1909, in Bertha's words:

He injured me when he kicked me down stairs and then he came down stairs and kicked me in the stomach and I have been injured ever since…. He had an awful wild horse and I was afraid of it, and he was drinking this evening and it was eleven o'clock and he wanted me to go to the stable and take the horse out and give it some water and I was afraid of the horse for it was very wild and it wasn't safe for anyone to go near it and because I wouldn't go out and water it he came up stairs and kicked me down and then he came down and kicked me in the stomach … and along the back [with the toe of his shoe].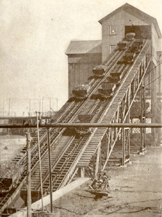 York Run coal mine tipple

Weldon got a job at the York Run mine of the H.C. Frick Coke Co., the tipple of which is seen here. But after whipping Bertha with a strap, leaving two-inch wide marks on the back of her neck, he was fired by the manager of the works. He then landed a job at Colliers Works, and the Pringles moved there in about July 1910.

At times, Weldon "would be so drunk he would open the door and fall in and would lay there until he got sobered up," Bertha recalled. In the fall of 1910, neighbor Mrs. Charles Shanaberger saw Weldon chase Bertha "around the house and [she] grabbed a hold of the gate post and he grabbed a hold of her and threw her down and kicked her and beat her. He just pulled her away and knocked her down with his fist and kicked her… [It] was a moon light night and I could see them plainly…. She got up pretty quick and come over to our place and stayed with us all night. Well her face was cut and her waist was almost tore off her and her clothes were just hanging on her."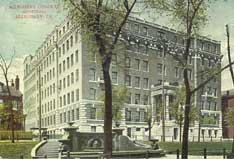 Allegheny General Hospital, Pittsburgh

On May 8, 1911, papers show, Weldon hit Bertha "on back of head with fist and kicked her. That on account of [him] striking and beating [her, she] was compelled to go to the hospital at Uniontown, Pa., for three weeks and to go to the Allegheny General Hospital, Pittsburgh, Pa., and undergo a dangerous operation made necessary by the abuse."

Bertha is known to have had heart problems, and Allegheny General has had a reputation for years as a heart specialist facility.

In a letter from the hospital in August 1911, Bertha wrote:

I am not any worse. I haven't herd what they are a going to do yet. I am not getting my oranges now. A little broth and milk.

After returning from the hospital, Bertha said, "I went out to his place and I was there a while and he went off and left me." During the separation, Weldon did not provide much support for his wife, except, she said, "paying the Doctor bill a couple of times and he paid my milk bill a couple of times, he did not buy me any clothes." She stayed with her in-laws for a few weeks, but feeling unwanted, went to her parents' home at the Chester Works mine in Vances Mill. Sometime afterward, she and her parents moved to nearby Searights.

Bertha wrote to her brother Frank in January 1912, saying:

I cant get around at all. My right leg hurts and it was swelled up. I half to have the Dr. for it is better now. My kidney is a acting better. I am taking Dr. medicin now. Oh but I wish I was well.... Weldon was here last Thursday and he was here a Sunday. He got Homer two new pairs of shoes and a new suit of under were and me a new suit of under shoes.

Bertha's rare signature

On April 6, 1912, after nearly five years of marriage, Bertha filed for divorce, outlining the history of abuse. Her rare signature from the legal paperwork is seen here. Ordered to appear in a hearing, Weldon failed to show, and his attorney L.B. Brownfield attended in his place. John Duggan Jr. was appointed as a "Master" by the Court of Common Pleas of Fayette County "to hear and decide all matters" in the case.

Duggan observed that Bertha "appeared at the hearing on the arm of her father, who had to assist her from the office … and lift her into the buggy." Duggan believed the injuries so severe that "she will never recover," he said. "She has given up her struggle for health and she had the elder of the Church anoint her in the final hope of doing something to aid her and alleviate her suffering." Duggan handed down the divorce decree on June 11, 1912.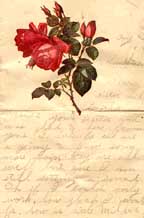 Bertha's last letter

Bertha tried to recuperate at her parents' home near Searights. She spent her days making clothes for her son, and writing letters to loved ones. In a last letter sent to brother Frank, she said:

They are all well but me. I am still setting a round. Oh if I could only work. How glad I would be...

Sadly, just a little over two months after the divorce became final, and just five days after her last letter, Bertha died, on Aug. 25, 1912. No obituary appeared in the local newspaper. Her death certificate gave the cause as heart failure and widespread swelling.

Her tired remains were laid to rest in the small cemetery near Uppermiddletown, just a few miles from her parents' home.



Homer Pringle

~ Son Homer Pringle ~
Son Homer Pringle (1904-1917) was born on May 1, 1904. His first name also has been spelled "Omer."
After his mother's tragic death, Homer remained in the home of his Minerd grandparents. He appears in several photographs with them, taken at different times when he was a boy.
As a fourth-grader in 1915, in McClellandtown, he is known to have contracted the mumps and was forced to miss school.
Sadly, his life ended just five years after his mother's.
On July 7, 1917, in German Township, Fayette County, Homer died in a drowning accident. He may have been in the company of "John Minerd" of McClellandtown, Fayette County, whose precise identity is unknown but who was the informant on Homer's death certificate. Homer was only 13 years old, and was laid to rest beside his mother in Uppermiddletown.
The graves of Bertha and Homer at Uppermiddletown are unmarked today.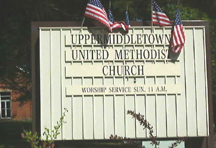 Burial site for Bertha and son

~ Aftermath ~
Unlike his wife and son, Weldon lived a long life. He is known to have resided in Fairchance in 1935.
In about 1923, he married again, and had a foster son and step-daughter. Over the years, he worked as a driver in a coal mine.
He passed away at age 82, in Fairchance, on March 4, 1965, and was buried at LaFayette Memorial Park. His obituary did not mention his first marriage nor his son Homer.


Copyright © 2000, 2002-2003, 2014, 2022 Mark A. Miner
Cemetery sign photograph by Barbara (Holly) Minerd