Frank J. Minerd
(1885-1939)

Frank J. Minerd
Frank J. Minerd was born on Oct. 18, 1885 at Lemont Furnace near Uniontown, Fayette County, PA, the son of James C. and Suvina (Yauger) Minerd Sr.
A photograph of Frank standing with fellow coal miners has become a symbol all the coal, coke and steel workers in our family. The image has appeared on one of our reunion booklet covers and in the pages of the Pittsburgh Post-Gazette and Uniontown Herald-Standard.
On Jan. 27, 1909, when he was age 24, Frank married 25-year-old Elizabeth (Shipley) Glover (1883-1966), the daughter of Lloyd P. and Mary (Valentine) Shipley of Confluence, Somerset County, PA. She was divorced from her first spouse, Paul Glover.
They had one daughter, Dora Detweiler Richter Hall.
Davidson Mine in Connellsville
Frank was a mechanic and a pumper in coal mines in and around Connellsville, Fayette County. He worked at the Davidson Mine north of Connellsville until it closed in 1923.
A rare old postcard of the coal shaft of the Davidson Works is seen here. Other distant cousins who labored there over the years were Henry Minerd and John Ross Miner, among others.
After the Davidson Works closed, Frank worked at the Pittsburgh Coal Company. He also was a pipe cutter in a machine shop at the Wick Haven mine.
In late July 1929, while shutting off an electric pump at the Pittsburgh Coal mine, some equipment malfunctioned, and his right arm was crushed from the fingers up to the elbow. He was rushed to Mercy Hospital in Pittsburgh, with Elizabeth and daughter Dora at his side. The Connellsville Daily Courier reported that "The arm was badly mashed and infection developed... [He] underwent an operation for the amputation of his right arm this morning..."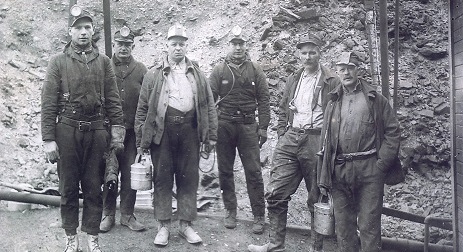 Frank (third from left) with co-workers at the Davidson Mine.

Johnson Chapel
Despite his disability, Frank remained in the employ of Pittsburgh Coal for a baker's dozen years.
He liked to play the harmonica and dance. His daughter said he was "happy go lucky." They resided in a small house on Jefferson Street in Connellsville, a dwelling he had purchased from his sister and brother in law, Etta and Charles McDowell.
Frank was burdened with hardening of the arteries and hypertension, which were diagnised in 1934. He suffered a stroke and died three days later on May 25, 1939, at age 54. He was buried at Johnson Chapel near Confluence.
A year after Frank's death, on June 13, 1940, the 56-year-old Elizabeth married a second time to 45-year-old Earl K. Rowe (Sept. 29, 1895-1965), son of Caleb and Hannah (Klingensmith) Rowe of Greensburg, Westmoreland County, PA. They eloped to Winchester, VA to tie the knot, with local Methodist clergyman Rev. T.M. Swann officiating.
Their home was at 316 Jefferson Street in Connellsville.
Earl contracted prostate cancer in about 1964. At the age of 69, he passed into eternity on Feb. 16, 1965.
Stricken with colon cancer for the last two years of her life, Elizabeth died in Connellsville State General Hospital on June 21, 1966. She was laid to rest beside both of her husbands at Johnson Chapel.
The photograph of Frank posing with Davidson Mine co-workers was published on the cover of the Coal, Coke and Steel report for our 1999 national reunion. It also was printed as an illustration in a related guest column, "Charting a Family's Impact," in the Pittsburgh Post-Gazette, authored by Minerd.com founder Mark A. Miner.

Dora Minerd
~ Daughter Dora (Minerd) Detweiler Richter Hall ~
Daughter Dora Frances Minerd (1912-2001) was born on Jan. 27, 1912, in Hazelwood, near Pittsburgh. She was married three times.
As a girl, she never saw her grandfather James Calvin Minerd Jr., saying he was "never around." She only met him once when she was age 17, when her parents took her to Searights to see his berry patch. Otherwise, she recalled, he always stayed in bed, and had his meals brought in to him. The only other time she saw him was when he was dead, lying in his casket.
Her first husband was Martin Detweiler ( ? - ? ). Married on Aug. 20, 1931, when she was age 19 and he (?), they divorced just two years later, on July 11, 1933, after she claimed he "kicked her out of bed," reported the Uniontown Morning Herald.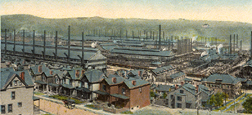 Homestead Works of U.S. Steel
The following year, on Dec. 19, 1934, at the age of 22, Dora wed her second husband, Paul E. Richter ( ? - ? ), the son of Emma K. Richter Weinzerl of Painter Street of South Connellsville. The Daily Courier reported that the ceremony was "marked by quiet simplicity" at the parsonage of Trinity Lutheran church on East Patterson Avenue.
Paul joined the US Navy in 1927 and at the time was an electricians mate, second class, stationed on the USS Minneapolis. They were wed while he was home on a Christmas furlough, which "came as a surprise to the many friends of Mr. and Mrs. Richter, who are widely and favorably known."
With her husband in the service, Dora sought opportunities to visit him at his home ports. In September 1935, she is known to have motored with Mr. and Mrs. Lloyd Glass to Los Angeles, where Paul was stationed at the time. By 1939, she had moved back home with her parents.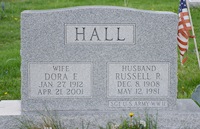 Johnson Chapel
Her third husband,steelworker Russell Hall (1908-1981), a native of Scot Haven, PA and the son of Robert and Elizabeth (Kendall) Hall. They eloped to Winchester, VA and were joined in marriage on Sept. 19, 1956, with Lutheran pastor Rev. William E. Eisenberg officiating.
Russell had served in the U.S. Army during World War II as a sergeant. Returning home, he was a coal miner at Pittsburgh Coal Company's Fitzhenry Mine. Later in his career, he labored at the famed Homestead Works of U.S. Steel Corporation, commuting each day from Connellsville.
Russell died on May 12, 1981, at the age of 73. He was laid to rest in Johnson's Chapel Cemetery.
Dora remained in her home for two decades. In 1999, she visited with the founder of this website in her home, and passed along important details about her branch of the Minerds.
She passed away on April 21, 2001, at the age of 89. She rests for eternity beside her husband Russell.
Copyright © 2001, 2005-2009, 2011 Mark A. Miner
Hall grave photo by Dave Magiskie