Lela 'Ada' (Minerd) Warman
(1877-1930)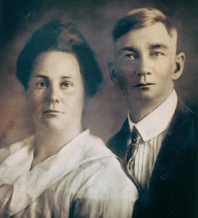 Ada and Albert Warman
Courtesy Kimberley Schwartz
Lela "Ada" (Minerd) Warman was born on March 29, 1877 in Dunbar, Fayette County, PA, the daughter of Isaac F. and Frances Caroline (Jordan) Minerd.
In the summer of 1892, when she was age 15, Ada married 20-year-old Albert Warman (March 1872-1944), the son of John Wesley and Margaret Ellen (Ogle) Warman, of Leisenring, Fayette County. Ada and Albert's marriage license was reported in the Uniontown Genius of Liberty.
Albert's father, a Civil War veteran, is said to have been killed when he fell down a 350-foot mine shaft, fracturing his skull. In an interesting twist, Ada's cousin James Valentine Minerd was married to Albert's aunt, Nancy Warman, and they also resided in Dunbar.
At the time of their marriage, Albert was a fireman at Leisenring No. 2 Mine near Uniontown, the county seat of Fayette County. The tipple of the mine is seen here in a rare old photograph.
The Warmans produced a family of four children -- Anna M. Swaney, John Wesley Warman, Nevada Catherine Christman and Edna Miller Wright Beck.
When the federal census enumeration was made in 1900, the family dwelled in the borough of Smithfield, Fayette County, with Albert earning a living as a shifter at a coke works.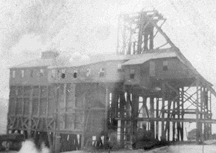 Leisenring No. 2 coal mine
By 1910, the Warmans has relocated to Menallen Township, Fayette County. There, census records show Albert working as a coal mine laborer.
They moved again during the decade of the 1910s to Georges Township, with Albert in 1920 securing a position as a laborer for a coal company. By that time, all four of their children had left home.
Circa 1930, Ada and Albert lived at Haydentown near Smithfield, Fayette County. He was a member of the White Stone Tribe of Red Men No. 286.
Sadly, Ada was stricken with a malignant growth on her uterus. She died at the age of 51 on Aug. 2, 1930 "following a lingering illness of a complication of diseases," reported the Connellsville Daily Courier. She was buried at Maple Grove Cemetery, Fairchance, with her cousin, Rev. David Ewing Minerd, the famed "Blacksmith Preacher," officiating at her funeral, held at the Dunbar Methodist Protestant Church. An obituary also was printed in the Uniontown Evening Standard.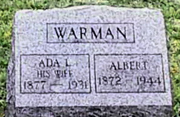 Maple Grove Cemetery
Albert outlived Ada by more than 14 years.
By 1940, he moved into the home of his daughter Anna Swaney Georges Township.
In his retired years, Albert suffered from heart valve problems. He passed away on Dec. 5, 1944, at the age of 72. A short obituary was published in the Daily Courier. Son in law Joseph Swaney of Smithfield was the informant for his death certificate.
The couple sleeps side by side at Maple Grove Cemetery in Fairchance.
~ Daughter Anna May (Warman) Swaney ~
Daughter Anna May Warman (1893-1980) was born in July 1893.
At the age of 35, in about 1928, Anna married 38-year-old Joseph Howard Swaney (1890-1965).
The couple bore these known children -- Latimer Joseph "Howard" Swaney and Gary D. Swaney.
They lived in South Strabane Township, Washington County, PA circa 1930. That year, Joseph earned a living as a house carpenter. Anna's sister Nevada Christman and her husband Robert resided next door. The Swaneys' home later was in the Smithfield and Fairchance vicinity. In 1940, Anna's widowed father lived under their roof.
After Joseph died in 1965, Anna moved to the home of one of her children in Baltimore, MD.
She died there in 1980. The Swaneys are buried in Maple Grove Cemetery near Fairchance. They are mentioned in the revised edition of Kathryn Cooley Miller's book, My Cooley-Walters Ancestry from Fairchance Penna. and Surrounding Areas.
Son Latimer Joseph "Howard" Swaney (1930- ? ) was born in about 1930 in South Strabane Township.
Son Gary D. Swaney (1933- ? ) was born in about 1933 in Pennsylvania.
~ Son John Wesley Warman ~
Son John Wesley Warman (1896-1982) was born on April 30, 1896 in Oliphant Furnace, a coal mining community in Fayette County, PA.
He was married three times. His first wife was Etna Lydia Smith (1901- ? ). Evidence hints that she was only age 14 at the time of marriage, with the couple eloping to Cumberland, Allegany County, MD, where there was no waiting period. News of their marriage license was printed in the Pittsburgh Post-Gazette.
The couple produced a family of three children -- Blake Wesley Warman, Rexford William Burton Warman and Albert Warman.
The Warmans' marriage appears to have ended by 1918. The three sons were divided, with Blake going with Edna, Rexford with Edna's parents and Albert with John. Edna married again to truck driver John Bechtel and relocated to State College, Centre County, PA, as shown in the federal census enumeration of 1930. The Bechtels had two more offspring, John E. Bechtel Jr. and Dorothy June Bechtel.
Circa 1929, John was employed as a rubber worker in Akron, Summit County, OH, making his home at 32 Martha Avenue.
At the age of 33, John married his second wife, 29-year-old Kathryn Sybil Lee "Kate" Christopher ( ? - ? ), daughter of James and Mary (Mathias) [?]. Their wedding was held in Washington, Washington County, PA on Nov. 18, 1929, officiated by alderman I.E. Goodridge. Kate's earlier marriage to Charles Christopher had ended in divorce in Summit County Court on Nov. 15, 1929, and she is believed to have brought three children to the second marriage, Laverne Miller, Charles Christopher and James Christopher.
John and Kate went on to bear seven more children -- Robert Duane Warman, John Marvin "Jackie" Warman, Shirley Nevada Warman, Delores Leeanne Warman, Janice Lorraine Franklin, Roy Warman and Ronald Warman.
The United States Census enumeration of 1930 shows John and Kathryn dwelling in Georges Township, Fayette County. That year, John earned a living as a farm laborer. A newspaper article from August 1930 states that his parents may have lived with them at the time.
In May 1938, the Warmans made headline news in the Uniontown Morning Herald when they lived in Point Marion, Fayette County, and their home was hit by lighting. "With a deafening crash that could be heard for several blocks John Warman and members of his family narrowly escaped death or serious injury when a bolt of lightning struck their home ... during the evening's unseasonal storm," said the Morning Herald. "Mr. Warman's two children Robert and Jackson together with their grandfather Albert Warman were on the front porch and other members of the family were in the house when there came a blinding flash and the terrific crash which rocked the entire house shattering a large front window into small fragments as well as a reading lamp inside the room. The plastering was knocked from the ceiling and wall of the living room as were pictures and other small objects. Fortunately the two boys and grandfather were at the opposite side of the porch from which the bolt struck and no one was in the living room..."
Their sons Blake and Rexford often were in trouble with the law for brutal robberies and assault and battery. Both were sentenced to terms in the Western Penitentiary in Pittsburgh. Grief blanketed the family when 21-year-old son Rexford was badly injured in a pickup football game in the prison yard and died of internal injuries and peritonitis on Oct. 18, 1938.
When the federal census enumeration was again made in 1940, the Warmans had moved to Springhill Township, Fayette County, with John working as a loader in a coal mine.
John resided in Guyaux, Fayette County in 1946 at the tragic death of their son Albert. Eventually they relocated to North Miami, FL and were there circa 1980. He apparently married a third time, to Helen Rosen ( ? - ? ) in Florida.
At the age of 86, on Aug. 29, 1982, John is thought to have died in Dade County, FL.
Son Blake Wesley Warman (1915-1985) was born on Aug. 28, 1915. At the divorce of his parents when he was about age three, he was taken by the mother and then was part of her household after she married John Bechtel in State College, Centre County, PA. Although his legal name was "Warman," he sometimes went by "Smith," his mother's maiden name. He stood 5 feet, 10 inches tall and weighed 139 lbs. At the age of 18, in 1934, he made news when he went missing while driving a Huppmobile Brougham. A state police teletype message was sent across the commonwealth in the hope of finding him alive. He in fact survived and earned income as a truck driver. As with his brother Rexford, he faced a series of run-ins with the law. In 1936, at the age of 20, they were convicted of robbery, felonious assault and aggravated assault upon the person of Henry G. Wissinger of Pontiac, MI and were sentenced to from three to six years in the Western Penitentiary in Pittsburgh. Then in July 1938, Blake received a commutation of his sentence by Gov. George Howard Earle III. During World War II, in 1942, Blake lived in Bellefonte, PA and was drafted for military duty by the Selective Service. When he failed to appear for his physical examination, he was sentenced to three years in jail. Within a few years, he is believed to have committed another robbery, felonious assault and aggravated assault and battery in Indiana County, PA and to have fled to Georgia. He was arrested and held in Atlanta in September 1944, with Pennsylvania Gov. Edward Martin requesting that officials return him, with the news reported in the Harrisburg (PA) Evening News. Blake is known to have made his home in State College, PA in 1946. He later relocated to California where he dwelled in Hemet, Riverside County. There, he died on Aug. 22, 1985, less than a week before what would have been his 70th birthday. His place of burial is not known.
Son Rexford William Burton "Rex" Warman (1917-1938) was born on March 24, 1917 in Sykesville, Jefferson County, PA. His parents divorced when he was but a one-year-old, and he went to live with his mother's parents, Jacob Smith, of 1099 Water Street, Indiana County, PA. The boy informally took the name "Smith" although "Warman" remained his legal name. He stood 6 feet, ¼ inch tall, weighed 171 lbs. and had a dimpled chin, brown hair and a medium-dark complexion. In early manhood, Rexford was a noted amateur boxer and high school athlete. But as with his elder brother Blake, Rexford seemed to be criminally inclined. In September 1936, he and Blake pleaded guilty to robbery and felonious assult and battery in Indiana County, PA, and were sentenced to up to six years in Western Penitentiary. Tragically, at the age of 21, he was playing in a pickup football game at Western Penitentiary in Pittsburgh when he was badly injured, his spleen ruptured, leading to a deadly infection of peritonitis. There was no hope, and he passed away the same day, on Oct. 18, 1938. Funeral services were held in his grandparents' home in Indiana, led by Rev. H.L. Loveless, with interment of the remains in the local Harmony Cemetery. An obituary was printed in the Indiana (PA) Gazette.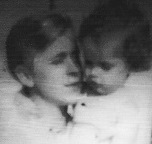 Albert Warman with Carol Lou. Right: Betty
Courtesy Rex Burns Jr.
Son Albert Clifton Warman Sr. (1920-1946) was born on Aug. 2, 1920 in Fayette County, PA. In boyhood, after his parents divorced, he grew up in Georges Township, Fayette County with his father and stepmother. Albert as an adult stood 5 feet, 7 inches tall, weighed 145 lbs. and had a light complexion, blue eyes and blonde hair. Albert married Betty Jane Callahan (May 6, 1926-1987), the daughter of Vincent D. and Ruth (Hughes) Callahan. The pair went on to become the parents of three children -- Albert Warman Jr., Rex Warman Sr. and Carol Lou Means. The Warmans initially were residents of Uniontown, and Albert registered there in the military draft during World War II. In doing so, he disclosed that he worked for "L. Phillips" and that Jack Schnatterly was his next of kin. He and Betty Jane moved to Maryland, where he obtained employment at the Baltimore factory of National Plastic Corporation. Tragedy struck on April 16, 1946, when the 26-year-old Albert was fatally burned in an explosion in the plant's grinding room. The news of the horrific event was printed in the Connellsville (PA) Daily Courier and the Uniontown Morning Herald. His charred remains were returned to Uniontown, with the funeral held at the Minerd Funeral Home, officiated by Rev. H.L. Davis, followed by burial in Park Cemetery in Uniontown. His young children later had no memory of him. Betty married a second time to Raymond "Red" Burns ( ? - ? ). Betty and Raymond went on to bear three more children of their own -- Caroline Burns, Ona Burns and Mary Jean Fry. Her three Warman offspring were given the "Burns" name and until they became of school-age did not know that Raymond was not their real father. Nonetheless, Raymond lovingly treated his step-children as his own. The Burnses resided for many years in Silver Spring, Montgomery County, MD. At one point Betty gave each of the children an heirloom which had been on Albert's person when he was killed -- a ring, wristwatch and coins. Betty spent her final years in Colorado, near her married daughter Mary Jean Frey, making her home at 265 East 106th Place in Northglenn, Adams County. While there, she was employed as a financial clerk by the City of Northglenn. She was diagnosed with cancer which had spread throughout her gastric system, and at the age of 66, she succumbed to death on March 7, 1987. Her remains were placed into eternal repose in Highland Cemetery in Thornton, CO.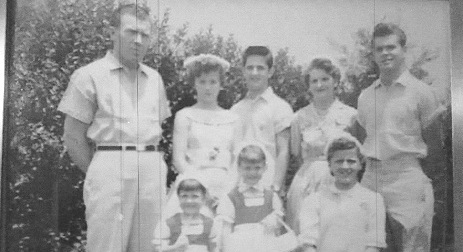 The Burnses -- back, L-R: Red, Carol Lou, Rex, Betty and Albert. Front, L-R: Jean, Ona, Caroline.
Courtesy Rex Burns Jr.
Grandson Albert Warman Jr.

grew up with the "Burns" surname and later legally made that formal.
Grandson Rex Warman Sr.

was raised under the "Burns" name. After marriage, children and a divorce, he went back to the name "Warman."
Carol Lou and James' 50th anniversary
Courtesy Rex Burns Jr.

Granddaughter Carol Lou Warman Burns

( ? -living) was very young when her father was killed. She took the surname "Burns" after her mother remarried to Raymond "Red" Burns and grew up in Silver Spring, Montgomery County, MD. She did not know until her high school years of the identity of her actual father, but kept the name "Burns." In 1962, she was united in matrimony with James A. "Jim" Means Jr. (July 30, 1941-2013), the son of James A. and Margaret (Jollett) Means Sr. of Washington, DC. They remained together for more than half a century, and in 2012 celebrated their golden wedding anniversary by renewing their wedding vows. The three children born to this union were James R. Means, Joseph H. Means and Zina M. Means. Their home was in Frankford, DE. Over the years, James was self-employed in the field of construction. In retirement, he owned and operated Pop's Produce located in Ocean View at the corner of West and Parker House Roads. James belonged to the Moose lodges in East Sussex and in Florida. Stricken with cancer, James was admitted to Beebe Medical Center in Lewes, DE, where he passed into eternity at the age of 71 on March 23, 2013. In an obituary in

Coastal Point

, the family asked that any memorial donations be made to the American Cancer Society. Carol Lou has remained in Delaware and graciously shared a conversation about her family with the founder of this website.
Great-grandson James R. Means married Karen. They live in Olney, MD.
Great-grandson Joseph H. Means wedded Jennifer. Their home is in Frankford, DE.
Great-granddaughter Zina M. Means resides in Frankford, DE.
Son Robert Duane Warman (1930- ? ) was born in April 1930 in Georges Township, Fayette County. Evidence hints that he may have lived in Pittsburgh and died at the age of 66 on Sept. 16, 1996.
Son John Marvin "Jack" Warman (1932- ? ) was born in about 1932 in Fayette County.
Daughter Shirley Nevada Warman ( ? - ? ) was born in (?). She married (?) Walters. She was deceased by 2005.
Daughter Delores "Lee Anne" Warman (1934-2016) was born on May 17, 1934 in Point Marion, Fayette County. She was united in matrimony with Richard C. Kwiatkowski (July 31, 1926-2001). They resided in Pittsburgh and produced a family of offspring -- Kathy McDine, Claudia Law, Sherry Aguirrechu, Susan McCallian, Richard Kwiatkowski, David Kwiatkowski, Robert Kwiatkowski, Karen Lorraine Bennedetto and James Kwiatkowski. Sadly, Richard died without warning on Feb. 10, 2001. His funeral mass was sung at St. Elizabeth of Hungary Church. An obituary in the Pittsburgh Post-Gazette, which included his photo, said that he had been "A German and Polish interpreter for the US Army in WWII. He then went on to study art at the New York Art Institute in New York. After many hard years of hard work and perseverance, he accomplished one of his many goals, to be the proud proprietor of his own business, Rich's Vending." Lee Anne outlived her spouse by 15 years. Said the Pittsburgh Post-Gazette, she "loved spending time with her family, cooking, spending time at camp, canning and gardening. LeeAnne never aged, she only grew into her elegance. Here was a woman never taken much by rules. A perfect confluence of class and sass, who always ate the seeds no matter what her doctor told her, and never left the house with a red curl out of place. Her spirit was larger than her body, larger than life. That effervescence so much her signature, like her Pleasures perfume, it followed her everywhere and everyone who shared time with her went home carrying a little bit of it on their skin." She endured the untimely deaths of her married daughter Karen and son James. Lee Anne was gathered in by the Angel of Death on Aug. 30, 2016. Burial of the remains was in Birmingham Cemetery in the Carrick section of the city.
Granddaughter Karen Lorraine Kwiatkowski (1956-1989) was born in 1956. She wedded Eric Bennedetto ( ? - ? ), and they bore a daughter, Leah Bennedetto. Grief cascaded over the family when Karen died on May 12, 1989, with burial in the family plot in Birmingham Cemetery. Death notices were printed in the Pittsburgh newspapers.
Daughter Janice Lorraine Warman (1937-1976) was born on Dec. 1, 1937 in Fayette County. She married (?) Franklin ( ? - ? ). The couple did not reproduce. Her home in the mid-1970s was on St. Paul Street in Pittsburgh's South Side. Sadly, at the age of 38, she died on April 20, 1976. A death notice was printed in the Pittsburgh Press, using her maiden name of "Warman."
Son Roy Franklin Warman (1939-2000) was born in about 1939 in Fayette County and is believed to have been a twin with his brother Ronald. He dwelled in West Mifflin near Pittsburgh. At the age of 60, he passed away on Feb. 27, 2000. A very brief death notice appeared in the Pittsburgh Post-Gazette.
Son Ronald B. Warman (1939-2005) was born in about 1939 in Point Marion, Fayette County and is believed to have been a twin with his brother Roy. He was joined in the bonds of wedlock with Teresa Pistella ( ? - ? ). The couple bore an only son, Ronald John Warman. They lived in Pittsburgh, where for 33 years Ronald was employed in the city by Alco Parking Corporation. He was a member of the Teamsters Local 926 and the Masonslodge in Plum Creek/Monroeville. Evidence suggests that the couple divorced. Upon retirement, Ronald relocated to Florida and made a home in Port St. Lucie. At the age of 65, Ronald died in Port St. Lucie on Feb. 15, 2005. His obituary was printed in the Pittsburgh Tribune-Review.
Grandson

Ronald John Warman

is the father of Derek John Warman and Angela Marie Shay.
~ Daughter Nevada Catherine (Warman) Christman Gorman ~
Daughter Nevada Catherine Warman (1901-1962) was born on Oct. 6, 1901 in Fairchance.
In 1921, while in Fairchance, she and William S. Christman bore a son, Troy Christopher. Whether or not she was married at the time is a mystery.
At the age of 25, circa 1926, she and automobile salesman Robert Christman (1898- ? ) were joined in wedlock.
They made their home in 1930 in South Strabane Township, Washington County, PA, next door to Nevada's married sister Anna Swaney and her husband Joseph. At that time, Nevada operated a local beauty parlor. Their son was listed by name as "Troy Christopher."
Unfortunately, the Christmans' marriage ended in divorce on Sept. 27, 1933.
The independent-minded Nevada continued to run a beauty shop in Washington circa March 1939. That month and year, she filed a marriage license application in Washington County to wed 40-year-old Raymond S. Gorman (Noc. 11, 1898-1978), son of Matthew and Anna (Hanley) Gorman. Raymond resided in the Pittsburgher Hotel and vice president of Union Electric Steel Corporation.
The known stepchildren he brought to his marriage with Nevada were Paul V. Gorman, Helen P. Hensler, John C. Gorman, Michael C. Gorman, James H. Gorman and Rae Adams.
Nevada made her home in the 1960s in Crafton, Allegheny County, PA, at 1785 Barr Avenue. She and Raymond were members of the Chartiers Country Club and Williams Country Club in Weirton, WV. She belonged to the Western Pennsylvania Golf Association, Pittsburgh Bridge Association and American Legion Auxiliary of Washington, PA, while he belonged to the American Legion in Crafton, Fort Lauderdale Country Club and Elks Club as well as the Fraternal Order of Police in Lauderdale.
Suffering from cirrhosis of the liver and bleeding of her esophagus, she died at Pittsburgh's Mercy Hospital on May 25, 1962. Burial was in Pittsburgh's Chartiers Cemetery. An obituary was published in the Pittsburgh Press, which said that she was survived by 15 grandchildren.
Raymond outlived his bride and married again to Mary Louise (Miller) Taylor (1905-1998). They retired and relocated to Plantation, FL. He died there on April 28, 1978. His remains were shipped to Pittsburgh for a funeral mass at the Immaculate Conception Church in Carnegie, and burial in Hampton Cemetery. The Pittsburgh Press printed a death notice. His widow Mary Louise survived for another two decades and passed into eternity in Indian River County, FL on March 19, 1998.
Son Troy Christopher (1921- ? ) was born on May 7, 1921 in Fairchance. He grew up with Robert Christman and Raymond S. Gorman as his step-fathers. He eventually unofficially took the surname "Gorman" although his legal name remained "Christopher." At the age of 25, he lived in Crafton, near Pittsburgh, and earned income as a welder.
Stepson Paul Vincent Gorman Sr. (1921-1967) was born on May 3, 1921. He married Eileen M. ( ? - ? ). Their offspring were Paul Vincent Gorman Jr., Peter Charles Gorman, Mark Raymond Gorman, Steven Michael Gorman, Raymond Samuel Gorman and Pamela Lynn Gorman. They resided at 224 Scotia Street in Ingram near Pittsburgh. He died on Sept. 4, 1967. The Pittsburgh Press printed an obituary.
Stepdaughter Helen P. Gorman married (?) Hensler. She was in Fort Lauderdale in 1978.
Stepson John C. Gorman
Stepson Michael C. Gorman dwelled in Fort Lauderdale.
Stepson James H. Gorman lived in Dallas, TX in 1978.
Stepdaughter Rae Gorman wedded (?) Adams. They were in Pittsburgh in 1978.

Edna
~ Daughter Edna Pearl (Warman) Miller Wright Devlin Beck ~
Daughter Edna Pearl Warman (1903-1990) was born in 1903. She was married four known times.
On April 5, 1919, when she was just 16 years of age, Edna Pearl was united in wedlock with her first husband, 21-year-old Henry Devina Miller (1897-1976), the son of Henry Ellsworth and Anna Cynthia (Swaney) Miller.
The Millers went on to produce two children -- Phyllis Nevada Miller and Henry "Edson" Miller.
The Millers lived in Smithfield and Fairchance, Fayette County, but later divorced. The young children were sent to live for a time with their grandmother, Anna Miller. Former husband Henry remained in Fairchance.
As a single woman, Edna Pearl relocated to Akron, Summit County, OH. On Nov. 28, 1929, when she was 26 years of age, she was joined in matrimony with 30-year-old Morris E. Wright (1900- ? ). The couple obtained their marriage license in Wellsburg, Brooke County, WV, with her using her maiden name, and with the actual ceremony held in Akron. Officiating at the wedding was Rev. J.C. Fulton of the 4th United Presbyterian Church. Morris was a native of Milford, IN and at the time of marriage lived in Muskegon, MI.
The Wrights lived in Cuyahoga Falls, Summit County, OH circa 1930, when the federal census was made. Edna over the years alternated her home in Hobe Sound, Martin County, FL and Washington, Washington County, PA. The 1940 census shows that the couple was separated, with Edna Pearl and daughter Phyllis sharing a home in Washington. Edna Pearl's occupation at the time was operating a beauty parlor, with the daughter working there as a beautician.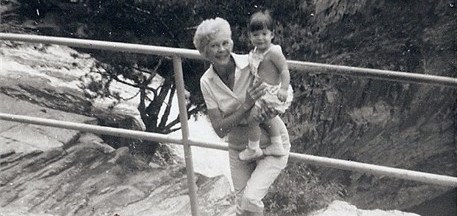 Edna Pearl holding one of her granddaughters.
Courtesy Kimberley Schwartz
After a divorce, ex-husband Henry married again to Julia ( ? - ? ) and they had a large family of five or six children. He passed away on May 1, 1976, in Pennsylvania.
Edna Pearl's third known spouse was (?) Devlin. Circa 1950, they resided in New York City.
Edna Pearl wedded her fourth husband, New Jersey native John "Louis" Beck (Nov. 30, 1899-1961), on Feb. 12, 1954, in a ceremony held in Martin, FL, again using her maiden name. As a younger man, Louis had worked as a tool grinder in Newark, NJ. Their marriage lasted for sevel years until his death on April 11, 1961. His remains are in repose in Hillcrest Memorial Park in West Palm Beach.
She died in Florida in 1990.

Phyllis Vezie Selby
Daughter Phyllis Nevada Miller (1919-2003) was born on Oct. 10, 1919 in Georges Township, Fayette County, PA and grew to womanhood in Fairchance. She was married twice. Her first husband was Sidney Roger Vezie Sr. (Jan. 17, 1916-1981), of Claysville and Washington, Washington County, PA. They bore five children -- Blaise Vezie, Dianna Vezie, Joyce M. Vezie, Sidney Roger Vezie Jr. and Sherry Vezie. Circa 1935, Sidney lived in Los Angeles and then in 1940 was with the U.S. Marine Corps in San Diego. After the outbreak of World War II, he re-enlisted again in Pittsburgh on May 22, 1942. He again served in the Marines during the Korean War, with the rank of master sergeant. Sidney returned home from Korea after serving in the Far East sector. At that time, their address was 576 NO 70th Street in Miami. Evidence suggests that in 1956, the Vezies resided in Sioux City, IA, with him attached to the inspector general's staff of a reserve company of the 55th Special Marine Infantry.That summer, in July, Sidney helped his friend Sgt. Theodore A. Kulp Jr. conduct instruction in hunter safety at the Boy Scouts Camp Kellogg, with the story printed in the Sioux City Journal.
Arlington National Cemetery

At some point Sidney was transferred to Fort Pierece, FL. He was pictured in a Fort Pierce News Tribune article in September 1958 for his role in a practice mission to defend the St. Lucie Canal in Martin County in coordination with the Fort Pierce Civil Air Patrol. Now retired, the couple's address in 1961 was 14225 Leeward Way, Riviera Beach.

Phyllis and Sydney divorced in 1967 in Palm Beach, FL, and in time she went to live in Jupiter near West Palm Beach. Phyllis married again at the age of 72 to 64-year-old Jupiter resident Phillip Francis Selby ( ? - ? ), with the ceremony taking place on Aug. 8, 1992 in Harris County, TX. They made their home later that year on South East Bunker Hill Drive in Hobe Sound. Phyllis passed away on Oct. 26, 2003, in Hobe Sound, Martin County, FL. Former spouse Sidney Vezie passed away on May 21, 1981, and rests for all time in Arlington National Cemetery (Section 66, Grave 3117).
Granddaughter Dianna Lee Vezie ( ? - ? ) was born in (?). In October 1961, following in her father's footsteps, she joined the Women's U.S. Marine Corps and underwent training at Parris Island, SC. She was married in Palm Beach, FL in March 1963.
Granddaughter Joyce Maureen Vezie ( ? - ? ) was born in (?). She has been married four known times -- to Wendell Twilley Davenport in Palm Beach, FL in June 1960 -- to (?) in Palm Beach on Feb. 14, 1971 -- to Clarence Lloyd Hancock in St. Lucie, FL on Aug. 24, 1974 -- and to David Lavon Tindell in Palm Beach on Aug. 8, 1981. Her daughter

Kimberly (Davenport) Schwartz came to our 2009 reunion -- see her pages on Ancestry.com.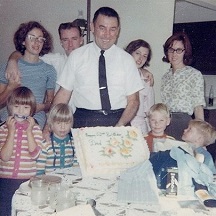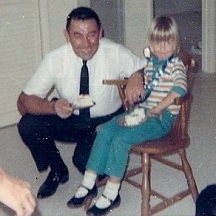 Sydney Vezie's birthday party, and with granddaughter Kim (right)
Courtesy Kimberley Schwartz
Son Henry "Edson" Miller (1921-2005) was born on Aug. 18, 1921 in Haydentown, Fayette County, PA. During World War II, he joined the U.S. Marine Corps on March 23, 1942 and was stationed at Quantico, VA. While in Alexandria, VA, on Feb. 27, 1943, the 21-year-old Edson was united in holy matrimony with 18-year-old Geneva Dancea (May 13, 1924-2001), a native of Martins Ferry, Belmont County, OH and the daughter of George and Anna (Sherban) Dancea. Baptist pastor Rev. E.F. Campbell officiated the nuptials. Geneva's occupation at the time of marriage was as a stenographer. Edson was deployed to the Asiatic Pacific Theatre, where he was involved with activity in the Marshall Islands and Okinawa, Japan. He received his honorable discharge in San Diego two days after Christmas 1945. Their home in 1950 was in New Castle, Lawrence County, PA, at the address of 210 East Division Street. The two children born to this union were Edson Henry Miller II and William Lawrence Miller. The couple eventually divorced. Edson married a second time to Irene E. "Ike" Prekler (1925-2015), born in Painesville, Lake County, OH to Steve and Margaret (Wayner) Prekler. Their wedding was held in Winchester, Frederick County, VA. Their union endured for 53 years. Children born to the second marriage were Dan E. Miller, Margaret A. Weaver, Miles C. Miller and Martha Brangard. Sadly, Edson died in Fairchance on Nov. 6, 2005. The remains were interred in Sylvan Heights Cemetery in Uniontown following funeral services led by Rev. George W. McLaughlin. Irene outlived her husband by nearly a decade of time. Her final years were spent in Monongahela, Washington County, PA. The Angel of Death swept her away at the age of 89 on Feb. 22, 2015. The funeral was led by Pastor Lee Maley, a distant cousin of the family of Martha Ellen (Mayle) Mayle. Her obituary was printed in the Washington Observer-Reporter.
Grandson William Lawrence Miller (1948- ? ) was born in about 1948.
Copyright © 2000-2002, 2007, 2009, 2015, 2020, 2022 Mark A. Miner
Minerd.com extends its gratitude to those who have graciously shared their information and/or images for this biography -- Rex Burns Jr., Kimberley (Davenport) Schwartz, Barb (Lewis) Hardung and Chris Lilley.