Home

James Valentine Minerd
(1846-1923)

Mt. Auburn Cemetery, Dunbar
James Valentine Minerd was born in 1846 in Fayette County, PA, the son of William and Elizabeth (Rankin) Minerd. He was an early resident of Dunbar, Fayette County, and a number of his descendants still live there today.
When the federal census was taken in 1870, James was recorded as 24 years of age, and residing in his mother's household in Dunbar Township, near Connellsville. His occupation was marked as "Coal Miner."
On the Fourth of July 1871, when he was 24 or 25 years of age, James married widow Nancy (Warman) Fuller (1846-1924), the daughter of John and Mahala (Lowe) Warman.
Nancy had a daughter, Emma (Fuller) Robbins, from an earlier marriage, and James took her into the family and treated her as his own.
Together, James and Nancy had seven more children -- Minnie Minerd, Alice Ellis Doughty, James William Minerd, Harry Minerd, John "Albert" Minerd, Bartholomew Minerd and Elizabeth Wilson.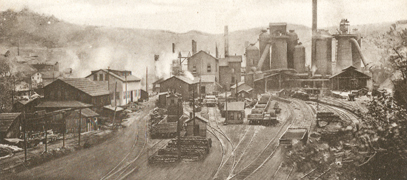 Bustling Dunbar Furnace, turn of the 20th century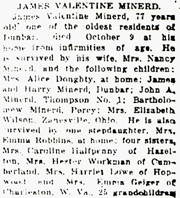 Connellsville Daily Courier, 1923
The Minerds lived on Furnace Hill in Dunbar, and their home served as a boarding house. In 1900, they kept 11 boarders, who worked as boiler makers at the Dunbar furnace, in addition to their four children. In 1910, among their tenants was their married daughter Emma Robbins, her husband and their children.
In an interesting twist, Nancy's nephew Albert Warman was married to Lela "Ada" Minerd, one of James' cousins.
When the federal census was taken in 1920, the Minerds lived on Water Street in Dunbar. Married daughter Alice Doughty and her husband James, and widowed daughter Emma Robbins and her children, lived in the household, as well as several boarders who worked in the local glass house and iron works.

Book naming
James and Nancy
When James died on Oct. 9, 1923, at the age of 77, he was considered "one of the oldest residents of Dunbar." At his passing, the Connellsville Daily Courier reported that he had 25 grandchildren and 10 great-grandchildren. The obituary also noted James' surviving sisters -- Caroline Halfpenny of Hazelton, Hester Workman of Cumberland, MD; Harriet Lowe of Hopwood, Fayette County; and Emma Geiger of Charleston, WV.
Nancy died only a few months later, at age 77, on Feb. 2, 1924. They are buried together at Mt. Auburn Cemetery. James' first cousin, Rev. David Ewing Minerd (Fayette County's famed "Blacksmith Preacher") conducted both of their funeral services.
The Minerds were not forgotten. In May 1939, some 15 years after Nancy's passing, a memorial service was held in their honor at the Methodist Protestant Church in Dunbar, led by Rev. W.S. Hamilton. The service was reported in the Daily Courier.
On June 19, 2002, James and Nancy were featured in an article in the Connellsville Daily Courier. The story later was republished in the book, There's No Place Like Dunbar! 2002-2004 - Historical Vignettes and Personal Reflections from The Daily Courier's Dunbar Column, authored by Donna R. Myers and Bonnie L. Zurick of the Dunbar (PA) Historical Society. A thumbnail image of the book is seen here.
Copyright © 2000-2002, 2005-2006, 2010 Mark A. Miner
Dunbar Furnace postcard courtesy of Donna Myers