Home

Isaac F. Minerd
(1847-1923) and
Mary (Minerd) Cole Minerd
(1843-1924)
Isaac F. Minerd
Isaac F. Minerd was born on June 1, 1847 at Wharton Furnace, Fayette County, PA, the son of James and Sarah (Walters) Minerd Sr. He was a veteran of the Civil War and was and married three times. His third wife was a cousin, Mary (Minerd) Cole, daughter of Burket and Susan (Hartzell) Minerd of Preston County, WV.
Much more is known about Isaac than Mary, or "Mollie" as she was affectionately known. A farmer as a young man, he stood 5 feet 9 inches, with light complexion. hazel eyes and light hair, and was considered "sound, hale & hearty."
Isaac once testified that at the time of his birth, no public records were kept, and "there is not church record of my birth. The family Bible or family record, in which the births & deaths of the family was recorded, was destroyed about [1888]."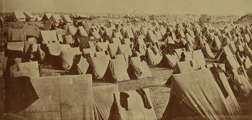 Civil War infantrymen's tents
During the Civil War, when Isaac saw his elder brothers James Jr. and William enlist, he did so too, at the tender age of 15. All three brothers served in Co. I of the 85th Pennsylvania Volunteer Infantry, along with at least five other cousins. Together, they saw action in "24 hard battles" and watched out for each other whenever possible.
Seen at right is a typical Civil War camp scene of the Army -- a mass of tents -- with which Isaac and his brothers would have been very familiar.
While at Camp Distribution near Alexandria, VA in November or December 1862, Isaac came down with the mumps. Fellow soldier William Adams observed that "his jaws was swelled and his maner of walking lead me to this conclusion [that he was sick]." Isaac claimed the illness was a result of a wrestling match with James E. Cooper of Company F of the regiment:
He threw me down and blowed his breath in my face and mouth and made the remark that he would give me the mumps. This case was not fully developed at the time. I did not take the disease until several days after this occured. We were then en route by "boat" to join the Regt. at Suffolk, Va.... I was not treated by anyone until we got to Suffolk. I was then placed in hospital. I remained [there] about two weeks. It has affected by right "testical" until it is not larger than a hickory nut. It also affects myt back and I have constant pain immediately arround said testicle.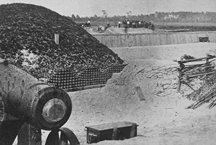 Fort Wagner, S.C.
While serving on Folly Island at Hilton Head, SC, in July 1863, Isaac suffered from fever and asthma. As well, he came down with "varicose veins of the abdomen and left leg, also disease of the eyes," he wrote, due to "exposure to the weather."
Seen here is an image of cannon and piles of shot in a fortification, believed to be Fort Wagner on Folly Island, taken during the war.
According to his fellow soldier William E. Brown, Isaac "took sick and was disabled in the line of his duty ... and was taken to the hospital at Hilton Head and remained in said hospital untill about November of the same year... He was first taken with the chronic diereah from exposure ... which terminated in fever, which settled in his left leg causing Varicose Veins."
Treated at the General Hospital at Hilton Head, Isaac later was discharged at Richmond, VA, on Oct. 24, 1865, and came home. He boarded with his brothers James and William for several days around Christmas 1865, and showed them his diseased legs and genitals.
After the war, Isaac lived for a short time in Confederate country in Virginia, in Nelson County, where he married Frances Caroline Jordan on Nov. 15, 1865. They later returned to Dunbar, where they would live the next 26 years, until her death. Their children were Homer "Montague" Minerd, Nevada Inks, Lela "Ada" Warman, Oliver Clyde Minerd, Hamilton Minerd, Isaac William Minerd, Henry Minerd and George Minerd. Son Hamilton may have been named for Dr. William Hamilton who attended the family circa 1878.

A physician's sketch of Isaac's leg ulcers
Isaac worked in Dunbar as a farmer, coal miner and church sexton. The Minerds lived in a log house, one of just 18 residences in the young town. From 1870 to 1882, brother James boarded with Isaac and Frances. From about 1875 to 1882, brother William also boarded at their home, in Dunbar and also Mt. Braddock, a local coal mining town. Describing his postwar occupations, Isaac wrote the following in March 1883:
[My] occupation was farmer before I enlisted. I farmed the first year after my discharge in Fayette County near Farmington. Worked at Wharton Furnace diging ore two years same Co. In /69 went to Dunbar Furnace, & kept boarding house, did not much, staid there 3 years, and then moved to Connellsville and kept boarding house and dug coal when I was able. In 1873 went to Mt. Bradock and kept boarders, and dug coal when able, but then I suffered a great deal with my leg and eyes. It would be for a month or more that I could not walk nor stand up on my foot and my eyes would be so bad that I could not lay down, had to sit up night and day... In /75 went to Mt. Braddock & kept boarder & dug coal when able, in /78 again went Dunbar & done the same, where Dr. Wm. Hamilton attended me. Then 1/82 went to Connellsville and have not been able to do a days work for near two years. I am at a job now that has not much work in it, watching a pump at Morell Coal Works.

Homer Montague's obituary, 1884
Tragically, four of the Minerds' young sons died during the 1870s and early 1880s. Son Isaac died on July 17, 1871 at age two. His grave marker at Hopwood is nearly illegible, though these words can be made out: "…tender little one … would have asked him … father…" In 1875, son George died at age eight of "brain fever." In December 1879, son Hamilton died at the age of only a few months, of a hemorrhage of the lungs. Then, on May 17, 1884, son Homer Montague died at age six months, eight days, with his brief obituary appearing in the Uniontown Republican Standard.

Isaac W.'s grave
Young Isaac W.'s grave is seen here, as photographed in August 2006.
In 1881, Isaac made sensational news in Dunbar when he shot an intruder, John McGee, who had broken into the Minerd home and began scattering kitchen utensils. The Uniontown Genius of Liberty reported that Isaac:
...ordered him to desist and retire. He refused, when Mr. M. brought his persuader to bear upon him and fired a shot, taking effect in the arm. He then ran out and disappeared. The next morning … McGee's mangled remains were found upon the side-track of Colvin & Co.'s coke works. As there is much speculation in regard to the case, and we understand the matter will be re-investigated, we forbear giving anything more than the facts, as stated above.
Isaac was arrested in connection with McGee's death, along with Frank Brundridge, Harry Jones and Daniel Rea. He furnished bail for his upcoming appearance in court and was released.
Sometime in 1885, Isaac worked as a blacksmith at the Alice coal mine and coke works of J.M. Schoonmaker Coke Company in East Huntington Township, Westmoreland County. Although he resided in town, he was charged $7 a month as rent for a company house at the mine, which he did not use. It was considered a type of kickback in order to obtain the work. Reported the Pittsburgh Press, "At the end of six months he quit, and sued Schoonmaker for the $42. 'Squire Stouffer decided in favor of the operator. Another justice gave Minerd judgment, and now the defendant has taken the case to Court." The matter was part of a broader sentiment of unrest among coke oven operators where their grievances were ignored by their employers. Some men joined the Knights of Labor but "were spotted, discharged and blacklisted throughout the region," said the Press. In a body, the coal and coke workers went on strike in the dead of winter 1886. Said the Press on Jan. 30, 1886: "Where patient suffering was in many a coker's house before the strike there is now hunger and often cold. The strikers are not weakening in the least. They seem, rather, to grow more and more determined, day after day, to stand out until their demands are granted. Operators seem equally firm."
In 1887, the Connellsville Keystone Courier reported that Isaac was building "a store room near the covered bridge." Two years later, the Courier said he "has moved from the McKean building to New Haven, where he will start a store." To start this business venture, he is thought to have borrowed money from his sister Mariah Whetzel and her husband Delmar. Brother James said around this time that he and Isaac saw each other about "every five weeks."
Isaac also borrowed heavily from others, and often was in deep debt. In 1883, he was sued by William Baldwin for overdue rent, and was bailed out by his brother Calvin. In 1888, he was sued by brother in law Andrew J. Inks over a $160 debt. A year later, George H. Swearingen sued him for $70.71, perhaps in connection with the store. In 1890 he was sued by E.T. Coyan over $204.91 for "goods, wares and merchandise." Also in 1890, he was sued by the Whetzels over a $246 debt involving the "frame store room with room above + some out buildings."
As he aged, Isaac increasingly endured the long-term effects of his wartime illnesses, including varicose veins of the abdomen and left leg, eye problems and disease of his testicles due to the mumps. Testifying on his behalf in 1879, Isaac's uncles Andrew Minerd and Perry G. White said they had both known him before the war and that he was free of illness at that time. Friend William E. Chick of Uniontown recalled seeing that Isaac "could not do much walking as that leg would give out and swell up and some time after his discharge when he took one of thoes spells with his leg it broke out in several places in ugly running sores." When examined by a physician in 1888, it was noted that Isaac also suffered from a heart murmur.
In 1887, Isaac told a government pension official that a "very great injustice has been done in giving him so low a rating, for by reason of said troubles, he is a very great sufferer, is totally disabled for the performance of manual labor and his condition steadily gets worse as he grows older. He requests to be reexamined and rated according to the degree of his disability..."
In 1891, after a quarter-century of marriage, wife Fanny died at Dunbar, leaving three children ages 17 to 10. The particulars of her passing are not known.
Stone quarry in industrial Dunbar, turn of the century
Details of the next years of Isaac's life are murky, as he moved around frequently. He took the children to Virginia where they stayed for five years. Son Oliver later fondly recalled these years living in "Old Virginia." In about 1895 they went to North Dakota. Oliver recalled that their North Dakota home featured a rope along a walkway leading to the outhouse for nighttime use, and also a cellar in case of dust storms or tornadoes. After a year, they came back to Dunbar.
On Jan. 18, 1893 (or 1895) Isaac married Susan (Cole) Martin ( ? - ? ), daughter of Samuel and Agnes (Yauger) Cole, and the widow of Civil War veteran William Henry 'Haj' Martin. They lived in Coal Hill (alias Snufftown and Browntown) and at Ferguson Station near Dunbar. Quarreling frequently with his wife, Isaac left home, took his "good clothes" and went Montreal, Nelson County, VA. He told friends he "would die before living with her another day."
Over the next five years, Isaac only returned once from Virginia -- to see his ailing mother, staying only a few days. He wrote Susan encouraging her to divorce him and that he would pay for it. (She may be the same "Susan Minerd" who was arrested for assaulting another Dunbar woman in 1897.)
In 1897, Susan indeed filed suit for divorce. She testified that Isaac had left her "about nine times" during their marriage. His sister Minerva Inks testified that he "really had no trade. He did not do anything while he lived with her. He kept a store." The divorce was granted in December 1909, with the Uniontown Morning Herald noting that Susan was now in Dunbar Township and Isaac in "Alberton, W.Va."
Isaac pushed further southward into Virginia and stayed for five years in Bassic City (Augusta County), Montreal (Nelson County) and Elmington. He returned to Dunbar for good on Jan. 2, 1908.
On Dec. 15, 1909, the 62-year-old Isaac married his third wife, 60-year-old distant cousin Mary "Mollie" (Minerd) Cole, of Preston County, WV. (Interestingly, Mary's sister in law had been Isaac's second wife.) The ceremony was held at the home of Mrs. C.L. Inks on Tenth Street, officiated by Rev. R.E. Cairns of the Methodist Protestant Church.

85th Pennsylvania Infantry veterans take a driving tour in Waynesburg, PA
Isaac celebrated his 75th birthday in June 1918 with a dinner party at their home in Pechin. Members of the Union Army veterans post attended, as relatives and friends. The Connellsville Courier said "They had a most delightful time, with a royal feast... A characteristic speech by Colonel J.J. Barnhart, and a solo, 'My Trundle Bed,' by J.G. Hicks, were features of the day. Among those present were Rev. John Lambertson, Rev. W.H. Gladden, W.P. Clark, E. Dunn, Henry Kurtz, W.H. Shaw, J.G. Hicks, Martin B. Pope, C.W. Pyle and Silas Grimm." Isaac's daughter Nevada Inks and daughter in law Florence (Dawson) Minerd helped prepare the meal.
He is believed to have attended the Fayette County Veterans' Association annual reunion in Uniontown on Sept. 20, 1917, along with friends W.D. Blacka and S.K. Eicher. At the time, he had recently moved "from Perry C. McClain's house, on Ferguson road into the G.W. Smitley house at Keffers Station, recently vacated by Joshua Cole, who moved to Mt. Braddock," said the Courier. In 1919, he could not attend, so agreed to occupy and watch the residence of fellow veteran C.W. Pyle while the latter attended the National Encampment of the GAR in Columbus, OH. In covering the bit of gossip, the Courier said that "Mr. Minerd, who was so unfortunate as to slip and sprain his ankle Tuesday, has since been confined to the house. He is improving, however, and expects to be about again next week."

Isaac's obituary headline
In another birthday party, on the Fourth of July 1918, Isaac's grand-niece Mary (Williams) Morrow and her husband gave a basket picnic in his honor. Said the Courier, "the picnic was held at the Wharton Furnace, near the Summit, the old home and birthplace of Mr. Minerd. The house in which he resided is torn down, but a part of the old furnace and the orchard are still there. The apple trees are laden with fruit. A most enjoyable day was spent by all present. The guests left at 7:30 o'clock from the residence of Mr. and Mrs. C.L. Inks in Mr. Morrow's truck, arriving at their destination at 11 o'clock." Other attendees included Mr. and Mrs. O.C. Minerd, Mr. and Mrs. C.L. Inks and son Clyde, Mrs. Elizabeth Rout, Mr. and Mrs. Leroy Stillwagon, Joseph Stillwagon, Mabel Stillwagon of Connellsville; John Turnbull, Mr. and Mrs. Albert Connor and daughter, Miss Elizabeth Connor, Bruce Connor, Theodore Connor. J.A. Mason, E.C. Eckert, Miss Lucy Whitchurch, Miss May Whitchurch, Miss Betty Whitchurch and Miss Hannah Margren, all of Uniontown.
Isaac's health began to fail in the 1920s, and became seriously ill the day after Christmas 1922. "Owing to his asthmatic condition," Mary wrote, "he cannot lie down in bed, and is required to set up, and is propped up with pillows." Isaac testified that he was unable to feed himself, dress himself or perform any household chores, and that Mary was unable to leave him for any time.
After 14 years of marriage, Isaac died at his home at Pechin near Dunbar on Nov. 29, 1923, the youngest member of the William F. Kurtz Post 104, Grand Army of the Republic. He was buried at Mt. Auburn Cemetery in Dunbar, and his cousin Rev. David Ewing Minerd assisted with the funeral. The Daily Courier reported that Isaac's casket:
... was draped by an American flag. The funeral was one of the largest held in the community of Dunbar in recent months, the chapel being filled with relatives and friends... A firing squad from the Milton L. Bishop Post fulfilled the request of the deceased by firing the customary three volleys over the grave.
In December 1939, on the 30th anniversary of Isaac's and Mary's marriage, the news was published in an "Out of the Past" feature in the Daily Courier. Some 60 years after Isaac's death, he was mentioned in Morrison's book, Dunbar: The Furnace Town.
~ Mollie's Story ~

Mary's grave
Mollie was born on June 11, 1843 in Preston County, WV, the daughter of Burket and Susan (Hartzell) Minerd. When her parents separated in the 1850s, she is believed to have gone to work as a housemaid for George and Abigail Sypolt in Muddy Creek Twp., Preston County. By 1873, she had moved to Dunbar, Fayette County, PA.
On Sept. 17, 1873, Mary married Jacob Cole (1846-1907), son of Samuel and Agnes (Yauger) Cole. Jacob may have been married once before, as he is said to have had a son, John Cole, born in Roanoke, VA in 1868. Mary was older than her husband, and records show she may have fibbed occasionally when asked her age on government documents.
Mollie's sister Louisa, wife of John J.P. Hoye Sr., moved to Dunbar in about 1880. The Hoyes and the Coles then became next door neighbors.
Jacob was a farmer. In 1880, the Connellsville Keystone Courier reported that he had "purchased lumber for a new house" to be built by H. Bryner. A 1903 story in the Courier reported that Jacob had "killed two hogs, one weighing 507 and the other 475 pounds. He also killed two others, nine months old, both weighing 610 pounds. Who can beat this?"
In June 1900, when the federal census was taken, the Coles had two 18-yar-old boarders -- farm laborer Andrew Harris and servant Anne Murrey.
Jacob died at age 55 on Oct. 5, 1907 when his appendix burst, leading to septic peritonitis. Henry Cole was the informant for his death certificate.
Two years later, widow Mollie married her second cousin, Isaac F. Minerd.
Mollie was beloved by her Minerd stepchildren and was known as warm and caring. She died on April 20, 1924, at home at Pechin, near Dunbar, "of infirmities of age." She is buried at Mt. Auburn Cemetery, Dunbar with her first husband, although Isaac rests nearby in the same plot.
Distant nieces of Jacob's keep the plot mowed and decorate the graves with flowers every year.