Home

Hannah (Younkin) Smith
(1813-1883)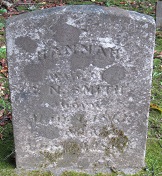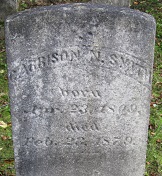 Hannah and Garrison's graves, Lemmon farm
Hannah (Younkin) Smith was born on May 1, 1813 near Kingwood, Somerset County, PA, the daughter of John J. and Mary "Polly" (Hartzell) Younkin.
She wedded Garrison N. Smith (1809-1879), a native of Delaware. (His name in early records sometimes is spelled "Gerretson" Smith.)
They bore an only daughter, Louisa Kuhlman.
The federal census of 1850 shows the family living in Upper Turkeyfoot. That year, nine-year-old Elijah Faidley, and their married daughter and son in law Louisa and J. Frederick Kuhlman lived in their home.
Tragedy rocked the family on May 9, 1853, when their married daughter and young mother Louisa died at the age of 20, apparently in childbirth with a third baby. Louisa's remains were laid to rest in the family graveyard, with an elaborate stone carved to mark her final resting place. At the top was inscribed, "She died in peace."
Hannah and Garrison thus raised their grandson Winfield Scott Kuhlman to adulthood, and he later became a well-known physician practicing in Ursina.
When the federal census was taken in 1860, the Smiths, 10-year-old grandson Winfield Kuhlman and 19-year old boarder Susan Ohler resided under one roof, with their post office marked as Paddytown. Living in adjacent dwellings were Frederick J. and Delilah Younkin, Rev. Herman and Susan (Faidley) Younkin, and Jacob W. "Weasel Jake" and Catherine (Faidley) Younkin. Later, they relocated to Middlecreek Township.

Above: farms of Garrison Smith and Harmon Younkin in Upper Turkeyfoot, 1860. Below: Green dots mark the farms of Garrison Smith and Harmon Younkin in Upper Turkeyfoot Township, 1876. The orange dots mark the farms of other Younkin family.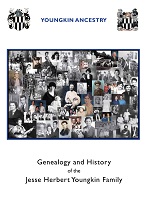 Mark Terry Youngkin's book
Judging from a comparison of the 1860 and 1876 atlas maps of Upper Turkeyfoot, Hannah and Garrison again moved during the interim of years. Their 1860 dwelling was along what was Lemmon Road, along Brown's Run. By 1876 they had moved to a farm closer to Kingwood, near the right-hand border of J. Frederick and Sally (Younkin) Kreger's farm in Hexie, along what today is known as Humbert Road, on a farm formerly occupied by Garret Lear.
Garrison passed into eternity at the age of 70 on Feb. 23, 1879, apparently of a massive heart attack or stroke. The Somerset Herald reported that he was "found dead on the road near his home. Mr. Smith had been crying a sale at a farm some distance away, on Saturday, and left for his home in apparent good health. We have not learned the immediate cause of his death." He was buried in the Younkin family graveyard, also known as the "Brougher" and "Lemmon Farm" cemetery.
Hannah survived her husband by a little more than four years. At the age of 69, she died on March 19, 1883, with burial next to her husband. The Herald printed a one-paragraph obituary: "Hanna Younkin, widow of the late G.N. Smith, died at the residence of her grandson, Dr. W.S. Kuhlman, in Ursina, on the 19th of March, in the 70th year of her age. Deceased was a consistent member of the Methodist church for more than fifty years." No obituary has been found in the Meyersdale (PA) Commercial in Somerset County.
Hannah was named in an April 2020, updated masterwork authored by Mark Terry Youngkin, of the family of her brother John Harrison and Eliza Jane (Coble) Youngkin, entitled Youngkin Ancestry - Genealogy and History of the Jesse Herbert Youngkin Family. The 456-page work is solely distributed in Portable Document Format (PDF) from the digital library called the Internet Archive in San Francisco, CA, which contains the latest book version. View/download the web-optimized version of Youngkin Ancestry on DropBox [60MB in size] or the full, high-resolution version on the Internet Archive [360MB].
This page is dedicated in the memory of cousin-researchers who graciously shared their findings: the late Donna (Younkin) Logan and the late Olive (Rowan) Duff. 1860 Somerset County Atlas map courtesy of the Library of Congress.
Copyright © 2013-2014, 2020 Mark A. Miner