Albert 'Ward' Minerd
(1895-1972)


Ward and Ada
Albert "Ward" Minerd was born on Sept. 2, 1895 near Mill Run, Fayette County, PA, the son of Lawson and Lutitia (Steyer) Minerd. His family has been very active and visible in the public eye for many years, both locally and nationally.
Ward grew up on his parents' farm in Maple Summit, a mountainous area about three miles from Mill Run, near where his great-great grandparents had settled as pioneers in 1791, and to where his grandparents had returned in 1867.
On Jan. 15, 1917, in Uniontown, Fayette County, the 21-year-old Ward married 21-year-old Ada Whipkey (1895-1971). She was the daughter of Albert S. and Mary (Johnson) Whipkey of Mill Run.
They produced a family of five children – Ferne Lucille Work, Delbert Minerd, Ruth Cunningham, Dalton "Dale" Minerd and Byron "Kenneth" Minerd.
Ward and Ada were pictured in a three-generation photograph taken on the Maple Summit farm in March 1917, when the trees were bare and the shadows strong. Ward proudly holds their first-born baby Ferne, posing with Ada and mother Lutitia. The image was taken as part of a series of photographic views of the farm made by Ward's brother Freed.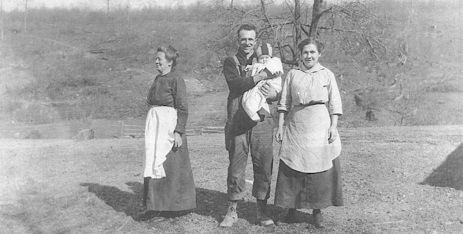 3 generations, L-R: Lutitia, Ward, Ferne, Ada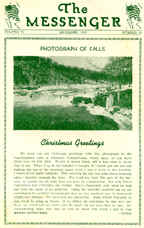 World War II era newsletter
That same year, in October, Ada wrote a short postcard to her mother in law, who was residing in the nearby town of Mill Run, several miles away in the valley:
Ward has the coal out. You can get it any time. If you bring some of our buckwheat please bring our mail.... Come down when you can.
Ward earned a living over the years working as a custodian at the Mill Run School. He also is said to have helped install electrical wiring during construction of Fallingwater, the world-famous house over a waterfall designed by Frank Lloid Wright. He suffered at times from pain of his sciatica nerve and underwent surgery in Pittsburgh's West Penn Hospital in 1959.
Circa 1940, Ward served as assistant secretary of the Hampton Church of God in Mill Run, a congregation his father had helped to found.Later, the Minerds were members of the Mill Run Evangelical United Brethren Church, where Ada served as Golden Rule Sunday School teacher for more than 15 years.
She is known to have captured first place for her baked bread at the annual Mill Run Community Fair in 1938 sponsored by the Mill Run Grange. She and daughter Ferne also won top honors for their chili sauce at the 1939 fair. Ada won the 50-yard dash in 1952 at the Indian Creek Baptist Church picnic, held at the cabin of Minerva Mountain.
Then in 1945-1946, Ward was employed as a foreman with Region Electric and Machine Co. in Mill Run.
When Ward's parents celebrated their golden wedding anniversary in 1940, Ada and several cousins served a plate lunch for 61 guests.
During World War II, the Minerds worried as son Delbert served in the U.S. Armed Forces. On the home front, Ada made a financial donation to assist their daughter Ferne in her volunteer work as an editor of The Messenger. The newspaper was church-oriented, "published in the interest of Christ and the Communities of Mill Run, Ohiopyle and Hickman Chapel." It was sent to local servicemen and women deployed around the globe, and designed to maintain their morale as well as that of of local residents. Its mission was to keep readers informed of the whereabouts and activities of their fighting husbands, brothers, sons and friends overseas.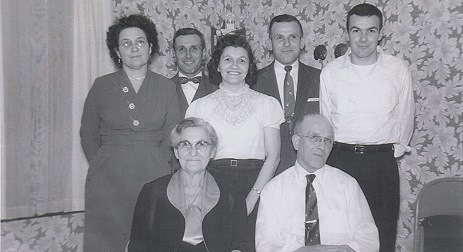 Ward and Ada and family, L-R: Ferne, Dale, Ruth, Delbert and Kenny.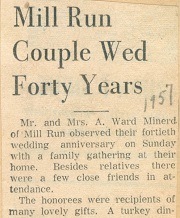 Daily Courier, 1957
Copies of nine issues of this fascinating newspaper are in the Minerd.com Archives (October 1944, November 1944, January 1945, June 1945, October 1945, December 1945, January 1946, February 1946 and March 1946).
The Minerds' 40th wedding anniversary was marked by a Sunday afternoon turkey dinner at their home for relatives and "a few close friends," reported the Daily Courier.
In January 1967, Ward and Ada marked their 50th wedding anniversary. They celebrated with an afternoon dinner in the dining room of their church. Said an article in the Connellsville Daily Courier newspaper, "The buffet-style dinner was served [to] approximately fifty relatives and guests, including a number of out-of-town persons… The celebrants were recipients of many gifts and flowers."
As Ada's health declined, she was admitted to Connellsville State General Hospital She died a week later on Nov. 7, 1971 at the age of 76. Her obituary was published in the Daily Courier, which noted that she was survived by 11 grandchildren as well as siblings Dennis J. Whipkey of Morgantown, WV, and Ray Whipkey of Uniontown and half sisters Ida Imel of Somerset, Marie Staup of Ohiopyle and Park Whipkey of Marilla, NY.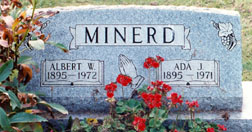 Indian Creek Baptist Church Cemetery
Ward outlived her by only about nine months. He passed away as a patient in Somerset Community Hospital on July 2, 1972, at age 77. Funeral services were held in a local funeral home, officiated by Rev. Philip Horn. His obituary was printed in the Uniontown Herald Standard and Meyersdale Republican.
They are buried together at the Indian Creek Baptist Church Cemetery in Mill Run.
Ward and all five of their children are mentioned in the 1970 book, A History of Mill Run, a landmark history of their community.
~ Daughter Ferne (Minerd) Work ~
Daughter Ferne Minerd (1917-1997) was born in 1917.
She married Graydon Work (March 13, 1917-2001 ), the son of Grover Cleveland and Mabel Marie (Friend) Work.
Two children were born to this marriage -- Harold Work and Bonita Warrick.
They were the longtime owners of the "Working Acres Farms" in Mill Run, a "'Dairy of Distinction" with a prominent sign in Mill Run.
Said the Uniontown Herald-Standard, Graydon "was a former Committeeman of the Fayette County ASCA office, former board member of the Fayette County F.H.A., and a member of Mill Run Grange 1109..." He was also "a charter member of the Springfield Township Volunteer Hose Company."

The Messenger newspaper, Easter edition, April 1945
Ferne served as a post office employee, as clerk of the Indian Creek Baptist Church and taught Sunday School there for 40 years. During the World War II years, she and her sister Ruth along with Rella King edited The Messenger, a small newspaper for the Ohiopyle and Mill Run communities containing updates on local servicemen and women.
In mid-August 1956, when Connellsville, Fayette County celebrated its sesquicentennial (150th) anniversary, Graydon served on the Agricultural Day Committee along with distant cousins Lawrence Leonard and Emmett Newell. Graydon was named in the official program booklet, today preserved in the Minerd- Minard- Miner- Minor Archives. A number of other cousins were active volunteers with the celebration, including former Connellsville Mayors Dr. H. Daniel Minerd and Ira David Younkin who were members of the Executive Committee.
Ferne and Graydon and their children are listed in the 1975 book, Brooks Family History.
Ferne passed away at the age of 80 on May 6, 1997.
Graydon outlived her by four years. He died on Dec. 4, 2001. Rev. John B. Davis, of the family church, officiated at the funeral service. They rest for eternity at the Indian Creek Baptist Church Cemetery.
Son Harold S. Work (1946-2011) was born on July 28, 1946 in Mill Run. At the age of 18, in 1964, he married Virginia "Diane" Cunningham (Aug. 19, 1947-2004), a native of Normalville and the daughter of Harry E. and Ruth (Cramer) Cunningham. They bore two children -- Tonya Brewer and Timothy Work. The Works lived in Mill Run, where he and his father ran their Working Acres Dairy Farm. Harold also belonged to the Indian Creek Baptist Church and the Springfield Township Volunteer Fire Department, and Diane to the Mill Run United Methodist Church and the ladies auxiliary of the fire department. In her spare time, she loved to babysit for friends and family. Sadly, Diane died at home at the age of 57 on Oct. 16, 2004. Harold survived his bride by seven years. At the age of 64, on June 18, 2011, he joined her in eternity. Burial was in the cemetery of the family church, officiated by Rev. kenneth VanSickle. An obituary appeared in the Greensburg Tribune-Review.
Granddaughter

Tonya Work married David Brewer. They live in Mill Run and have two sons, Joshua Brewer and Zachary Brewer.
Grandson Timothy Work

wedded Kelly. Their home has been in Mill Run.
Daughter Bonita Work ( ? -living) was born in (?). In about 1972, she was united in holy matrimony with Melvin C. Warrick Jr. (May 9, 1949-2019), son of Melvin C. and Evalyn Faye (Boyer) Warrick Sr. of Connellsville. Their union endured for 47 years until cleaved apart by death. The couples' children are John Warrick, James Warrick and Joseph Warrick. Melvin received his bachelor's degree in business and finance at Penn State University. Then for 19 years, he was employed by Sears Roebuck & Company as a salesman. When Sony opened an automobile plant in New Stanton, he joined the company and worked in its environmental department. He and Bonita were longtime members of Indian Creek Baptist Church, where he sang in the senior choir and served as treasurer and deacon. She has been a longtime keyboard player in the church and actively involved with its newsletter. Sadly, Melvin died at the age of 70 on Oct. 19, 2019, as a patient at Select Specialty Hospital in Latrobe, Westmoreland County. In an obituary, the family asked that any memorial donations be made to the Mission Committee of their church.
G

randson John Warrick married April. They live in Mill Run. He has been a science teacher at Connellsville Junior High East.
Grandson Joseph Warrick was united in wedlock with Rachel. In 2001, they made a home on Croydon, PA. Circa 2019, he was in Harrisburg.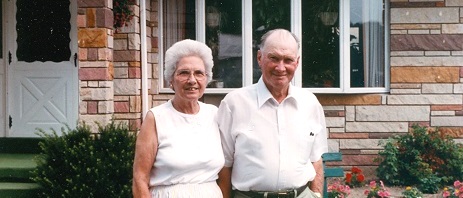 Above: Ferne and Graydon Work, 1988. Below: Working Acres Dairy Farm along Route 381 near Mill Run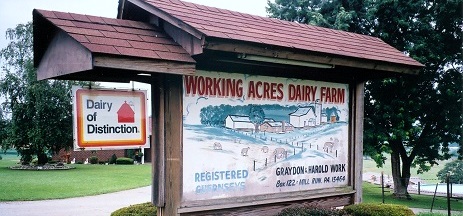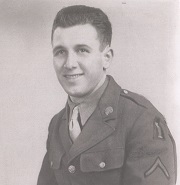 Delbert Minerd, World War II
~ Son Delbert Eugene Minerd ~
Son Delbert Eugene Minerd (1920-1978) was born on April 21, 1920.
As a young man, he was employed by Gilbert E. May in Mill Run as a farm hand. He also is said to have helped provide labor during the construction of the world-famous house over a waterfall, Fallingwater.
Circa June 1951, Delbert married Minnie "Gail" King ( ? -living), daughter of George and Ada Violet (Nichols) King of Scullton in nearby Somerset County. The couple received their marriage license in neighboring Cumberland, Allegany County, MD and are believed to have tied the knot there.
They resided on the farm of Gail's family near Scullton and were the parents of an only daughter, Mary Ellen Hoover.
Delbert served in action with the 305th Infantry of the 7th Division of the Army during World War II. He enlisted on March 21, 1942 and took basic training at Fort Jackson, SC as well as in Shreveport, LA; Camp Hyder, AZ; Fort Indiantown Gap, PA; and Camp Pickett, VA. He was deployed to Oahu in the Hawaiian Islands and pictured at that time in a story in the Connellsville Daily Courier.
Later stationed in the Philippines, Delbert was an admirer of famed war correspondent Ernie Pyle, whose stories about common soldiers on the front lines were seen in newspapers coast to coast -- before Pyle was felled by a Japanese bullet in 1945. As reported in The Messenger, his division " was with Ernie Pyle when he fell. Delbert said they lost a great friend when Pyle was killed, [and] that he had done many things for them."

Above: the Delbert and Gail Minerd farm near Scullton. Below: nearby Whipkey Dam (below), considered a fisherman's paradise.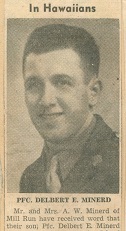 Daily Courier
In a wartime letter to his grandmother Minerd, Delbert also penned these words:
I know you have been praying for all of us who [are] over here doing our little bit to win this war. I don't want you to quit for one minute because it looks like it is about over, but just keep right on. I'm sure that is the reason we are making such progress.
Delbert and Gail are known to have been recognized in February 1964 for a decade of perfect attendance at Wesley Chapel in Scullton, with their names printed in the Daily American. Gail was honored in 1973 for five years of service to the High Ridge 4-H Club.
Grief blanketed the family when Delbert was stricken and admitted to Somerset Community Hospital, where he passed away suddenly on June 13, 1978, at the age of 58. Rev. Arnold Kastner presided at the funeral service, with burial in the Wesley Chapel Cemetery. His obituary was carried in the Daily American.
His wife Gail and daughter Mary Ellen and grandchildren have been exceptionally kind to the founder of this website for many years dating to initial meetings in the early 1990s.
Daughter Mary Ellen Hoover (1952- ? ) was born in 1952. News of her birth was published in the Somerset Daily American. She was active in high school as a cheerleader and 4-H member. A story in the Meyersdale Republican in 1968 said that she owned registered Gurnsey cattle in addition to an Angus and Hereford baby beef cattle. In 1974, Mary Ellen received a bachelor of science degree in health and physical education at Penn State University's Fayette Campus in Uniontown. On June 15, 1974, in a candlelight ceremony held in the family church, she was united in matrimony with Harry McKinley Hoover ( ? - ? ), son of Calvin C. Hoover of Rockwood. Rev. Robert G. Doyle officiated. Said the Daily American, she "was attired in an all-lace white princess-style gown with long, fitted sleeves, stand-up collar and flowing skirt that ended in a sweeping train. It was accented with white satin ribbon down the front and around the cuffs. Satin-covered buttons highlighted the ribbon down the front of the gown." At the time, Harry was a Vietnam War veteran, had received a building construction certificate from Williamsport Area Community College had earned a living as a carpenter at Seven Springs Mountain Resort and as a bricklayer. They are the parents of Harry McKinley Hoover II, Jarrod Hoover and Sonja Hoover. Mary Ellen has been a librarian at Rockwood (PA) High School and coached junior high athletics for many years. Harry was a member of the Rockwood school board in the mid-1980s and a longtime postal delivery driver in the region.
~ Daughter Roberta "Ruth" (Minerd) Cunningham ~
Daughter Roberta "Ruth" Minerd (1924-2009) was born in 1924.
She married Jack Rush Cunningham (1923-2009), the son of Mathew Ross and Helen Irene (Rush) Cunningham of Ohiopyle.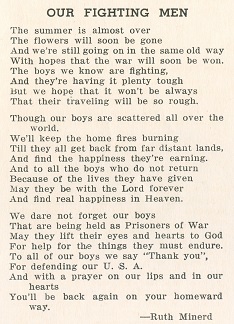 Ruth's poem, Nov. 1944

Together, they bore a family of four children -- Larry Cunningham, John "Jack" Cunningham, Joy Miller and Deborah Inks.

During World War II, prior to marriage, Jack had served in the U.S. Army Air Corps and held the rank of staff sergeant. He was shot down over Germany and held as a prisoner of war in the Stalag B prison camp. During his incarceration, the Army presented his mother with an Air Medal with an oak leaf cluster in a ceremony at the Connellsville Airport.

Ruth kept active during the war years by helping to write and edit The Messenger, a small community newspaper for citizens of Mill Run and Ohiopyle to highlight the stories of local servicemen and women. She and her sister Ferne along with Rella King were the primary contributors. Among her writings appearing in the paper was an original poem, published in the November 1944 edition, entitled "Our Fighting Men."

When the federal census enumeration was made in 1950, the Cunninghams resided in Scottdale, Westmoreland County, with Jack earning a living as a sales clerk in a retail candy store. They eventually migrated to Rochester, PA by 1957 followed by moves to Monongahela, PA by 1967 and back again to Rochester in the late 1960s and early 1970s.

By the mid-1970s, they had relocated back to Mill Run.

They later divorced, with Ruth residing in Mill Run and Jack in McDonald, Washington County, PA.

Ruth was "a very active member of the Mill Run United Methodist Church," said the Connellsville Daily Courier, "and a former member of the Mill Run Senior Citizens Club."

Ruth passed away on Aug. 8, 2009, at the age of 85.

Jack died at the age of 86 on Nov. 13, 2009. At the time of their deaths, they had produced 11 grandchildren and six great-grandchildren.

Tragedy struck this family twice with the accidental deaths of son in law Roger Wesley Miller (1993) and Daniel A. "Poke" Inks (2009).

Son Larry D. Cunningham (1946-2022) was born on July 30, 1946 in Connellsville. As a youngster he relocated to Beaver County with his family, and he graduated in 1964 from Rochester High School. He then attended the University of Pittsburgh. In about 1970, he wed Karen S. Palmquist ( ? -living). Their marriage stood the test of 51 years together. Two daughters born to this union were Susan E. Cunningham and Emily K. Defoggi. Larry was employed as a railroad car inspector by Norfolk Southern Railroad. He also belonged to the U.S. Army Reserves. They dwelled in Brighton Township near Beaver, PA. In his free time he liked to watch football, walk in town, tend his garden and visit with friends at the post office. Sadly, at the age of 75, he passed away in Heritage Valley Beaver on Jan. 16, 2022. His obituary and photograph were published in the Beaver County Times. Rev. Gregory S. Clagg officiated at the funeral service.
Granddaughter

Susan E. Cunningham

has dwelled in Bessemer, PA.
Son John R. "Jack" Cunningham (1949- ? ) was born in about 1949. He entered into marriage with Kathy. He was employed for many years by the railroad in Beaver County. The couple dwells in Brighton Township near Beaver, PA.

Roger Miller,
Spokane Indians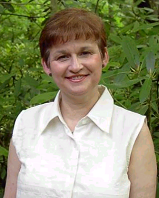 Joy Miller
Daughter Joy Cunningham ( ? - ? ) was born on (?). She spent her growing-up years in Monongahela and Rochester, PA and was a 1969 graduate of Rochester High School. On March 3, 1974, she was joined in matrimony with Roger Wesley Miller ( ? -1992) of Connellsville, PA and the son of Dewey Miller Jr. Their wedding was held in the Deep Creek (MD) Baptist Church, by the hand of Rev. Jennings. In announcing the marriage, the Connellsville Daily Courier reported that the "bride was dressed in a street-length light blue dress. She carried a white Bible and a red rose." They together bore one known son, Jeremiah Ross Miller.
Roger was a 1972 graduate of Uniontown Area High School. He briefly pitched for the Milwaukee Brewers in the Major Leagues in September 1974. He stood 6 feet, 3 inches tall, with brown eyes and brown hair. Baseball Digest once called him "stocky, a good pitching prospect in his third year of organized ball. In one game last June, he did something nobody else had done all season -- allowed no homers" in Sacramento's Hughes Stadium, where the left-field fence was only 232 ft away from home plate. Roger was a pitcher at the minor league level for the Newark Co-Pilots of the New York Pennsylvania League (1972); Danville Warriors of the Midwest League (1973); and Sacramento Solons (1974-1975) and Spokane Indians (1977) of the Pacific Coast League. In an entry featuring Roger in the Brewers' 1975 media guide, it says he was an "All-Pacific Coast League performer in 1974 ... tied teammate Tom Hausman for league lead in most complete games with 11 for Sacramento ... 4.48 earned run average was low on Sacramento club ... struckout 101 batters in 185 innings pitched in '74 ... was 8-4 with 3.32 ERA at Danville in 1973..." He wore uniform no. 27 with the Brewers. In only his first big league game, at Boston's Fenway Park on Sept. 8, 1974, he surrendered a two-run home run to Dwight Evans, with Bernie Carbo on base. In his second and final game, he again pitched against the Red Sox, in Milwaukee County Stadium. In all, he appeared in two Major League games, he pitched 2.1 innings, struck out two (including hall of famer Carl Yastrzemski), hit one batter, gave up three runs on three hits, and compiled an 11.57 ERA.
Following retirement from baseball, Roger returned to Mill Run, and pursued a career as a welder. Tragically, he was killed in an industrial accident in Connellsville on April 26, 1993. Today Joy is employed at Fallingwater -- the world famous house designed over a waterfall by Frank Lloyd Wright -- and was the guest speaker at our 2004 National Minerd-Miner-Minor Reunion.
Grandson Jeremiah Ross Miller (1975- ? ) was born in 1975. He was pictured in the Connellsville Daily Courier on his second birthday.
Daughter Debra G. Cunningham (1959-2012) was born on Jan. 8, 1959 in Rochester, Beaver County, PA. She married Daniel "Poke" Inks ( ? -2009) and they had two children -- Danielle Inks and Dustin Inks. Debra was employed with Image Time in Perryopolis, Fayette County. For seven years, she worked in visitor services at Fallingwater, and also performed music in her church. Daniel died in Uniontown on Sept. 13, 2009. Debra survived him only by a little more than two years. She passed away at the age of 53 on Jan. 27, 2012.
Granddaughter

Danielle Inks
~ Son Dalton "Dale" Minerd Sr. ~
Son Dalton "Dale" Minerd Sr. (1927-2015) was born on Aug. 28, 1927 in Mill Run.
He was married twice. On June 17, 1954, at the age of 27, he wed his first wife, Delores Serita Seamen (1928-1994). The nuptials were held in the Perryville Avenue Methodist church, with the reception following in the Hotel Schenley. A story about the wedding, in the Pittsburgh Press, said that the couple honeymooned in Canada.
They bore two sons -- Dalton Dale Minerd Jr. and Dean Minerd.
Dalton Sr. was employed in the funeral industry for many years, working in Pittsburgh's North Hills. Their home circa 1954 was on Marshall Avenue.
Sadly, Dolores died at age 66 on July 31, 1994, at Passavant Hospital in McCandless Township.
Dalton later married again, to Marcia Hyde ( ? -2004). They resided near Wexford, PA and were members of Memorial Park United Presbyterian Church. Marcia passed away on May 10, 2004.
Dale outlived his second wife by 11 years. At the age of 87, he died on July 8, 2015. An obituary and photo were printed in the Pittsburgh Post-Gazette newspaper. The obituary said that "He will be remembered by all who knew him for his generosity, sense of humor, compassion and as a man committed to simple acts of sharing and caring."
Son Dalton Dale Minerd Jr. ( ? - ? ) was born in (?). He married Beth ( ? - ? ). They ran a small business, "Miniatures by Minerd," which operated a booth at Northway Mall along Pittsburgh's busy McKnight Road during holiday seasons. The founder of this website spoke with them at the mall while Christmas shopping in about 1984.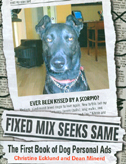 Book by Dean Minerd
Son Dean Minerd ( ? -living) was born in (?). Dean has been an actor, director, producer, author and entrepreneur based in Hollywood. Early in his career, he appeared in such films as Demolition Man (with Sylvester Stallone, Wesley Snipes and Sandra Bullock) and The Arrival. He once was a contestant on Dick Clark's hit TV show, $25,000 Pyramid, and helped publicize the smash TV show, X-Files, when it made its cable premier on the FX Network. Currently, Dean is a partner in a TV production company, Evolution Film & Tape, where he is executive producer for shows the company creates and produces. His clients have included ABC, Comedy Central, FX, Lifetime, HBO, Paramount Television and TLC (The Learning Channel) in addition to Norman Lear's Declaration of Independence Road Trip, the Thomas Jefferson Foundation and the Academy of Television Arts and Science. He has created, developed and managed the productions of Clean Sweep for TLC, The Mansion and House Rules for TBS, King of the Jungle II for Animal Planet and Boy Meets Boy for Bravo, among others. In late 2007, he was named executive producer for "Battle of the Bods" on the Fox Reality Channel. His work puts him in regular contact with such superstars as Matt Damon, Cher, Chris Rock, Jennifer Lopez, Reese Witherspoon and John Travolta. Dean and co-author Christine Ecklund published a book in 2004, entitled Fixed Mix Seeks Same - The First Book of Dog Personal Ads.
~ Son Byron Kendall "Kenny" Minerd ~
Son Byron Kendall "Kenny" Minerd (1933-2011) was born on May 19, 1933 in Connellsville.
He married Carol Mitchell (Aug. 26, 1935-2013), daughter of Shelby and Rogene "Kitty" (Fleming) Mitchell of Ohiopyle, with the father having been prominent in business, including involvement with the operation of coal mines in the Ohiopyle area.
The Minerds resided in Chalk Hill, Fayette County, and had two sons -- Kenneth Tilghman "Tim" Minerd and Byron "Scott" Minerd.
Kenny attended Waynesburg College. For four decades, he was employed by the Baltimore and Ohio Railroad, later CSC Railroad. In retirement, he worked for Nelson Bus Lines. He earned additional income as an independent insurance agent, operating under the name Minerd Insurance Inc., and was a member of King Solomon's Lodge of the Masons.
Carol is said to have been a "fierce bridge competitor" with local social clubs as a young woman and was a member of Mount Washington Presbyterian Church in Farmington. She was an animal lover.
Kenny passed away at the age of 78 in Uniontown Hospital. Burial was in Green Ridge Memorial Park, with military honors provided by the Connellsville American Legion and Veterans of Foreign Wars and the Trotter American Legion Honor Guard. An obituary was published in the Connellsville Daily Courier.
Carol spent her final years in Florida. She died in West Palm Beach on July 7, 2013, "with her son and grandson at her bedside," reported the Pittsburgh Post-Gazette.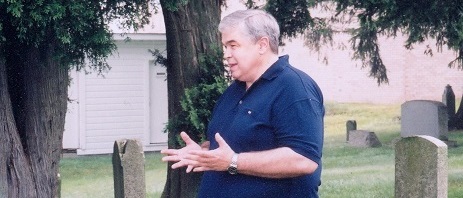 Kenneth Tilghman Minerd, 2003
Son Kenneth Tilghman Minerd (1955-2011) was born in 1955. Kenneth served on the Regional Trail Corporation (reappointed in 2005) and the Zoning Hearing Board of the City of Uniontown, PA (2001), and was involved with the Penn State Alumni Association. Professionally, he was a senior commercial lines analyst with the Barnett Inc. insurance agency in Pittsburgh. Ken and his son at one time ran a golf-equipment website, MinerdGolf.com, an information resource about golf tournaments, products, services and member benefits. In 2003, Ken graciously chaired our "Jacob Minerd Weekend Proclamation Committee." Ken and his first wife, Laura Lee (Juriga) Minerd, had one son, Matthew Kenneth Minerd. Laura was a longtime reporter for the Connellsville Daily Courier. Later, after a divorce, Ken married Yvonne "Cherrie" (Hettenschuller) Chambers, and became a father figure for her four daughters -- Nikki, Amber, Kim and Beth. In 2010, Ken and Cherrie moved from Uniontown to a new home in Somerset, Somerset County, PA. Tragically, he suffered a massive heart attack and died at home on Feb. 20, 2011, at the age of 55. He was laid to rest in the Green Ridge Memorial Park near Connellsville.
Son Byron "Scott" Minerd resides in Marina Del Ray, CA. He is CEO and chief investment officer of Guggenheim Partners Asset Management. Previously, he was chairman of Hedgefund.net. He also has been a managing director for Morgan Stanley and Credit Suisse, where he oversaw fixed-income credit trading in the U.S., Europe and Asia, and has made contributions to the development of derivative securities in the global capital markets.
Copyright © 2002-2012, 2017 Mark A. Miner